Hi Friends!
Time for more food prep inspiration.
Here's what I made last weekend: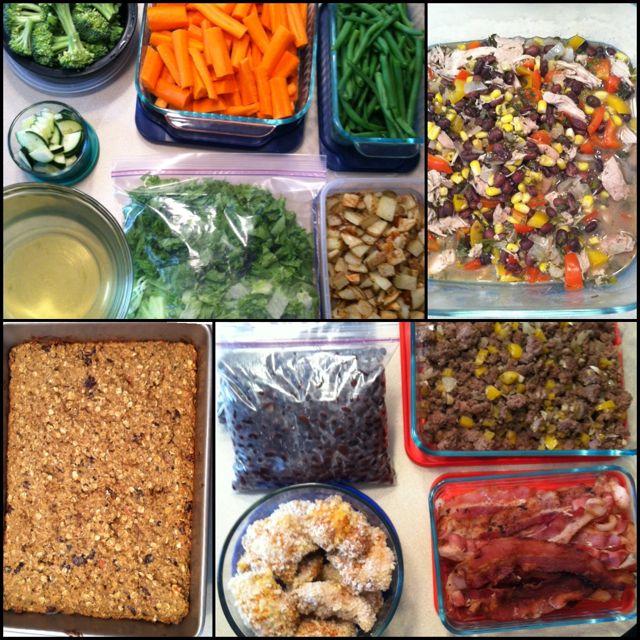 Veggies & Homemade Veggie Broth
Quinoa Breakfast Bars
Homemade Chicken Nuggets
Black Beans
Taco meat
Bacon
Crockpot Cilantro Lime Chicken
Here's what some of you have been up to:
Jessica at HelloJasper –
What I prepped:
Lots of new recipes this weekend! Here's hoping they're nice otherwise it'll be a hungry week…
We'll eat the granola for breakfast with natural yoghurt.
The soup & bread will see us through lunches/light meals.
The carrots are for easy snacking; they usually come covered in mud straight from the ground and I find we're more likely to eat them if I prep them!
The latkes will be for my main meals, probably with potatoes & other veg from the CSA box. I may also use one or two meals from the freezer prepped previously.
My OH eats his main meals in his work canteen at lunchtime.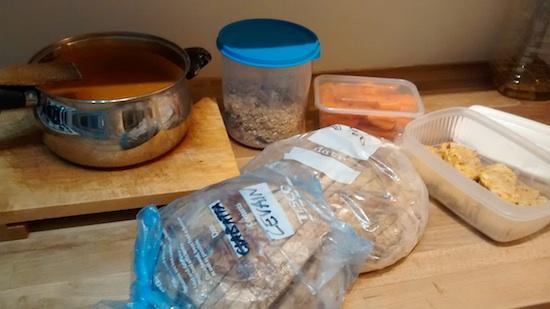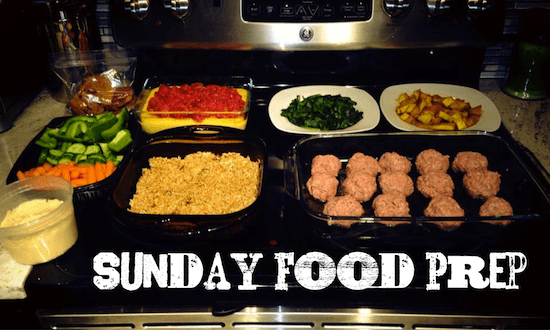 This week is jammed pack with lots of nutrition workshops and training clients, providing Mother Nature does not throw any more wrenches into the mix.  I don't have the time to cook every night so I took a couple of hours before the Super Bowl on Sunday to prepare food for the week. This is what we got…
Corn and Quinoa with Sausage- I am always looking for quinoa recipes to trick my husband and hide the flavor since he is not a big fan.  This recipe is from my new cookbook – Weeknight Wonders by Ellie Krieger.  Totally success, my husband LOVED it!
Grilled Chicken Breasts- No bells and whistles just straight grilled for lunch, dinner and sliced for chicken salad.
Boneless Pork Chops – Pork is so hard to cook and often turns out too dry for my taste.  I marinated it in a pineapple chutney and will use it for lunch and dinner.
Sautéed Bell Peppers – To top last night's pizza during Super Bowl and for dinners for fajitas.
Roasted Brussel Sprouts with Pancetta – As a side dish for lunch and dinner.
Garlic Roasted Cauliflower – As a side dish for lunch and dinner.
Hard-Boiled Eggs – For breakfast, a snack and egg salad.
Homemade White Spaghetti – Doctored up with spinach, sundried tomatoes, roasted garlic and sprinkled with toasted sunflower seeds.  Yes, the pasta is WHITE however since it's homemade with added vegetables, I can justify!
Emily at My Collegiate Kitchen –
For my prep this week I chopped up carrot, celery, onion and sweet potato for crock pot lentil soup. Extra carrots, celery and onion went into a pot with frozen veggie odds and ends for veggie stock. I made quinoa in my rice cooker, part for tabbouleh later in the week and part packed into 1 cup bags for the freezer. I did a quick soak and cooked dried black beans and kidney beans to be packed in 1-2 cup bags for the freezer. Washed fruits for the week and parsley for tabbouleh. Last but not least, whole wheat double chocolate muffins!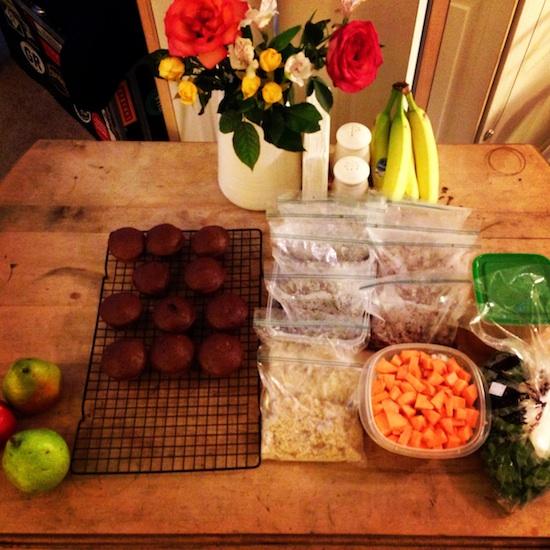 Brittney at Sweets 'n Greens –
This Sunday, I made green juice, greek yogurt tuna salad, hard boiled eggs, protein pancakes, zucchini noodles and banana-baked oatmeal muffins. I also made cauliflower pizza crust for the first time (totally expecting there to be leftovers), but that got eaten fast!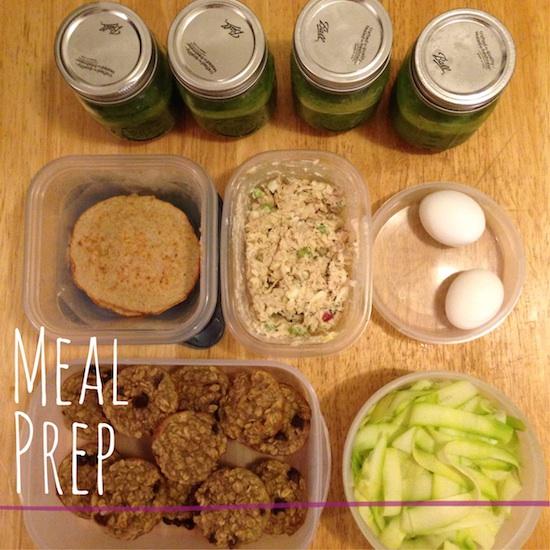 Brandi :
This week I've prepped (top left) White Chicken Chili- used for Sunday dinner and Hubby's lunches
Broccoli-roasting for dinners
Strawberry Slices- snacks/lunches
Salmon-Lunches/Salads
Crockpot Pulled Chicken (2nd row left) -used in Salads or by itself.
Acorn Squash- bagged for easy take-along! First time roasting it and love it!
Pre-Sliced Peppers and Onions- Used for dinner with Turkey Sausages
Roasted Carrots (bottom row)- bagged for easy tow, used for lunches/snacks
Roasted Spicy Butternut Squash-side dish for dinners.
Salad- washed/cut up for easy grab-n-go for packing.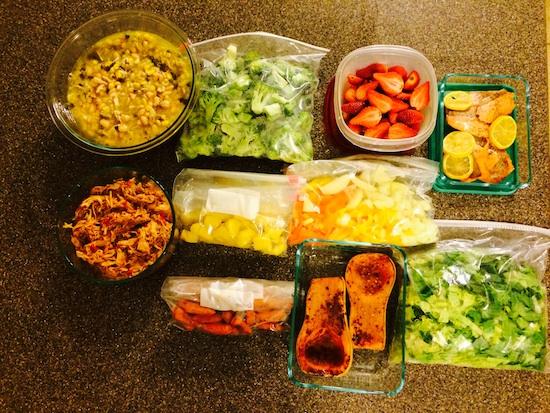 Are you food prepping this weekend? Want to submit a pic to be featured in an upcoming post?! 

Here's what I need from you:
Email me the following:
1. Your Name
2. Your Blog URL (if you have one)
3. A photo of your food prep
4. A short description of what's in the photo. Tell me what you prepped and how you're going to use it during the week!
Every Sunday, I'll post a roundup of the photos I received that week so that you guys can see what others are preparing and hopefully get some inspiration and ideas! I'll keep this series going for as long as I receive photos, so send one every week if you want to!
Send to: theleangreenbean <at> gmail <dot> com
Tweet and Instagram your pics as well to inspire others!! Use the hashtag #sundayfoodprep . Remember that in order for a pic to be included in the post, you have to email it to me! If you have more than one pic, please make them into a collage before sending!
———————
Want more inspiration and tips? Read these:
Top 10 Foods for Sunday Food Prep
How to Prep Food on the Weekend
Weekend Prep for Easy Weekday Meals
How to Eat Healthy in College
How to Eat Healthy During the Week
And check out the Food Prep Tab for links to all the previous Sunday food prep posts!
————
Let's chat: Are you prepping food today? Whatcha makin'?
Enjoy!
–Lindsay–