Hi Friends!
Time for more food prep inspiration!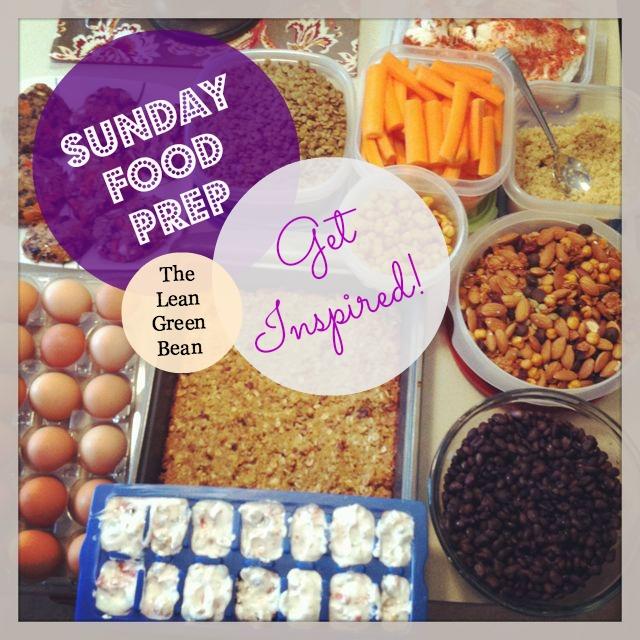 Here's what I made last weekend: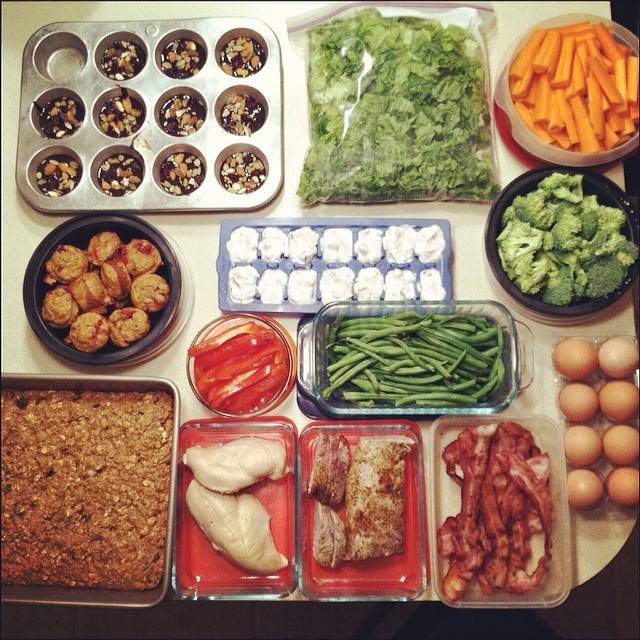 Quinoa Breakfast Bars
Sweet Potato Bites with Cranberries
Freezer Chocolate PB Cups
Lettuce for Salads
Fro Yo Bites
Veggies
Baked Chicken
Pork Tenderloin
Bacon
HB Eggs
————–
Here's what you guys have been up to:
Kristin –
We prepped: chopped lettuce, hard boiled eggs, baked chicken breast, quinoa,  and your quinoa breakfast bars!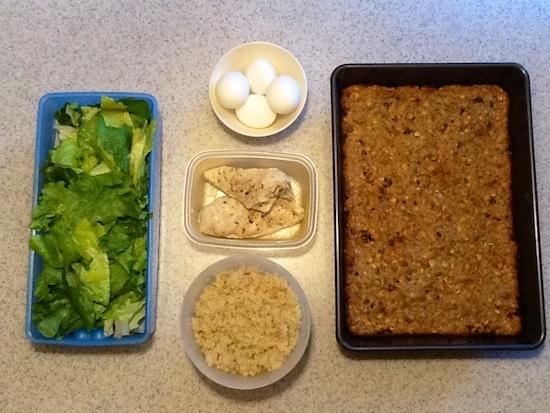 Nancy at Resolution Road –
I timed myself to see just how long I have to cook to get all of this done.  I started at 2:00 and wrapped up at 5:00. I had to go pick up Madison.  I had one interruption, but here's what I made in my 3 hours:
A gazillion turkey meatballs. I used 4, 20oz packages.
Asian cole slaw
Roasted zucchini and squash
Sauteed garlic green beans
About 7 baked sweet potatoes
A pot of black rice pilaf
I marinated about 15 chicken drumsticks (didn't cook them)
What's not included, but will also be eaten this week, is Mediterranean Tuna Salad (made on Friday) and chicken drumsticks (made on Monday). I packaged several meals for hubby and I to take to work for lunch. I feel certain that once I get used to this and get into rhythm it will take me even less time! Yay, me!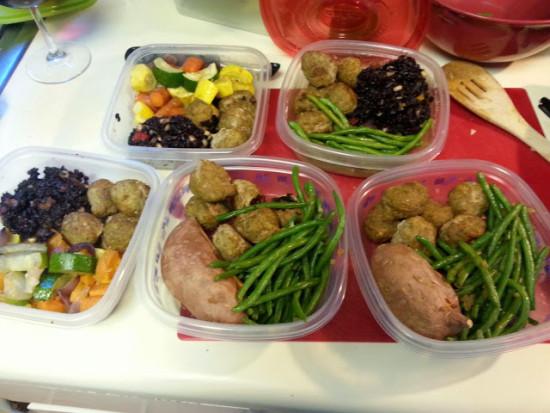 Maria at Lil Mys Ninja –
HB eggs
breakfast casserole
fruit snack packs
chicken salad for lunch sandwiches
diced pork marinating for dinner this week (2nd pack went in the freezer)
2 salads in a jar
The cooked ground beef is for dinner later this week and the cooked chicken sausage will be frozen for the next breakfast casserole. The Rotisserie style chicken (using Lindsay's/your crockpot method!) was shredded to top salads and to make the chicken salad. I kept the wings, legs & a thigh for PJ to make his own chicken salad, then froze whatever remaining shreds for later use.
I also picked up 2 ready made salads from Earth Fare using a coupon and a yogurt parfait this week. I had leftover diced cheese for snacking this week & pulled out the leftover pasta sauce I froze from last week to use in Monday night's dinner.
Julie at Girl on the Move –
#1 – Banana Muffins …Love being able to grab a couple of these in the morning!
#2 – Hard-boiled eggs…I should really look into owning chickens!
#3 – Salsa chicken – Seriously this is the easiest way to prep chicken and I think everyone should have some of this on hand at all times because there are so many creative ways that you can use it.  All I do is throw chicken and salsa in the crockpot and set it on low.  Once it's cooked I shred the chicken and I'm ready to go!
#4 – Taco Flavored Turkey – Cooked up some ground turkey with taco seasoning to use on salads, nachos, tacos, etc this week!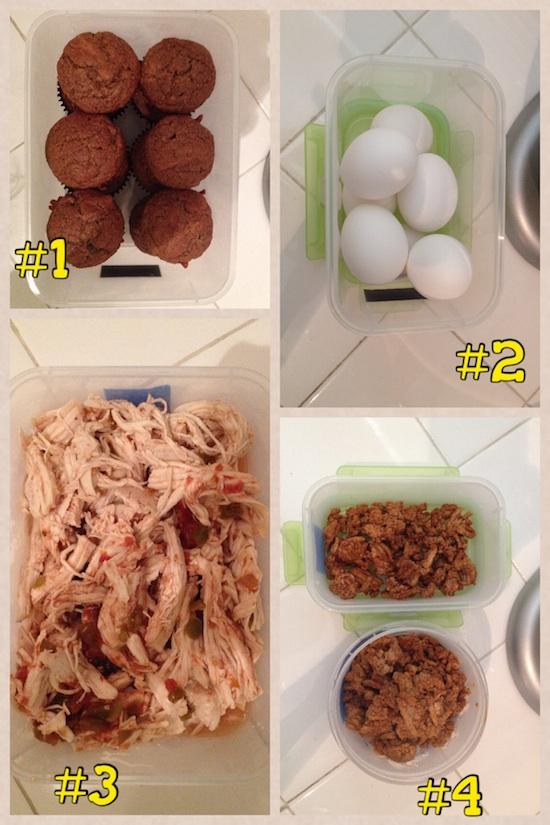 Moriah at Tri Or Bust –
A kale and sweet potato Fritatta (to eat with an orange after teaching fitness classes)
A Turkey and Veggie Hash (for lunch)
Chocolate coconut protein balls (for snacks)
Apple Almond Coconut cookies (for breakfast with my protein shake)
And homemade Almond Butter (to add to protein shakes) (forgot to put it in the picture!)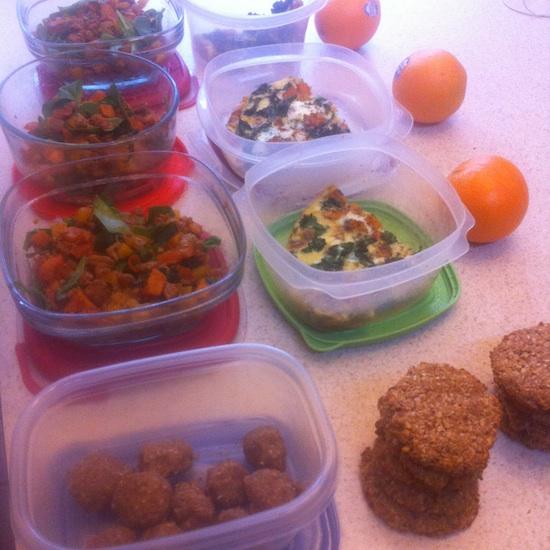 Katie at Peace Love & Oats –
Mashed Cauliflower
Sauteed Zucchini and Yellow Squash
Cooked Quinoa
Baked Sweet Potatoes
Steamed Broccoli
Baked Chicken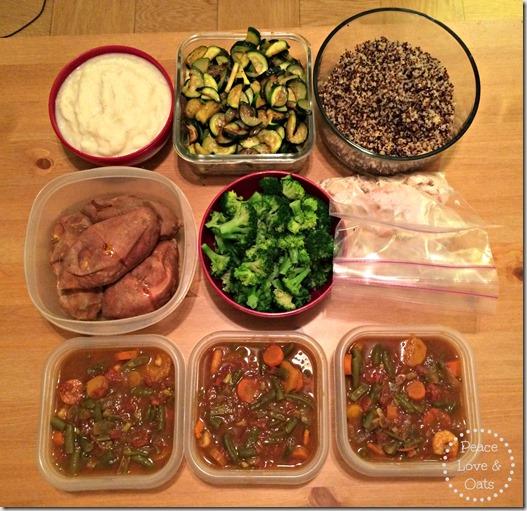 Are you food prepping this weekend? Want to submit a pic to be featured in an upcoming post?! 

Here's what I need from you:
Email me the following:
1. Your Name
2. Your Blog URL (if you have one)
3. A photo of your food prep
4. A short description of what's in the photo. Tell me what you prepped and how you're going to use it during the week!
Every Sunday, I'll post a roundup of the photos I received that week so that you guys can see what others are preparing and hopefully get some inspiration and ideas! I'll keep this series going for as long as I receive photos, so send one every week if you want to!
Send to: theleangreenbean <at> gmail <dot> com
Tweet and Instagram your pics as well to inspire others!! Use the hashtag #sundayfoodprep . Remember that in order for a pic to be included in the post, you have to email it to me! If you have more than one pic, please make them into a collage before sending!
———————
Want more inspiration and tips? Read these:
How to Prep Food on the Weekend
Weekend Prep for Easy Weekday Meals
How to Eat Healthy in College
How to Eat Healthy During the Week
And check out the Food Prep Tab for links to all the previous Sunday food prep posts!
—————–
And finally, if you're a blogger and you blog about your food prep, feel free to link up your post below! Please keep sending me pics to be featured in the posts as well, but I thought I'd give people a chance to link up to give you guys even more ideas and introduce you to some more blogs!
————
Let's chat: Are you prepping food today? Whatcha makin'?
Enjoy!
–Lindsay–