Hi Friends!
Time for more food prep inspiration!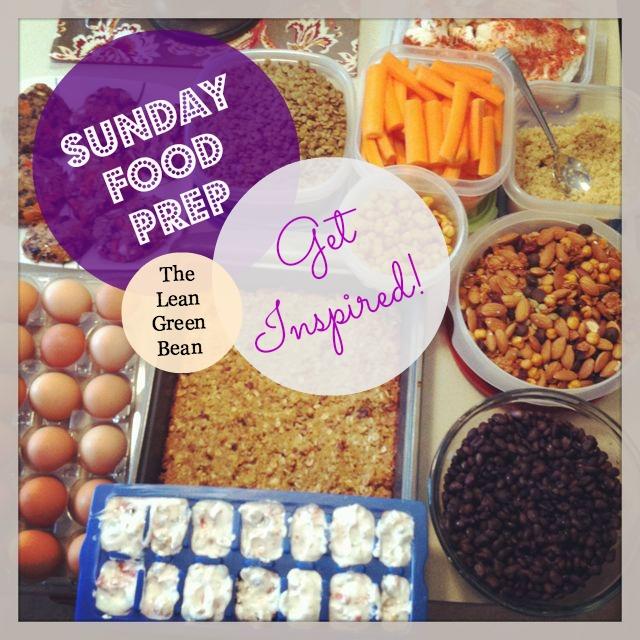 Here's what I prepped last weekend:
Pork & Lentil soup
Flank steak marinating
Veggies (beans, carrots, snap peas and peppers, cucumbers)
Quinoa
Roasted potatoes
Baked chicken
Salmon
Lettuce for salads
Here's what you guys have been up to:
Jackie –
Chicken bites!
Quinoa breakfast bars: I substituted coconut nectar for syrup ( was out) and used pomegranates instead of craisins!
Breakfast bar Prep for the week!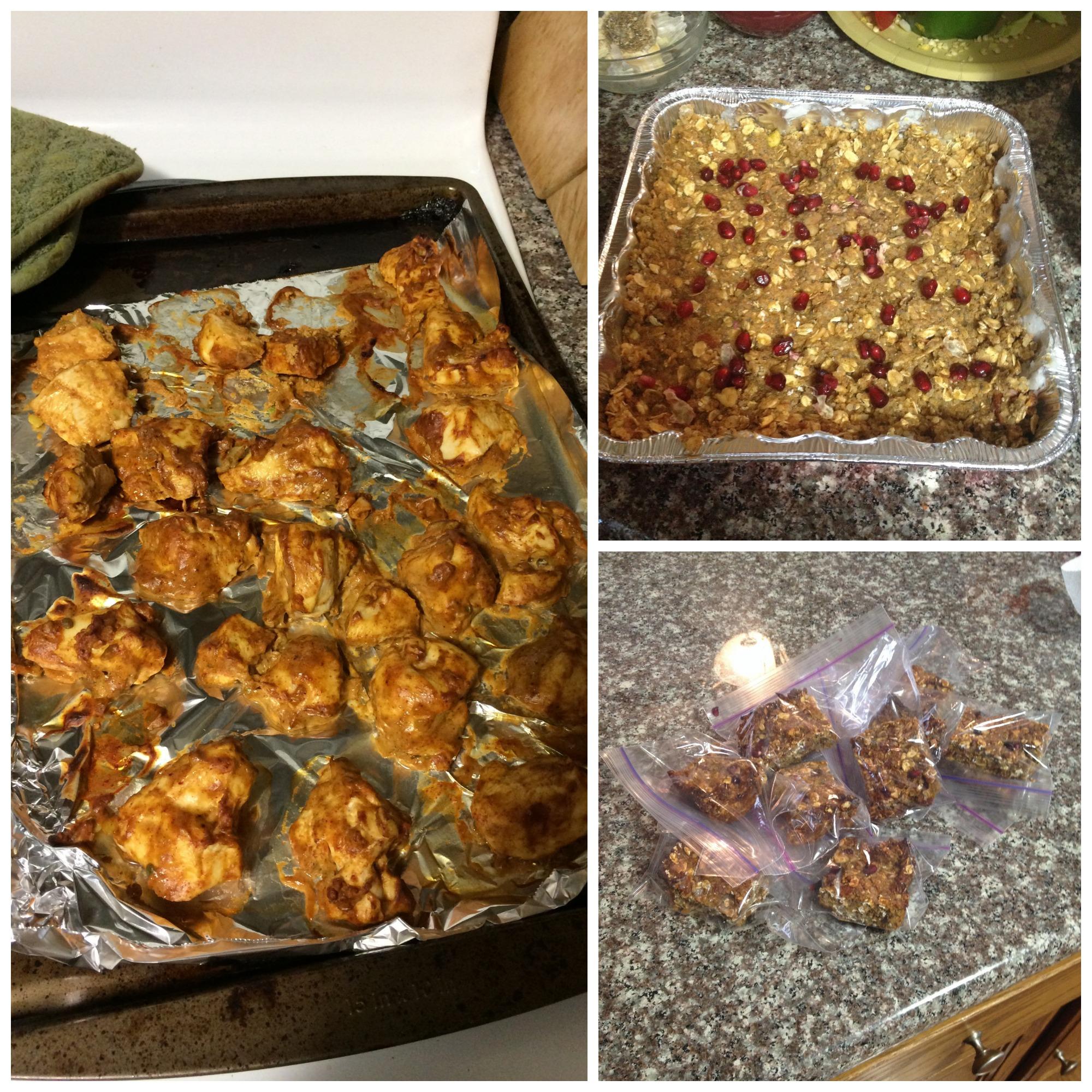 Maria at Lil Mys Ninja –
Snacks for the week:
HB eggs
Diced cheddar cheese
4 apple & cuties snack packs
Breakfast for the week:
Breakfast Casserole (made ahead to soak overnight then cooked it the next morning)
Lunches for the week:
Grilled chicken & Rice
Prep for dinners:
Browned ground beef for pasta sauce
I started training for my first-ever 10K at age 50, this week! Was totally scrambling for meals because I didn't plan and prep. I'm back in the game!
*Red Beans with Tofurky Kielbasa with Wild & Basmati Rice
*Spinach Quinoa Cups – for a snatch-n-run breakfast!
*Cilantro Hummus
*Fruit & Nut Bars – 3 varieties **My hubby actually said he had been craving these while he was in India, last week! That's a win for the home team!**
*Pre-packaged kale (some with apples) for Green Smoothies & freezing!
*Boiled eggs & prepped veggies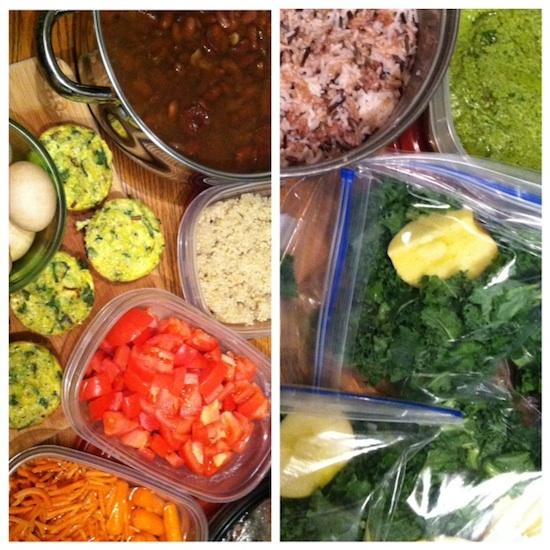 I made salmon burges, sweet potato carrot ginger cakes, mini fritatas, cilantro mustard chicken and broccoli cauliflower kale soup! I plan to divvy these up and bring them to work for my lunches, and the cooking meals separately after work when I get home. I prepped all this with a friend, which was a fun way to encourage each other to eat healthy and prep for the week, while getting to know each other better.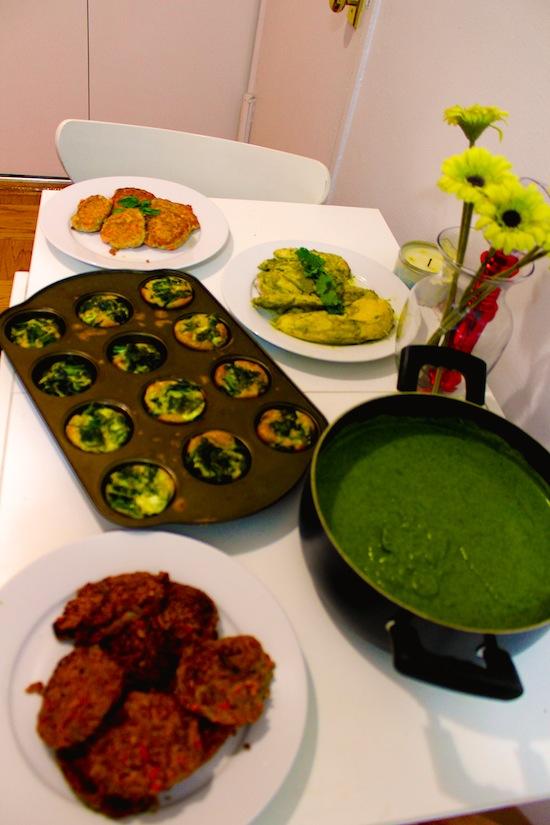 Tuna salad lettuce rolls, roasted butternut squash, drop biscuits, carrots pumpkin muffins, (not pictured hard boiled eggs, sliced and diced cucumbers, steamed spinach and kale, and baked chicken breasts!) phew! That was a big Sunday!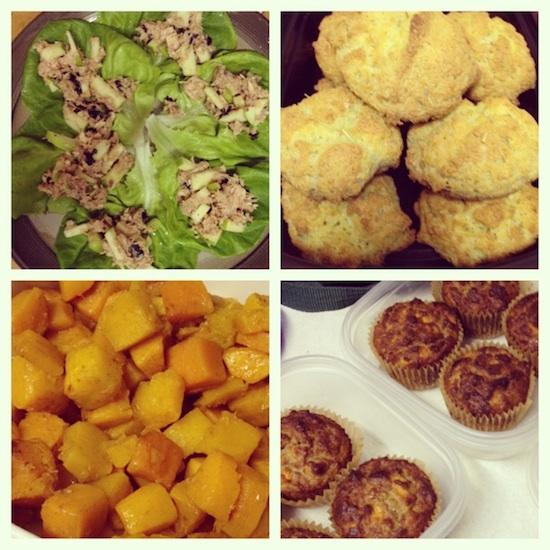 Kim –
(clockwise from top left) This weekend, I cut up some celery, zucchini,and green pepper. I take these with baby carrots each day in my lunch.
I also made some veggie stuffed peppers (stuffed with rice, egg whites, carrot, celery, onion, and mushroom). I ate two for dinner on Sundayand we might have them with another dinner this week or they'll make great lunch options.
Made some veggie stock from leftover vegetable trimmings I had been saving in the freezer.
Finally, hard boiled some eggs. I kept half aside and the others went into an old pickle jar. In a few days, they will have that awesome dill flavor that I crave!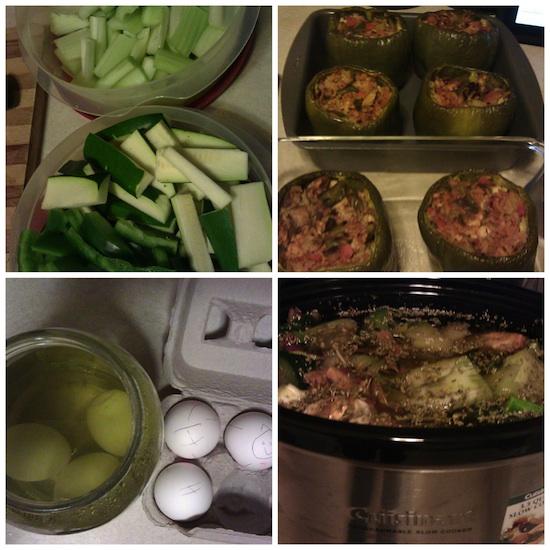 Lauren at Me & The Mountains –
The food prep includes: chopped red cabbage (I put it in salads, roast it or just snack on it raw), cauliflower, broccoli (all in bags that I will rinse out and re-use), hard-boiled eggs, grab & go yogurts, Wholly Guacamole packets (I prefer plain, whole avocados, but these are great when I'm in a hurry!), roasted squash and red peppers (to put in salads for lunch), Balsamic Maple Roasted carrots (recipe to follow), Flapjacked pancakes, meat from a Whole Foods rotisserie chicken and this hummus (that is SO darn good).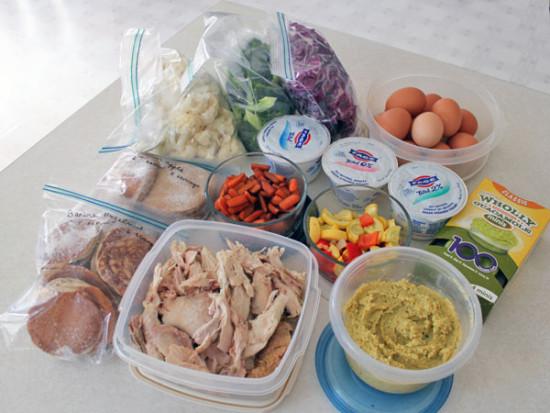 Are you food prepping this weekend? Want to submit a pic to be featured in an upcoming post?! 

Here's what I need from you:
Email me the following:
1. Your Name
2. Your Blog URL (if you have one)
3. A photo of your food prep
4. A short description of what's in the photo. Tell me what you prepped and how you're going to use it during the week!
Every Sunday, I'll post a roundup of the photos I received that week so that you guys can see what others are preparing and hopefully get some inspiration and ideas! I'll keep this series going for as long as I receive photos, so send one every week if you want to!
Send to: theleangreenbean <at> gmail <dot> com
Tweet and Instagram your pics as well to inspire others!! Use the hashtag #sundayfoodprep . Remember that in order for a pic to be included in the post, you have to email it to me! If you have more than one pic, please make them into a collage before sending!
———————
Want more inspiration and tips? Read these:
How to Prep Food on the Weekend
Weekend Prep for Easy Weekday Meals
How to Eat Healthy in College
How to Eat Healthy During the Week
And check out the Food Prep Tab for links to all the previous Sunday food prep posts!
—————–
And finally, if you're a blogger and you blog about your food prep, feel free to link up your post below! Please keep sending me pics to be featured in the posts as well, but I thought I'd give people a chance to link up to give you guys even more ideas and introduce you to some more blogs!
————
Let's chat: Are you prepping food today? Whatcha makin'?
Enjoy!
–Lindsay–