Hi Friends
Time for another round of Sunday Food Prep AND our very first Link Up Party!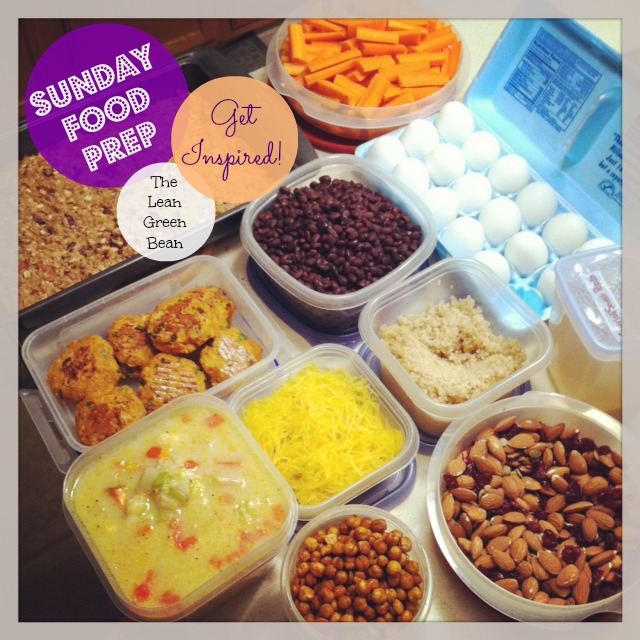 Here's what I prepped last weekend: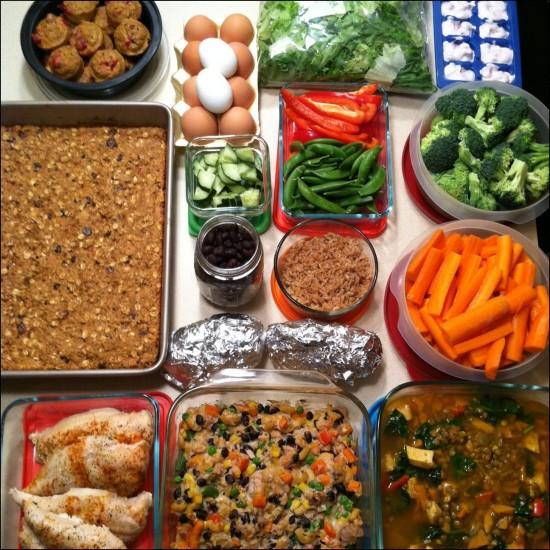 Chicken
HB Eggs
Cucumbers
Black Beans
Tuna Casserole
Baked Potatoes
Farro
Veggies
Lettuce
Chicken & Lentil Soup
Plus some homemade tortillas: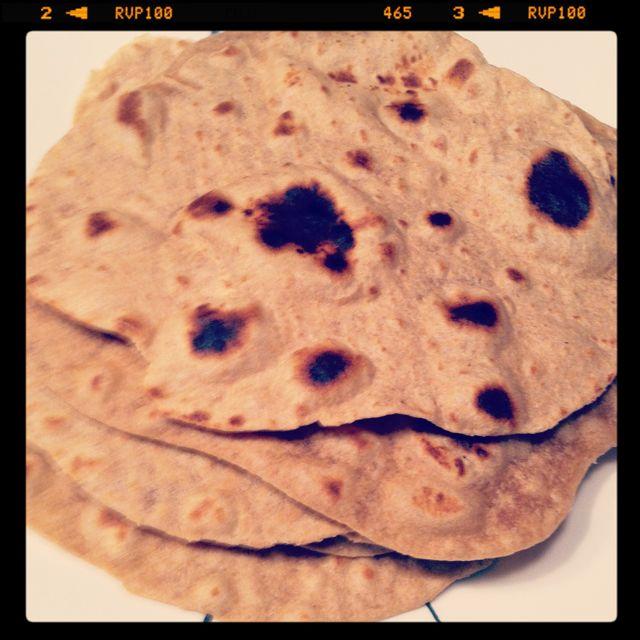 Here's what some of you have been up to:
Emily at The Apron Blog –
"This was my first week participating in Sunday Food Prep! I made brown rice, shredded carrots, and chopped bell pepper to make fried rice, carrots and avocado hummus, lettuce, chopped cucumber, black beans, chopped bell pepper and sauteed zucchini noodles for a southwestern themed salad. I made cilantro lime dressing with Greek yogurt, boiled eggs and pre-portioned my Greek yogurt for breakfast! It has made such a difference this week already!"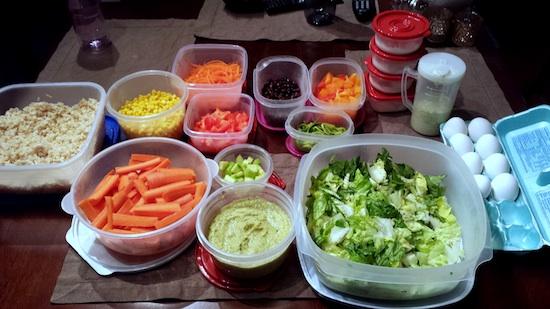 Katelyn –
Back to the grind. It helps when my feed is slammed with everyone else's meal prep photos. HB eggs, black bean and turkey baked wraps, VEGGIES, turkey bites, veggie egg puffs and oatmeal cupcakes that got me a, 'Holy cow these are good!' #mealprep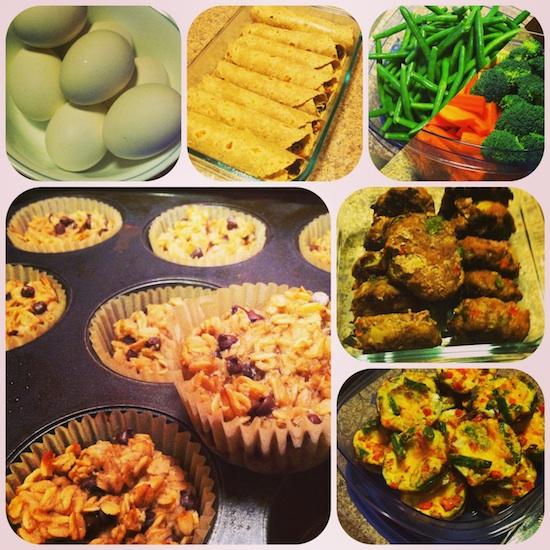 Morganne at Nut Butter Runner –
Breakfast Options:
Quinoa Breakfast Bites (same as the bars, just made them in a muffin tin)
French Toast Bake (unpictured – recipe testing!)
Lunch/Dinner Options:
Quinoa
Baked & Sliced Turkey Breast
Drained & Rinsed Chickpeas
Roasted Acorn Squash
Homemade Marinara Sauce
Prepared Kale
Snack Options:
Drained & Rinsed Chickpeas
Hard Boiled Eggs
Gluten-Free Corn Tortillas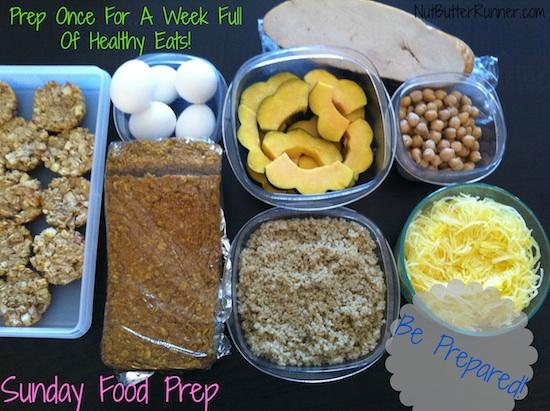 Ashley at My Cats & I Cooking in Chi –
This week I've made homemade protein bars (your recipe), white beans and spinach, curry chicken tenders, coconut rice, and garlic shrimp. Not pictured: green beans! The spinach and white bean mixture will be eaten with the shrimp; the coconut rice, chicken, and green beans will be a meal, and the protein bars will be used for a quick lunch at work.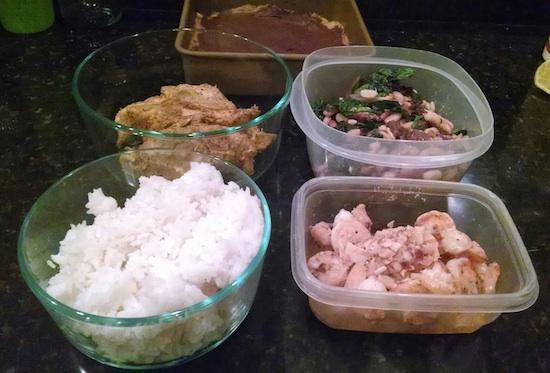 Brooke at Wrecking Routine –
My picture of all I made is attached. It includes:
-PB, strawberry, and granola breakfast roll ups
-chopped cucumbers for snacking with hummus
-veggie quinoa "hash"
-frozen yogurt covered blueberries for dessert
-spinach balls
-chocolate-nut melts
-roasted chickpea and edamame
-seasoned sweet potatoes for tonights dinner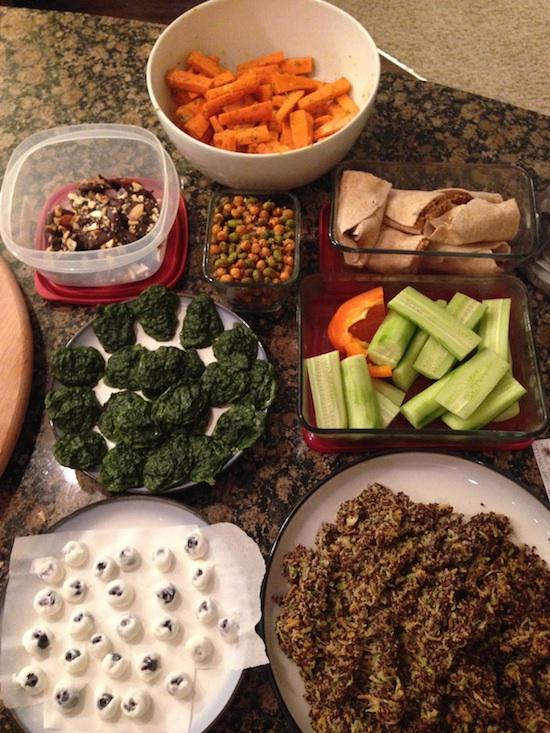 ——————
Are you food prepping this weekend? Want to submit a pic to be featured in an upcoming post?! 

Here's what I need from you:
Email me the following:
1. Your Name
2. Your Blog URL (if you have one)
3. A photo of your food prep
4. A short description of what's in the photo. Tell me what you prepped and how you're going to use it during the week!
Every Sunday, I'll post a roundup of the photos I received that week so that you guys can see what others are preparing and hopefully get some inspiration and ideas! I'll keep this series going for as long as I receive photos, so send one every week if you want to!
Send to: theleangreenbean <at> gmail <dot> com
Tweet and Instagram your pics as well to inspire others!! Use the hashtag #sundayfoodprep . Remember that in order for a pic to be included in the post, you have to email it to me! If you have more than one pic, please make them into a collage before sending!
———————
Want more inspiration and tips? Read these:
How to Prep Food on the Weekend
Weekend Prep for Easy Weekday Meals
How to Eat Healthy in College
How to Eat Healthy During the Week
And check out the Food Prep Tab for links to all the previous Sunday food prep posts!
—————–
And finally, if you're a blogger and you blog about your food prep, feel free to link up your post below! Please keep sending me pics to be featured in the posts as well, but I thought I'd give people a chance to link up to give you guys even more ideas and introduce you to some more blogs!
————
Let's chat: Are you prepping food today? Whatcha makin'?
Enjoy!
–Lindsay–