Hi Friends!
We're back with more food prep inspiration today!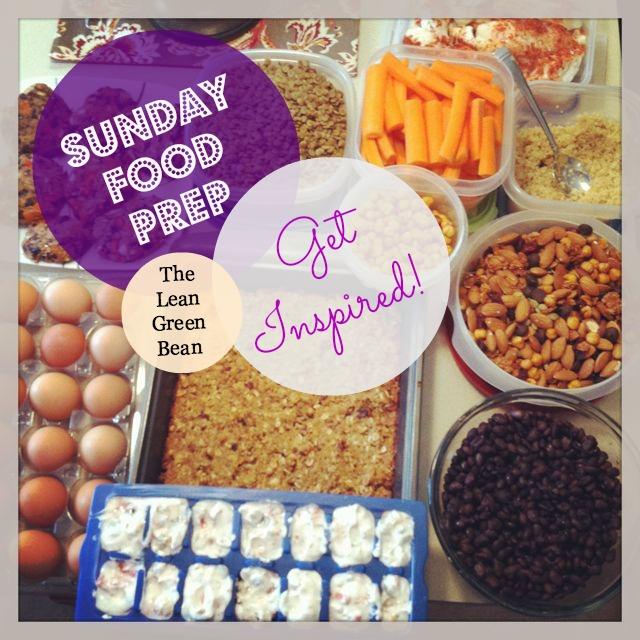 Here's what I prepped last weekend: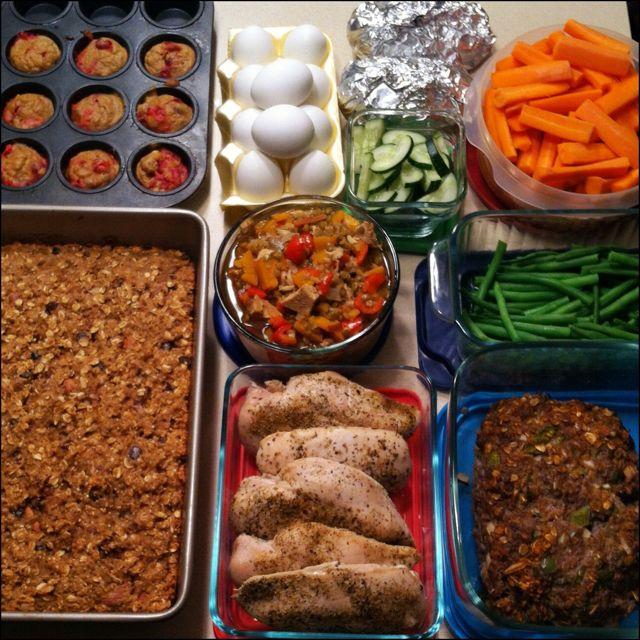 Sweet Potato Bites w/ Cranberries
HB Eggs
Lentil Chicken & Sweet Potato Soup
Baked Chicken
Meatloaf
Green Beans
Cucumbers for salad
Carrots
Baked Potatoes
—————-
Here's what some of you have been up to:
Arlene at Adventures in Weight Loss, Cooking & Life –
I spent some time Friday after work making a menu for the week, and wrote down a list of to-dos Saturday night, so I'd be ready to get to work first thing Sunday morning. On my list:
— I hard-boiled a half-dozen eggs for lunches/snacks throughout the week. (Not pictured.)
— Made a batch of your 
Quinoa Breakfast Bars
 with mashed banana, but added dried pineapple and a little coconut instead of cranberries. I also used half coconut extract and half vanilla. The result smelled divine as it was cooking, so I have high hopes it'll taste great for breakfast/snacks.
— Prepped some pork tenderloin for crock pot pulled pork and cabbage, using a recipe from the newest issue of Weight Watchers Magazine. It'll be used for lunches/dinners throughout the week.
— Made mini meat loaves parmigiana, also from the new WWM. I ate one for dinnerSunday, saved one in the fridge and froze the other two for future meals.
— Bonus: I had to buy two packages of ground beef (both were about 3/4 pound, and the meat loaf recipe called for a full pound), so I whipped up some baked meatballs with the leftover burger. In the mix: chopped orange bell pepper, a little parmesan cheese, garlic and egg. I'll either eat them for lunch (meatball sandwich, perhaps?) or snacks. Who knows? A few might make their way into an omelet …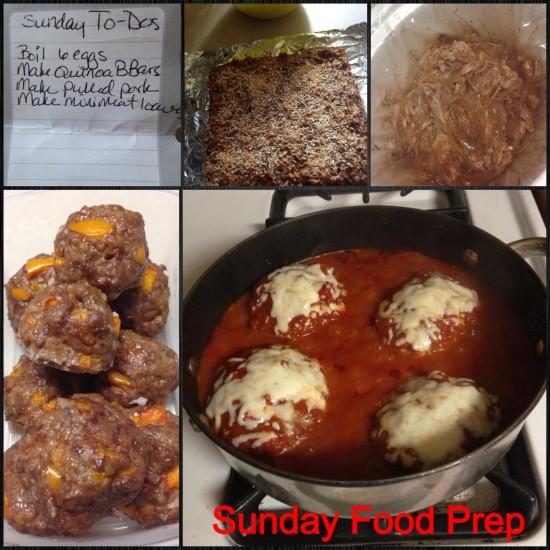 Claire at Flake & Cake –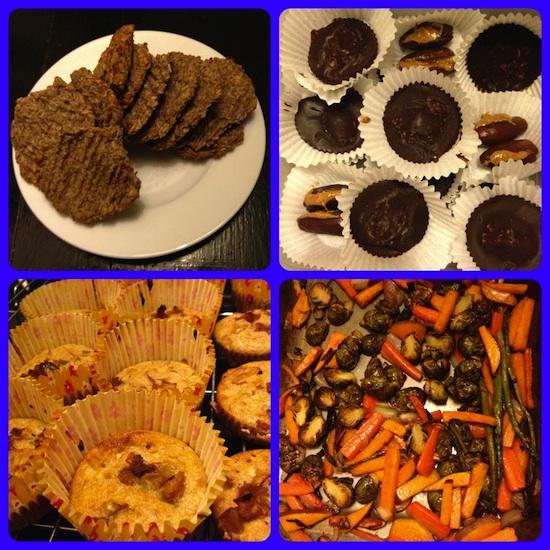 Ester at Chocolate Runner Girl –
Blackberries – Washed for breakfast and snacks
Homemade Soup – Full of chicken, veggies, tortellini and nutrients to help battle the winter cold!
Chocolate chip, banana & zucchini muffins – For breakfast on the go.
Chopped and shredded veggies – For lunches and chicken stir fry
Turkey chili – For dinner on these cold nights
Banana chocolate chip pancakes – More breakfast on the go!
Chopped lettuce (and not pictured: tomatoes & ground turkey) – For turkey taco salad
Quinoa – To pair with chicken and veggies for lunches
Grilled chicken – For lunches at work and chicken stir fry!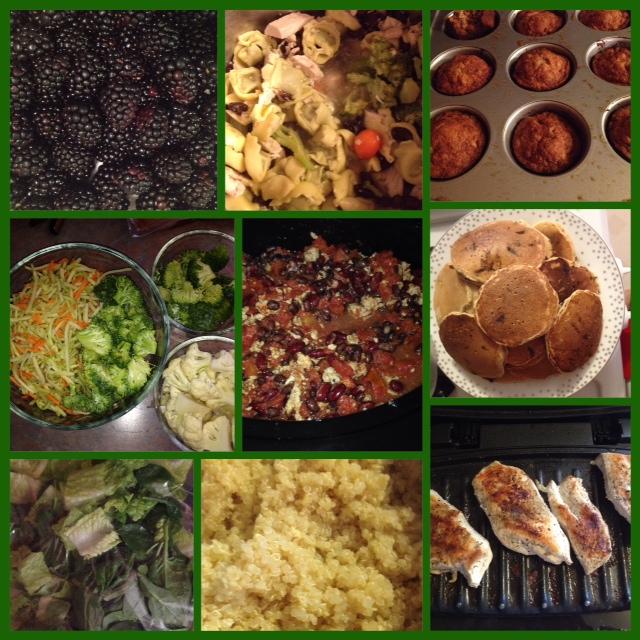 Morganne at Nut Butter Runner –
Here's what we have to start the 2014 off on the right foot!
For lunch/dinner:
Baked turkey breast
Lentil cabbage soup
Gluten free tortillas
For snacks:
Chocolate nut granola
Roasted kabocha squash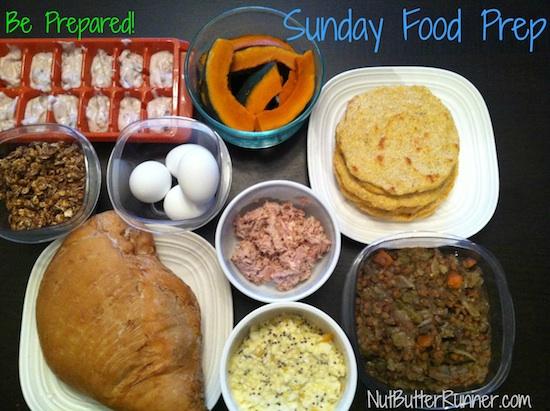 Emily at More Than Just Dessert –
After eating to my heart's desire over break, I knew I needed to get back in the swing of food prep this weekend in order to start eating well again during the week.  I roasted spaghetti squash that I'll use for dinners this week–I am amazed at how many different meals you can make out of it!  I cooked a large batch of quiona for salads and also baked quinoa pizza cups for grab-and=go lunches.  I also made sure to wash the large batch of strawberries I bought–having clean fruit for snacks makes me more likely to reach for them in the fridge.  I also made a large batch of salsa to use as dressing for my taco salads.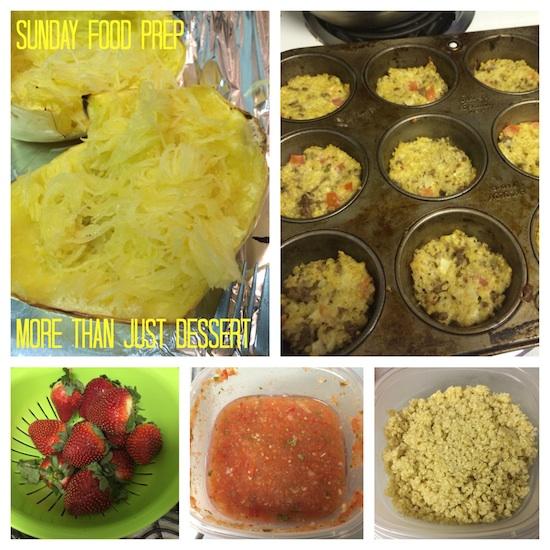 ——————
Are you food prepping this weekend? Want to submit a pic to be featured in an upcoming post?! 

Here's what I need from you:
Email me the following:
1. Your Name
2. Your Blog URL (if you have one)
3. A photo of your food prep
4. A short description of what's in the photo. Tell me what you prepped and how you're going to use it during the week!
Every Sunday, I'll post a roundup of the photos I received that week so that you guys can see what others are preparing and hopefully get some inspiration and ideas! I'll keep this series going for as long as I receive photos, so send one every week if you want to!
Send to: theleangreenbean <at> gmail <dot> com
Tweet and Instagram your pics as well to inspire others!! Use the hashtag #sundayfoodprep . Remember that in order for a pic to be included in the post, you have to email it to me! If you have more than one pic, please make them into a collage before sending!
———————
Want more inspiration and tips? Read these:
How to Prep Food on the Weekend
Weekend Prep for Easy Weekday Meals
How to Eat Healthy in College
How to Eat Healthy During the Week
And check out the Food Prep Tab for links to all the previous Sunday food prep posts!
—————–
Let's chat: Are you prepping food today? Whatcha makin'?
Enjoy!
–Lindsay–