Hi Friends!
Time for more Sunday Food Prep!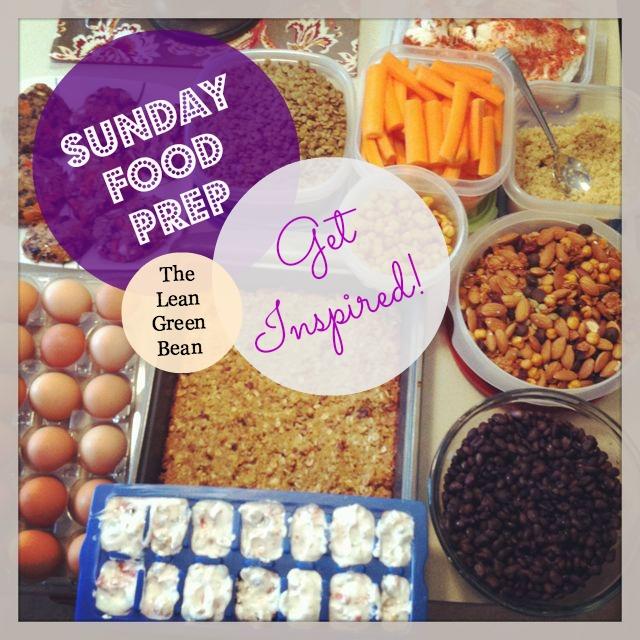 Here's what I made last weekend: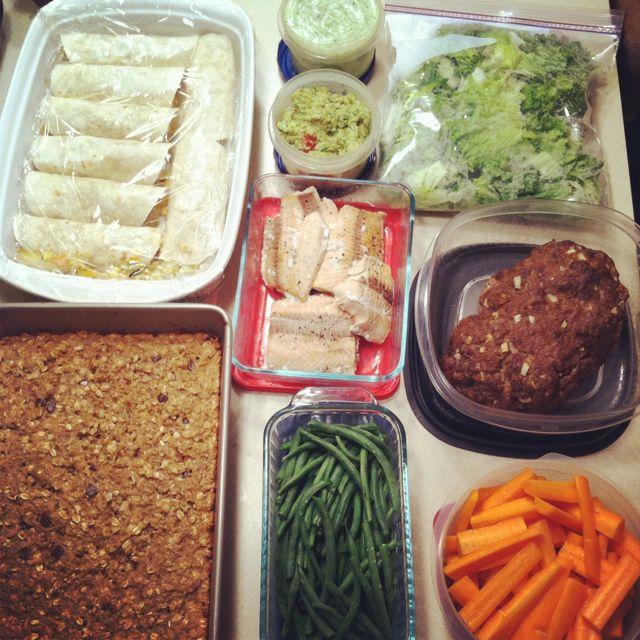 I actually ended up doing most of my prep Saturday night and it was nice to have it done. I made:
Quinoa breakfast bars
Make ahead breakfast enchilada casserole and sauce to go with it- recipe soon
Guac
Baked salmon
Green beans & carrots
Meatloaf for hubby
Lettuce for salads
I also made a rotisserie chicken in the crockpot and used some of it to make chicken pot pies on Sunday.
Here's what some of you have been up to:
Meagan at The Bookish Runner –
In the mix this week I made a huge pot of a Healthier version of  hamburger soup, I portioned some whole wheat tortilla quiche out for breakfasts, made veggie bags and some clean eating blueberry muffins ( they look sad, but they are yummy:) and boiled some eggs for salads and such 🙂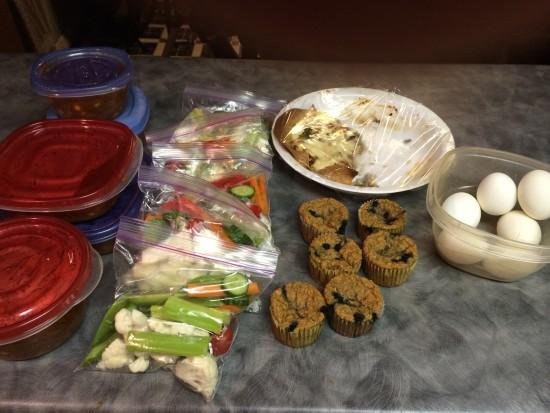 Amanda at Eat Hard, Work Hard –
-Vegan Cranberry Baked Oatmeal: this was accidentally vegan since I started making breakfast before discovering I was out of eggs, egg whites, and Greek yogurt but it still turned out delicious! Recipe on the blog.
Sides: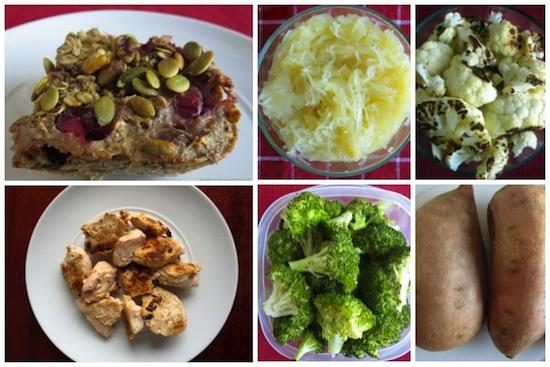 Melissa at Freeing Imperfections –
I prepped… Hubby's lunch for the night before, celery with pb, bell peppers, cucumbers, & hard boiled eggs for snacks, and a salad, veggie chili, and apples for on the go.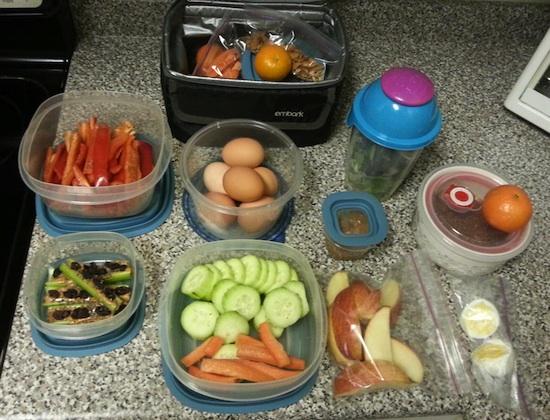 Cathy at The James' on Jessie –
No bake oatmeal protein balls via Peanut Butter Fingers; cooked pasta and chopped sweet potato for our one-year-old son, sweet potato chips ( we slice them thin and coat them in olive oil, sea salt and pepper. We put them in the oven at 375 for 15-18 minutes, flipping halfway through. They eat like chips and are a great side for dinner!), and; chopped broccoli.
This isn't much, but I am keeping my son in mind. We have to have some easy to cook items on hand while we cook our main dinner, so we rely on simple, quick options while keeping it healthy. I work from home, so the protein balls are key that I don't snack all day!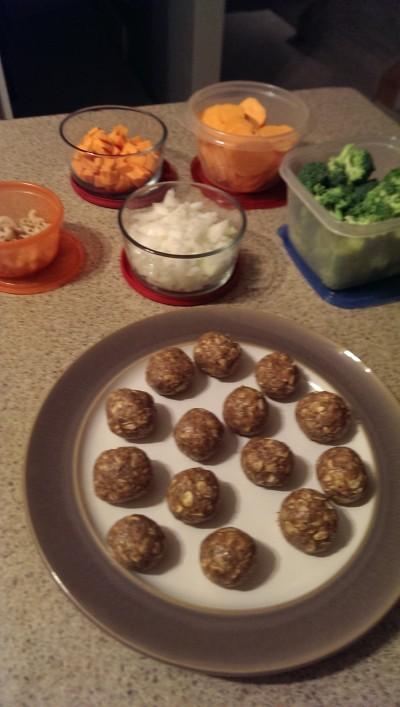 From top left –
– potato soup
– individual mexican lasagnas for freezing (quick meal when I don't want to cook)
– chicken thighs
-sweet & sour pork
– hardboiled eggs
– quinoa breakfast bars (your recipe!)
– extra taco meat with tomatoes, chills, and corn
– rice
– extra quinoa
– cheesy garlic butternut squash
– green beans
This will make my breakfasts and lunches for the week, plus some dinners and freezer meals for the future.  Not bad for an afternoon's work!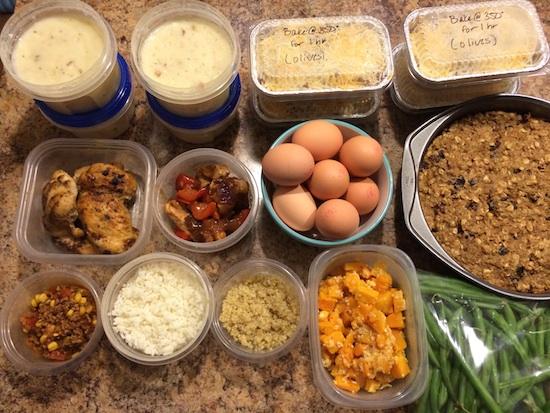 ——————
Are you food prepping this weekend? Want to submit a pic to be featured in an upcoming post?! I'm running low on submissions!

Here's what I need from you:
Email me the following:
1. Your Name
2. Your Blog URL (if you have one)
3. A photo of your food prep
4. A short description of what's in the photo. Tell me what you prepped and how you're going to use it during the week!
Every Sunday, I'll post a roundup of the photos I received that week so that you guys can see what others are preparing and hopefully get some inspiration and ideas! I'll keep this series going for as long as I receive photos, so send one every week if you want to!
Send to: theleangreenbean <at> gmail <dot> com
Tweet and Instagram your pics as well to inspire others!! Use the hashtag #sundayfoodprep . Remember that in order for a pic to be included in the post, you have to email it to me! If you have more than one pic, please make them into a collage before sending!
———————
Want more inspiration and tips? Read these:
How to Prep Food on the Weekend
Weekend Prep for Easy Weekday Meals
How to Eat Healthy in College
How to Eat Healthy During the Week
And check out the Food Prep Tab for links to all the previous Sunday food prep posts!
—————–
Let's chat: Are you prepping food today? Whatcha makin'?
Enjoy!
–Lindsay–