Hi Friends!
Time for more food prep!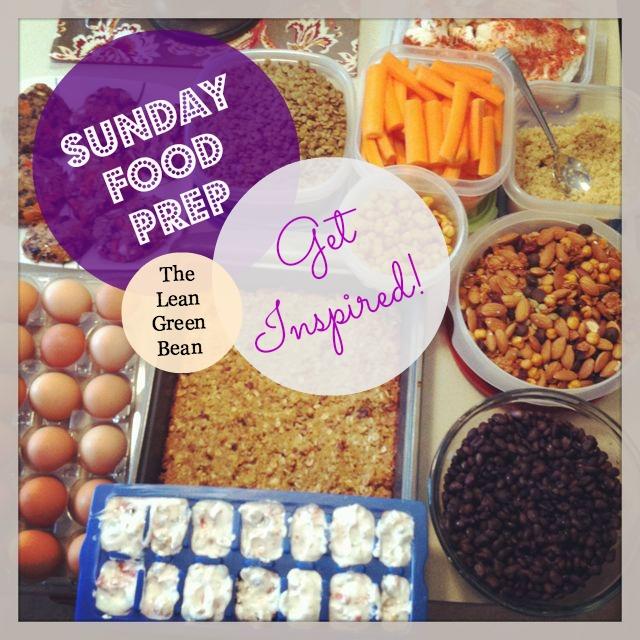 Here's what I prepped last week: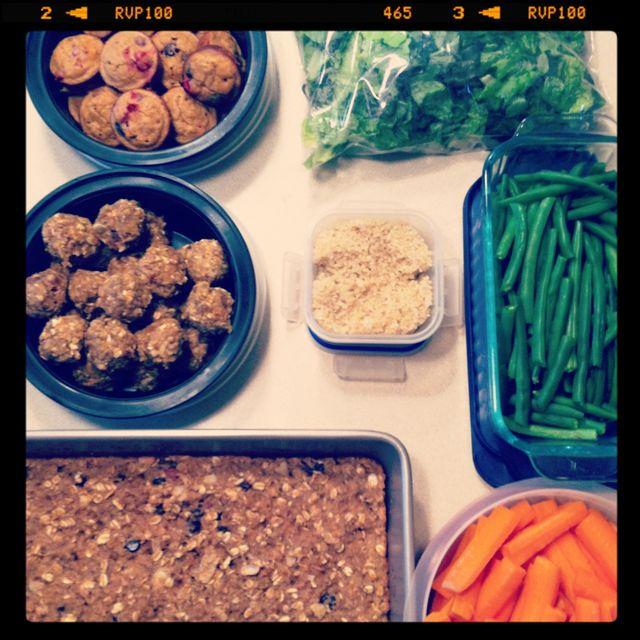 I made a full Thanksgiving dinner on Sunday so I kew we'd be eating leftovers most of the week, but I still prepped some snacks and veggies:
Here's what you guys have been up to:
Jenny at Green Yogi For Life –
I spent about 2 hours on Sunday prepping the following food and preparing dinner for the night.  I planned to have , hard-boiled eggs and Quinoa Breakfast Bars for breakfasts, Quinoa & Kale Minnestrone for lunches, and was even able to make a few snacks too. Very successful day!
Pictured:
Quinoa & Kale Minnestrone (recipe on my blog coming soon…)
hard-boiled eggs for breakfasts and anytime protein
cut up veggies
not pictured for salads and dinners: mixed greens, baby spinach, roasted chicken, roasted cauliflower, avocados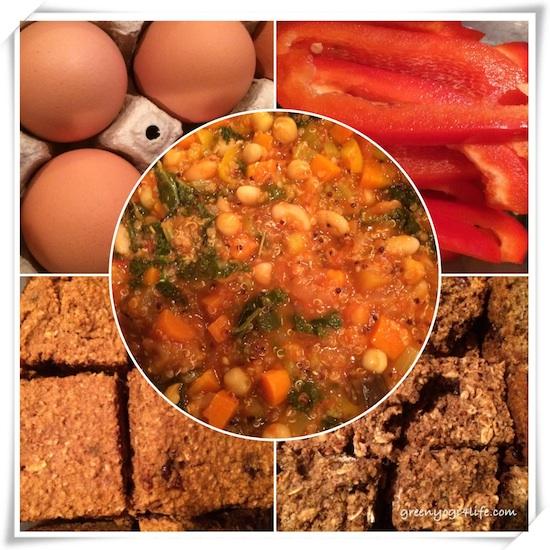 I prepped by hard boiling a dozen eggs for quick and easy snacks and to top on my salads, cooking squash, washing and chopping lettuce, washing fresh fruit, peeling and freezing bananas for smoothie making, and steamed some peas for some more salad toppin'! 🙂 It's not pictured but I also made some taco meat and beans for quick tacos and taco salads!It may not be a lot but it has been saving me a lot of time and energy when it comes to packing lunches for work or finding a quick snack!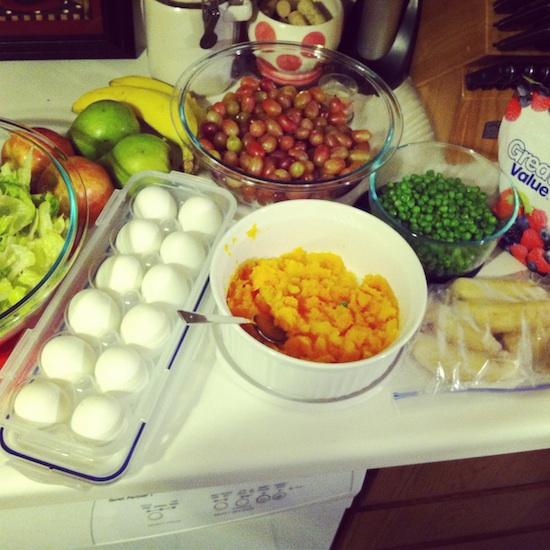 From top left:  cut up cauliflower and celery sticks, green grapes, cut up green peppers and chopped celery for Monday dinner stir fry, cut up green peppers,chopped broccoli for Friday soup, crumb cake, cut up green peppers and baby carrots for Monday lunch, 7 salads in jars, homemade chicken broth for Friday dinner, chicken leftovers for Friday and Saturday dinners and lunches for the week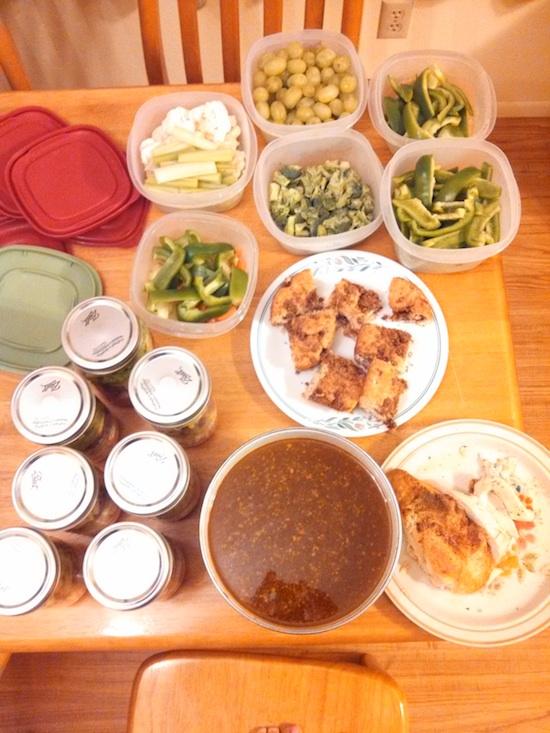 Here's what I made…
A double batch of lean beef meatloaf loaded with carrots and quinoa. I made half in muffin tins to freeze and take for easy lunches.
Fruits and veggies for snacks and smoothies and acai bowls!
Pumpkin protein cookies
Spaghetti squash and sauce prep for a lasagna style dinner.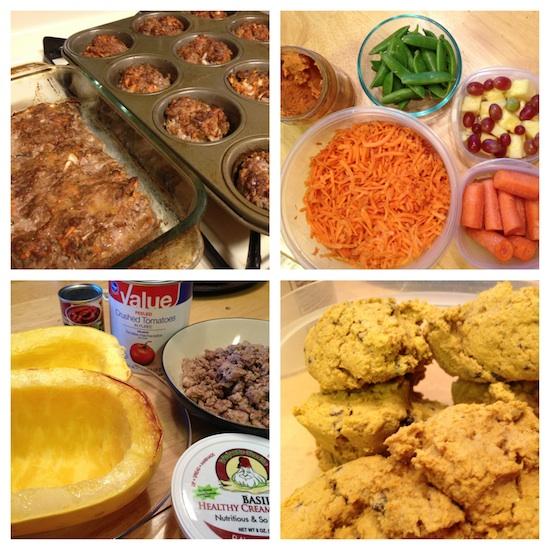 Trine-Marie at TrineMarie.com –
1. Chopped up onion, celery, green pepper, tomatoes, and sausage for Cajun Jambalaya. We always double the recipe because the leftovers are absolutely delicious – perfect for lunch or another dinner.
2. Regular pasta salad as a side dish for dinners. One of Andy's favorites!
3. Two servings of egg salad with ham and green onion. Great by itself or on a sandwich.
4. Three servings of my orzo salad.
5. Four frozen smoothie packs in serving sizes. Just add a bit of lemon juice and half a cup of orange juice when blending them.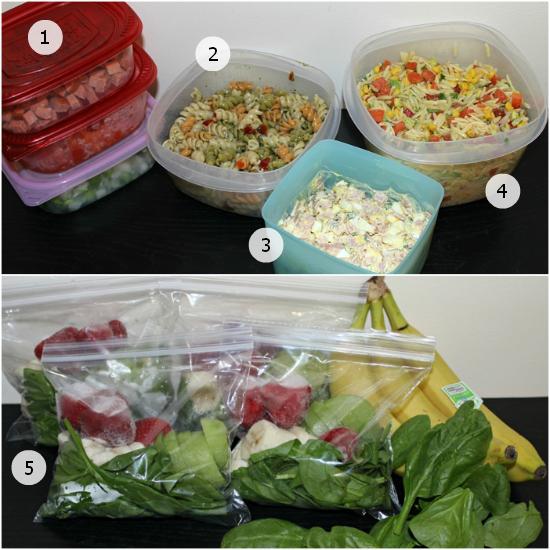 Are you food prepping this weekend? Want to submit a pic to be featured in an upcoming post?! I'm running low on submissions.

Here's what I need from you:
Email me the following:
1. Your Name
2. Your Blog URL (if you have one)
3. A photo of your food prep
4. A short description of what's in the photo. Tell me what you prepped and how you're going to use it during the week!
Every Sunday, I'll post a roundup of the photos I received that week so that you guys can see what others are preparing and hopefully get some inspiration and ideas! I'll keep this series going for as long as I receive photos, so send one every week if you want to!
Send to: theleangreenbean <at> gmail <dot> com
Tweet and Instagram your pics as well to inspire others!! Use the hashtag #sundayfoodprep . Remember that in order for a pic to be included in the post, you have to email it to me! If you have more than one pic, please make them into a collage before sending!
———————
Want more inspiration and tips? Read these:
How to Prep Food on the Weekend
Weekend Prep for Easy Weekday Meals
How to Eat Healthy in College
How to Eat Healthy During the Week
And check out the Food Prep Tab for links to all the previous Sunday food prep posts!
—————–
Let's chat: Are you prepping food today? Whatcha makin'?
Enjoy!
–Lindsay–