Hi Friends!
Time for more food prep.
Here's what I made last week: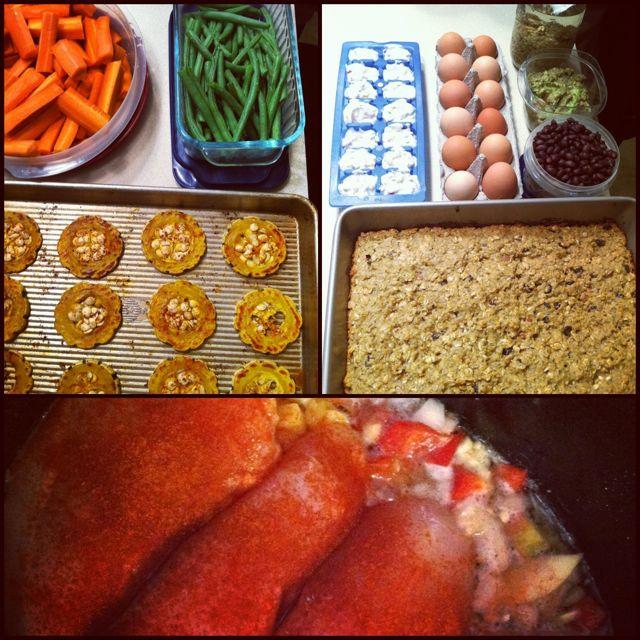 Carrots
Green Beans
Roasted Kabocha Squash
Froyo Bites
Hardboiled Eggs
Sprouted Lentils
Guacamole
Black Beans
Quinoa Breakfast Bars
Crockpot Pulled Chicken: 1 diced red pepper, 1 small onion (diced), 3 cloves garlic (minced), 1 diced apple, 4 chicken breasts, cayenne pepper, paprika, 1 bottle of beer- Cook on low for about 4 hours or until chicken is cooked. Shred and add bbq sauce if you want!
Here's what some of you have been up to:
Ashley at The Pomegranate Bandit –
Peppers for snacking and roasting, protein energy balls, sugar/flour free cookies, butternut squash soup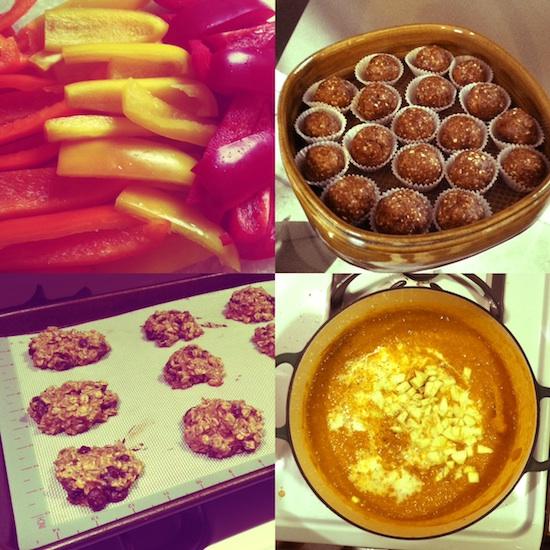 Morganne at Nut Butter Runner –
This week I've prepped:
Roasted and sliced acorn and butternut squash –> These are great for salad additions, a dinner side, or snack!
Hard boiled eggs –> Perfect for on-the-go snacks, egg salad, or just to add to a salad!
Black bean pumpkin meat loaf muffins –> These are great for snacking or to add to any lunch!
Black bean chili burgers –> I love that these stretched our dollars to double what a normal recipe would give us! They're really versatile to any of your favorite flavor combinations, too!
Quinoa –> I love the addition of quinoa to salads or using it as a rice substitute for dinners.
Farmer's Market –> I didn't measure anything, but just combined black beans, black eyed peas, corn, tomatoes, sliced jalapeño, and cilantro.
Tomato brownie cakes –> Laura intrigued me to try this recipe out!
A new bread recipe!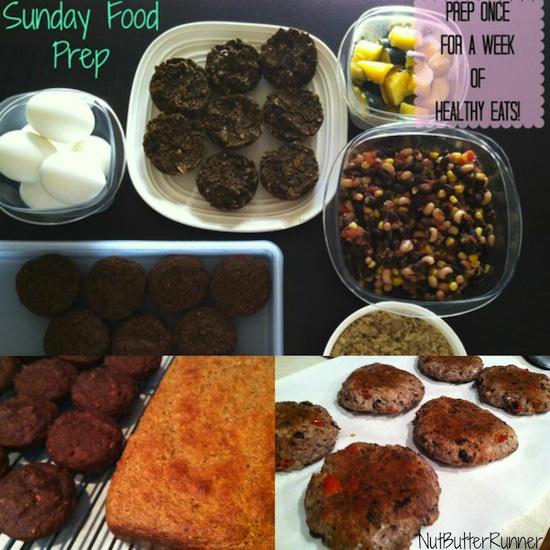 Marissa at The New Mrs. Allen –
I have been working hard to prepare better foods for my fiancé and I! Don't be alarmed by the large amount of food pictured; my fiancé is a pretty big guy. We have rinsed and chopped celery, zucchini, mixed bell peppers,  cucumber slices, carrot sticks, broccoli florets, and a prepared salad mix consisting of red cabbage, spinach, romaine lettuce, and red leaf lettuce. This makes for an easy choice when we head to the fridge looking for a quick snack. I also roasted an entire spaghetti squash to be eaten with a simple marinara sauce and the meatballs in the top right photo (recipe to be posted soon). Also pictured on the bottom, second from the left, is a paleo pumpkin chocolate chip brownie sans refined sugar! It's made with almond flour, a little honey, pumpkin puree, and coconut oil. The recipe can be found here. Next to that in the bottom right corner is my homemade coconut granola to be added to greek yogurt and oatmeal.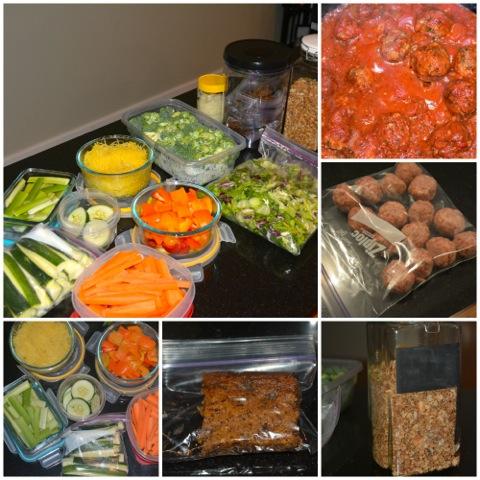 Ash at Daily Cup of Asheejojo –
I usually don't do my food prep on Sunday, but this week I finally had a chance.
I roasted up some broccoli to pack in my lunch every weekday.
I also made some spaghetti squash fritters to freeze and eat throughout the week.  These are great for breakfast, lunch or dinner, either plain or topped with some marinara sauce or salsa!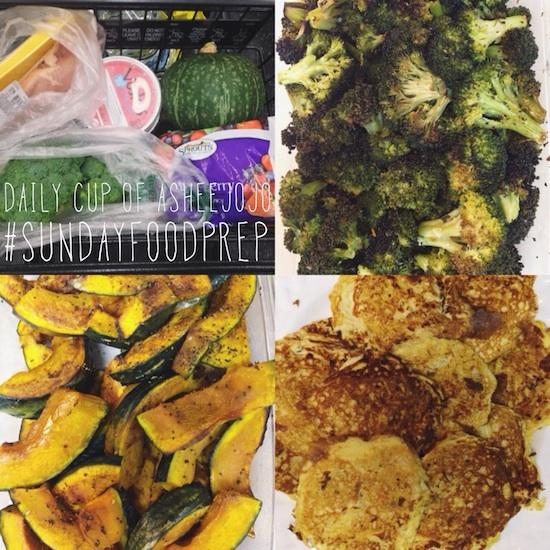 I've been reading Lyndsey's posts for a long time, and always mean to get prepped and ready for the week, but something more urgent always seems to come up (like erm… watching the latest instalment of the Great British Bake Off or something just as paltry). Recently I've discovered that I'm Gluten intolerant, and it has meant that I either a) eat salad for lunch every day OR b) I get organised and creative.
So this week, I decided to throw off the lame excuses and buckle down, prepping;
– Oat Bran Vanilla & Goji Berry Breakfast Cake
– Chilli Mince with lashings of vegetables
– Chocolate Mug Cake (GF) with Coconut & Goji Berries
Healthy, ready-to-eat AND Gluten Free. I can't wait to eat it all, especially with our weather looking to deteriorate.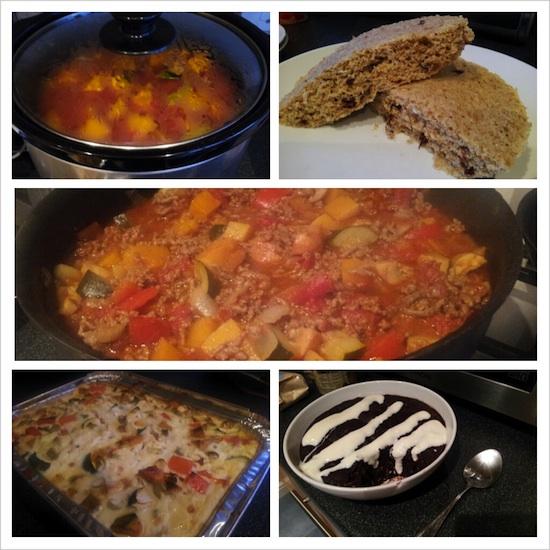 I went to the orchard this weekend and got a bunch of apples.  Luckily these don't require a lot of prep but I have washed them and they are ready for quick grab and go snacks.  I roasted kabocha squash with cinnamon and cocoa powder, I use this as an afternoon snack.  I made balsamic poached chicken to serve on salads throughout the week for lunch.  I roasted beets and parsnips to have on the salads.  Lastly, I made a huge batch of balsamic quinoa.  This was so simple to make but the flavors really go together well.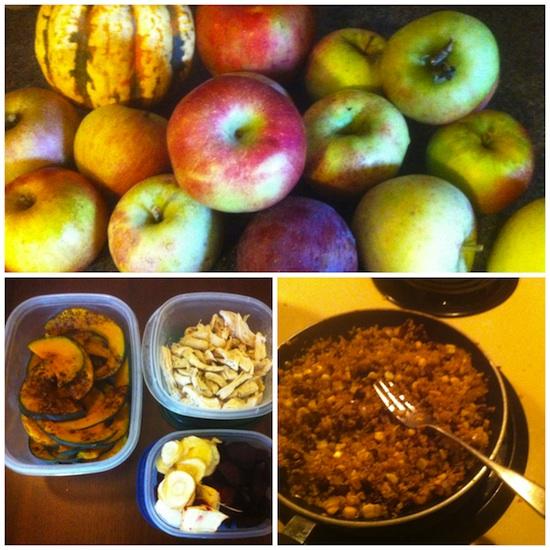 Are you food prepping this weekend? Want to submit a pic to be featured in an upcoming post?!

Here's what I need from you:
Email me the following:
1. Your Name
2. Your Blog URL (if you have one)
3. A photo of your food prep
4. A short description of what's in the photo. Tell me what you prepped and how you're going to use it during the week!
Every Sunday, I'll post a roundup of the photos I received that week so that you guys can see what others are preparing and hopefully get some inspiration and ideas! I'll keep this series going for as long as I receive photos, so send one every week if you want to!
Send to: theleangreenbean <at> gmail <dot> com
Tweet and Instagram your pics as well to inspire others!! Use the hashtag #sundayfoodprep . Remember that in order for a pic to be included in the post, you have to email it to me! If you have more than one pic, please make them into a collage before sending!
———————
Want more inspiration and tips? Read these:
How to Prep Food on the Weekend
Weekend Prep for Easy Weekday Meals
How to Eat Healthy in College
How to Eat Healthy During the Week
And check out the Food Prep Tab for links to all the previous Sunday food prep posts!
—————–
Let's chat: Are you prepping food today? Whatcha makin'?
Enjoy!
–Lindsay–