Hi Friends!
Time for another round of Sunday Food Prep!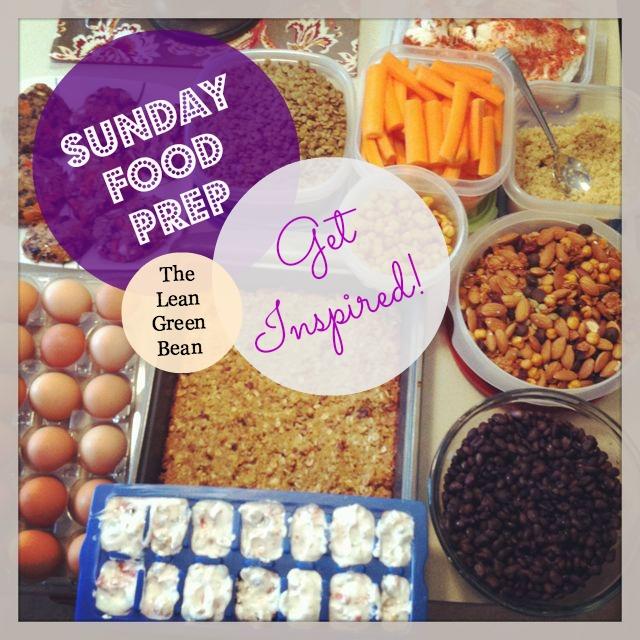 Here's what I prepped last weekend: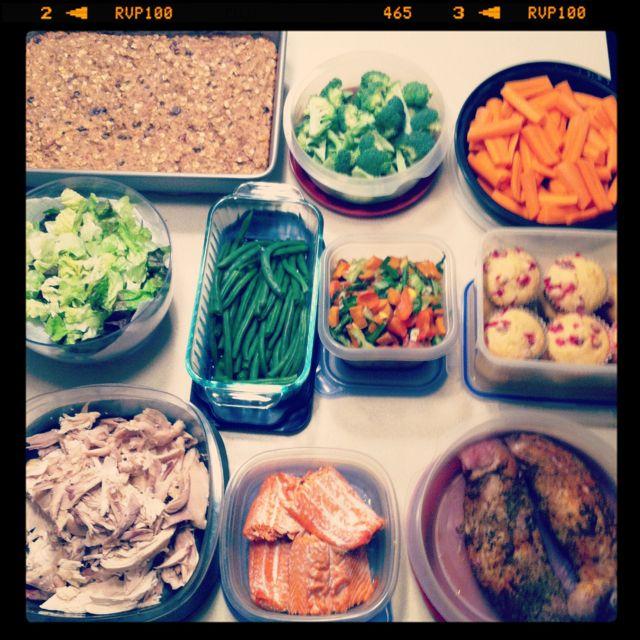 Salmon
Pork Tenderloin
Roasted veggies with bacon
Green Beans
Lettuce for salads
Quinoa Breakfast Bars
Broccoli
Carrots
And here's what some of you have been up to:
Alexandra at Made to Glow –
I love this time of year where we can enjoy both late summer produce (melons, peaches, and strawberries are my fave) and early fall produce (squashes galore!).  For a base for dinners and lunches, I cooked and chopped an acorn, spaghetti, and delicata squash, I cut up a roasted chicken, and washed and drained white beans. I had several bags of pre-washed greens in the fridge, which I simply add to the squash, throw in some chicken, and/or beans + some frozen veggies, and use dressings or sauces that I already have to mix up flavors. For instance, I added a tomato basil sauce to the spaghetti squash, chicken, parsley, and beans and threw in some frozen artichoke and black olives to make an Italian 'pasta'. I also keep a package of brown rice wraps and coconut bread in the freezer in case I want to make a wrap or sandwich. Having everything ready to throw together makes lunches and dinners quick, cheap, and easy. I also washed parsley and cilantro and stuck them in jars so they're ready to be added to dishes, smoothies, etc. I prepped fruit and vegetables for smoothies, breakfast, or have as snacks. For breakfasts, I added fruit and flax seed to some coconut or goat yogurt or added them to gluten-free pancakes that I keep in the freezer in single portions.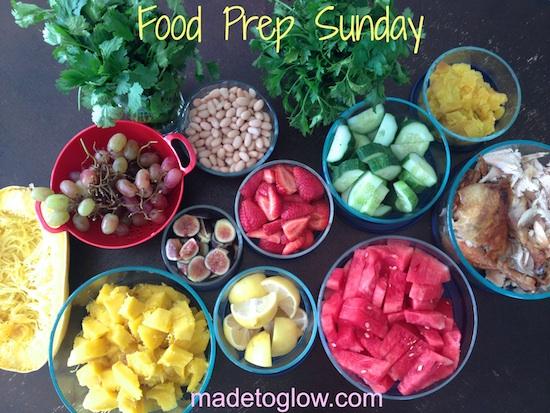 Arman at The Big Man's World –
This week as I'll be busy with study at university and working from home, food prep was necessary to save time and have some structure!
·      I made a batch of roasted potatoes to throw as a side to dinners
·      My curried tuna patties make an easy protein source for lunches and dinners
·      For breakfasts, I love varying things up, so made a few batches of peanut butter protein pancakes which actually travel really well!
·      A big batch of pumpkin oatmeal muffins are an easy choice to pair with eggs for breakfast or to snack on during the day for a quick energy boost
By having a few protein and carb sources made in batches allows me to have quick access but also variety to avoid meal boredom!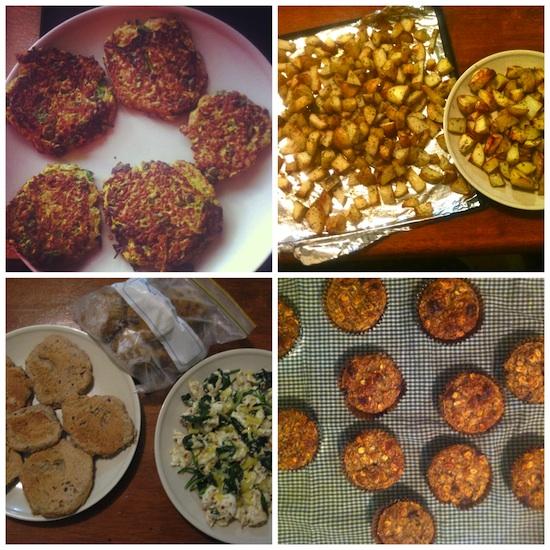 Alyssa at Home Field Fitness –
I was on a veggie kick this week! I definitely haven't been eating enough fresh produce lately so today was my immediate solution! I shredded carrots for salad, smoothies and coleslaw, and also shredded broccoli and cauliflower for a "detox" salad to have as a snack each day. I tossed cabbage, carrot shreds and some leftover shrimp pad thai in a pot to extend the leftovers into an Asian peanut slaw. So good! The extra chopped veggies were packaged up for snacks all week!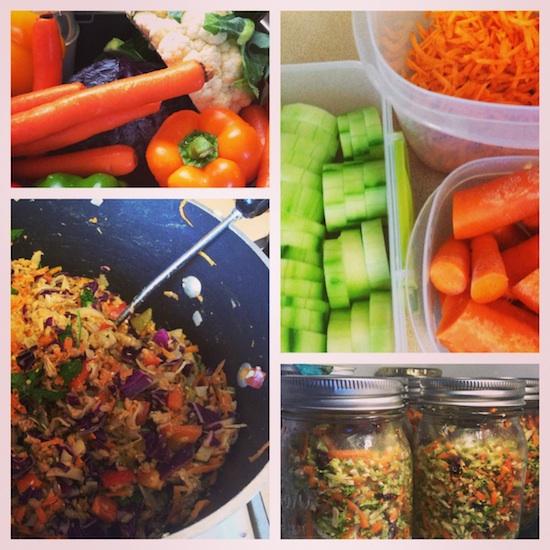 Emily at Sinful Nutrition –
Hello fellow food preppers! This week I created a big pot of Southwestern Black Bean & Corn Chowder (recipe on the blog soon!) alongside some whole grain cornbread. In the spirit of the fall season, I tried some jicama baked apples and made my own pumpkin-spiced soynut butter. Plantains were discounted as usual at my grocery store so I made my favorite plantain chips and a batch of plantain bread, both of which can be found here. Lastly, I fell in love with this baked tofu marinated in black tea and soy. That should get me through this week (hopefully!) Thanks for hosting Lindsay!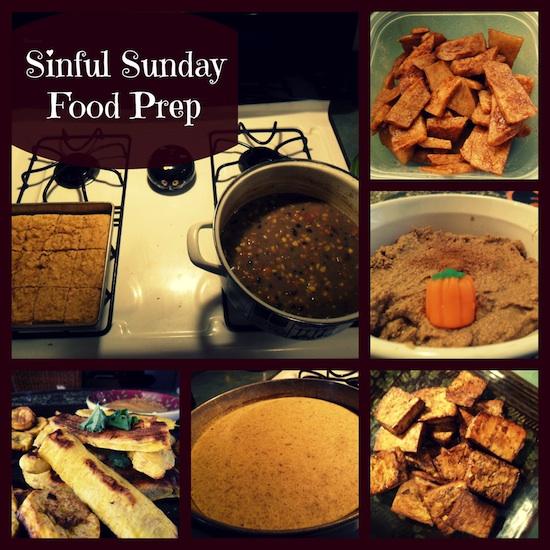 Hannah at Clean Eating Veggie Girl –
During my second week of Sunday meal prep, I cut up two stalks of celery, roasted green beans, made roasted turnip fries, roasted an acorn squash, cooked up a batch of butternut squash and apple chili (some topped with leftover cauliflower rice), made oatmeal pumpkin spice pancakes for breakfast one day, and made slow cooker homemade applesauce.  I am already looking forward to this week's eats!
Are you food prepping this weekend? Want to submit a pic to be featured in an upcoming post?!

Here's what I need from you:
Email me the following:
1. Your Name
2. Your Blog URL (if you have one)
3. A photo of your food prep
4. A short description of what's in the photo. Tell me what you prepped and how you're going to use it during the week!
Every Sunday, I'll post a roundup of the photos I received that week so that you guys can see what others are preparing and hopefully get some inspiration and ideas! I'll keep this series going for as long as I receive photos, so send one every week if you want to!
Send to: theleangreenbean <at> gmail <dot> com
Tweet and Instagram your pics as well to inspire others!! Use the hashtag #sundayfoodprep . Remember that in order for a pic to be included in the post, you have to email it to me! If you have more than one pic, please make them into a collage before sending!
———————
Want more inspiration and tips? Read these:
How to Prep Food on the Weekend
Weekend Prep for Easy Weekday Meals
How to Eat Healthy in College
How to Eat Healthy During the Week
And check out the Food Prep Tab for links to all the previous Sunday food prep posts!
—————–
Let's chat: Are you prepping food today? Whatcha makin'?
Enjoy!
–Lindsay–