Hi Friends!
Time for another round of Sunday Food Prep!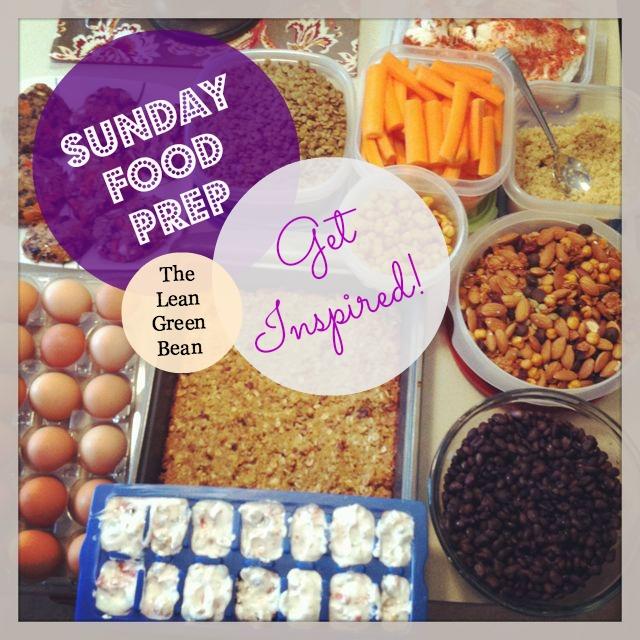 As you guys know, I was out of town most of last week…which meant hubby was going to be home fending for himself! I try to make it as easy as possible for him to eat healthy when I go out of town so here's what I prepped for him: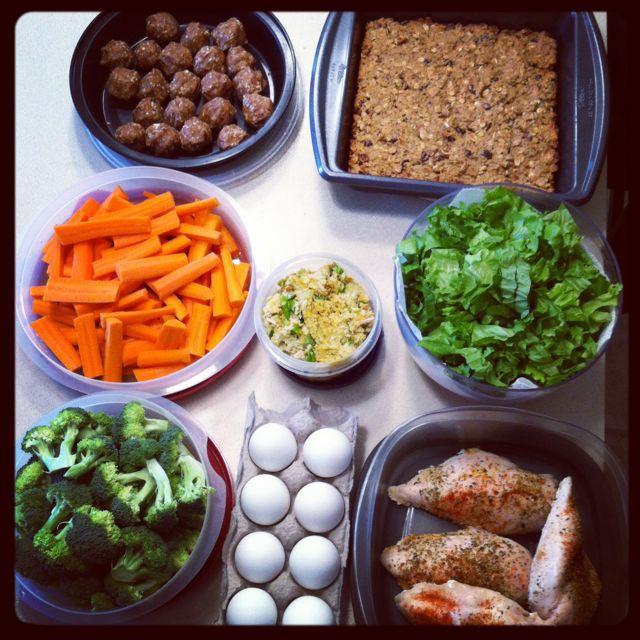 Broccoli and Carrots
Energy balls
Hardboiled Eggs
Chicken
Lettuce for salads
I also put together some healthy snacks to take with me as I headed out of town: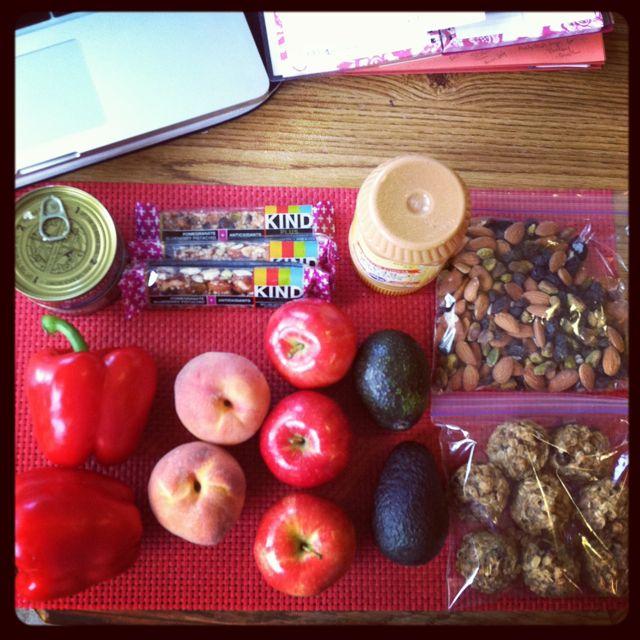 Tuna
Red peppers
Peaches
Apples
Avocados
Kind bars
Peanut butter
Trail mix
PB Banana Chia "cookies"
I like to have some healthy stuff on hand when I travel to keep myself from going crazy with all the meals out. Red peppers and fruit make great snacks, especially apples with peanut butter. The "cookies" are basically just banana, pb, oats and chia seeds so I like to snack on them before a workout and then tuna with avocado works well for me as a post workout or pre-bedtime snack! Trailmix and kind bars are great for the plane!
—————-
Here's what some of you have been up to lately:
Meghan :
Clockwise from top Left:
Grilled Pork Loin with fresh Lemon, Oregano and Sage (Lunches)
Shredded Chicken (snacks)
Turkey meatballs (lunches/dinner)
Fresh Fruit and Avocados (snacks)
Egg Cups with Canadian Bacon and Peppers (for breakfast)
Quinoa with fresh garlic, oregano and sage (lunches)
Sweet Potato bites with cinnamon (snacks)
Spaghetti Squash (lunches/dinners)
I like to put the turkey meatballs with the spaghetti squash and put fresh salsa over the top.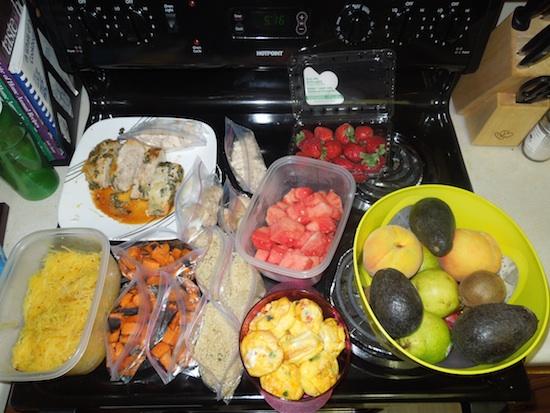 Kristen at Fit and Full Girl :
I just moved into my first apartment at college and decided to forego the meal plan and make my own meals instead. I food prepped last week and it was so helpful, so of course I am going to do it every weekend that I can! Today I made chili, quinoa, baked oatmeal to go, cooked asparagus, washed grapes, cut strawberries, hard boiled eggs and sliced some bell pepper to dip into hummus. My roommates think that I am crazy, yet they are jealous that I am eating real meals!

Kelly at Okanagan RD :
Cooked millet, roasted chickpeas, roasted cherry tomatoes, cashew carrot sauce, cocoa date balls, millet bean balls, apple zuchinni muffins, tofu Stromboli.
The Stromboli can be frozen in individual bags. Millet is the new oatmeal! Bean balls with salad and baked fries for supper, then on salad for me and mashed into sandwiches for the lunch kit. Chickpeas and tomatoes make good snacks for the kids, and I like them on salads. My four year old loves the cashew sauce. He's not in school yet, so nuts are allowed! He loves it on pasta, millet, quinoa or vegetables. Muffins and date balls make great snacks. We also have peaches, plums and apples so those will get packed up too!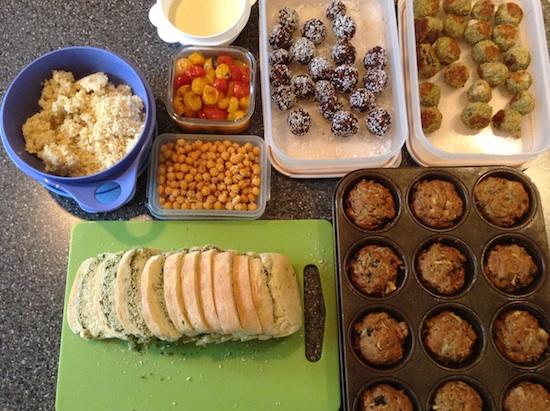 Sally at Real Mom Nutrition :
1. A batch of Homemade Peach Fruit Leather.
2. A double batch of whole wheat chocolate chip flaxseed pancakes for quick kid breakfasts.
3. A tray of sliced fresh peaches, which I froze in a single layer, then put in a gallon-size ziplock bag for my morning green smoothies.
4. A double batch of Chocolate Zucchini Cupcakes from Mom's Kitchen Handbook. Just because.
5. A batch of Easy Crockpot Applesauce using a variety of apples I got with my farm share last weekend.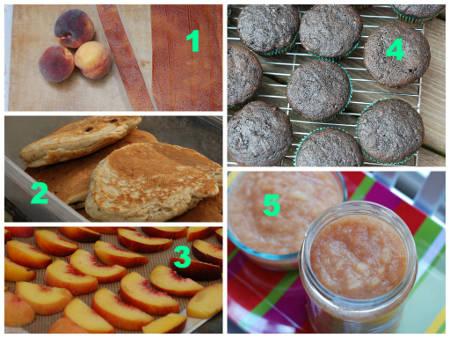 Jan of Sprout & Squats :
2. Broccoli, washed and chopped
3. Spaghetti Squash, roasted and made into spaghetti
4. Hard boiled eggs for lunches
5. Slow roasted some cherry tomatoes
6. Washed and chopped Strawberries for snacks
7. Roasted and chopped some pumpkin.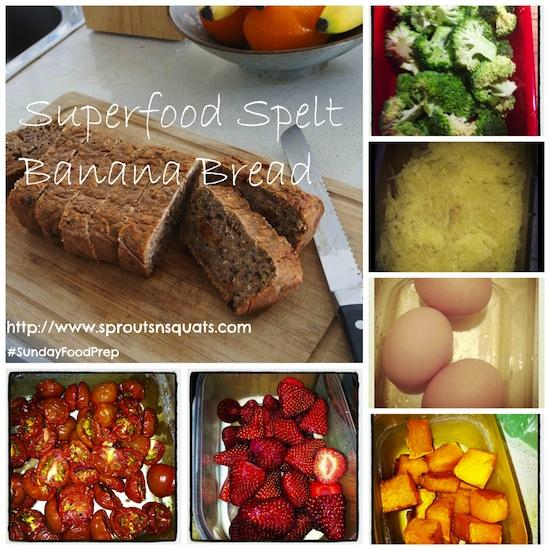 Are you food prepping this weekend? Want to submit a pic to be featured in an upcoming post?! 

Here's what I need from you:
Email me the following:
1. Your Name
2. Your Blog URL (if you have one)
3. A photo of your food prep
4. A short description of what's in the photo. Tell me what you prepped and how you're going to use it during the week!
Every Sunday, I'll post a roundup of the photos I received that week so that you guys can see what others are preparing and hopefully get some inspiration and ideas! I'll keep this series going for as long as I receive photos, so send one every week if you want to!
Send to: theleangreenbean <at> gmail <dot> com
Tweet and Instagram your pics as well to inspire others!! Use the hashtag #sundayfoodprep . Remember that in order for a pic to be included in the post, you have to email it to me! If you have more than one pic, please make them into a collage before sending!
———————
Want more inspiration and tips? Read these:
How to Prep Food on the Weekend
Weekend Prep for Easy Weekday Meals
How to Eat Healthy in College
How to Eat Healthy During the Week
And check out the Food Prep Tab for links to all the previous Sunday food prep posts!
—————–
Let's chat: Are you prepping food today? Whatcha makin'?
Enjoy!
–Lindsay–