Hi Friends!
Time for another round of Sunday Food Prep!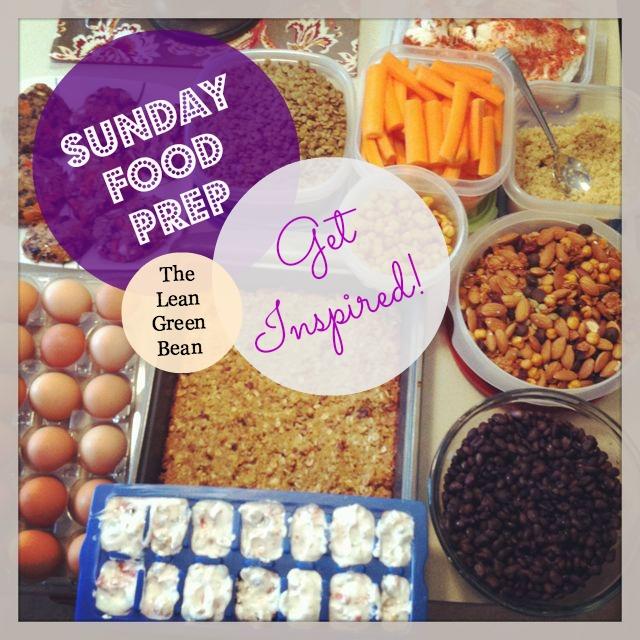 Here's what I prepped last weekend: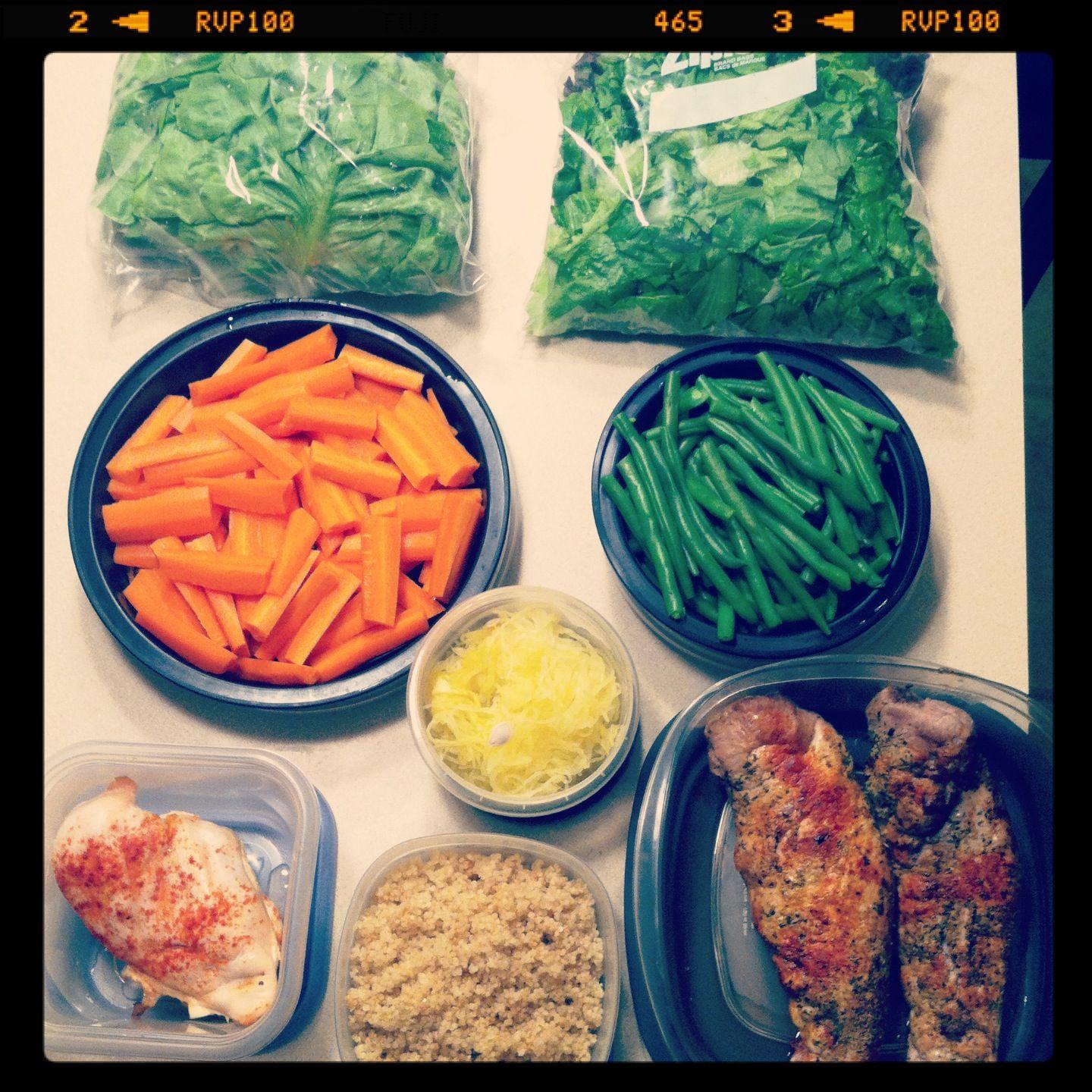 I just did a quick round to cover the basics:
Chicken
Carrots
Lettuce for lettuce wraps
Lettuce for salads
Spaghetti squash
Quinoa
Pork tenderloin
Green beans
And here's what some of you have been up to:
Alex from Made to Glow:
My meals are usually focused around a base of greens with a variety of add-ons, which I prep on Sundays so I can quickly throw together healthy meals throughout the week. This week:
– I washed and chopped black olives, cucumber, green peas, cherry tomatoes, artichokes, and avocado, and roasted an eggplant (bottom right) and sweet potatoes (bottom left) to throw into big salads. I made a package of mung bean noodles (top left), cut up a roasted chicken, and boiled tricolor potatoes to add to lunches and dinners.
– I cut up a papaya and watermelon and washed grapes, apples, and pears (not pictured) to have for snacks and froze some avocado that were getting too soft so I can add them to green smoothies.
– For breakfasts, I made a huge batch of my favorite gluten-free/dairy-free pancakes and froze them in single serving portions so they're ready to eat the next few weeks. It makes life much easier!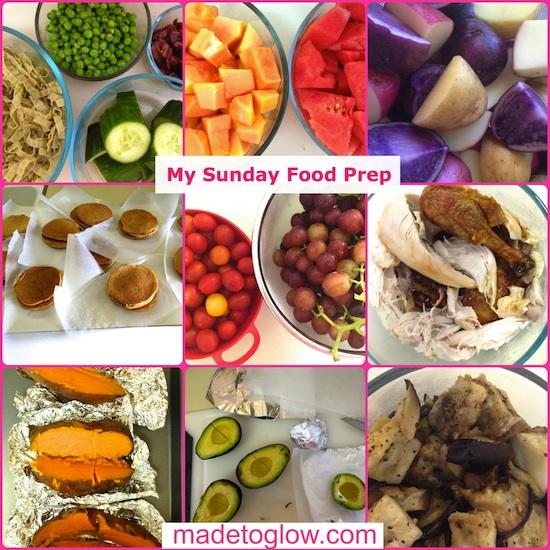 Danielle at Healthy Vittles & Bits :
I made your quinoa breakfast bars (although I did mine as muffins because I didn't have the correct pan for bars) to eat for quick breakfasts.  For lunches, I prepped Mason Jar Salads.  I also made turkey and black bean burgers for protein packed dinners (recipe on my blog).  For snacks, I prepped hard boiled eggs, carrots and ranch dip, cucumber slices and hummus, and apples with PB Greek yogurt dip.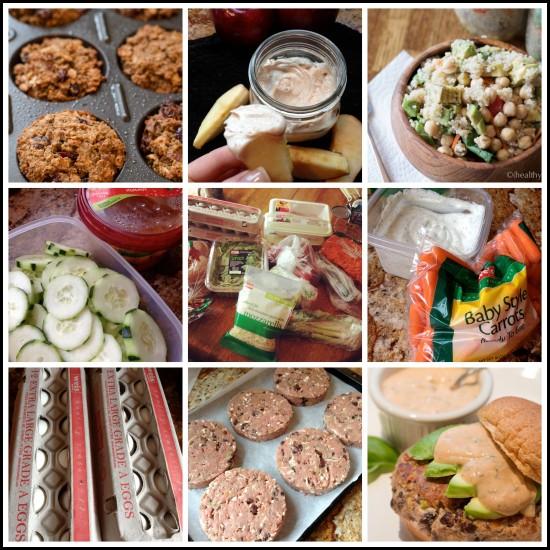 I made almond joy quinoa bites for Nick and my lunches this week
I made slow cooked curry chicken with indian spices (and whole wheat couscous underneath) for a couple of our dinners
I made chocolate nut bark for a sweet evening treat
Cooked and cooled butternut squash with a roasted red pepper dressing (for lunches)
Butternut squash chocolate chip cookies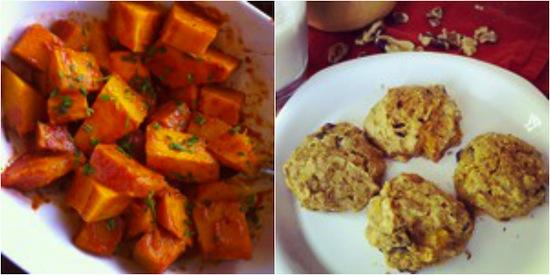 Paleo almond butter blondies and egg muffins w taco seasoned meat and mushrooms
Fruit in one cup servings (grapes, strawberries, etc)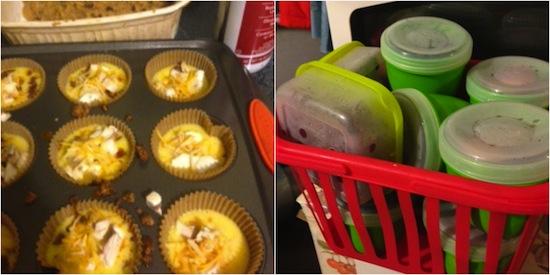 This week was a big one, and probbbably the most productive Sunday I've had this year! Items prepped – boiled eggs, massaged kale from the Saturday farmer's market, 5 portions of 3 oz. chicken seasoned with Mrs. Dash salt-free seasoning (Garlic & Herb – so good!), 1 medium sweet potato, & two giant heads of broccoli (also from the farmer's market) roasted in coconut oil, and finally 1 big bag of frozen spinach, peas, & broccoli sprinkled with cayenne pepper baked. It's easier to throw it in to the oven and have it cook that way, & also keeps more of the nutrients in the veggies over boiling it. Hope this sparks some foodie interest – happy eatin'!
—————
Are you food prepping this weekend? Want to submit a pic to be featured in an upcoming post?! I'm almost out of submissions so be sure to send yours over!
Here's what I need from you:
Email me the following:
1. Your Name
2. Your Blog URL (if you have one)
3. A photo of your food prep
4. A short description of what's in the photo. Tell me what you prepped and how you're going to use it during the week!
Every Sunday, I'll post a roundup of the photos I received that week so that you guys can see what others are preparing and hopefully get some inspiration and ideas! I'll keep this series going for as long as I receive photos, so send one every week if you want to!
Send to: theleangreenbean <at> gmail <dot> com
Tweet and Instagram your pics as well to inspire others!! Use the hashtag #sundayfoodprep . Remember that in order for a pic to be included in the post, you have to email it to me! If you have more than one pic, please make them into a collage before sending!
———————
Want more inspiration and tips? Read these:
How to Prep Food on the Weekend
Weekend Prep for Easy Weekday Meals
How to Eat Healthy in College
How to Eat Healthy During the Week
And check out the Food Prep Tab for links to all the previous Sunday food prep posts!
—————–
Let's chat: Are you prepping food today? Whatcha makin'?
Enjoy!
–Lindsay–