Hi Friends!
Time for another round of Sunday Food Prep!
Last weekend I was NOT in the mood to food prep. I was tired after my Crossfit competition and I just wanted to lay around. But I know from experience how much it helps, so I forced myself into the kitchen for an hour. Here's what I did: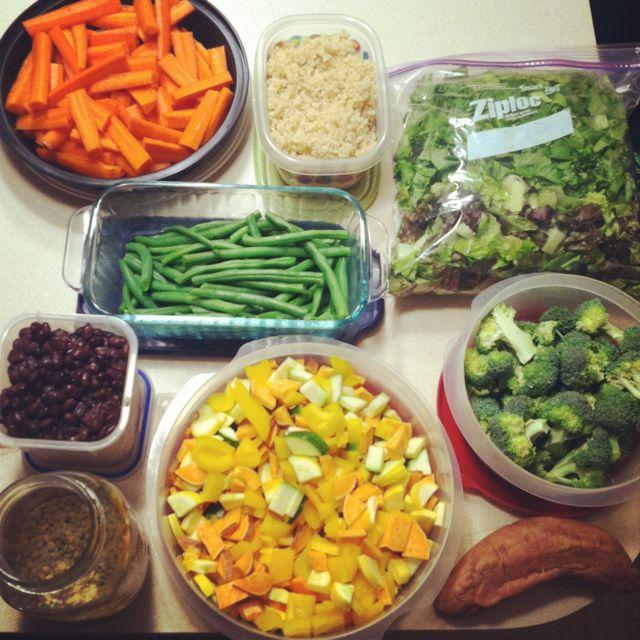 I prepped:
Sprouted lentils
Black beans
Green beans
Carrots
Quinoa
Chopped veggies for roasting
Sweet potato
Broccoli
Lettuce for salads
Not my biggest week of food prep but every little bit helps!
Here's what some of you have been up to:
Kristen from Real Food for Fuel :
Photo A: Chopped up veggies for stir fry, dipping with hummus; tempeh taco mix, baked sweet potatoes, quinoa and stir fry veggies w/ vegan beef tips.
Photo B: Whole wheat bread, homemade almond butter, fruit snacks for lunches, green smoothes and more fresh cut fruit (watermelon and pineapple)
My husband and I are both endurance athletes and much of our evenings after work are spent training. When we finish our workouts, it's important to have healthy eats on hand for quick consumption to optimize recovery! The cut veggies and quinoa will be used towards stir fry or curry, marinating tempeh for tacos or taco salads, the stir fry w/ vegan beef tips were divided up into 3 grab-and-go lunches or dinners for us. I use the almond butter for sandwiches, in my oatmeal and paired with apples for snacks. I tend to have a green smoothie mid-morning everyday as a snack or second breakfast. Finally, the fresh fruit and fruit snacks went towards lunches and my hubby's long training weekend. Sunday food prep is a huge time and stress saver and helps me to better manage our food budget by making sure we're using up what we already have on hand, especially regarding fresh produce. My husband loves it because it helps cut down on dirty dishes throughout the week!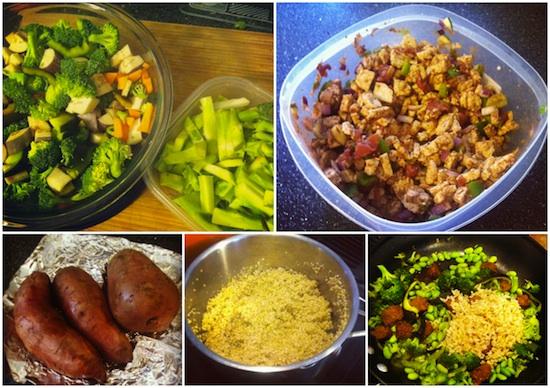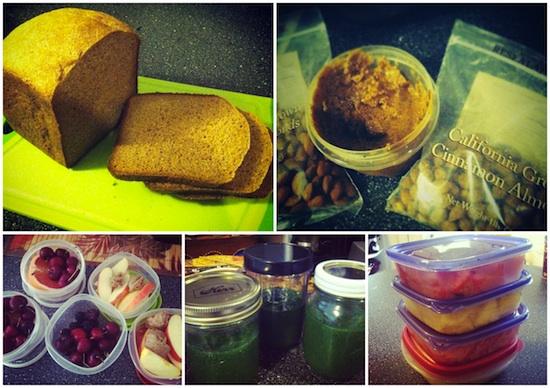 This week I made an 
oatmeal bake
 to have on hand for breakfast, hard boiled some eggs for breakfast/snacks, made 
quinoa tabbouli
 for easy lunches (with hummus and pita chips!), cut up a watermelon (not pictured) and marinated some chickpeas for 
Easy Roasted Chickpea
 tacos!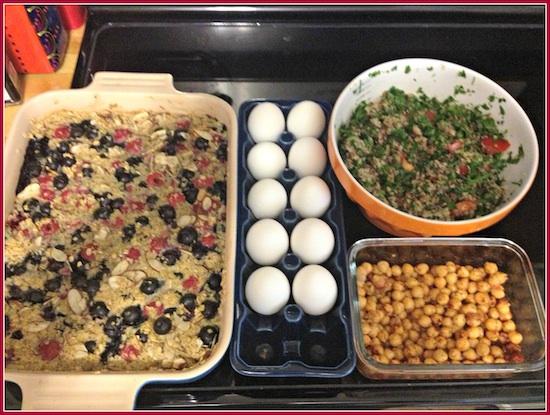 Taco meat for tacos and taco salad
Cheese sticks for snacks
Green grapes for snacks
Sausage and cheese balls for breakfasts
Green peppers for tacos, salads, snacks and maybe a stir fry
Broccoli for Sausage and broccoli pasta
Chicken noodle soup for lunch at work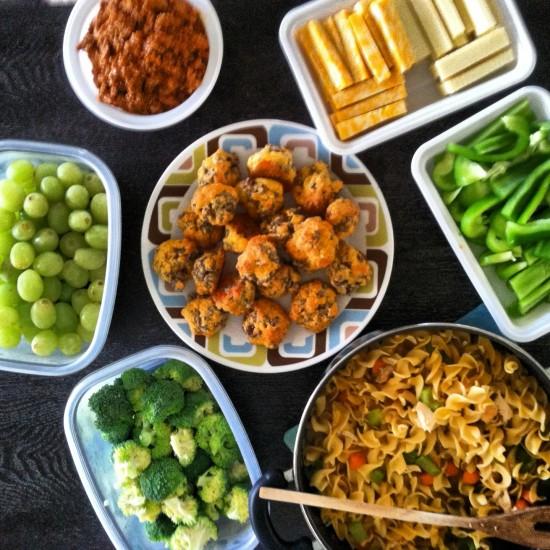 -overnight steel cut oats with almond milk, dried cherries, and almonds
-homemade granola: oatmeal, flax seeds, peanut butter, macadamia nuts, eggs, nutmeg, cinnamon, dried cherries, golden raisins
-chicken salad with celery, Greek yogurt, and apples
-veggies for munching on with hummus
-quinoa mixed with broccoli and carrots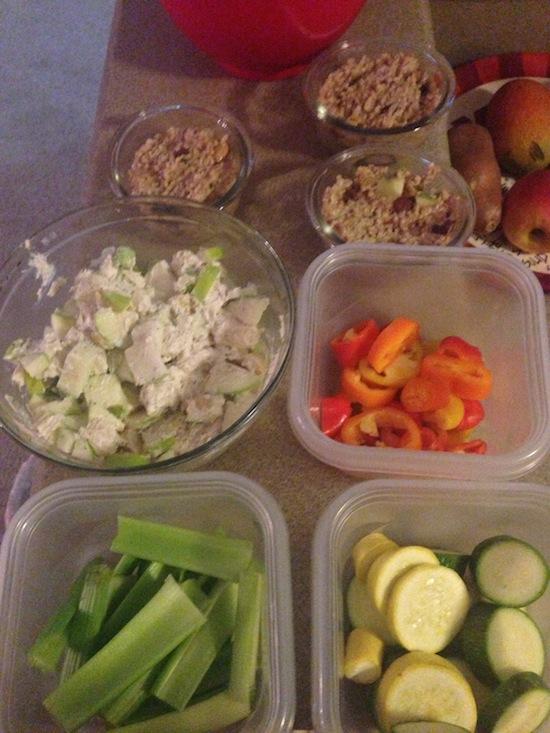 1. Mixed greens – kale & romaine for salads everyday
2. lots of eggs!!! no prepping required until the morning but eggs galore!
3. Grilled protein — lots of chicken and some pork chops, all seasoned with different spices… For the Chicken = cumin+cayenne+garlic+chilipowder, cayenne+chilipowder+garlic+groundmustard+ginger+blackpepper, & Mrs dash salt free smokehouse blend… pork chops = sage, thyme, rosemary, garlic & black pepper. LOVE experimenting with different spice combos
4. Jamie Eason Turkey Meatballs changed up with some shredded zucchini
5. chopped up veggies — cauliflower & broccoli for salads
—————
Are you food prepping this weekend? Want to submit a pic to be featured in an upcoming post?! I'm totally out of submissions so be sure to send yours over!
Here's what I need from you:
Email me the following:
1. Your Name
2. Your Blog URL (if you have one)
3. A photo of your food prep
4. A short description of what's in the photo. Tell me what you prepped and how you're going to use it during the week!
Every Sunday, I'll post a roundup of the photos I received that week so that you guys can see what others are preparing and hopefully get some inspiration and ideas! I'll keep this series going for as long as I receive photos, so send one every week if you want to!
Send to: theleangreenbean <at> gmail <dot> com
Tweet and Instagram your pics as well to inspire others!! Use the hashtag #sundayfoodprep . Remember that in order for a pic to be included in the post, you have to email it to me! If you have more than one pic, please make them into a collage before sending!
———————
Want more inspiration and tips? Read these:
How to Prep Food on the Weekend
Weekend Prep for Easy Weekday Meals
How to Eat Healthy in College
How to Eat Healthy During the Week
And check out the Food Prep Tab for links to all the previous Sunday food prep posts!
—————–
Let's chat: Are you prepping food today? Whatcha makin'?
Enjoy!
–Lindsay–