Hi Friends!
Time for more food prep.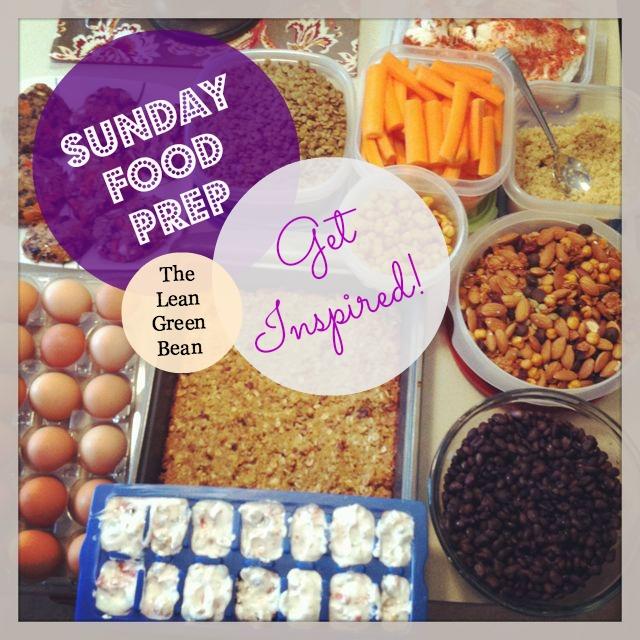 Here's what I prepped last weekend to get us through this past week: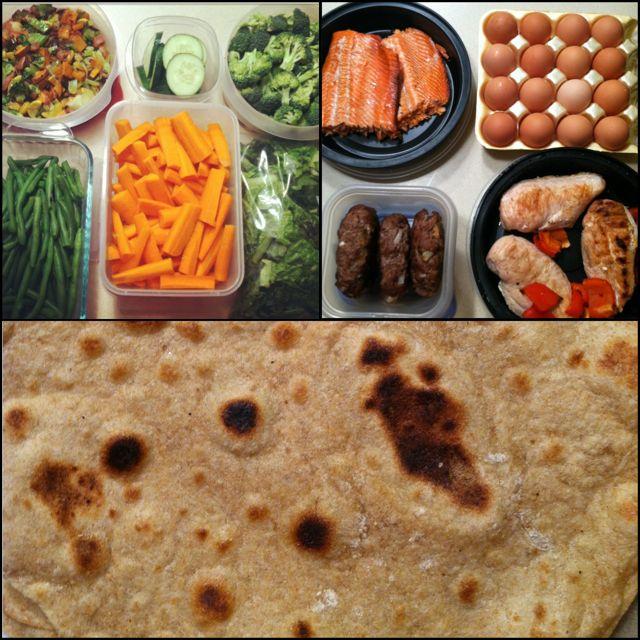 I prepped:
Green beans
Carrots
Lettuce for salads
Broccoli
Cucumbers
Roasted veggies: I cut up a couple of summer squash, a baby eggplant and a sweet potato and roasted them with a couple chopped up pieces of bacon. I sauteed some leeks and baby bok choy on the stove and added those to the pan after I took the veggies out of the oven. Delish!
Salmon on the grill- super easy if you use indirect heat and the skin is still on!
HB eggs
Grilled chicken
Hamburgers- hubby whipped himself up some beef hamburger patties and threw them on the grill after the chicken. He's been enjoying them on top of some huge salads
Not pictured- pulled pork in the crockpot
And here's what some of you guys have been up to lately:
Nicole from Not Before My Tea :
1. The "cheats": pre-washed/pre-cut spinach, broccoli, cauliflower, and tomatoes; pre-cooked/pre-cut frozen chicken; steam-in-the-bag Brussels sprouts (all from Neighborhood WalMart)
2. Cooked quinoa (half for freezing, half for the fridge): weeknights, I combine with chicken (1), Trader Joe's salsa verde (3), and a dollop of Greek yogurt for a quick Mexican dinner
3. Trader Joe's Salsa Verde: good on everything, especially part of combo in #2
4. Overnight Oats (blogged about it here!): pumpkin variety and plain Jane variety (substitute pumpkin and milk with unsweetened, vanilla almond milk; substitute flax seeds with Chia seeds); top the plain bowl with frozen berries and almonds for a healthy breakfast on the go
5. Whole wheat date & pecan oatmeal muffins: enough said =)
6. Salad for lunch tomorrow, made with "the cheats": I throw together a salad every night for the next day (it seems to keep the veggies fresher if they're kept in their original bags until the day before)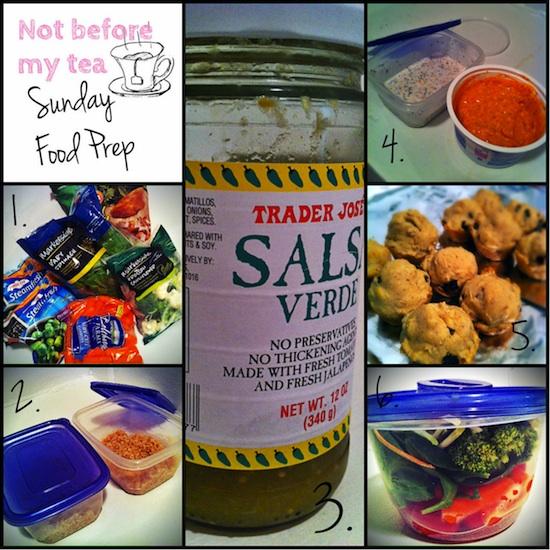 Amy from The Little Honeybee :
I made a tofu stir fry with zucchini, peppers and broccoli for lunches. I also hard boiled eggs, washed raspberries (I picked them myself!), sliced cucumber and made quinoa, peanut butter protein bites. The animal crackers are not home-made (clearly) but are from my trip to my favorite natural food store 🙂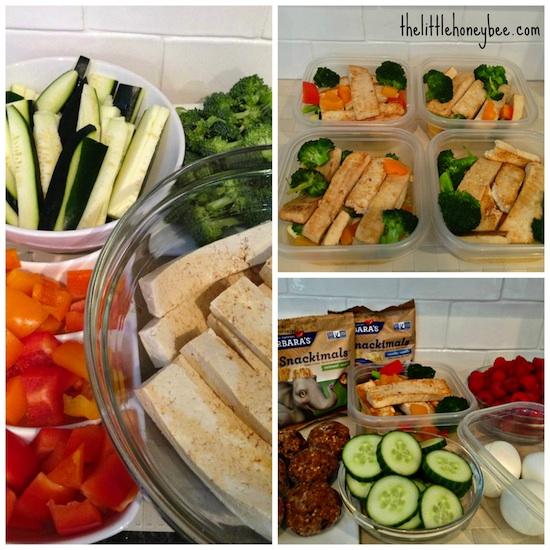 Dixie :
From top left: grape tomatoes, cinnamon streusel bread, celery sticks, sliced green pepper, bbq steak, sauteed mushrooms, sweet potato wedges with sea salt, sweet potato fries with brown sugar glaze, baby carrots washed, corn on the cob, sliced apple,2 containers of raspberries washed, and sliced strawberries. Breakfast bread, veggies for lunches, fruit for breakfast (with yogurt), sweet potatoes for dinner Weds (with a roast chicken cooked in the crock pot), fajitas for lunch at least twice, and corn for lunch with leftover chicken. I ate the apple.
Can you see the kitty on the right?  She was most interested in the food prep, but alas, was denied.
Karey from Nutty About Health :
I don't usually do a lot of cooking ahead of time since I never know what I'm in the mood for, but one thing I usually do (and can't go wrong with) is washing & chopping up lots of fresh fruits & vegetables to munch on for snacks throughout the week.
Here's what I prepped:
• washed & chopped 3 different colors of bell peppers
• chopped watermelon & a cantaloupe (unpictured)
• washed & pitted cherries (with my new cherry pitter, yay!)
• washed & chopped celery, then portioned it with raw baby carrots into baggies (great work snacks)
• tried out Lindsay's oven method of hard boiling eggs & did a small batch
• pre-portioned out hummus into single sized servings in a grab & go tupperware
• did a bit of food prep for my husband by baking him some of his favorite low-carb cheesecake cupcakes (gotta keep the man happy & healthy too!)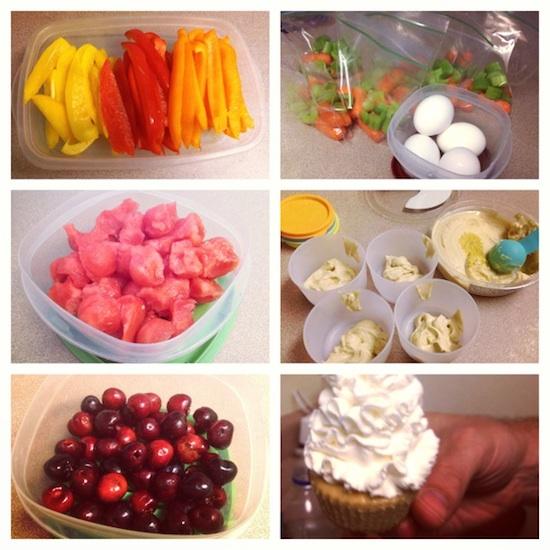 So for this week here is what I made, top row we have:
4. Washed and prepared grapes for snacking on
5. Cauliflower washed and put through the food processor for making Cauliflower Crust Pizza and Cauliflower Rice
6. Peeled Carrots ready for Carrot Chips to be made and snacks.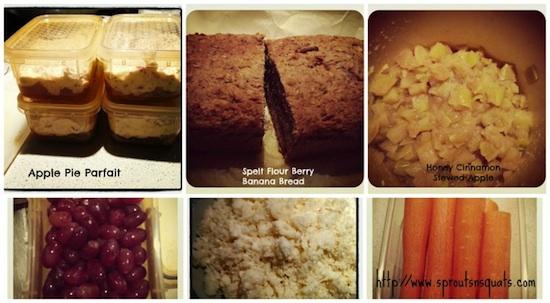 Kaycee at FitFace :
1. Chickpeas and Veg chopped and sauteed in Coconut oil for Sides and Salad Toppers
2. Grapes washed for snacks
3. Mango-licious Breakfast bars for easy grab and go breakfast
4. Sweet Potatoe rounds baked for meal sides
5. Fresh Almond Milk made for smoothies
6. Wheat Berries cooked for meal sides
7. Almond Flour Brown Bread made and sliced for breakfasts
8. Cantaloupe diced, for breakfasts and snacks
9. Roasted Spaghetti Squash for suppers and salad toppers
Doesn't everything look delish?!
—————
Are you food prepping this weekend? Want to submit a pic to be featured in an upcoming post?! I'm starting to run low on submissions so be sure to send yours over!
Here's what I need from you:
Email me the following:
1. Your Name
2. Your Blog URL (if you have one)
3. A photo of your food prep
4. A short description of what's in the photo. Tell me what you prepped and how you're going to use it during the week!
Every Sunday, I'll post a roundup of the photos I received that week so that you guys can see what others are preparing and hopefully get some inspiration and ideas! I'll keep this series going for as long as I receive photos, so send one every week if you want to!
Send to: theleangreenbean <at> gmail <dot> com
Tweet and Instagram your pics as well to inspire others!! Use the hashtag #sundayfoodprep . Remember that in order for a pic to be included in the post, you have to email it to me! If you have more than one pic, please make them into a collage before sending!
———————
Want more inspiration and tips? Read these:
How to Prep Food on the Weekend
Weekend Prep for Easy Weekday Meals
How to Eat Healthy in College
How to Eat Healthy During the Week
And check out the Food Prep Tab for links to all the previous Sunday food prep posts!
—————–
Let's chat: Are you prepping food today? Whatcha makin'?
Enjoy!
–Lindsay–