Hi Friends!
Time for more food prep: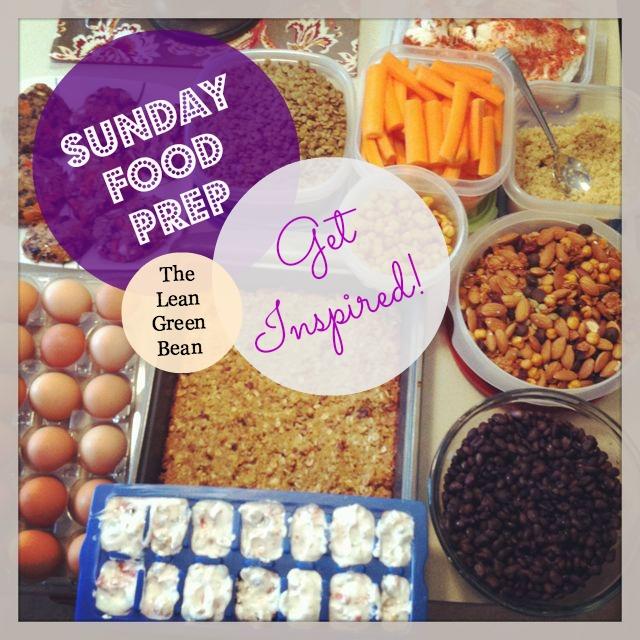 Here's what I prepped last weekend: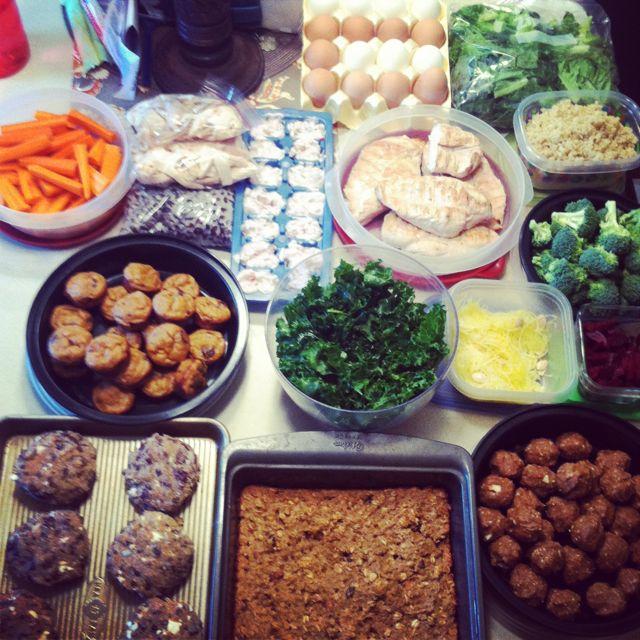 Greek Black Bean Burgers (double batch to freeze half)
Carrots
Crockpot Rotisserie Chicken (to freeze)
Black Beans (to freeze)
Massaged Kale (wash, dry, rub w/ olive oil & lemon juice)
Energy Balls (2 c dates, 1.5 c almonds, 1/2 c pb)
Roasted Beets
Broccoli
Grilled Chicken
Quinoa
HB Eggs
Lettuce for Salads
And here's what some of you guys have been up to:
Nancy at Spiffy Kerms :
I was leaving to go out of town so I  decided to prep the Boyf with some food so he wouldn't have to fend for himself making just meat and potatoes. I was in the hot kitchen last night making:macaroni and cheese, creamy chicken spaghetti, chicken teriyaki stir fry with rice…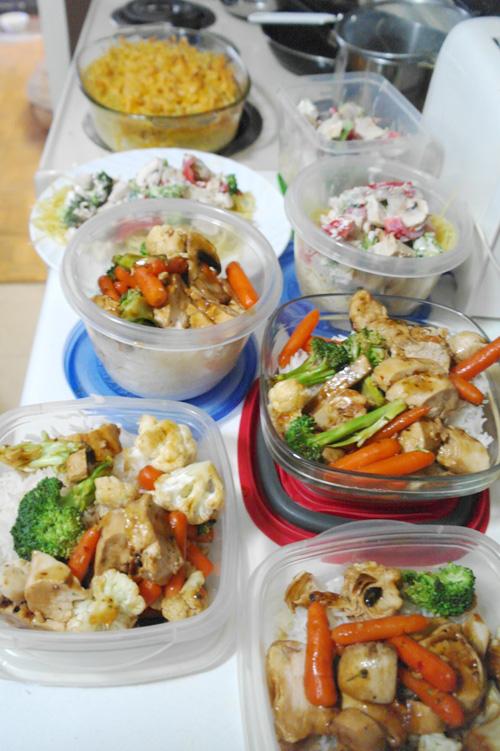 Brittany at Go the Extra Mile :
Grilled chicken, brown rice, spaghetti squash, acorn squash, and homemade pita chips! I use most of this for lunches, so I can just throw a meal together since I don't have much time during the day!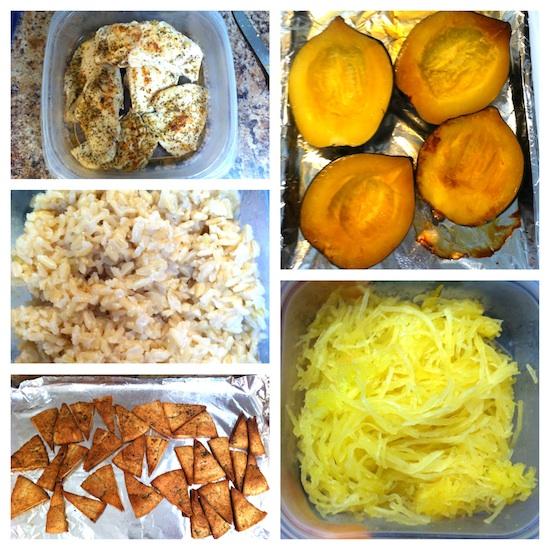 Wendy:
Here's my Sunday food prep.  Posted a picture of my "assistant" that wouldn't stop jumping up on the counter.
·         Vege's & Hummus for snacks
·         Homemade vinaigrette dressing for salads, sooo good.  Recipe shared if requested!
·         Turkey Chili w/ white beans & peppers for dinner
·         Jamie Eason's Turkey Muffins for lunches and dinner
·         Watermelon & Cantaloupe mid morning snack
·         Black Beans for salads and other misc meals
·         HB eggs for snacks
·         Fresh apples picked from local orchard to use for snacks and juicing
Also not picture cut up veges and apples for my juicer in the morning and a picture ACV drink's for the week with cinnamon, cayenne and water.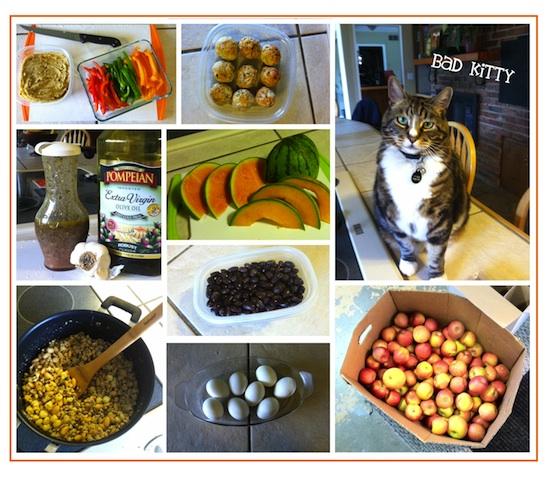 Dixie:
Cut up strawberries. Green pepper, cantaloupe, cukes, chicken. Washed raspberries and grapes. Made chicken salad.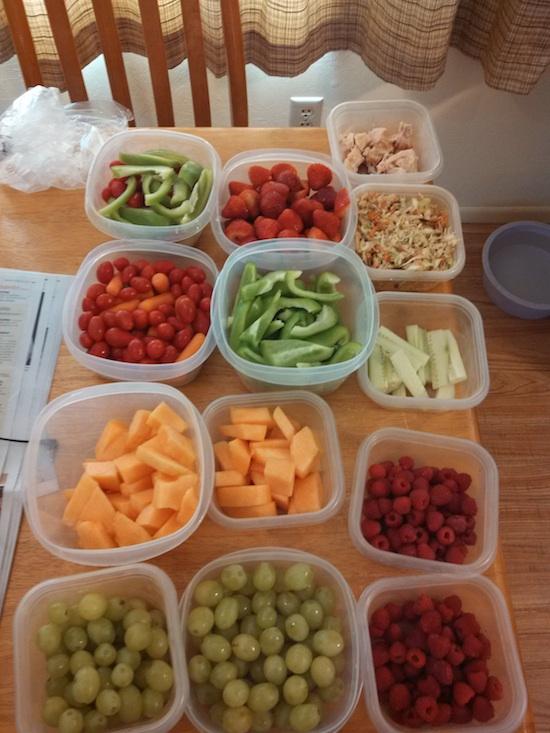 Emma at A Mom Runs this Town :
Here's my baby food prep!  I don't measure things, I just eye it and add whatever I think is needed.  The protein balls have all the ingredients listed and the veggies are just steamed.   The veggie burgers are carrots, red peppers, mushrooms, squash (from my dad's garden), quinoa flower, eggs and cumin.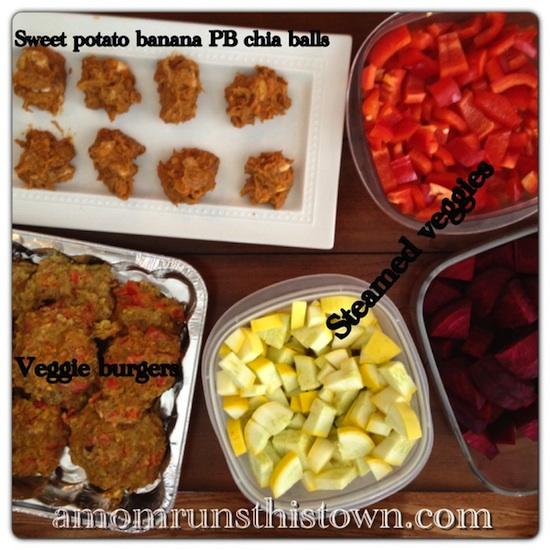 Morganne at Nut Butter Runner :
This week I plan on having things that are easy to grab to make portable snacks and lunches!
The easiest way I've found to accomplish this is to make your basics:
Protein to add to the basics:
Baked Chicken
Drained And Rinsed Garbanzo Beans
And snacks that can be enjoyed alone or in combination: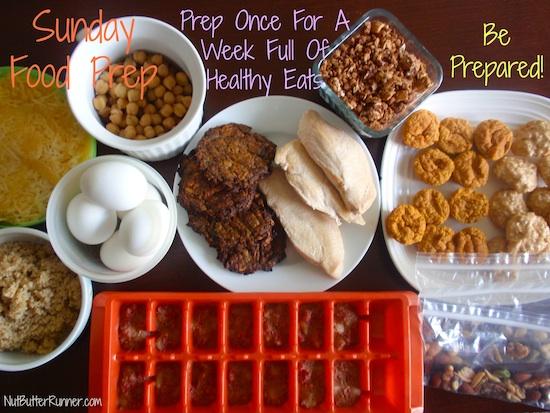 So many good ideas!
—————
Are you food prepping this weekend? Want to submit a pic to be featured in an upcoming post?! I'm starting to run low on submissions so be sure to send yours over!
Here's what I need from you:
Email me the following:
1. Your Name
2. Your Blog URL (if you have one)
3. A photo of your food prep
4. A short description of what's in the photo. Tell me what you prepped and how you're going to use it during the week!
Every Sunday, I'll post a roundup of the photos I received that week so that you guys can see what others are preparing and hopefully get some inspiration and ideas! I'll keep this series going for as long as I receive photos, so send one every week if you want to!
Send to: theleangreenbean <at> gmail <dot> com
Tweet and Instagram your pics as well to inspire others!! Use the hashtag #sundayfoodprep . Remember that in order for a pic to be included in the post, you have to email it to me! If you have more than one pic, please make them into a collage before sending!
———————
Want more inspiration and tips? Read these:
How to Prep Food on the Weekend
Weekend Prep for Easy Weekday Meals
How to Eat Healthy in College
How to Eat Healthy During the Week
And check out the Food Prep Tab for links to all the previous Sunday food prep posts!
—————–
Let's chat: Are you prepping food today? Whatcha makin'?
Enjoy!
–Lindsay–