Hi Friends!
It's time for more food prep inspiration!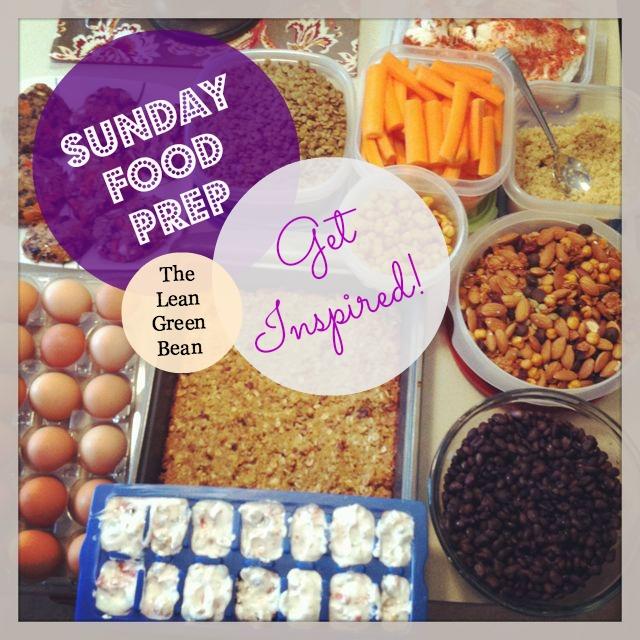 As promised, I got back on track last weekend and did some food prep of my own: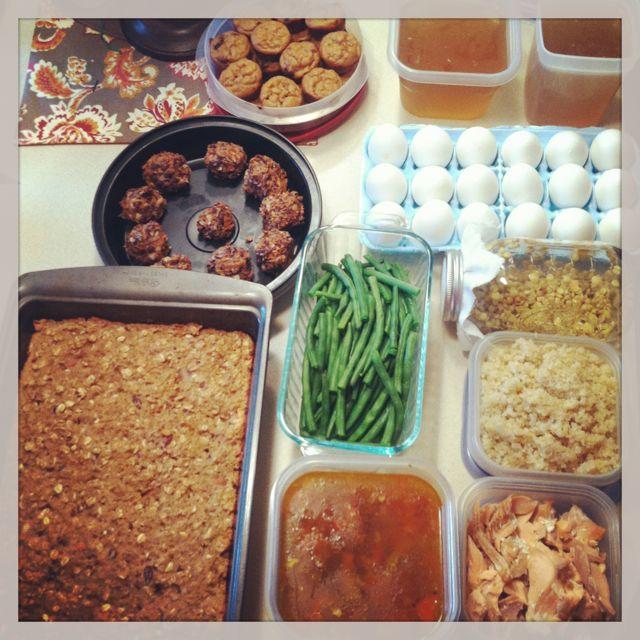 I prepped:
Crockpot chicken broth for the freezer using the bones of a rotisserie chicken I bought
Green beans
Quinoa
Salmon
Lentil chicken soup using the leftover rotisserie chicken, some homemade broth and lots of veggies & lentils
And here's what some of you guys have been prepping:
Amalia from Live Travel Eat & Run :
Here is what I did this week:
smoothie bags (froze strawberries, blueberries and half a banana for each smoothie. Added almond milk and protein powder when I actually ate them)
cut up carrot sticks
cut up celery
cut up four peppers
cooked and prepped asparagus for dinner side and pasta salad
cooked whole wheat penne and separated into jars for pasta salad for lunch
made hummus
I also ended up taking my lunch everyday because everything was so easy to find!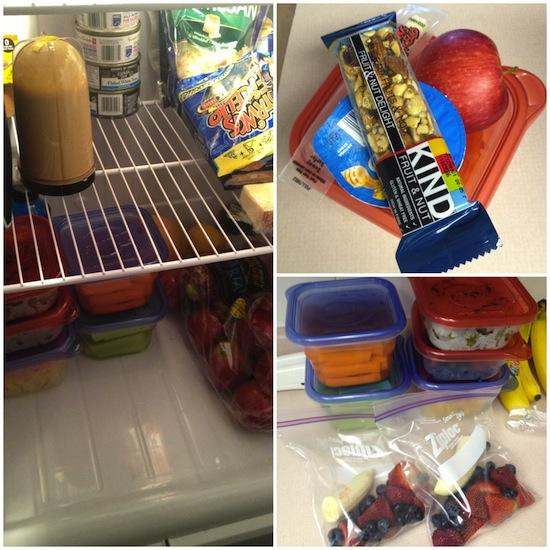 Jan from Sprouts & Squats :
Top left is my Savoury Spelt Bread. Top Right is Salsa Chicken that I made a huge batch of and froze and will use for dinners and lunches over the next two weeks. Bottom left is Tuna Salad which will be my lunch for this week. Bottom Right is a batch of healthy coleslaw I made that will accompany dinners this week.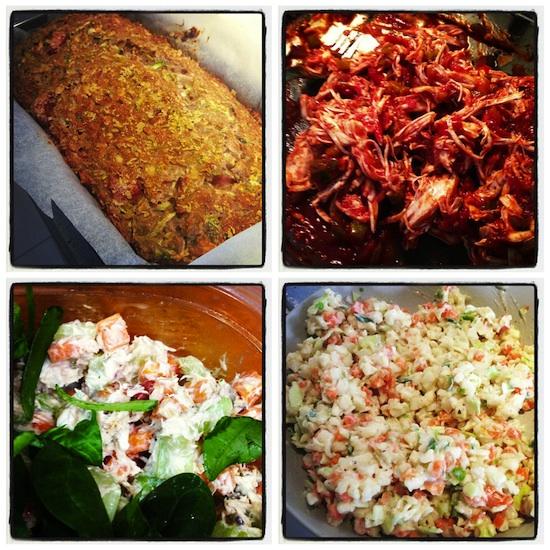 Emily from Sinful Nutrition :
The top left is mashed avocado that I froze in a muffin tin to use in smoothies for the week. My grocery store had a package of about 10 reeally ripe avocados on discount for $.89! What a steal! This is my first time trying to freeze avocado so I am anxious to see how it turns out. To the right, I washed and chopped a big pile of greens to use for salads and sandwiches throughout the week. The bottom left is a batch of BBQ lentil bites since I didn't have a loaf pan. Lindsay has inspired me to love lentils and get creative with them. I will be posting a recipe soon.Finally, I made a batch of blueberry & cream ice cream sandwiches, made with chocolate grahams, homemade whipped cream, and blueberry Chobani. Sooo good!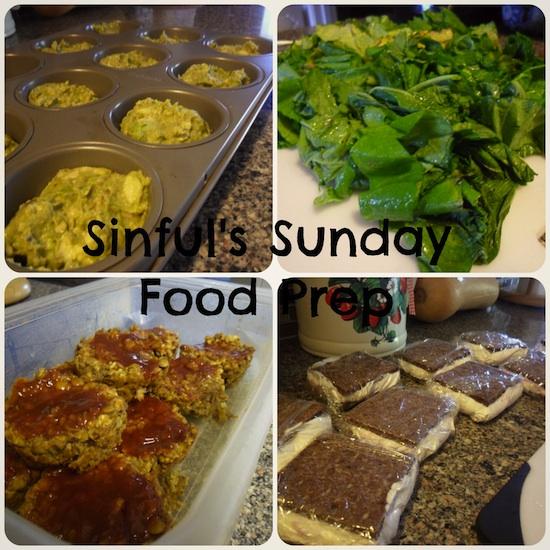 Jaren at Kiwi Fit Blog :
Tilapia, Brussels sprouts, green beans and quinoa for mine and the hubby's lunches! For my breakfasts boiled eggs, Ezekiel bread in baggies, and easy to grab 100cal popcorn and green apples (not pictures) for snacks! All while watching one of my favorite movies, Ever After!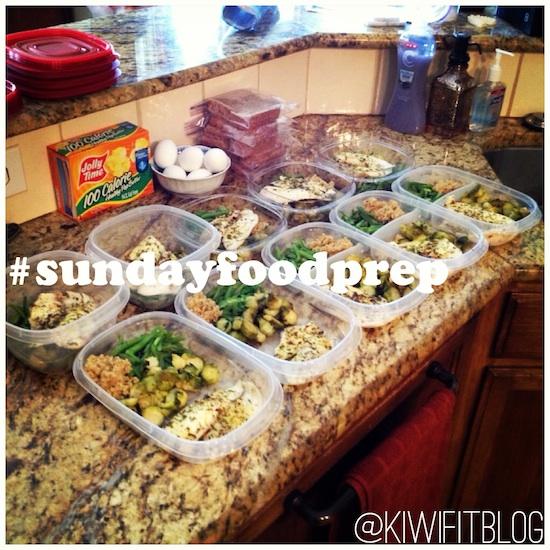 Amy (abramos913 on Instagram) :
My Sunday food prep:
Top left picture-homemade crockpot baked beans (you can make them vegetarian without bacon or include bacon)
Second left picture- that is protein bites for before and after my workouts. I need something in my stomach before my 6 am boot camp class so these hit the spot. This recipe includes chocolate SunWarrior protein powder, rolled oats, chocolate chips, almond butter, honey and dried cranberries. It makes a TON.
Bottom left picture-prepping for crockpot spinach lasagna! We will be having these for our lunches and dinners.
Upper right picture- shows me cooking some veggies. Zucchini and mushrooms in the pan and in the pot was chicken and white bean chili. It has been VERY cold here in San Jose (definitely not summer weather YET) so chili sounded good. Plus, I can make alot and have them for our lunches and dinners this week. We can also freeze some when we know that we will have busy weeks at work.
Bottom right picture-  salad, quinoa, green beans, grapes, homemade trail mix (dried roasted edamame, dried cranberries and dry roasted peanuts…something I made on the fly).
My husband and I work 50+ hrs/week, leaving us little time in the kitchen. If we meal prep/plan during the weekend, then we are set for the week. Breakfast is not pictured since I have steel cut oatmeal and he has cereal (not picture worthy ;-)).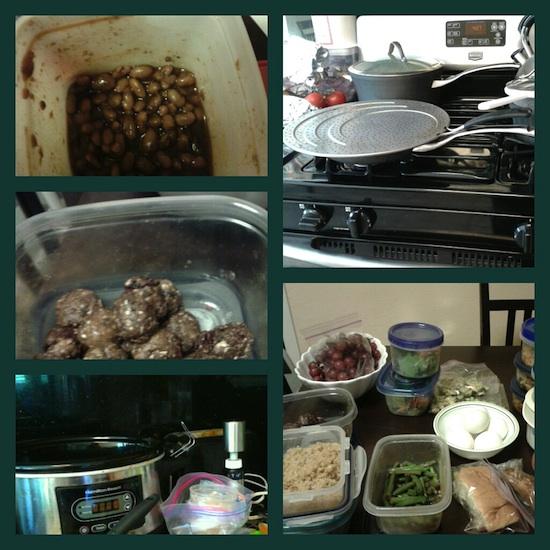 Erin (@bento_obsessed on instagram) :
My first Sunday food prep: boiled eggs, sautéed rainbow chard and green bell peppers, and two pans of veggies ready to go into the oven for roasting: asparagus, broccolini, cauliflower and broccoli.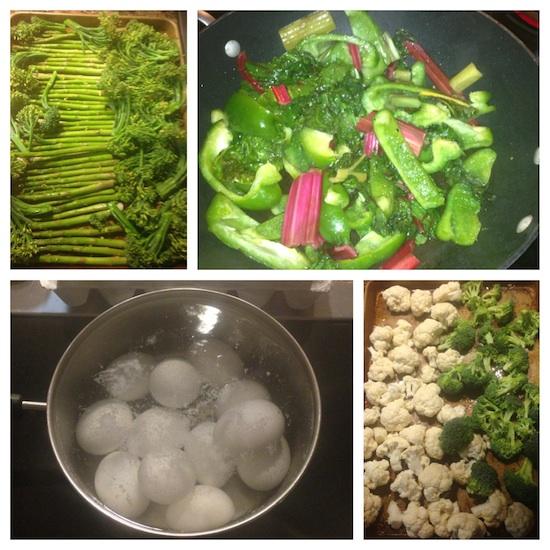 Corey at Learning Patience :
I usually prep all those veggies and things I hate cleaning, steaming and chopping when I'm crunched for time during the week.  I eat a lot of salads, steamed veggies and quinoa, so by prepping them ahead of time, I'm ready to go.  I added a Moroccan spice to my quinoa today, so I could make a twist on this recipe.   The bacon is for my hubby, I leave for the States on Wednesday and this helps him have a quick BLT while I'm gone.  I know…I'm a good wife! 😉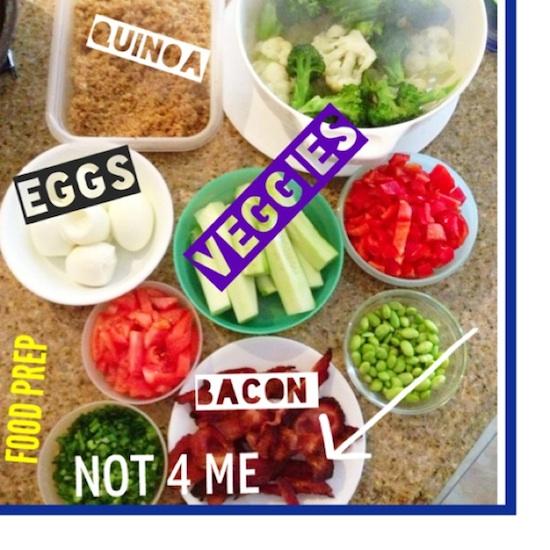 Impressive, right?!
—————
Are you food prepping this weekend? Want to submit a pic to be featured in an upcoming post?!
Here's what I need from you:
Email me the following:
1. Your Name
2. Your Blog URL (if you have one)
3. A photo of your food prep
4. A short description of what's in the photo. Tell me what you prepped and how you're going to use it during the week!
Every Sunday, I'll post a roundup of the photos I received that week so that you guys can see what others are preparing and hopefully get some inspiration and ideas! I'll keep this series going for as long as I receive photos, so send one every week if you want to!
Send to: theleangreenbean <at> gmail <dot> com
Tweet and Instagram your pics as well to inspire others!! Use the hashtag #sundayfoodprep . Remember that in order for a pic to be included in the post, you have to email it to me! If you have more than one pic, please make them into a collage before sending!
———————
Want more inspiration and tips? Read these:
How to Prep Food on the Weekend
Weekend Prep for Easy Weekday Meals
How to Eat Healthy in College
How to Eat Healthy During the Week
And check out the Food Prep Tab for links to all the previous Sunday food prep posts!
—————–
Let's chat: Are you prepping food today? Whatcha makin'?
Enjoy!
–Lindsay–