Hi Friends!
Time for more Sunday Food Prep!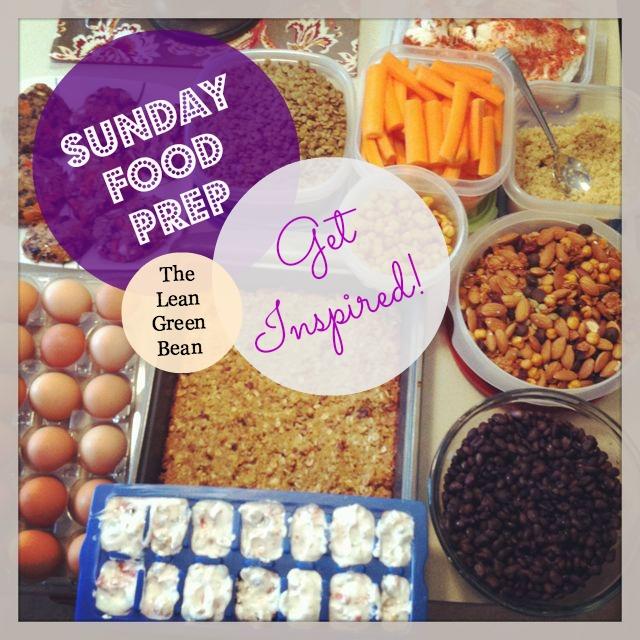 I didn't actually do any food prep last weekend because we were at Regionals all weekend, including all day on Sunday. But lemme tell you, we paid for it this week. Hubby was a mess because he didn't have any breakfast bars, energy balls or hb eggs to snack on….I had to work harder to come up with stuff for dinner. Going a week without food prep REALLY helps you realize how much you depend on it! So, I'll definitely be back at it today!
In the meantime, here's what some of you guys have been up to:
Maria at Trine-Marie :
1- My sister-in-law's oatmeal cookie recipe with coconut and walnuts.
2- Breakfast cupcakes with egg, ham, green onions, cheese, and cream.
3- Frozen banana slices for smoothies.
4- Two banana kiwi smoothies.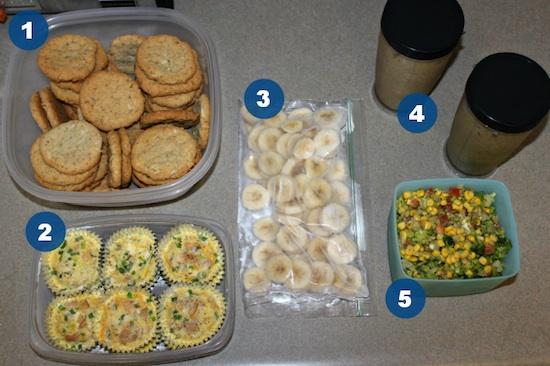 Britt from Britt's Blurbs :
I prepped:
Hard boiled eggs- for snacks
Roasted sweet potato wedges for snacks/lunches-
Made protein muffins (recipe coming soon!)
Made quinoa- lunches, dinner
Made lentils- dinner
Made farro, wheat-berries- lunches
Made power grain salad to spread on collard wraps for lunch
Cleaned and trimmed green beans for snacks with hummus
Sliced veggies for stir-fry
Chopped mango for breakfast/snacks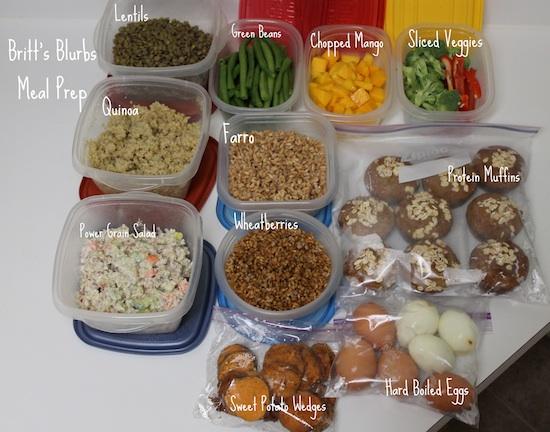 Nicole from Fruit 'n' Fitness :
I made:
roasted beets and kabocha squash
protein bites
cut up carrots, celery and cauliflower
raspberry almond granola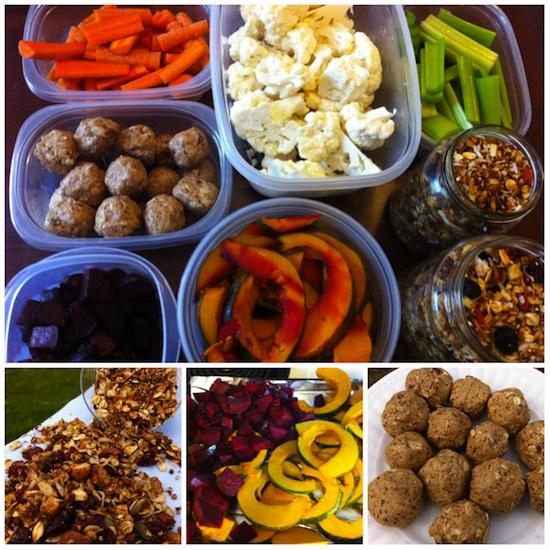 Rachel from Undercover Diva- A sitcom :
Top left: Jalapeño and Garlic chickpea and lentil burgers
Top Right: Chopped veggies
Bottom Left: Chopped pineapple
Middle bottom: Black beans (dry, soaked and cooked)
Bottom right: Brown rice
The veggies will be used for burrito bowls, stirfrys, and salads. The pineapple will be added to smoothies and will be used for snacks! The black beans were dry, so I soaked them all day and then cooked them for about an hour. I cooked 2 cups of brown rice (dry) in my rice cooker and will use these for burrito bowls, stirfrys, salad toppers, and meal bases throughout the week!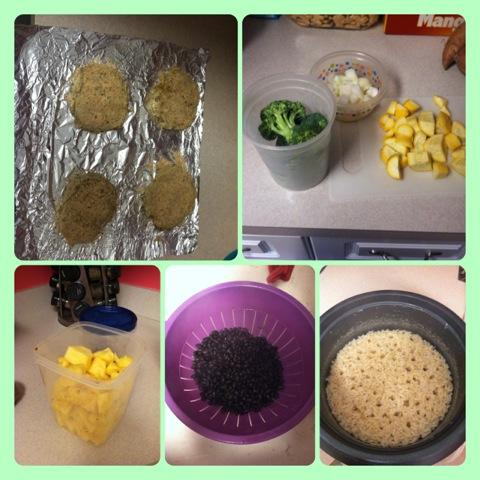 Kat from Sneakers and Fingerpaints :
This week hubs helped me de-seed a pomegranate and we cut up strawberries to go in our morning smoothies and yogurt! Also, I roasted kale, as we usually do every week – I'm loving how you can buy it pre-cut! I steamed some yellow corn, cleaned some pickled beets [great for my gut!] and cooked edamame as well as zucchini that I'd pre-frozen from a trip to the farmers market the week before. I'm pretty proud of taking care of this on a Sunday evening where I was super tired from a long hot day at the beach and 2 workouts, but it had to be done! 😉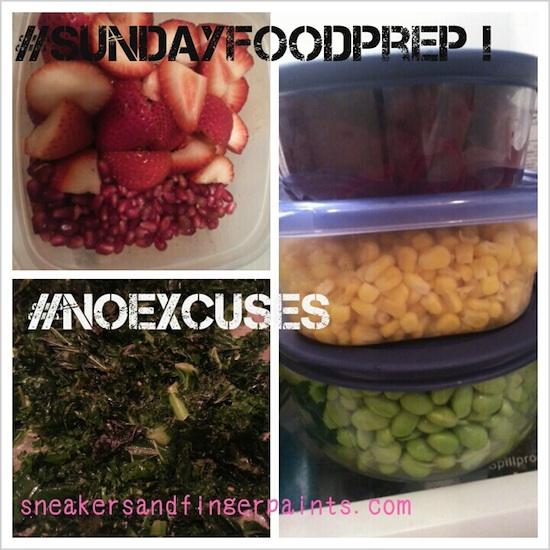 Jodie from Green Box Foods :
I prepped Kale, Quinoa, broc/cauliflower, chicken, apple bfast quinoa and  Healthy Ice Cream Sandwiches/balls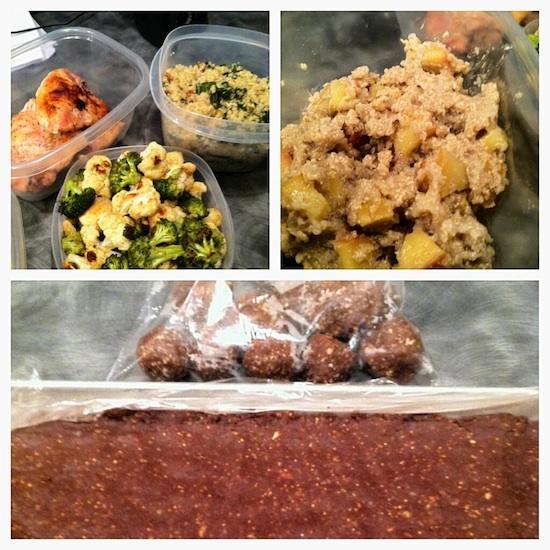 Lyndi from The Journey :
Recently I've been struggling with Sunday food prep, but made time for it this past weekend. I felt so much better and prepared for the week after it was done!  I washed and sliced fruit & veggies for the week for easy eating.  I also made a batch of cherry quinoa muffins for a quick on the go breakfast option.  I precooked chicken breast and taco meat for easy salads, poppy seed chicken salad for sandwiches, and made up a batch of shrimp & veggie quinoa stir fry (new recipe on the blog!) to have for lunches or quick dinners. The mr has been traveling this week for work, so it's made it really easy on me to have everything ready to go. For me, it's all about planning a menu and preparing ahead to I actually stick to it!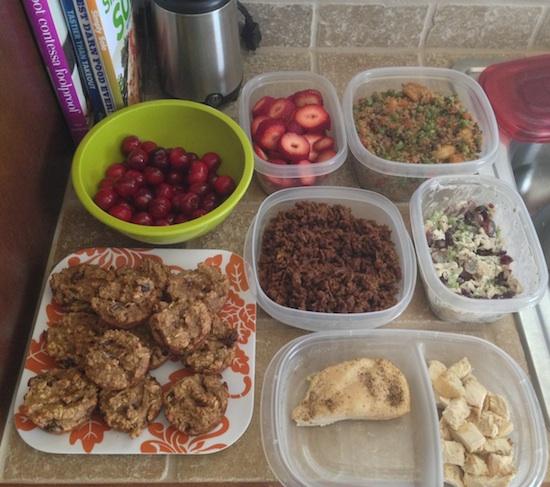 Impressive, right? I'm so excited to get back in the kitchen this weekend!
—————
Are you food prepping this weekend? Want to submit a pic to be featured in an upcoming post?!
Here's what I need from you:
Email me the following:
1. Your Name
2. Your Blog URL (if you have one)
3. A photo of your food prep
4. A short description of what's in the photo. Tell me what you prepped and how you're going to use it during the week!
Every Sunday, I'll post a roundup of the photos I received that week so that you guys can see what others are preparing and hopefully get some inspiration and ideas! I'll keep this series going for as long as I receive photos, so send one every week if you want to!
Send to: theleangreenbean <at> gmail <dot> com
Tweet and Instagram your pics as well to inspire others!! Use the hashtag #sundayfoodprep . Remember that in order for a pic to be included in the post, you have to email it to me! If you have more than one pic, please make them into a collage before sending!
———————
Want more inspiration and tips? Read these:
How to Prep Food on the Weekend
Weekend Prep for Easy Weekday Meals
How to Eat Healthy in College
How to Eat Healthy During the Week
And check out the Food Prep Tab for links to all the previous Sunday food prep posts!
—————–
Let's chat: Are you prepping food today? Whatcha makin'?
Enjoy!
–Lindsay–