Hi Friends!
It's time for more food prep!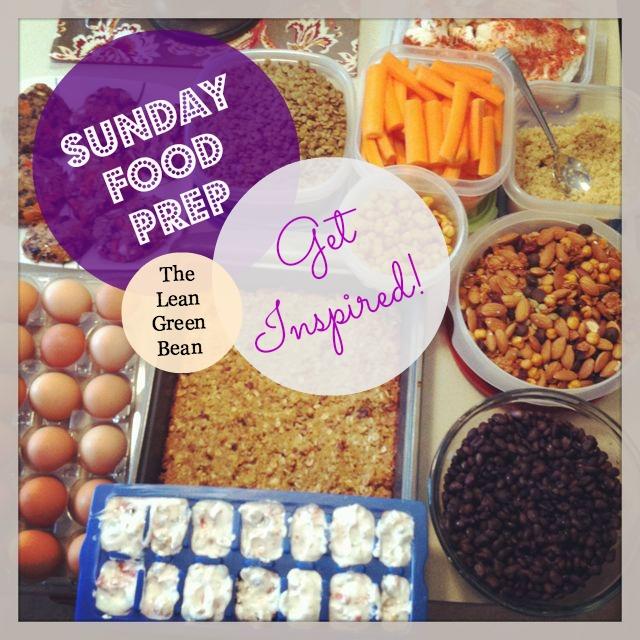 Here's what I prepped last weekend: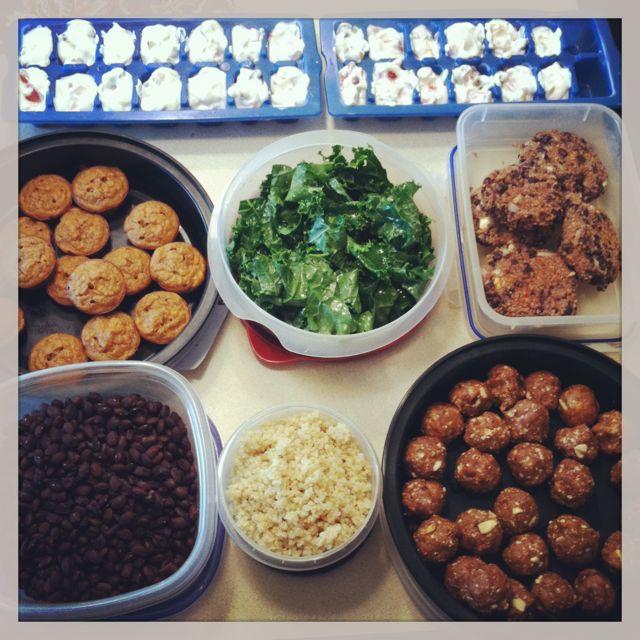 Looks good right? Here's what I prepped:
Black beans
Sweet potato bites
Fro yo bites
Kale
Quinoa
Energy Bites
Greek Black Bean Burgers
Plus I made: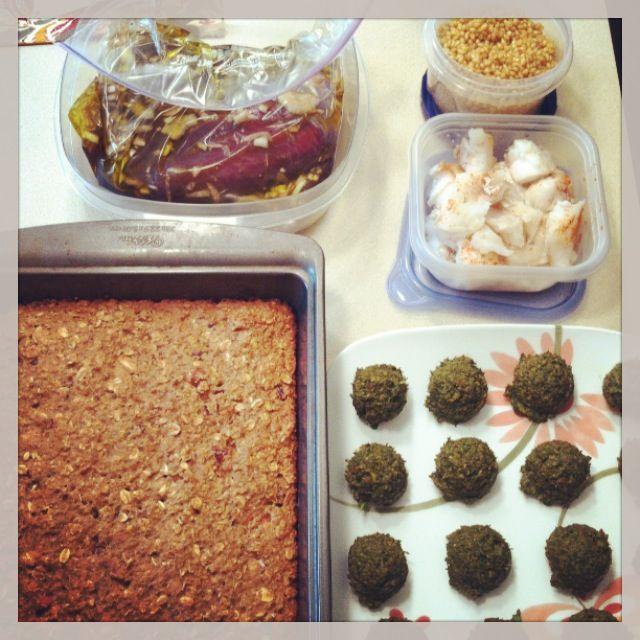 Quinoa breakfast bars
Hubby marinated a flank steak
Wheatberries
Baked Cod
Pesto for the freezer- gotta take advantage of that basil in the summer!
And I cooked some chicken in the crockpot!
—————–
Here's what some of you have been up to:
Britt at Britt's Blurbs :
I prepped:
Quinoa Salad with cucumbers, grape tomatoes and pumpkin seeds for lunches.
Chopped Mango for smoothies and snacks.
Made hard-boiled eggs for breakfasts and snacks.
Made homemade granola bars for breakfast yogurt toppings and snacks.
Made meatless meatballs for dinner tonight and a lunch this week.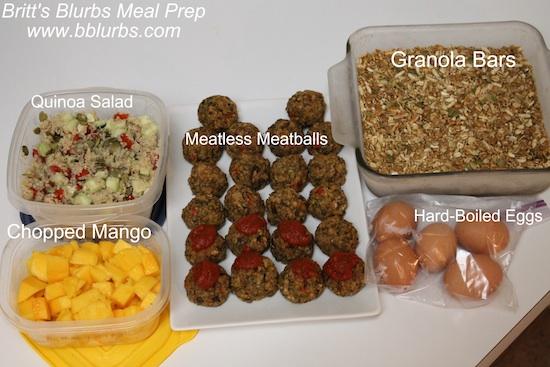 Taylor :
This is some of my food for this week at school and for dinner if I am rushed and can't make something! I have gotten tired of packing my healthy sandwiches and cold veggies for lunch so I made grilled chicken, fish, sweet potato, and cauliflower rice to take to school and warm up in one of my teachers microwaves!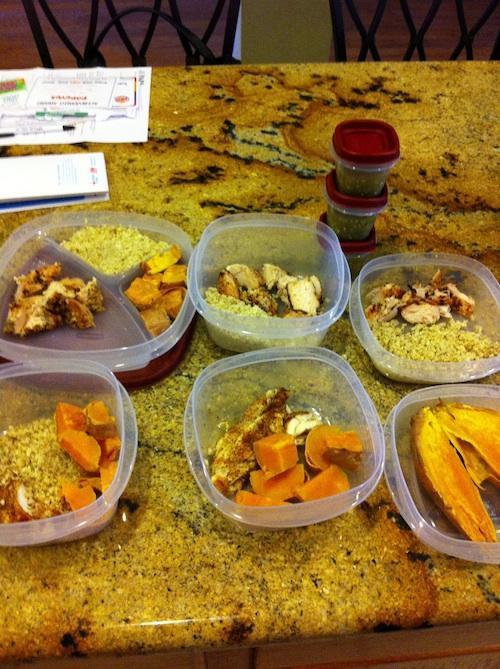 Jodie Parus, RD  (@JJPNutrition), Dietitian at GreenBoxFoods :
Today my husband Michael @DailyFitamin and I went to the farmer's market and then came home with our loot to start our Sunday food prep! Today we got kale, spinach, cucumber, avocado, sweet potatoes, tomatoes, eggplant, bananas, apples, mango, strawberries, pineapple, blueberries, almonds, walnuts,  dried figs, dates, cranberries, apricots, and raisins!
We prepped the following:
Roasted yellow squash, zucchini, eggplant, asparagus, red pepper, and butternut squash
Chickpea, orzo, spinach, tomato salad
Diced tomato and cucumber salad
Mashed sweet potatoes
Black Beans
Grilled chicken, turkey burgers, beef burgers
Lastly, we made 36 of your Sweet Potato Bites! (We added a scoop of veggie protein powder)
We had a few other things that we were considering making, but are going to try those next week! Chocolate banana breakfast quinoa and Banana oat breakfast cookies.
Everything that we prepped today we are going to use as our "lunch buffet", taking with us what we want each day.Also, prepping extra protein and sides will make it easy for us to come home to a quick, healthy dinner! Today was our 1.5 year 🙂 wedding anniversary! With the farmer's market trip and food prepping we had about 5 hours of quality time together. The couple that preps together stays together!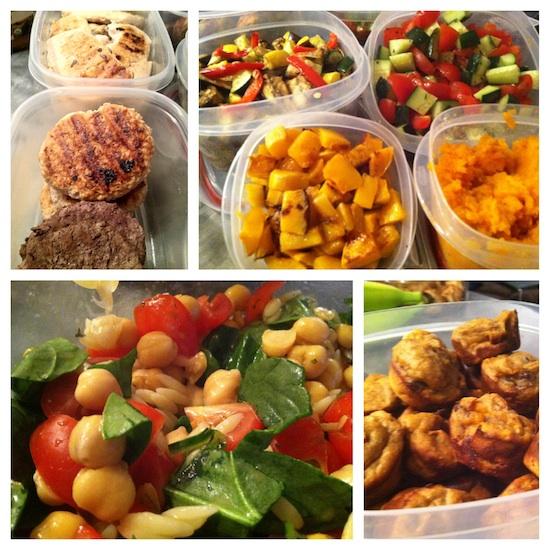 Lindsay at Runnaroundd Life :
Lesson from last week: food prep even if you feel tired and unmotivated because it will save you time and patience all week long. I didn't prep last week and I regretted it.
Here's what I did this week: 1) Chopped up carrots, mushrooms, tomatoes, iceberg lettuce and celery, 2) Prepped green beans, black beans and spaghetti squash that I'll have ready for lunches and even some dinners, and 3) Chopped and froze berries and bananas for breakfasts and desserts.
The black beans take some time, but it's worth it. They're cheaper and free of added salt.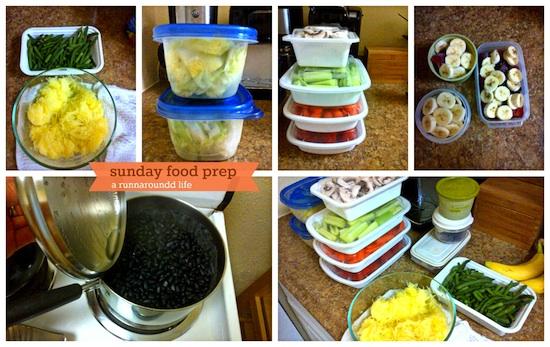 Abby at Levels Food & Fitness :
I normally make two or three meals to last me throughout the week. Since I'm cooking for one, I can normally cook once and have enough for two or three leftovers! Here's what I made this week…
Avocado Black Bean Burgers with roasted sweet potatoes
Balsamic Chicken Pasta Salad (I followed this recipe for Chicken Caesar Pasta Salad but used TJ's balsamic vinaigrette dressing instead of Caesar.)
Banana almond butter bars (I cut them individually and froze most of them for easy, pre-workout snacks.)
Yogurt "toppings" –> I put together some puffed wheat, sliced almonds, and raw oats to use on Greek yogurt throughout the week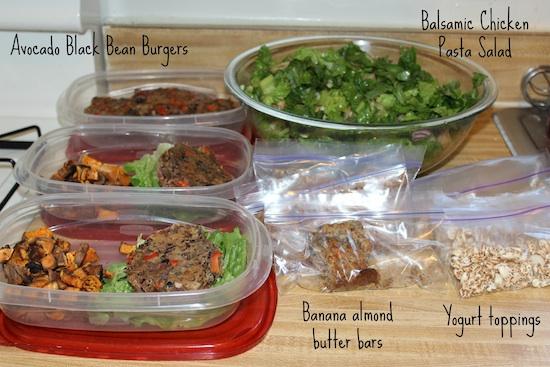 Michelle at Tales of a Fit Kitty Mama :
This week I stocked up my pantry and decided to have fun and prep some meals to take to work with me this week. I started off with a big pot of chili that I have paired with corn bread muffins to take to work for lunch. I also prepped some salads and chopped veggies for snacking and roasting. In addition, I prepped some meatballs and hamburger patties (not pictured) for dinners throughout the week. I also made some hard boiled eggs, a trail mix and some brownies for snacking.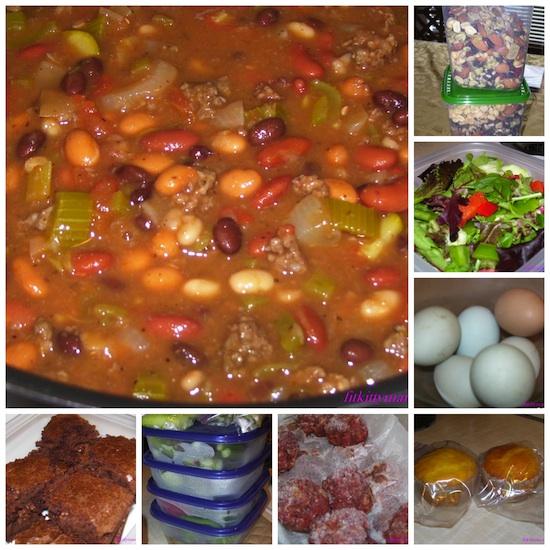 Casey at Well of Health :
I bought a huge bunch of kale, which is why there is mostly green in my food prep picture. Here is what I made: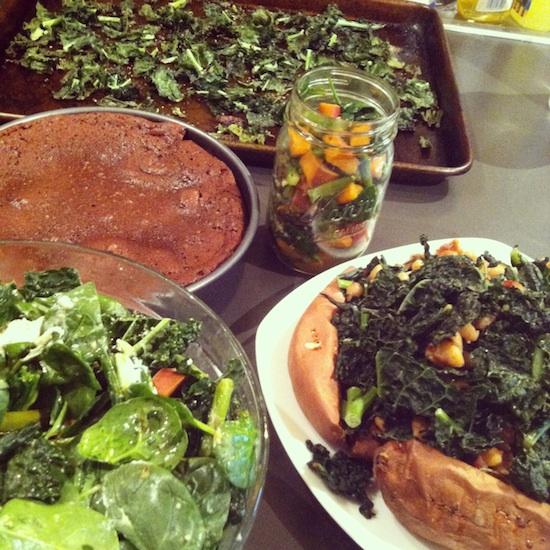 Lots of great ideas! Be sure to check out the blogs linked above for more yummy recipes and great content!
—————
Are you food prepping this weekend? Want to submit a pic to be featured in an upcoming post?!
Here's what I need from you:
Email me the following:
1. Your Name
2. Your Blog URL (if you have one)
3. A photo of your food prep
4. A short description of what's in the photo. Tell me what you prepped and how you're going to use it during the week!
Every Sunday, I'll post a roundup of the photos I received that week so that you guys can see what others are preparing and hopefully get some inspiration and ideas! I'll keep this series going for as long as I receive photos, so send one every week if you want to!
Send to: theleangreenbean <at> gmail <dot> com
Tweet and Instagram your pics as well to inspire others!! Use the hashtag #sundayfoodprep . Remember that in order for a pic to be included in the post, you have to email it to me! If you have more than one pic, please make them into a collage before sending!
———————
Want more inspiration and tips? Read these:
How to Prep Food on the Weekend
Weekend Prep for Easy Weekday Meals
How to Eat Healthy in College
How to Eat Healthy During the Week
And check out the Food Prep Tab for links to all the previous Sunday food prep posts!
—————–
Let's chat: Are you prepping food today? Whatcha makin'?
Enjoy!
–Lindsay–