Hi Friends!
It's Sunday. Let's talk about food prep!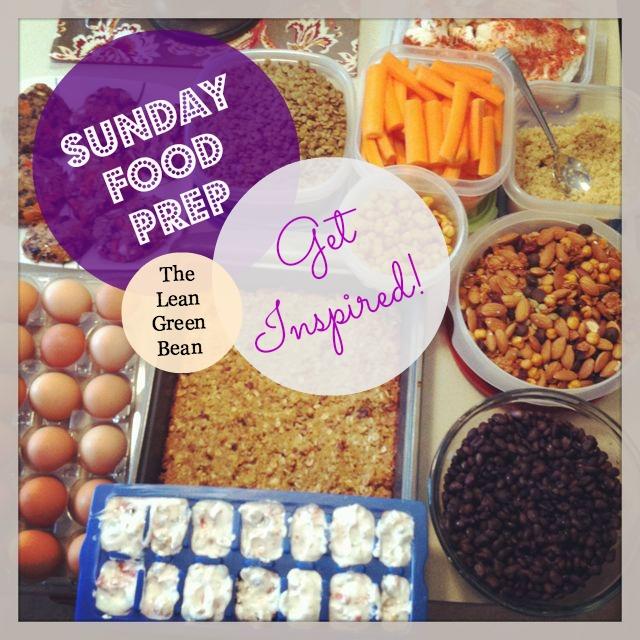 Here's what I prepped last weekend: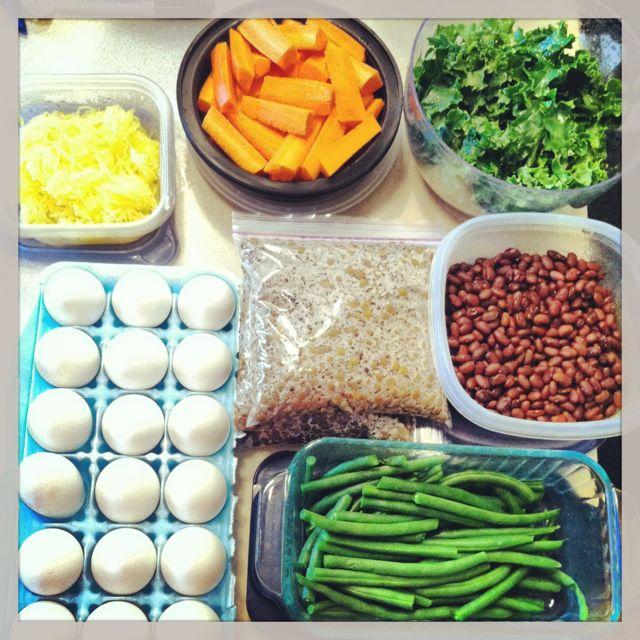 Nothing fancy. Just some basics to get us through the week:
Spaghetti squash
Hard Boiled eggs
Green Beans
Lentils for the freezer
Carrots
Kale massaged with olive oil and lemon juice
Black beans
Here's what some of you guys have been up to for Sunday Food Prep:
Rebecca:
This week I made quinoa, spaghetti squash, fresh black beans, and baked sweet potato wedges with cayenne. Going to be a week of good eats!!
Lindsey at One Mother of a Day :
On Sundays, I do majority of the food prep for the week and then again mid-week I usually have to boil more hard-boiled eggs and roast some veggies to get us through the week. I plan 2-3 meals for dinner for the week and have a couple different options for lunches.
Today's food prep included:
Marinated beets – will use for a side to any meal
Roasted carrots & sweet potato- use as a side
hard-boiled eggs- use when need extra protein for a meal or even a snack
baked chicken- snack, salad or need extra protein for a meal
fried bacon- breakfast, salads or snacks
sautéed greens w/ spring onions & bacon fat– use as a side w/ any meal
Steamed broccoli –use as a side w/ any meal
Rinsed spinach & red leaf lettuce –salads for lunch or dinner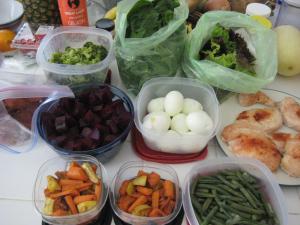 Mandy at Fat Girl Gone Healthy :
This week's sunday food prep included a Greek quinoa salad for lunches this week.  The prepped blueberries and strawberries will be mixed in to oatmeal and yogurt. The chopped bell peppers and onion will go into a omelette or whatever else I come up with for dinner.  The hard boiled eggs are my go to protein source when I'm on the run.  Lastly, I made chocolate covered figs for a bit of dessert.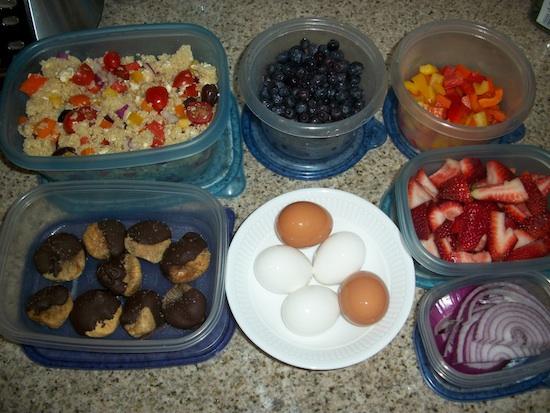 Danielle at Framed Frosting :
This was my first week doing Sunday meal prep, but I can already tell you that I'll be doing it again! I really struggle with staying on track to eat breakfast and lunch every day so I focused my meal prep on those areas…and a few snacks too!
Ham + Egg muffins (recipe is on my blog)
Chopped cucumbers and celery
Sliced and frozen bananas to use in smoothies
Frozen yogurt trail mix bars
Yogurt parfaits in mason jars w/ granola
PB2 Chocolate cookie bites
Greek Orzo salad (recipe is on my blog)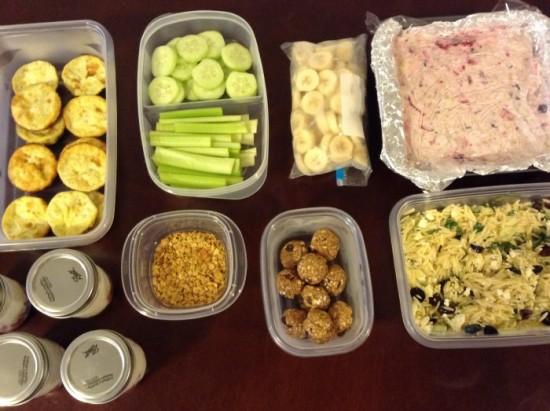 Dede at Purpose Driven Healthy Life :
I made green smoothie freezer kits for the week.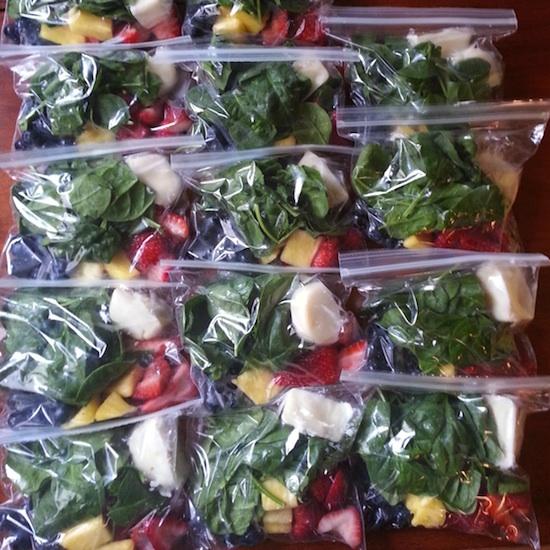 Theresa at A Spoonful of Sunshine :
I really had never tried doing major food preps but I have honestly been LOVING it for the past few months! I am a college student nearing graduation (June 15th!) so prepping food has been crucial for making my busy schedule work.  I went with a Mexican Theme for this week's food prep! Here is what I made:
Roasted Brussels + Sweet Potatoes (staples in my diet)
BBQ Chicken
Sauteed Peppers + Onions + Kale
Black Beans
I'll use the roasted brussels and sweet potatoes to throw into salads and top with the BQQ chicken, goat cheese, and avocado.  I'll use the tofu taco meat, sauteed veggies, black beans and avocado green goddess dressing in burritos or put on a bed of spinach to make a burrito bowl.  The black bean chili has been sitting in my freezer for about a month but I decided to pull it out to go along with my Mexican theme this week!! I'll top it with some eggs and avocado for a quick and delicious meal!  Most of these meals can be easily transported which is key for me because I usually pack my lunches and dinners to eat on campus.  Let's just say I should buy stock in Tupperware 🙂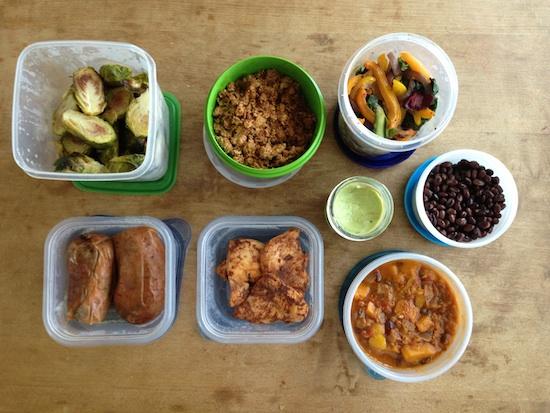 Danielle at It's a Harleyyy Life :
This is the meal plan for the first week of Revolt. My meals consisted of :
Breakfast: 3 hard boiled eggs just the whites, 1 hard boiled egg and a banana.
Snack: Chicken, Brussel Sprouts, Sweet Potato
Lunch: Spinach Salad with Carrots
Snack: Chicken, Broccoli, Sweet Potato
Dinner: Spinach Salad with Steak, and 2 Hard boiled eggs just the whites.
I got a lot of frozen stuff that helped with my first time food prepping!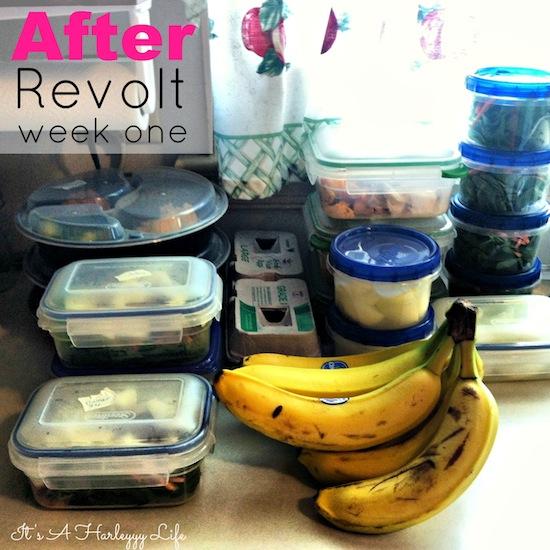 Lots of great ideas! Be sure to check out the blogs linked above for more yummy recipes and great content!
—————
Are you food prepping this weekend? Want to submit a pic to be featured in an upcoming post?!
Here's what I need from you:
Email me the following:
1. Your Name
2. Your Blog URL (if you have one)
3. A photo of your food prep
4. A short description of what's in the photo. Tell me what you prepped and how you're going to use it during the week!
Every Sunday, I'll post a roundup of the photos I received that week so that you guys can see what others are preparing and hopefully get some inspiration and ideas! I'll keep this series going for as long as I receive photos, so send one every week if you want to!
Send to: theleangreenbean <at> gmail <dot> com
Tweet and Instagram your pics as well to inspire others!! Use the hashtag #sundayfoodprep . Remember that in order for a pic to be included in the post, you have to email it to me! If you have more than one pic, please make them into a collage before sending!
———————
Want more inspiration and tips? Read these:
How to Prep Food on the Weekend
Weekend Prep for Easy Weekday Meals
How to Eat Healthy in College
How to Eat Healthy During the Week
And check out the Food Prep Tab for links to all the previous Sunday food prep posts!
—————–
Let's chat: Are you prepping food today? Whatcha makin'?
Enjoy!
–Lindsay–