Hi Friends!
I'm back with more food prep to share!!!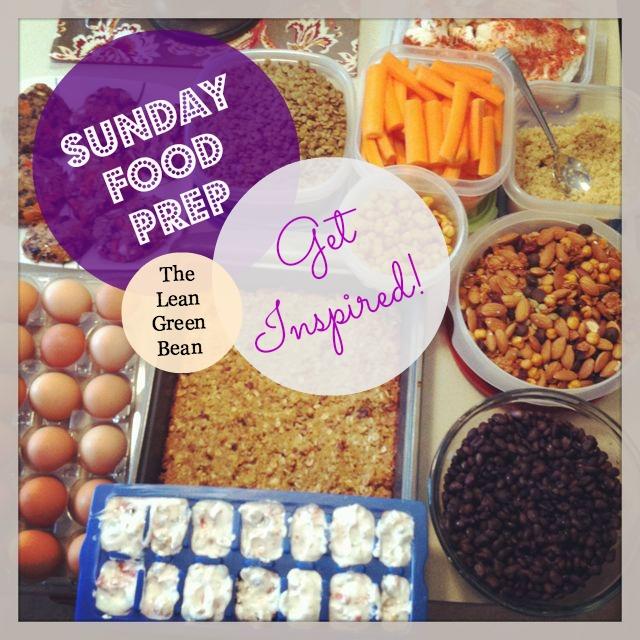 Here's what I prepped last weekend: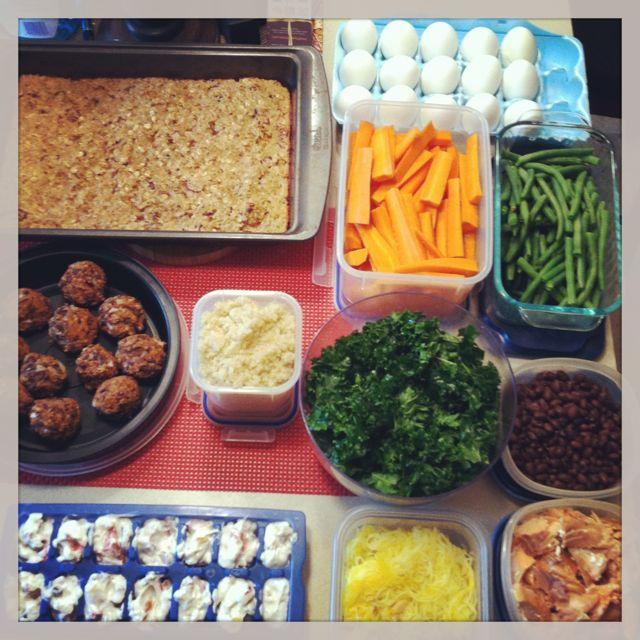 I made:
Quinoa
HB Eggs
Carrots
Green Beans
Kale- stems removed, rubbed with lemon juice & olive oil
Black Beans
Salmon
 ——————–
Here's what some of you guys have been up to:
Kat at Sneakers and Finger Paint :
Let's see I made white quinoa, roasted kale & broccoli & zucchini,  cut fruit,  cut up rotisserie chicken,  chocolate healthy bites with protein & packed protein in snack packs. Makes my M-F life easy and nutritious 😉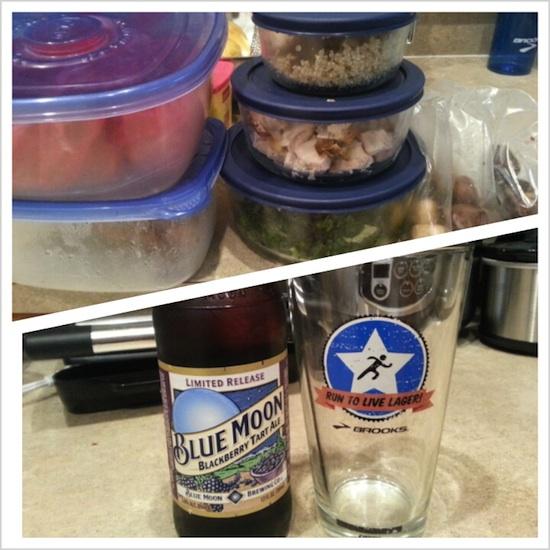 Alicia (@aligirl42 on instagram) :
Your Sunday Food Prep inspiration has kept our meals running smooth throughout the week. I'm getting into longer runs for my half marathon training so this keeps me from spending all night in the kitchen packing lunches and making dinner!
Here's what I have in the picture:
Carrots cut up and portioned out for snacks
Iowa Girl Eats maple almond granola to go with some Greek Yogurt and strawberries shown in the picture. http://iowagirleats.com/2013/04/09/homemade-maple-almond-granola/
Thai quinoa salad to be served over spinach for lunch. The salad has red peppers, purple cabbage, green onions, edamame, cilantro, and carrots with a sunbutter sauce as the dressing!
Athena at Fitness & Feta :
This week's Sunday Food Prep included:
Cottage cheese + strawberries + slivered almonds for breakfasts
Snacks:  Celery sticks, strawberries, carrots, unsalted cashews, grapes
Ingredients prepped already to make a roasted sweet potato salad later in the week
Prepped quinoa to have on hand
Banana almond quinoa bites
Turkey meatballs & spaghetti squash
4 hard-boiled eggs
Heather at Fit Mama Real Food :
I made protein-packed waffles (recipe here), creamy corn and black bean salad (recipe here), dough for homemade bread, sliced strawberries and a batch of peanut butter coconut no bake oat bars (recipe here).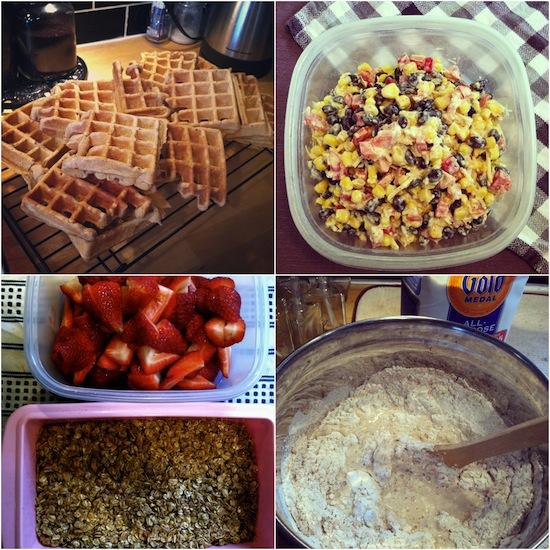 Sarah at Slices of Sarah Pie :
All of this produce took me less than 20 minutes to clean, prep and pack once I got it home from the store. I washed and cut all my lettuce (enough for 3 salads in a jar) and packed it with paper towels to keep it crisp. I chopped broccoli for stir-fry and peppers for another dish later in the week. I also made a big batch of quinoa, riced some cauliflower in the food processor  and put some beans in a jar to soak (but lets be honest, none of those are very pretty).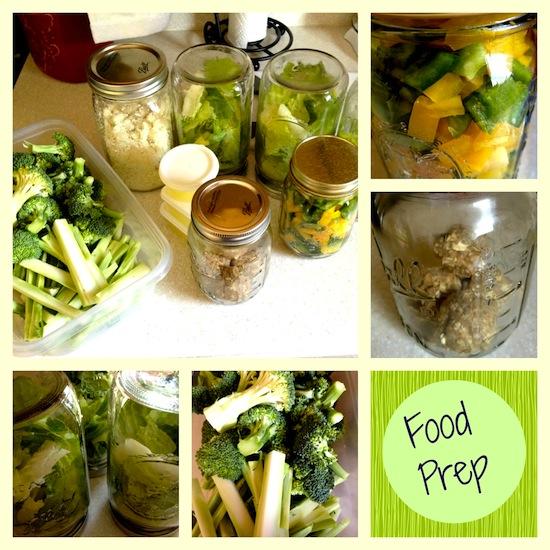 Jess from Eat Drink Breathe Sweat :
I am loving the Sunday Food Prep theme! I am getting more and more into it to make life that much easier during the week. There is something so settling about going into the week with a fully stocked fridge full of fresh, healthy foods to choose from (and to choose from quickly!)
This Sunday my food prep included:
Chopping fresh watermelon (first of the season and GLORIOUS!)
Chopping honeydew melon
Chopping pineapple
Chopping and roasting kabocha squash
Making a few portions of baked oatmeal to bring to work for breakfast
My plan is to use the fresh fruit as part of my lunch this week. I usually eat a wrap or a spicy quinoa black bean veggie burger (which is what I'm having tomorrow actually!) with either some fruit or some fresh veggies and hummus. This week I'll be using the fruit alongside my wraps and sandwiches. The hubs will get some in his lunch this week too. 😉 I'll use the kabocha as part of my dinners this week — I need quick and easy a few nights during the week since I teach at the studio. Usually my Monday night go-to quick meal is a big spinach or mixed green salad with freshly roasted kabocha and goat cheese and whatever else I decide to toss on top. I also eat the kabocha on top of grilled chicken salads — soo delish. The baked oatmeal comes with me in the morning to work, I reheat it there with a splash of almond milk and a smear of pb 'frosted' on top and a banana on the side. So yummy!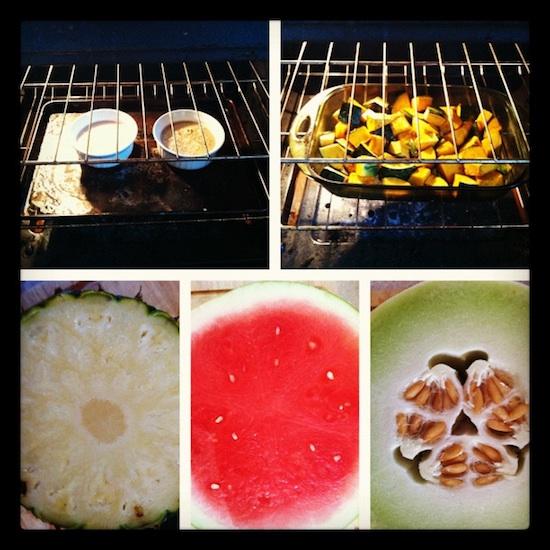 Kayla at Blondes Have More Run :
Top Left:  Homemade Blueberry Maple granola in baggies for snacks during the week (Recipe on blog)
Top Middle:  Hard-boiled eggs for snacks or to top salads with
Top Right: Cooked Wheat Berry to top salads
Middle Left:  Chicken Sonoma Salad for lunches
Middle, Middle: Strawberries for snacks
MIddle Right: My Favorite Kale Salad (recipe on blog)
Bottom Left:  Whole Grain Blueberry pancakes for quick breakfasts
Bottom Middle:  Celery for snacks
Bottom Right:  Raw Brownie Balls (Recipe coming soon on blog!)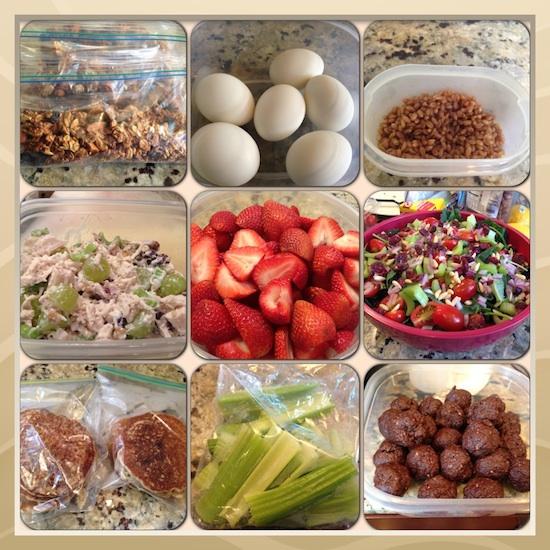 Rockstars, right?!
——————
Are you food prepping this weekend? Want to submit a pic to be featured in an upcoming post?!
Here's what I need from you:
Email me the following:
1. Your Name
2. Your Blog URL (if you have one)
3. A photo of your food prep
4. A short description of what's in the photo. Tell me what you prepped and how you're going to use it during the week!
Every Sunday, I'll post a roundup of the photos I received that week so that you guys can see what others are preparing and hopefully get some inspiration and ideas! I'll keep this series going for as long as I receive photos, so send one every week if you want to!
Send to: theleangreenbean <at> gmail <dot> com
Tweet and Instagram your pics as well to inspire others!! Use the hashtag #sundayfoodprep . Remember that in order for a pic to be included in the post, you have to email it to me! If you have more than one pic, please make them into a collage before sending!
———————
Want more inspiration and tips? Read these:
How to Prep Food on the Weekend
Weekend Prep for Easy Weekday Meals
How to Eat Healthy in College
How to Eat Healthy During the Week
And check out the Food Prep Tab for links to all the previous Sunday food prep posts!
—————–
Let's chat: Are you prepping food today? Whatcha makin'?
Enjoy!
–Lindsay–