Hi Friends!
I didn't get around to posting last Sunday so we have two weeks of food prep to catch up on!
Two weeks ago I prepped:
Quinoa Breakfast Bars
Salmon Pasta Salad – grilled salmon, broccoli, green beans, peppers, tomatoes, onion and Italian dressing!
Burgers for the grill
Grilled chicken
Veggies & lettuce
Watermelon!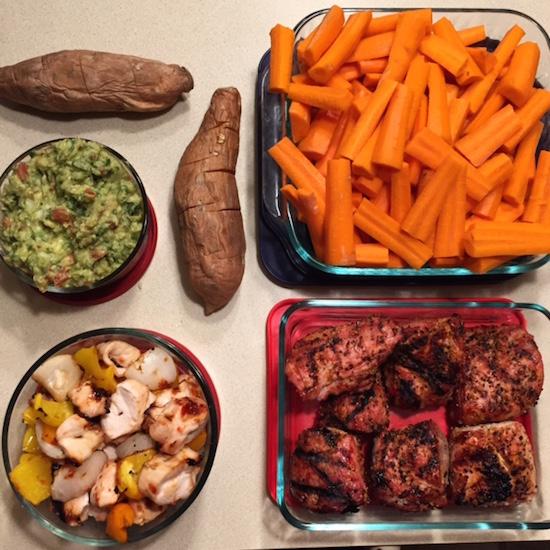 Last weekend I didn't spend much time prepping…but I did do a few things! I prepped some pork tenderloin and chicken kabobs for the grill. While hubby was grilling those, I made a batch of guac, chopped some carrots and microwaved a few sweet potatoes! Team effort.
---
And some reader inspiration for you from Eveline:
Both my husband and I have been preparing our breakfasts, lunches and snacks on Sundays for a while now. This weekend I finally got my act together and took some photos of what we did! It varies per week but this should give a pretty good picture of what we usually do.
Clockwise in the photo you can see that for this week we made: freezer pb cubs (from your website) for when I feel like a chocolaty treat. I used silicone muffin liners and an ice cube tray and they worked out great! I also made a batch of 'banola' (recipe here: http://passionforpaleo.com/21-dsd-banola-recipe/ – I used super ripe banana's to make it a bit sweeter), to have with my yoghurt as dessert. Next to that is my 'typical' weekday prep, I make this every week, overnight oats of some sort to have as breakfast at work, Greek yoghurt with berries as afternoon snack and some fruit and cottage cheese to have as morning snack.
This week for lunch I made a salad with roasted cauliflower, freekeh, dates, roasted cumin seeds, parsley and some tuna. My husband's prep is also pretty much the same every week, chicken with rice and veggies for lunch; he roasts the chicken for 5 days and freezes it to use throughout the week, and usually cooks a batch of rice on Sunday and again on Wednesday. Then he preps 2 yoghurts, 2×2 sandwiches, 2x 100gr trailmix and a mueslibar and banana (not all pictured) and then does that again on Wednesday.
---
Are you food prepping today?
Send me your pic! (I'm all out!)