Hi Friends!
Time for more food prep inspiration!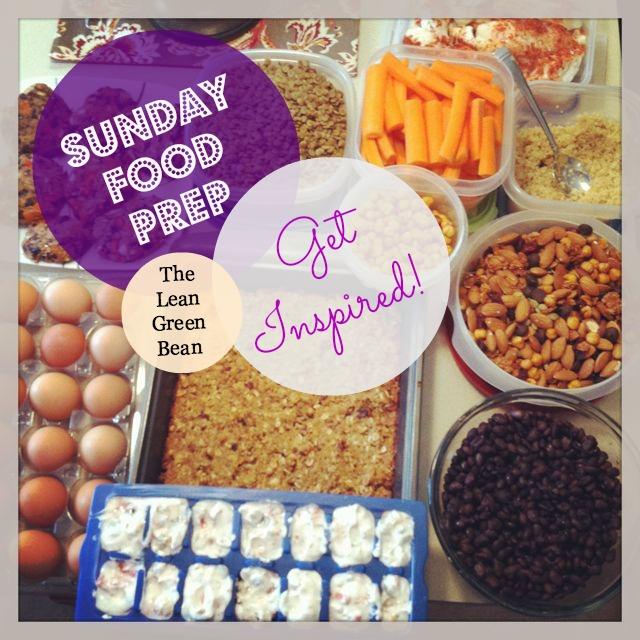 Here's what I made last weekend: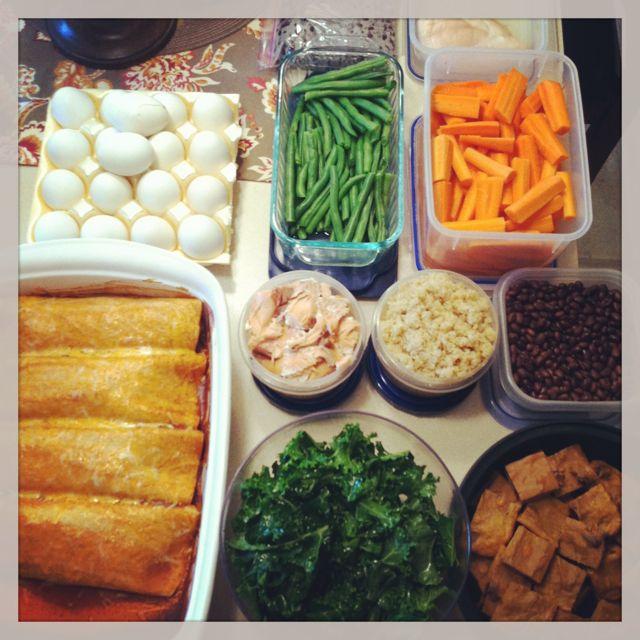 My prep included:
HB eggs- in the pressure cooker
Enchiladas- I used 1 chicken breast for the 4 enchiladas, plus 1 c quinoa, 2 c black beans, a red pepper, 2 jalapenos, 1/2 can cream of mushroom soup and 1/3 c shredded cheese. Mix it all together, add some cumin and cayenne peppers and split evenly between 4 tortillas. Pour a little enchilada sauce on the bottom of a 9×13 pan to help keep from sticking, then place the enchiladas in seam side down. Top with 1/2 can enchilada sauce, using a brush to make sure all the tortillas are covered, add a little extra cheese, cover with foil and bake at 375 for about 25 min!
Kale – I prepped it for salads by washing, removing the stems and chopping, then rubbing with a mix of olive oil and lemon juice to help it soften up a bit as it sits!
Salmon
Quinoa
Green Beans
Carrots
Black Beans
Grilled bbq chicken
Sweet potato bites– except i made them in a pan instead of mini muffin tins. They're not as good that way in my opinion but i was feeling lazy.
———————
Here's what some of you guys have been up to:
Tara at Sugar Sweat and Sparks :
This week I'm on the go a lot for work.  My food prep was all about healthy convenient food for breakfast and snacks.  My awesome hubby is prepping dinners for me today while I work.  🙂
Homemade Protien Bars (reciepe on blog)
Boiled Eggs
Green and Berrie Smoothies
Homemade Spicy Zuchinni Hummus for carrots and celery
Apples and Bananas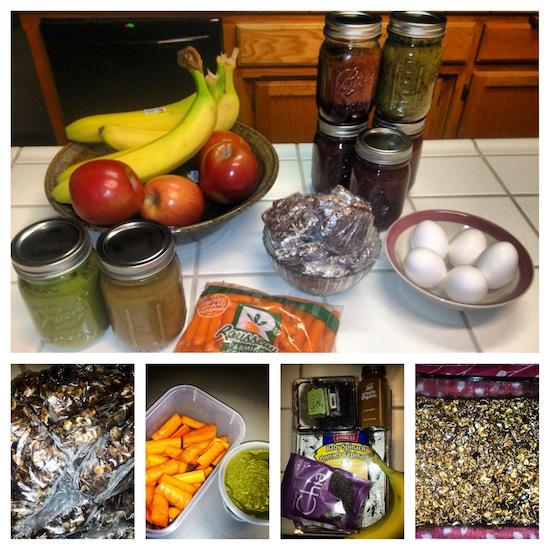 Melissa (@melrenee13 on instagram) :
I'm a senior in college right now, and with this being my last semester, things can get pretty busy. I also don't want to have to fit cooking something every day into my schedule. So I usually prep a few things early in the week to last me throughout the week so that I have no excuses for grabbing something not-so-healthy. I don't always prep everything in one day (sometimes I'll prep a couple things on Sunday and a couple on Monday), but this week I decided to kick it into high gear for this week and step up my food prep game. I'm vegan, so everything here is vegan/plant-based. I also avoid using oil and I try to use as little salt as possible. So here's what I made for the week:
Separated and rinsed romaine leaves — For lettuce wraps with…
Salsa chickpeas — The recipe/idea came from the Happy Herbivore Cookbook, but I also made my own tweaks based on the ingredients I had.  This is a super simple recipe and it is EXTREMELY tasty.
Italian cauliflower "rice" — Just some cauliflower "riced" in my food processor, then water-sauteed it with some onion, garlic, Italian seasoning, and black pepper. This was my first time experimenting with cauliflower rice, but I think it turned out very well.
Boiled broccoli — To eat along with my meals throughout the week. I just love broccoli so I always have it on hand.
Destemmed, torn, and rinsed kale — To steam and eat with my meals throughout the week. Perhaps I'll eat some steamed kale with the cauliflower rice and some other veggies.
Carrot and celery sticks — For snacking and going along with various meals.
Raisin pecan granola — Homemade granola is one of my most favorite things to eat. I always make my granola oil-free, and this batch is also sugar-free since I sweetened it with dates. I originally made more than what's in those two jars, but I shared some with a friend and then I've already been eating some for breakfast 🙂 I like to eat it along with unsweetened almond milk and sliced banana.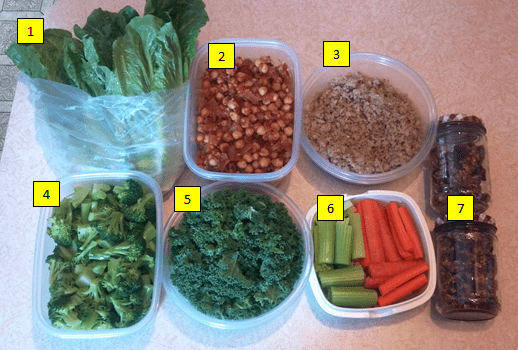 Adrienne at Happy Ramblings :
Headed back to the working world this week, so I wanted to prep some things that would be keep me on a healthy track, and help me avoid going out for lunch. I prepped some brown rice and black beans to be the base for my lunches. With this I can make rice and bean bowls topped with roasted veggies, which I prepped a good amount of as well.
I will also use leftovers from the week of meals that I planned. I posted the full meal plan on my blog Tuesday. Sunday's dinner of quinoa chickpea patties made enough for some extra lunches or dinner this week as well.
I also made some apple quinoa breakfast bars, recipe from Nut Butter Runner, to make for an easy pre- 5am workout snack. Not pictured, were snacks which was carrots and celery for hummus, apples and pears, and nuts.
I am now scouring Pinterest and my favorite blogs for more inspiration for next Sunday's food prep.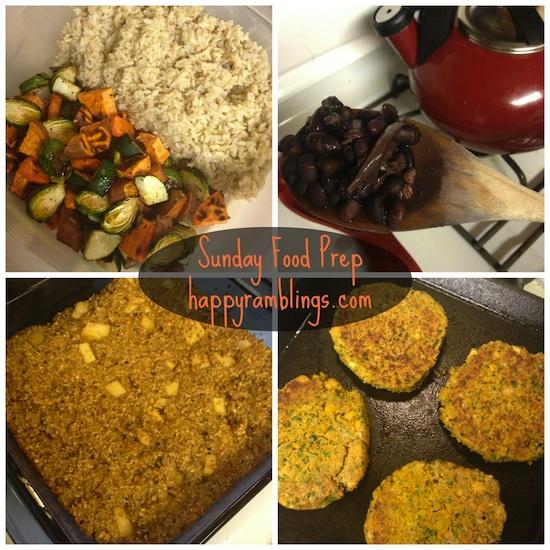 Morganne at Nut Butter Runner :
This week I prepared the usual staples in our house: quinoa, hard boiled eggs, spaghetti squash, salad,  individual egg frittatas, and quinoa breakfast bites. Something new in the rotation is the purchase of a rotisserie chicken that I went ahead and pulled off all the meat and separated for the husband and I! I also experimented in the kitchen a bit and made metabolism boosting bites, breakfast bread, 3 ingredient protein cookies, and roasted veggie burgers for the week. And last, but certainly not least, we are excited to try your homemade lean pockets! I made a chicken, broccoli, and cheese one and a pizza one. We are saving the rest of the dough for later in the week!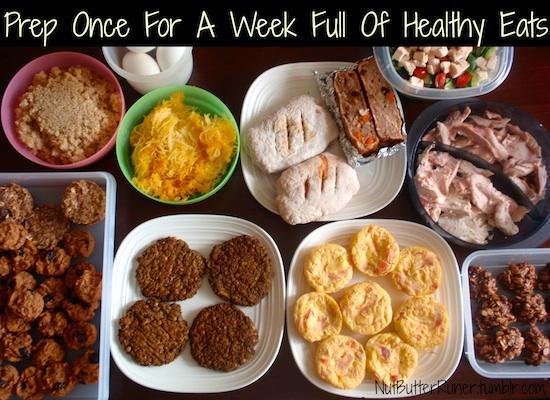 Katie at Live Half Full :
This week I made pasta salad filled with veggies, fruit salad, some brown rice, homemade LARABARS and prepped all the veggies for dinners this week. It was a super easy meal prep that only took an hour and saved me more than that during the week!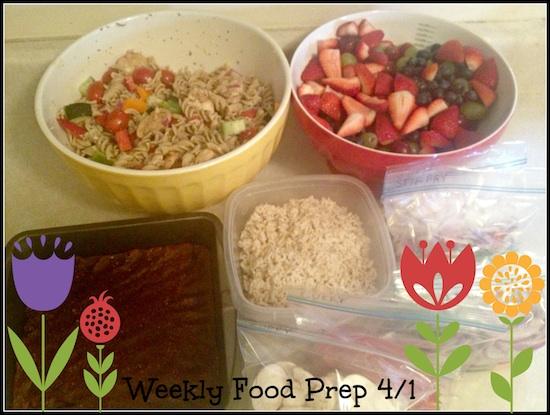 Emily at Sinful Nutrition :
This week I made some Sweet & Sour Cucumbers (Old PB Jars work great for shaking them up without any mess!), some avocado egg salad for easy sandwiches during the wee, a GIANT batch of cheesy lentils & rice ( a spin off of Lindsay's Lentil Veggie Mac and Cheese), and sliced up my overripe bananas to freeze for smoothies and overnight oats. I only have to prep meals for myself and will be away for 3 days this week so my food prep was pretty minimal this week. Hope to inspire some kitchen adventures!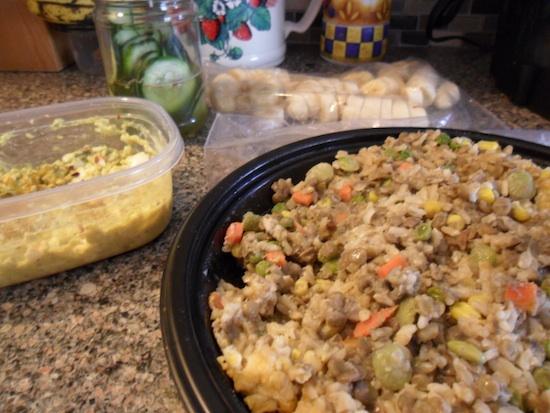 Becky at Olives 'n' Wine :
Each weekend I stock up on fruits and veggies for the week. I always buy organic and clean my produce on the weekends so I have something quick and healthy to grab during the week! To keep my produce fresh throughout the week, I wash it is a vinegar solution – 1 part vinegar to 6 parts water. This cleans all of the mold spores and dirt off of my fruits and veggies! This week I also cooked up some quinoa and black beans to go along with spinach, hummus and avocado for healthy, whole wheat wraps for lunch 🙂
Emily (@emilymahr on twitter) :
This is what I prepped today, I have chili which I made last weekend, and froze, that will be my lunchtime meal this week. After taking this picture, I restructured my menu to have 2 eggs as snacks and have oatmeal for breakfast instead of my usual bacon & egg. I saw the homemade hot pocket recipe and that will be next weekends kitchen adventure.
Apple, blueberries & yogurt, orange & cranberry juice, nuts and sticks, kiwi, egg, meat & cheese, and cooked shrimp. I have a tub of natural jif peanut butter somewhere around here that will go with the apples.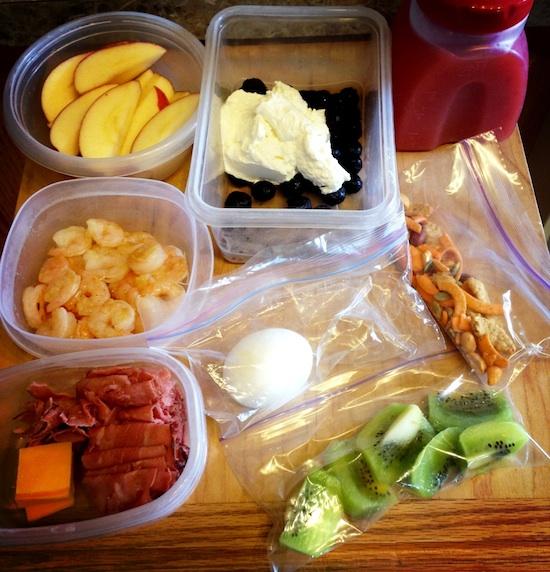 So amazing, right?! I love how many of you are rockin' the Sunday food prep and preparing yourselves for a healthy week!
——————-
Are you food prepping this weekend? Want to submit a pic to be featured in an upcoming post?!
Here's what I need from you:
Email me the following:
1. Your Name
2. Your Blog URL (if you have one)
3. A photo of your food prep
4. A short description of what's in the photo. Tell me what you prepped and how you're going to use it during the week!
Every Sunday, I'll post a roundup of the photos I received that week so that you guys can see what others are preparing and hopefully get some inspiration and ideas! I'll keep this series going for as long as I receive photos, so send one every week if you want to!
Send to: theleangreenbean <at> gmail <dot> com
Tweet and Instagram your pics as well to inspire others!! Use the hashtag #sundayfoodprep . Remember that in order for a pic to be included in the post, you have to email it to me! If you have more than one pic, please make them into a collage before sending!
———————
Let's chat: Are you prepping food this weekend? Whatcha making?
Enjoy!
–Lindsay–