Hi Friends!
It's Sunday and that means it's time to talk food prep. Yesterday I was on the local news doing just that! My friends at Good Day Columbus invited me to come chat with them for a little bit about the benefits of food prep and I was happy to oblige!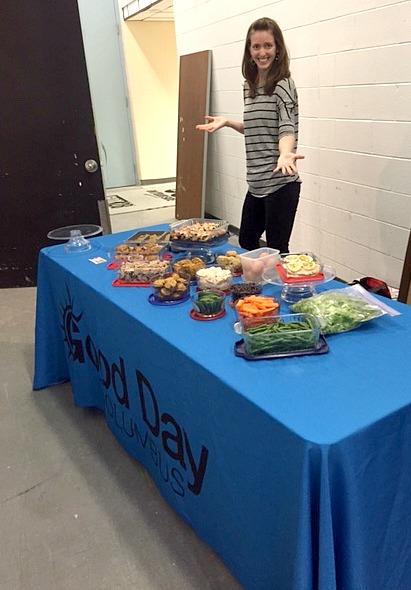 In order to prepare, I did my food prep on Friday. Then I packed it all up on Saturday morning and hubby and I headed down to the station.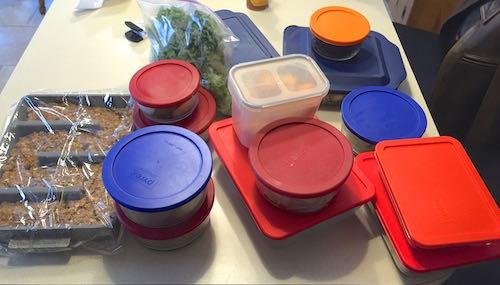 We got everything set up, watched a few of the guests before me and then it was my turn!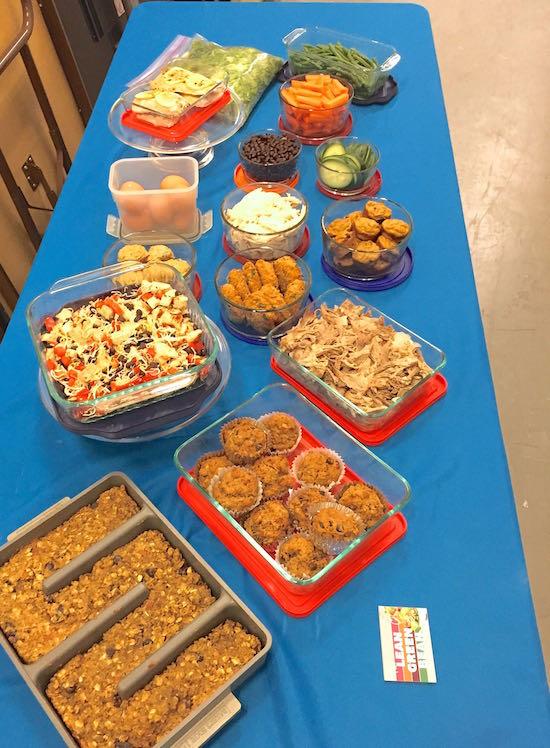 Here's what I prepped:
Chicken Enchilada filling
Cheese Stuffed Chicken Meatballs (I cut up some string cheese and stuffed a piece in the middle of each one)
Oven Roasted Chicken
Hard boiled Eggs
Black Beans
Lemon Pepper Baked Salmon
Veggies
Hubby, as always, was my biggest fan. He was very excited to be on set 🙂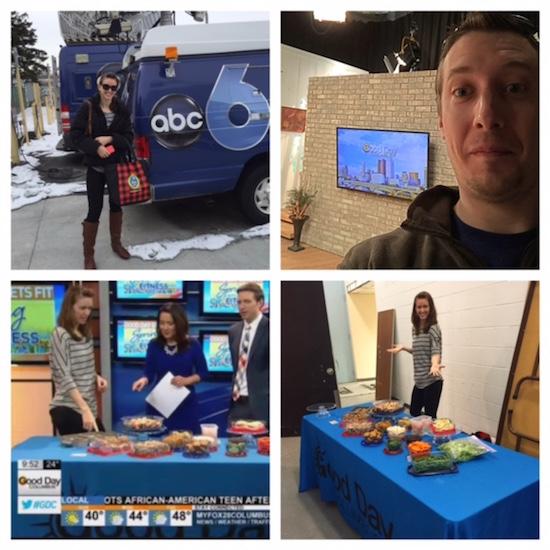 Squish stayed home with grandma and grandpa and watched me on TV…but next time I might bring him to the studio so they can all dote on him!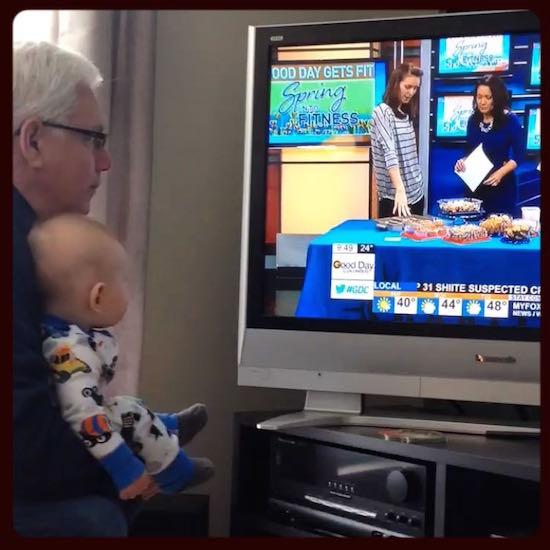 ---
Here's what some of you did last week:
Heather at Hungry for Balance –
This week I made 2 loaves of homemade sourdough cinnamon raisin bread (with my own starter!!), hard boiled eggs to go over salad greens for my lunches, chopped veggies for salads and snacks, banana-egg muffins for my 15 month old daughter's breakfasts/snacks, hummus, sunflower seed butter in my food processor (so much cheaper than buying it), pumpkin chocolate chip muffins (recipe on blog), and lentil-veggie-coconut curry for dinners this week.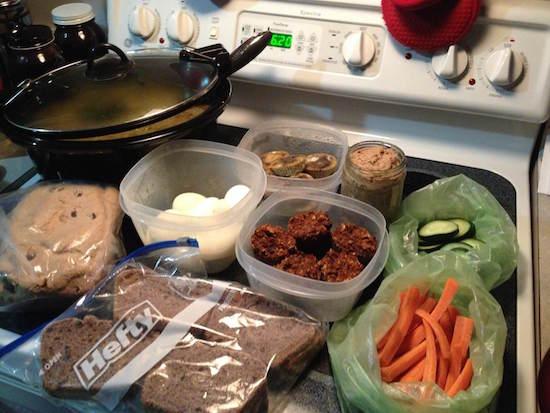 Amanda at Cooking Up Giggles –
Cuban inspired black beans and rice with "fried" bananas, tomatoes, and avocado.  Smoked turkey sausage to be used with pan sauteed broccoli and tomato pasta.  Italian chicken sausage with roasted potatoes and vegetables.  No bake energy bites for afternoon snacks.  Blueberry chia jam to be used with toast and yogurt for breakfast.  Lentils and mixed vegetables in the crockpot which will be topped with puff pastry on the day of for a pot pie (inspired by your recipe).  I always make enough dinner for my husband and I to pack for lunch…and definitely made enough food for leftovers one night.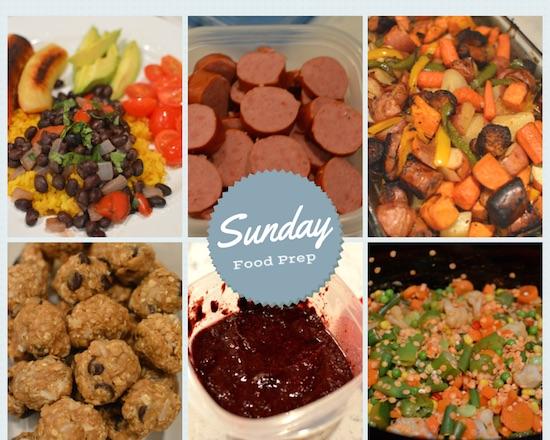 Coele –
Starting from the top:
We cooked a whole turkey on Sunday to be able to use for a while. Froze most of it and will use it in a breakfast casserole, sandwiches, and salads this week. On the left under that I pre-breaded some chicken nuggets to be ready to bake for dinner tonight. Under that I pre-cooked chicken and diced it up for a chicken Parmesan casserole. On the right we have hard-boiled eggs and almonds butter bites for snacks. And then salad fixings in the middle which I don't divide up since I work from home and can make a salad pretty quickly.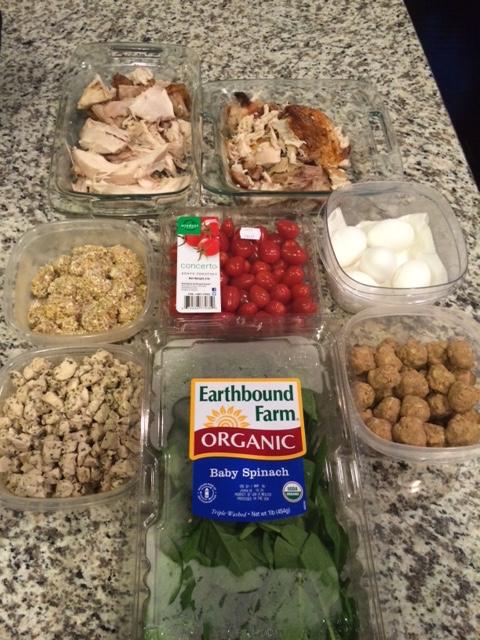 ---
That's all for this week. Oh, and I started a new series yesterday!

In case you missed the first post, be sure to check it out for a Week of Quick & Easy Meal Ideas and how you can prep for them!
---
Are you food prepping this weekend? Send me your pic! (I'm all out!)
Here's what I need from you:
Email me the following:
1. Your Name
2. Your Blog URL (if you have one)
3. A photo of your food prep
4. A short description of what's in the photo. Tell me what you prepped and how you're going to use it during the week!
Every Sunday, I'll post a roundup of the photos I received that week so that you guys can see what others are preparing and hopefully get some inspiration and ideas! I'll keep this series going for as long as I receive photos, so send one every week if you want to!
Send to: theleangreenbean <at> gmail <dot> com
Tweet and Instagram your pics as well to inspire others!! Use the hashtag #sundayfoodprep . Remember that in order for a pic to be included in the post, you have to email it to me! If you have more than one pic, please make them into a collage before sending!
———————
Want more inspiration and tips? Read these:
15 Freezer Meals & Snacks
Top 10 Foods for Sunday Food Prep
How to Prep Food on the Weekend
Weekend Prep for Easy Weekday Meals
How to Eat Healthy in College
How to Eat Healthy During the Week
And check out the Food Prep Tab for links to all the previous Sunday food prep posts!
————
Let's chat: Are you prepping food today? Whatcha makin'?
Enjoy!
–Lindsay–