Hi Friends!
I'm back and I have more food prep for you!
Here's what I made last weekend: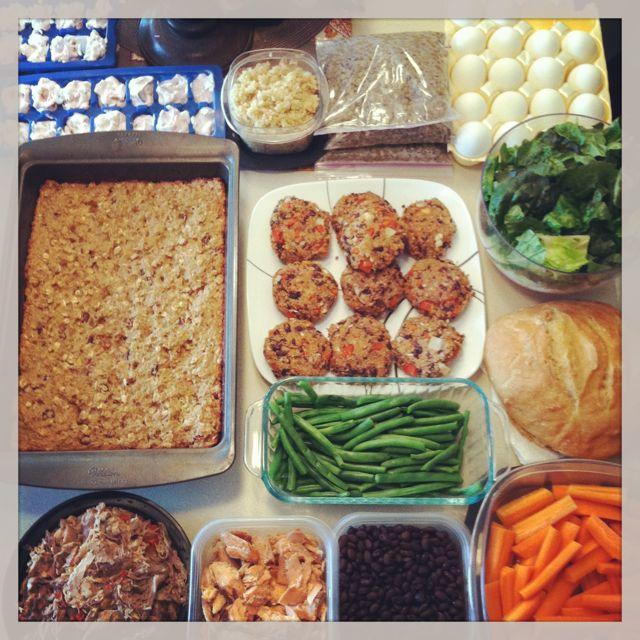 All sorts of goodies:
Pulled pork- I cook it in the crockpot with a can of beer, a diced red pepper and onion and a can of beer. Cook on low for 10 hours, then shred and add bbq sauce. I actually put 1/2 in the freezer before adding the sauce to use later.
Quinoa
Lentils- for the freezer
Greek black bean burgers– I made a batch and a half so i'd have extra to freeze
Green beans
Salmon- baked and flaked to put on salads and in wraps
Black beans- cooked in the pressure cooker
Carrots- chopped and ready for snacking
Homemade bread- from the Artisan Bread in 5 Minutes per Day cookbook
Lettuce for salad
Hard boiled eggs- cooked in the pressure cooker
—————————–
Here's what some of you guys have been up to:
Lindsay at Skinny On Linny :
From left to right-
Black beans: I cooked up some black beans to use in egg scrambles for breakfast and taco salads for lunch throughout the week.
Pulled chicken: While I was busy chopping vegetables, my slow cooker turned 3 chicken breasts, a jar of salsa, and 1/4 cup pureed chipotle peppers into a pile of shredded chicken. I'll use this, along with the black beans, to top taco salads for lunch throughout the week. My boyfriend will use some for easy quesadillas and nachos for lunch.
Carrots and celery: Inexpensive to buy in bulk and so quick to chop. I often snack on carrots and celery with peanut butter, and I use them for veggie juice blends in the morning too.
Freezer bag meals for the crock pot: I rely on my crock pot for most weeknight suppers. Dinner literally takes SECONDS when you plan ahead and put 90% of the recipe contents in a freezer bag. In the morning, all you have to do is dump the bag, add broth or other liquids and turn on the crock pot. I prepped four meals- two bags of Indian Coconut Curry Chicken and two bags of Spicy Sausage Stew.
Pumpkin Muffins (not shown): These are based off your recipe for Sweet Potato Bites. I added my own twist by substituting ground almonds for the peanut butter and pureed pumpkin for the sweet potato. I think I added an extra egg too, because the pumpkin is a little wetter than sweet potato.
I prepared all of this in a little less than 1.5 hours of hands-on time. I was already in the kitchen working on beef stew for St. Patty's Day, so it worked out well.
Sam at Life from the Center of the Pie :
1. Sauteed Spinach w/ Tomatoes
2. Boiled Eggs
3. Saffron Jasmine Rice from my #FoodiePenPals Box
4. Chicken Enchiladas (in fridge until baking time Monday)
5. Roasting Sweet Potatoes & Tofu for Hummnooch
6. Frozen Yogurt w/ Love Crunch Granola (Not pictured – in freezer!)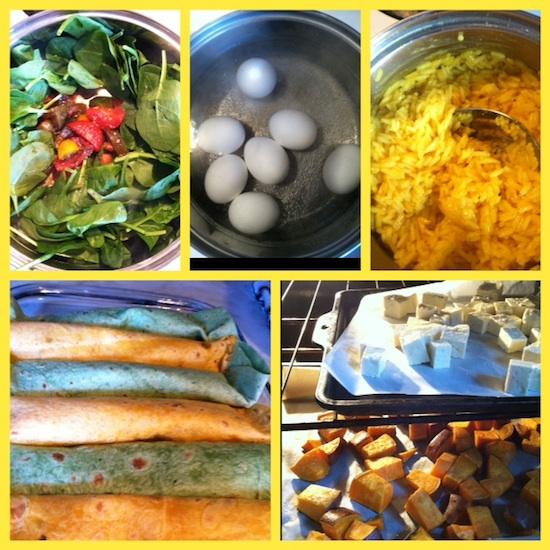 Emily at The Good Era :
I made a few salads for lunches, chopped and washed veggies, put veggies/fruit into bags for smoothies/juices for the week, and sliced up lemons and limes for water.  I also made a batch of spicy chickpea veggie burgers!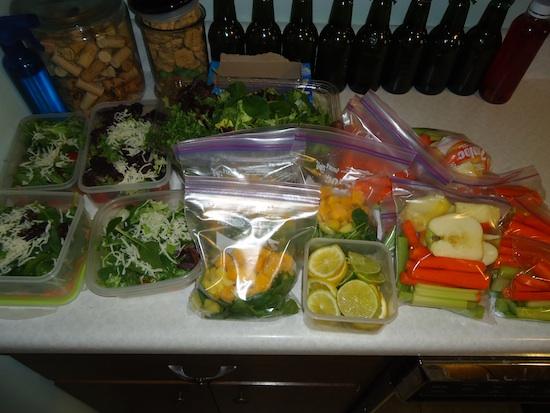 Kim at @Henrisrunner (on Twitter)
Just roasted carrots w/ parsley & made roasted tomato/green chile salsa to go on panko/parmesan cod.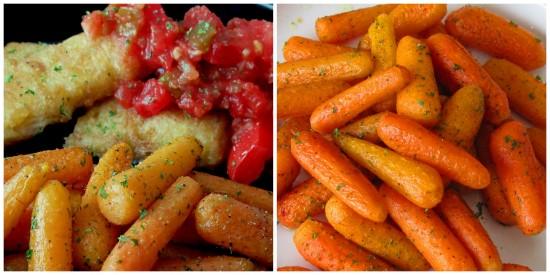 Morgannne at Nut Butter Runner :
This Sunday food prep was a little different because I decided to also spend my time in the kitchen experimenting!
I decided to make apple spice granola (if you want your house to smell delicious, have a healthy addition to any meal with a little sweetness, spice, & crunch…I highly recommend!) for easy snacking and toppings for smoothies & yogurt. I also modified my quinoa breakfast bars into quinoa breakfast bites for an even easier portable snack. Lastly, I tried my hand at a new bar: carrot cake protein bars! I love all of these for snacks, I'm a big snacker what can I say?
Then there are the basics: salad and spaghetti squash. These will get topped with my prepped protein sources: baked chicken, hard boiled eggs or lentils!
Food prep certainly doesn't have to be fancy or complicated, it's just a matter of prepping the right food! Now I'm set for a week full of healthy eats!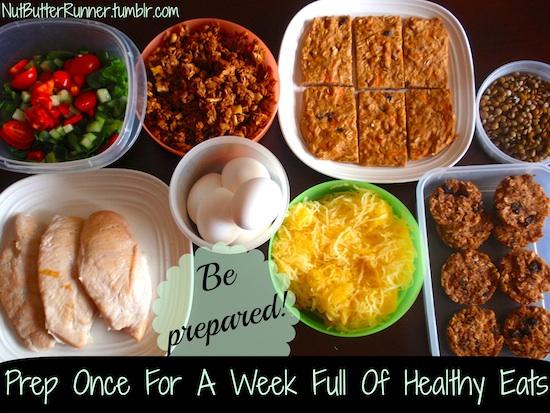 Ashley at The Preppy Runner :
I am pretty pumped for this week's breakfast and lunch, I'll move on to dinner eventually, haha. From L to R: veggie bags for lunch, banana-egg pancake batter and spinach/green pepper/turkey/onion egg muffins for breakfast.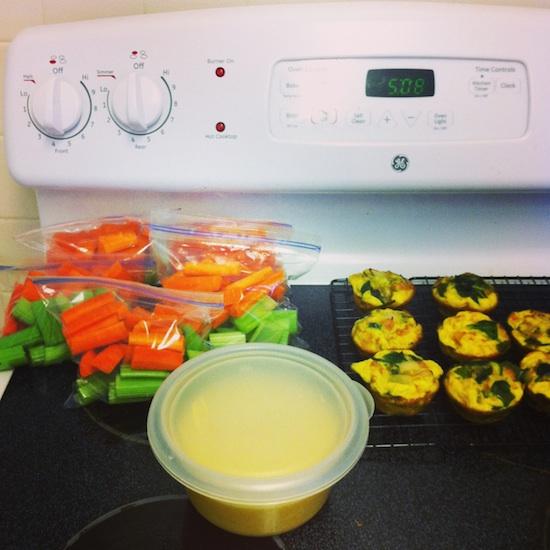 Casey at Salted Plates :
Sunday prep: salads in jars, cous cous, sweet potatoes, hard boiled eggs, brownies, spaghetti squash.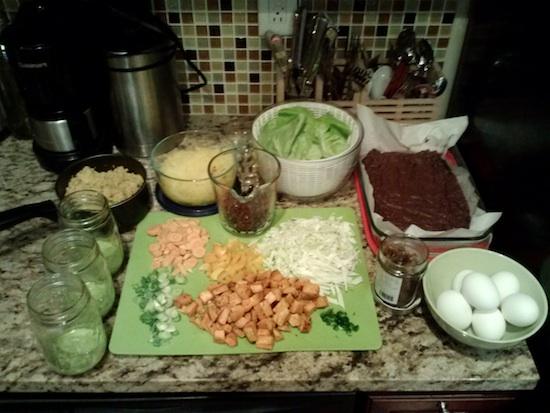 Julie at Tidbits for Today :
Done with Sunday food prep for the week! Sautéed Brussels sprouts, carrot and zucchini sticks, diced cucumbers, diced peppers, white bean dip, quinoa, salsa chicken, chicken sausage spinach pasta, and mini Italian breakfast burritos.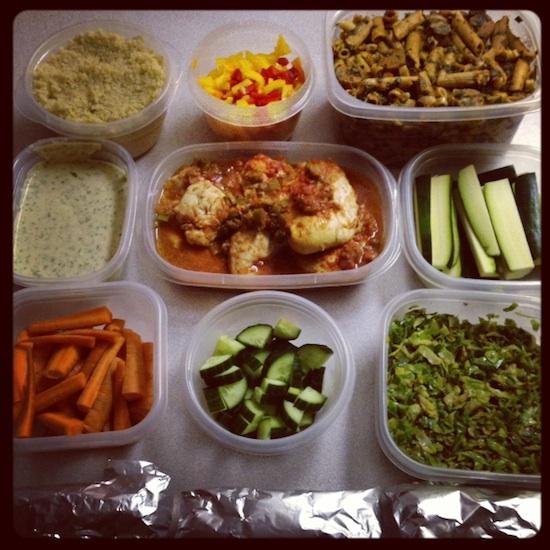 Sara at Fitcupcaker :
First I washed and cut up fruit- easy to pack for lunches!
I also baked some chicken.  I buy Market Day chicken.  They come individually wrapped and perfectly portioned out so I can take however many I want and cook them right up 🙂
I made lemon babycakes too- just for a little celebration for my sister so I thought I would share because they are so cute.  Easy "bite" for a quick treat.
I made my Healthy Blueberry Muffin Bake (again) in individual sized ramekins, for quick and easy breakfasts. Just microwave and you are good to go!  This time I made it with strawberries and blackberries.
Homemade trail mix (including cinnamon puffins, TJ's organic high fiber o's, mixture of nuts: almonds, pistachios, macadamias, and raisins.
Cinnamon Raisin Protein Balls- with some mini chocolate chips for sweetness these are great for dessert.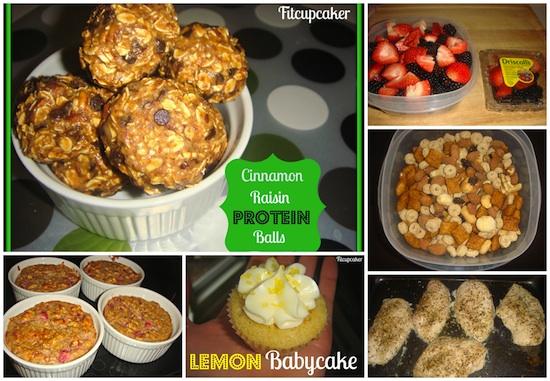 Good stuff, right?! Lots of links to amazing blogs up there so be sure to check some of them out!
———————–
Are you food prepping this weekend? Want to submit a pic to be featured in an upcoming post?!
Here's what I need from you:
Email me the following:
1. Your Name
2. Your Blog URL (if you have one)
3. A photo of your food prep
4. A short description of what's in the photo. Tell me what you prepped and how you're going to use it during the week!
Every Sunday, I'll post a roundup of the photos I received that week so that you guys can see what others are preparing and hopefully get some inspiration and ideas! I'll keep this series going for as long as I receive photos, so send one every week if you want to!
Send to: theleangreenbean <at> gmail <dot> com
Tweet and Instagram your pics as well to inspire others!! Use the hashtag #sundayfoodprep . Remember that in order for a pic to be included in the post, you have to email it to me! If you have more than one pic, please make them into a collage before sending!
———————
Let's chat: Are you prepping food this weekend? Whatcha making?
Enjoy!
–Lindsay–