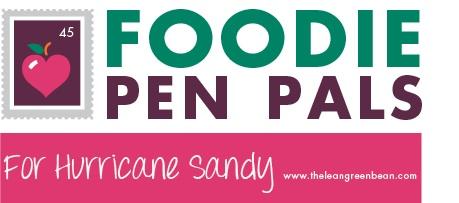 Hi Friends!
Today we're kicking off Foodie Penpals for Hurricane Sandy! Here's a little reminder about why we're doing this:
As you know, each month, I organize Foodie Penpals. As you may or may not know, my parents live in NYC and their neighborhood was one of the hardest hit by Hurricane Sandy. While I'm grateful that my parents are safe and escaped with very little damage, my heart is breaking for those that were not so lucky. Looking at photos of their neighborhood, seeing all of the small businesses that flooded, the parks and streets littered with trash and debris is overwhelming. Thinking of all the people that lost their homes, those that are still without power, those that are struggling to stay warm as the cold temperatures set in makes me want to cry. A natural disaster + the approaching holidays means there are lots of people out there that need more help than ever. So I'm turning to you guys. 
Whether you've participated in Foodie Penpals in the past, are doing it currently, or are thinking about doing it in the future…this is the month to get involved!

Heck, even if you've never done it and aren't planning to, you can still help!
My suggestion would be to donate $15-$25, the amount you would have spent on Foodie Penpals had this been a regular month. HOWEVER, every little bit helps…so please give any amount you're able to. No amount is too small!
————————-
Please read the following instructions carefully if you'd like to donate:
I did a lot of research and even though this setup is not the way I originally envisioned this event would be, I strongly believe that it will allow for the maximum amount of money to be donated directly to those who need it.
I contemplated using a site like Paypal, Razoo or Crowdrise to collect donations, but each of those sites take a certain percentage of the money so not all of it is going directly to charities. So, this is how we're going to do things.
I've selected New York Cares as our charity.
We will all be making donations directly through their site.
From their website:
New York Cares is on the frontlines of disaster relief, working around the clock to bring post-Hurricane Sandy aid where it is needed most. In the weeks following the storm, we have deployed thousands of volunteers to the hardest hit neighborhoods, distributing hot meals and warm coats, helping local social service agencies get back up and running, and mucking out homes that were ravaged by the storm.We were the first faces that many displaced New Yorkers saw- a reminder that in these especially tough times, New York Cares is here for them.
But our work didn't start when the waters rose, and it won't stop when the headlines have faded.
Every year, more than 400,000 New Yorkers depend upon New York Cares to build a better life. Day in and day out, we help high-risk students get into college, we provide job training  to unemployed adults; we teach kids the joy of reading- and so much more. And now, for as long as it takes- we bring hurricane relief and restoration to our suffering neighbors .
———————-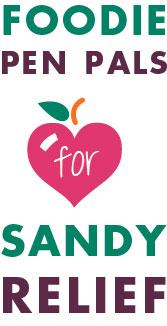 ———————————–
Step 1:
Make a donation.
In the tribute box on their donation form,
I put "on behalf of Foodie Penpals"
You will receive a confirmation of your donation via email.
—————————
Step 2:
Come back and fill out the simple form below to tell me how much you donated so I can keep track of how much money we raise. I will update the total throughout the day.
Amount raised so far: $1,915
PLEASE NOTE THAT FILLING OUT THE FORM HERE ON MY WEBSITE IS ONLY FOR TRACKING PURPOSES!!!!! You have to go to the actual website by clicking the link above to donate the money!
As you know, my parents live in Brooklyn. Their building was affected by the storm, but they remained safe and lost only the food in their refrigerator and electricity. Since a lot of us don't have any first hand experience with what it's like in the areas that were hardest hit, I asked my mom to share a little bit about what she's observed in their neighborhood:
We returned to our apartment in Brooklyn the Sunday after Thanksgiving. Our building now has heat, hot water and electricity and one elevator. The basement has been stripped to the bare walls while discussions continue on how to rebuild both there and on the first floor. Most of our neighbors on the first floor are living elsewhere while their apartments are being rebuilt.
The neighborhood is adjusting to the new normal – most businesses have reopened but some are greatly missed.  The new restaurant across the street is still cleaning out and rebuilding, the French bakery is virtually destroyed and trying to figure out how they can pay for rebuilding and the world famous River Café is dark. Our major grocery store won't be open for at least 3-4 months.  And yet, as a neighborhood, we count ourselves lucky.
One month after Sandy, others elsewhere in Brooklyn are still without hot water and heat in their buildings or elevators in building as high as 20 floors. They cart water up 12 flights of stairs. Some don't have a home to heat- they have lost everything in neighborhoods like Red Hook, Breezy Point and in the Rockaways. Whole neighborhoods were destroyed in Staten Island. These New Yorkers carted all their belongings to the curb and they were hauled away.  They are isolated – cell phones still only work sporadically in the hardest hit areas. Many now face having their homes leveled by bulldozers because the city deems them to be a safety hazard. Housing is tight in the best of times in New York City. Where do these people go? How do they eat when many of these people were already living in poverty before the storm with few resources?
I know the emotions I personally experienced over the last month as I dealt with the minor inconvenience of being displaced even though I had the means and the invitation to go elsewhere and live. I can't imagine what these people are feeling as they face the long winter ahead of them.
Thank you for thinking of my fellow New Yorkers this holiday season who are struggling after the storm. 
————————–
Let's do this you guys! WE CAN MAKE A DIFFERENCE! Please give what you can. Every little bit helps.
————————-
Did you donate? Grab a button below to spread the word! If you have a blog, I'd love it if you shared the info so we can recruit more donors!!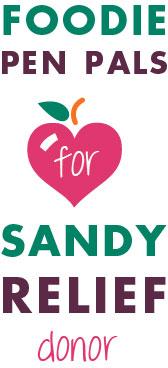 <div align="center"><a href="http://www.thleangreenbean.com" title="The Lean Green Bean"><img src="https://www.theleangreenbean.com/wp-content/uploads/2012/11/fppsandy1.jpg" alt="The Lean Green Bean" style="border:none;" /></a></div>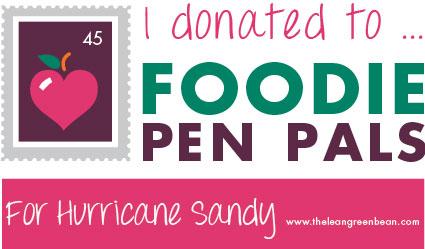 <div align="center"><a href="https://www.theleangreenbean.com" title="The Lean Green Bean"><img src="https://www.theleangreenbean.com/wp-content/uploads/2012/11/fppsandy2.jpg" alt="The Lean Green Bean" style="border:none;" /></a></div>
Thank you!
–Lindsay–