It's Friday!
Due to last Friday being Foodie Penpal reveal day, today you're going to be treated to two weeks worth of workouts!! This goes all the way back to before Christmas if you can believe it.
I was pretty impressed with myself when we took our trip to NYC. I used the gym there to workout 3 of the 4 mornings and gave myself rest days on the two days we traveled, plus Christmas. Better than most of my vacations!
So here we go:
Dec 23rd– Ran on the treadmill. I ran one min at 6.5 mph, one min at 8.0 mph and repeat until I reached two mile. Ran two 8:20 miles. Fast for me!! Then walked the dog 2 miles.
Dec 24th– Wasn't in the mood but did a quick weights workout anyways. For arms I used the machines a little bit since I don't have those at home. I used heavy dumbells for my legs to help get my heart rate up and I could definitely feel it.
[print_this]
Arms & Legs Strength Workout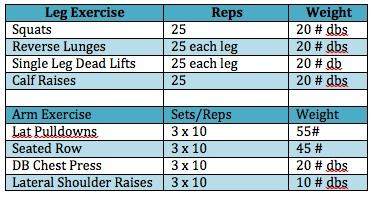 [/print_this]
Dec 25th– Christmas! Rest day!
Dec 26th– Gave myself another rest day while we traveled home.
Dec 27th– Inspired by this workout: http://www.fitinheels.com/2011/10/new-workout-obsession-tread.html and this workout: http://www.angrytrainerfitness.com/2011/10/get-with-the-program-the-14-mile-drag-workout/
Mine looked like this:
[print_this]
 30 Minute Quarter Mile Workout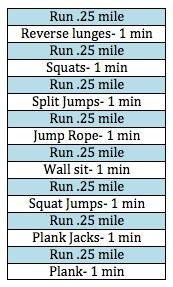 [/print_this]
I ran all of my quarter miles at 7.0 mph and finished the two miles in 17:40. Adding the 8 minutes of exercises and the few minutes of walking warmup I did brought me to just under ½ an hour. I was dripping sweat.
If you want to make this harder you could: run faster, run longer in between exercises, or use dumbells. I did all of the exercises with just body weight and did as many as I could in 1 min. I also didn't rest at all.
Next time I'm going to add another mile and alternate running my quarter miles at 7.0 and 7.5, or increase my speed each quarter mile for a mile and then start over, pyramid style. I really liked this workout because it got me sweating, kept my heart rate up and the time flew by!
Dec 28th– Decided to try the Spartacus Workout: http://www.menshealth.com/mhlists/high-intensity-circuit-routine/index.php
Did one round and wasn't a fan. I'm not sure if it was my mood, or the exercises, or a combo of both, but I wasn't feelin' it at all.
Hopped on the treadmill and ran a mile in 8:43. Did 100 crunches, 50 reverse crunches.
Finished up by doing 50 bodyweight squats, a 90 sec plank, a 60 sec plank, 50 more squats and two more 60 sec planks and called it a day.
Dec 29th– Rest day. I was weirdly sore from my random workout yesterday and chose to spend some time with the hubby instead.
Dec 30th–  I used this workout for inspiration: http://www.thedailycrumb.com/2011/12/27/tomorrows-workout/ but made some modifications because I could tell my legs were tired as soon as I started running and that I would need some walking breaks
Mine looked like this:
[print_this]
Run/Walk Interval Workout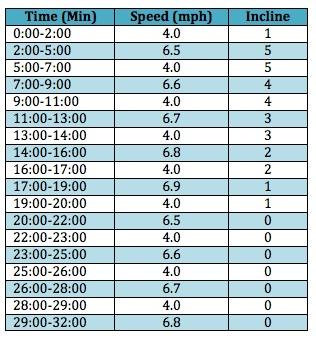 [/print_this]
Total Time: 32 mintes
Distance: 3 miles
This was the perfect example of modifying a workout to fit your needs. I have no doubt I probably could have the original workout…but on this particular day, it just wasn't going to happen. But instead of just giving up, I made some modifications and ended up finishing 3 miles. I was pretty impressed with that considering how many walking intervals I did. Just another example of why I love HIIT intervals! I hit the 2 mile mark at 22 minutes and then finished up that last mile in the last 10 minutes. I ran the last 3 minutes instead of just two to get to 3 miles.
To finish up, I did a 2 minute plank!!! And then a 1 minute plank.
Dec 31st– Wanted to squeeze in a quick run before heading out for our NYE celebrations. Here's what I did: 2 min @ 8.0 mph, 1 min @ 4.0 for the first mile. After the first three minutes of the second mile, I switched to 1 min @ 8.0 mph, 1 min @ 4.0 mph. I finished up 2.1 miles in 20 min, did two 90 sec planks and called it a day.
Jan 1st– Put together a leg-heavy workout because I didn't feel like running.
[print_this]
1000 workout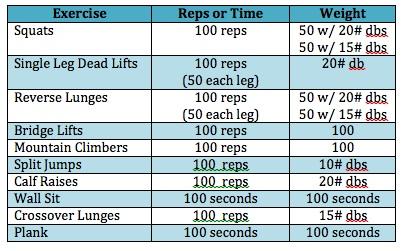 [/print_this]
My legs were exhausted by the end and the next morning they were SORE. I loved it. I'll be doing this one again for sure. Took me about 45 minutes but I wasn't going as quickly as I could have.
Jan 2nd– Got our first snow of the winter and we both had the day off so the hubby and I bundled up and took the dogs on a 2.5 mile walk!
Jan 3rd– Needed to do some work on arms. Threw together some of my fav exercises, alternating arms and abs.
[print_this]
Arms & Abs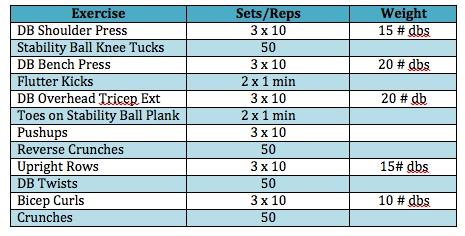 [/print_this]
My arms felt like jello afterwards. I think the ab part could have been a little more challenging. I'll up the intensity a little next time.
Jan 4th– did The Devil's Workout: http://www.fitinheels.com/2011/11/devil.html
Followed her workout exactly. This was my first tabata workout and it was serious business! My legs were SCREAMING by the end!
I used this online tabata timer which is amazing: http://www.beach-fitness.com/tabata/
You can set up the length of time for each interval, number of intervals and then it changes the color of your whole screen between green and red when you should be going or stopping so you don't have to watch the actual time, you can just glance at the screen. It also rings bells to tell you when to start and buzzes when it's time to stop.
Overall awesome workout! Definitely will be doing more tabata routines.
Jan 5th– rest day
So there you go. My two favorites were the tabata workout and the 1000 workout that I created. I was sore for 3 days after the leg workout, and the tabata one was just a lot of fun. It got me moving and definitely made me feel the burn. I love that you don't need a lot of equipment to do the tabata workouts. I did mine in the basement and I didn't have a box to jump over, so i used a giant bag of (clean) cat litter. Whatever works, friends!
What's the best workout you did this week? Feel free to leave me a link!!
Enjoy!
–Lindsay–