Hi Friends!
Are you ready for this? Like I mentioned last week, Elf For Health is back for another year and it's time to kick things off. Here are all the details about what the challenge entails and how to sign up!

Introducing the Elf for Health Holiday Challenge! This is a four week challenge that will run from the Monday November 25th thru December 22, 2013. The challenges fall into 4 different categories: Food, Fitness, For You & For Others. There will be daily tasks, daily winners, prizes, weekly newsletters, and a Facebook group for support. (This is 2 weeks shorter than the challenge was last year, but we feel like 4 weeks is the perfect amount of time for people to stay motivated and engaged in the challenge!)
And are you ready for the best part? You'll have an elf to support and encourage you! When you sign up, you will also be committing to be an elf for someone in return. Over the course of the challenge, you will have two different elves.
Sounds like a great way to stay motivated and meet new people over the holidays doesn't it?! Since this challenge is internet based, anyone can participate… no matter where you're located! All you need is access to the internet and an email address.
So what does an Elf do?
Elf Duties
As an Elf, you are expected to support your assigned buddy with their holiday health goals and the daily challenges. Elves & buddies will be reassigned after 2 weeks so that hopefully you get to meet 2 new people! You are only asked to email your buddy 2 times per week:
Monday: Send your buddy an email to help them with the challenges for that week. Ideas of things to include/attach: your own personal tips & tricks, inspiring words and/or images, a new, healthy recipe or workout to try.
Thursday – Saturday: Any time during these days, check in with your buddy! For example, ask them if they tried a new recipe, workout, or had fun with any certain challenges. Feel free to tell them how you did with your challenges, too!
Anything more than those 2 emails is up to you but feel free to go above and beyond this to show your support! Just a few ideas: send your buddy Tweets, shout outs on our Facebook Page, email a fun workout you liked or send a hand written recipe or note.
Important Dates
*Friday, November 22rd at 11:59pm EST: sign up deadline
Sunday, November 24th: Round 1 Elf assignments emailed
Monday, November 25th – Sunday, December 8th: Round 1
Sunday, December 8th: Round 2 Elf assignments emailed; Round 1 "Best Elf" winners chosen
Monday, December 9th – Sunday, December 22rd: Round 2
Sunday, December 22nd: Round 1 "Best Elf" & participant grand prize winners chosen
*If you missed the initial sign up deadline, you can still participate:
Sign up before December 6th for Round 2
Not clear about something? Email Elle or Lindsay!
Prizes
We have some fabulous prizes from some of our favorite companies to give to the winners.
2 prizes for "Best Elf", one awarded at the end of each round
1 grand prize for best participant awarded at the end of the challenge determined by participation, hashtagging and being an awesome Elf.
There will be a daily challenge winner chosen each day. Daily winners will be entered for a chance to win the grand prize!
Best elf prizes will given based on participation and nomination. If you love your elf, let us know so we can consider them for a Best Elf prize. Best Elf prizes will be awarded at the end of each round.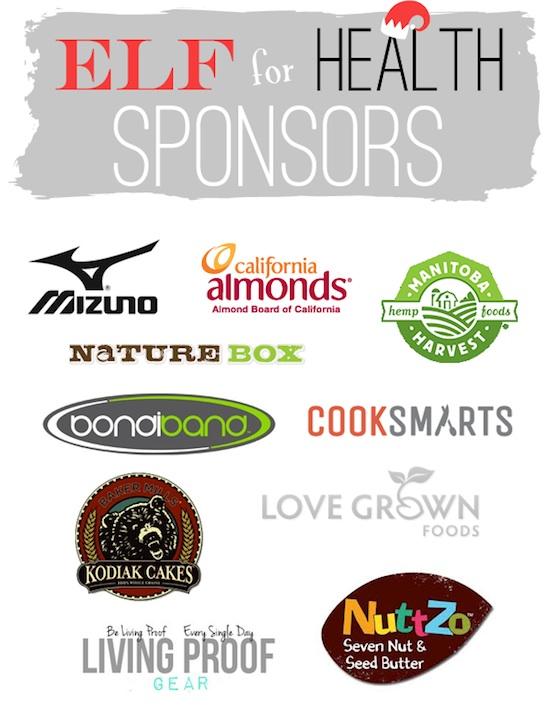 Sponsors for this year include:
Mizuno
The Almond Board of California
Naturebox
Manitoba Harvest
Bondi Band
Cook Smarts
Love Grown Foods
Kodiak Cakes
Nuttzo
Living Proof Gear
** Unfortunately, due to shipping costs, only USA residents are eligible to win prizes. But we'd still love to have you participate, even if you're from somewhere else!**
Still with me?
Challenge Calendar
If so, you're probably wondering what the daily challenges are, right? Here's a nice square image that you can save on the lock screen of your phone to remind you of the challenges!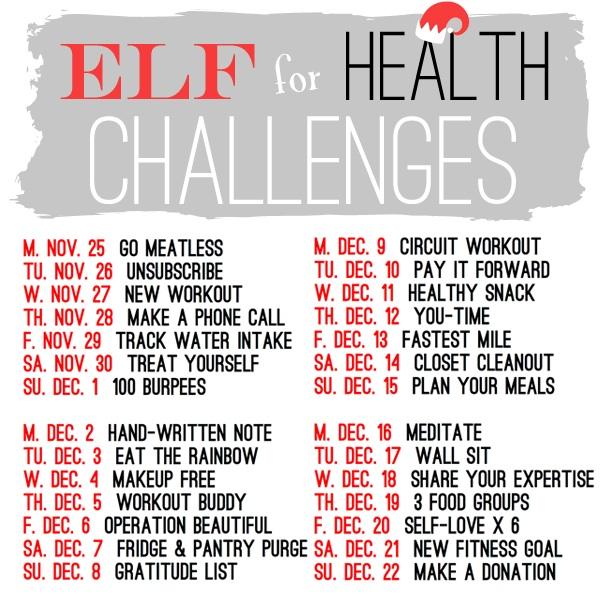 You can see more detailed descriptions on the calendar below and we'll expand even more on the challenges in each weekly newsletter. See below for a printable list! Print it out and hang it somewhere to remind you participate, or add it to your Google calendar!
We will be sending out a weekly newsletter reminding you of the weekly challenges so look out for a confirmation email to confirm your participation & newsletter subscription. If you don't receive a confirmation email, check your spam box. If you still can't find a confirmation email, let one of us (Elle or Lindsay) know ASAP and we'll add you to the list.
Enjoy!
–Lindsay–
LEARN HOW FOOD AFFECTS YOUR BODY.
Get my free Table Talk email series where I share bite-sized nutrition information about carbs, protein, and fat, plus bonus information about snacks and sugar!