Get ready for a flavor explosion friends!
As you guys know, the hubby and I have been meat free for five months now…but we do occasionally still eat seafood. I used to make tuna salad for lunch all the time…but I haven't made any in a while. A few days ago I got a craving for it so I got to work in the kitchen.
What I came up with is a cross between a tuna melt and a tuna salad sandwich. It packs tons of flavor thanks to the curry powder and cayenne pepper, a little crunch from the onion and red pepper and extra protein from the greek yogurt and hummus. It also has some healthy fats thanks to the avocado!
Best of all, it's a cinch to make and comes together quickly!
Curried Tuna Melt Panini
Prep Time: 5 min
Cook Time: 5 min
Keywords: sandwich healthy tuna avocado hummus
Ingredients (3 paninis)
1 can low-sodium tuna
1/4 c hummus
1/4 of an avocado
2 Tbsp onion, diced
1/2 c red bell pepper, diced
2 Tbsp plain, non-fat Chobani Greek Yogurt
1 tsp curry powder
1/2 tsp cayenne pepper
whole wheat bread
pepperjack cheese
Instructions
1. Place all the ingredients in a bowl. Smash and mix until well combined.
2. Scoop onto bread, top with 1/2 slice of cheese and place in a panini press (or George Foreman grill).
3. Heat until the cheese is melted and the bread is golden brown.
*Notes, if you don't have a panini press, just toast the bread and stick the sandwich in the microwave for a few seconds to melt the cheese!
The version in the pictures doesn't actually have any diced red peppers in it because I used the last one when I made this the first time. When I realized how good it was, I knew I needed to make it again to snap a few pics for you guys 🙂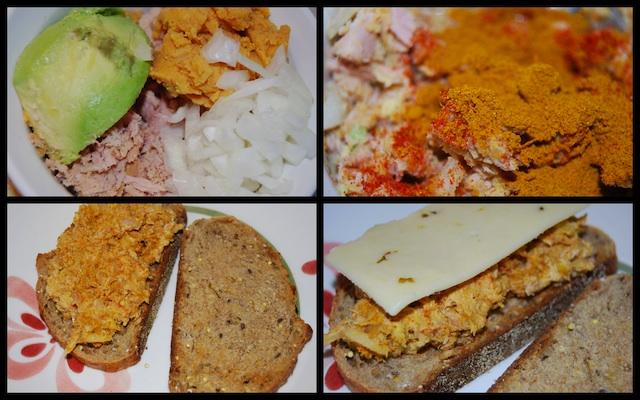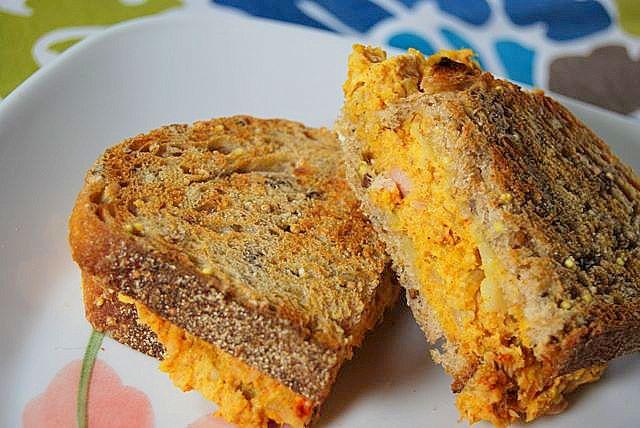 Enjoy!
–Lindsay–
Today's Workout:
Arms & Abs Workout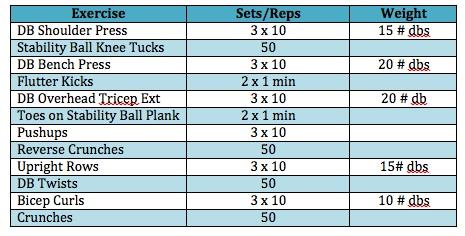 My arms felt like jello afterwards. I think the ab part could have been a little more challenging. I'll up the intensity a little next time.
LEARN HOW FOOD AFFECTS YOUR BODY.
Get my free Table Talk email series where I share bite-sized nutrition information about carbs, protein, and fat, plus bonus information about snacks and sugar!