Hi Friends!
Let's talk christmas cookie recipes, shall we? Like I mentioned on Monday, I did a lot of baking this past weekend! Many of you have asked for the recipes I used, so here I am, happy to provide them. Some are on my blog, some are not my recipes at all and in that case I will provide a link to the recipe I used. However, in almost all cases, I made a few changes to whatever recipe I was using so I'll tell you about those too.
Many of you have also asked if these are all healthy cookies. The answer is no. Some are healthier versions of holiday favorites, some are original recipes with a healthy swap here and there and some are just good old fashioned cookies full of butter and sugar. And you know what? I'm ok with that. I fully believe in enjoying treats in moderation 🙂
SO, let's get started shall we? Here's a look at all the Christmas cookie recipes I made this year: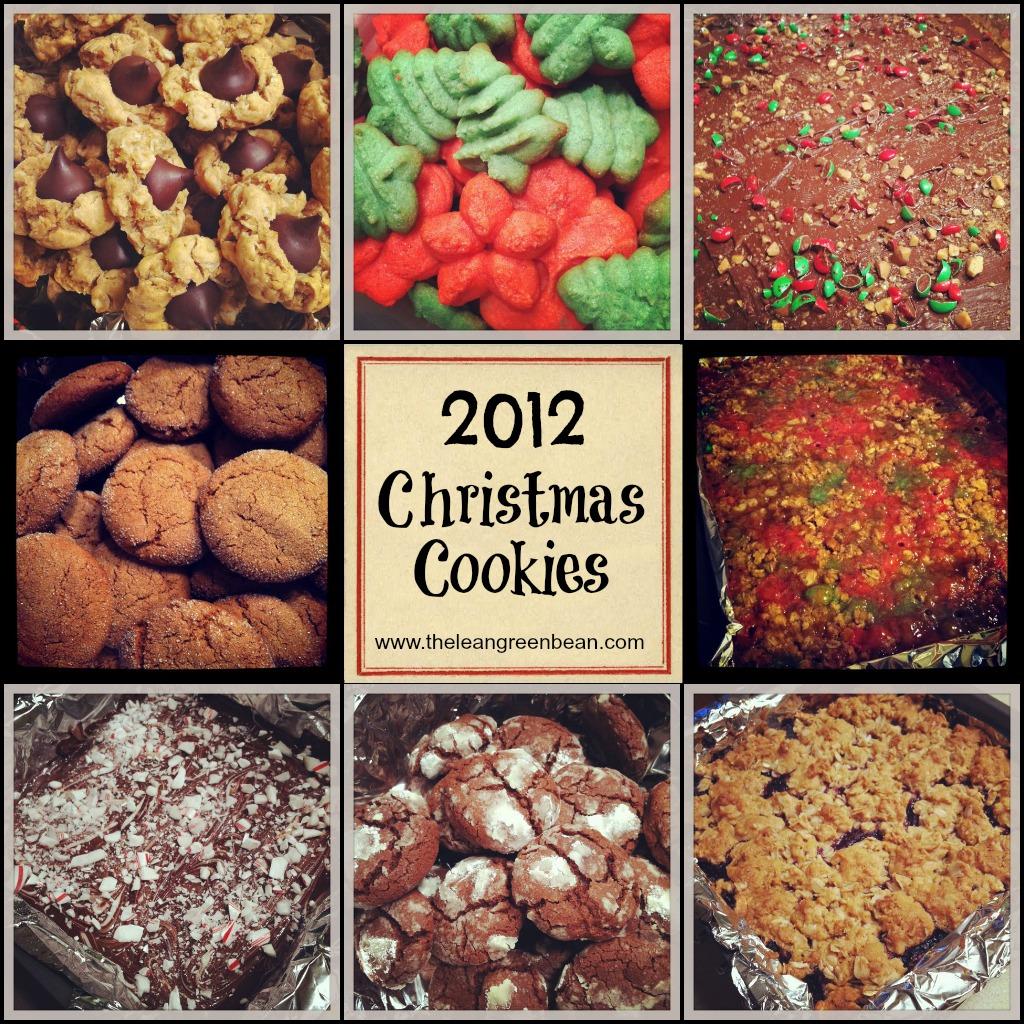 Let's review, shall we? From the top:
1. Healthier Peanut Blossoms: Here are all the details on these healthier peanut blossoms!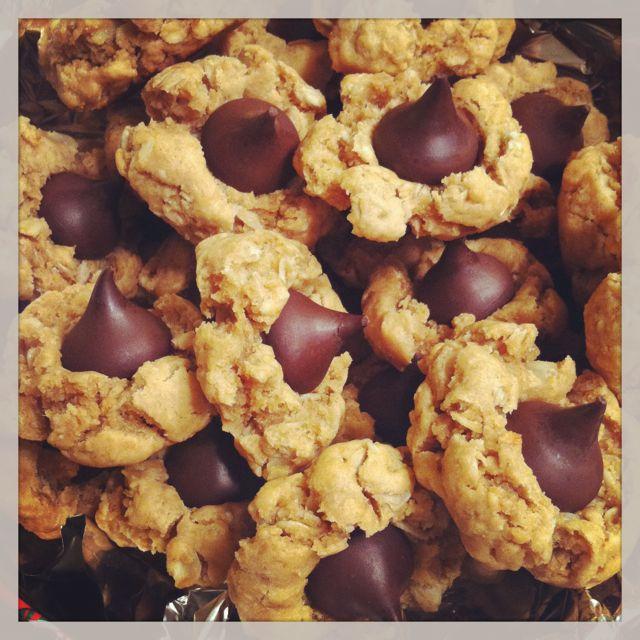 2. Spritz Cookies: My mom made these every single year growing up. This year I went out and bought my own cookie press so I could finally make them myself. I colored the dough with food coloring like she did and I used the same stencils in the cookie press that she used. I just used the recipe for traditional spritz cookies that came with my cookie press…but that recipe made 7 dozen so I halved it. Below is the recipe I used:
3/4 c butter
1/2 c sugar
1 egg white
1 Tbsp skim milk
1/2 tsp vanilla
1 3/4 c white whole wheat flour
1/2 tsp baking powder
food coloring
Directions: Cream the butter and sugar together. Add the egg white, milk and vanilla. Slowly add the flour and baking powder. Divide the dough in half and add food coloring. Put the dough in the cookie press and follow the directions to use it. Bake at 350 degrees for 7 minutes.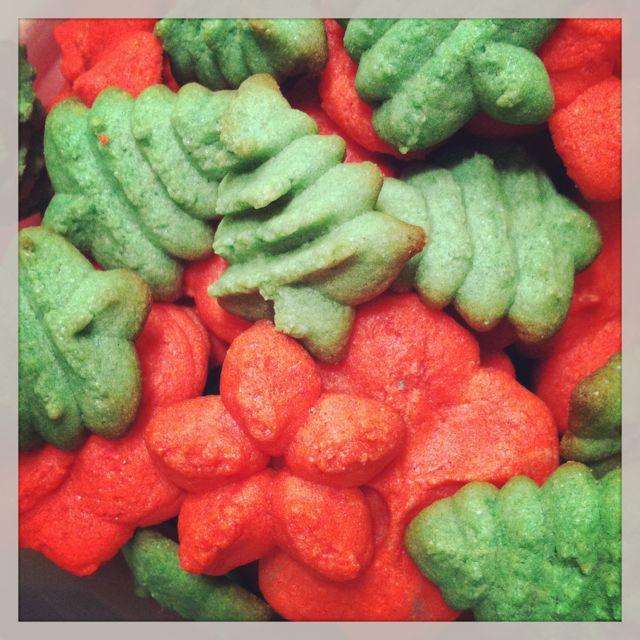 3. Graham Cracker Toffee Squares: I've made these for the past few years. For the past two years I've made some changes to the original recipe I used so I updated the recipe in my original post. You can find the recipe by CLICKING HERE.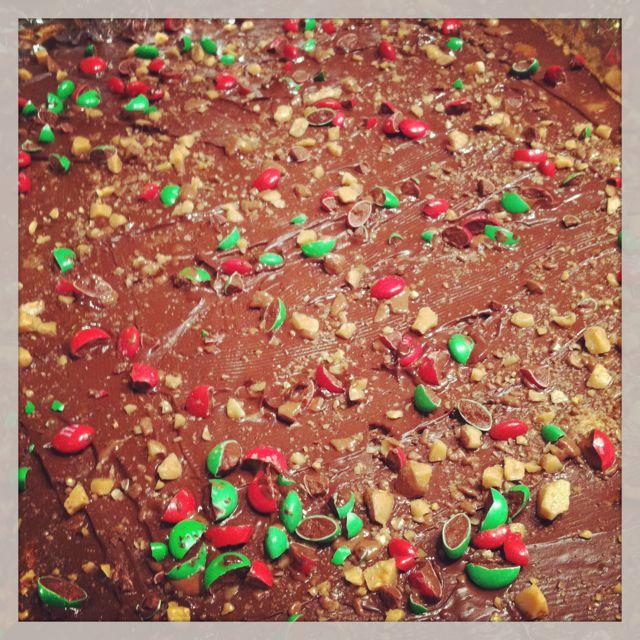 4. Ginger Cookies– I've made several different versions of ginger cookies. This year I was looking for one without loads of butter! I found this recipe from Ina Garten and decided to use it, with some modifications based on what I had on hand. It made about 3 dozen cookies. I'll admit I was skeptical about these at first because the mixture of just sugar, oil and molasses is weird…but I followed the directions and then added two eggs instead of one because I didn't have quite as much molasses left as she called for. They turned out great! Below is the recipe I used:
2 1/4 c white whole wheat flour
1 tsp baking soda
1 tsp cinnamon
2 tsp ground ginger
1 c brown sugar
1/4 c canola oil
1/4 c molasses
2 eggs
extra sugar for rolling
Directions: Beat oil, molasses and sugar in a bowl for about 3 minutes. Add the eggs and beat 1 minute more. Slowly mix in flour, baking soda and spices. Put the dough in the freezer for 30 minutes. Remove, roll into balls and roll in sugar. Place balls on a baking tray and flatten slightly with fingers. Bake at 350 degrees for 11 minutes.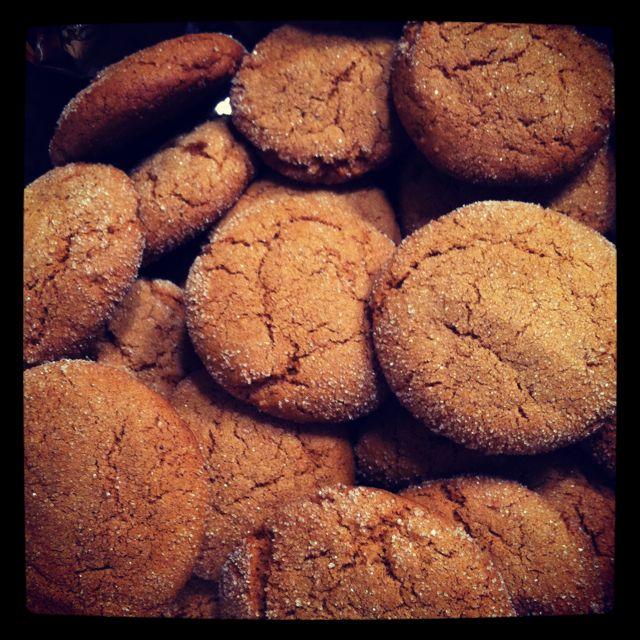 5. Caramelitas– I made these for a cookie swap last year and they were great! This year I decided to make them just a little bit healthier. I think they turned out just as well as the original so I've updated the recipe in the original post. I used 1/2 butter, 1/2 oil instead of all butter, reduced the sugar by 1/2 a cup and used 1/2 the amount of caramel. I think using the oil made the coating on the xmas m&ms spread out which made them look even more festive 🙂 Next time I might try with half applesauce/half butter instead of oil to see what happens. You can find the recipe by CLICKING HERE.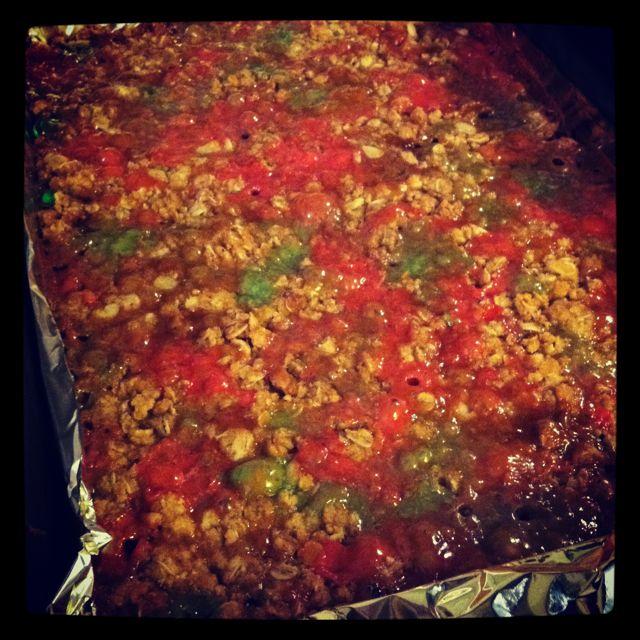 6. Peppermint Bark– I just wanted to make a little bit of this because it's so festive looking. I bought two 4 oz bars of chocolate (one dark chocolate and one white chocolate). I lined an 8×8 pan with foil, melted the dark chocolate, added 1/4 tsp peppermint extract, mixed well and spread it over the bottom of the pan. Then I melted the white chocolate, added another 1/4 tsp peppermint extract, mixed and dropped it in blobs on top of the dark chocolate. I used a knife to swirl it all together, then topped the whole thing with 2 crushed candy canes, pressing down lightly to help them stick, and stuck it in the fridge to set. Once cooled, I broke it into pieces. I like a strong peppermint flavor so I probably would add more peppermint extract next time, but that's just me.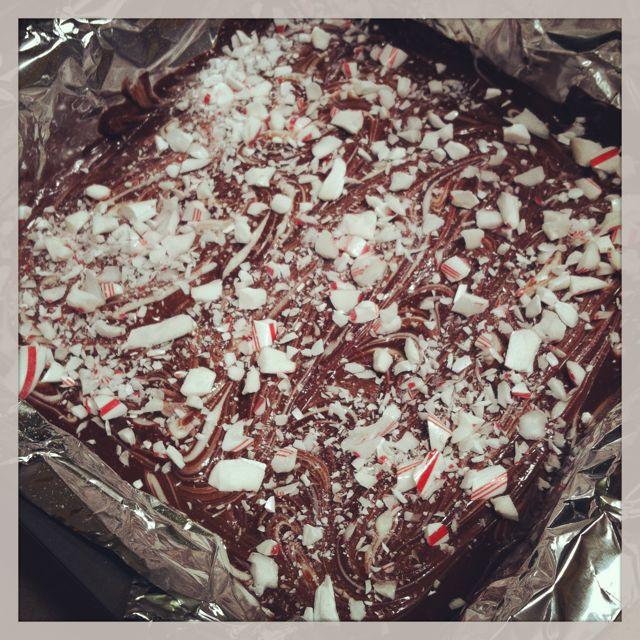 7. Mint Chocolate Snowtops– This is another kind my mom used to make every year. I didn't have her recipe so I used this one. I followed it pretty much exactly except I used dark chocolate chips and increased the amount of peppermint extract!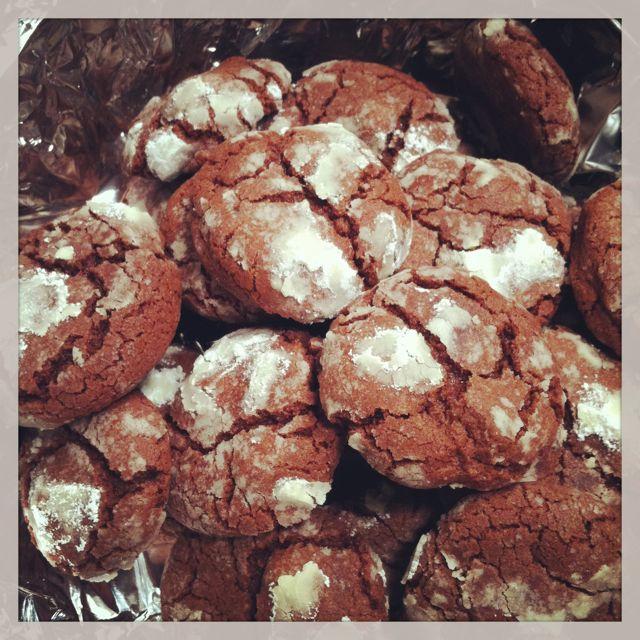 8. Blackberry Oatmeal Bars– These are a favorite of both the hubby and I. I've been making them for several years now.  I always make homemade blackberry jam by just combining 2 bags of frozen blackberries with 1/4 c sugar and letting them simmer for 30 min or so. I usually add a little cornstarch to help it thicken. Then I refrigerate it overnight and make the bars the next day. It makes enough jam for two batches 🙂 I store them in the fridge. The best way to eat them is microwaved for 15-20 seconds and topped with vanilla ice cream. Just sayin…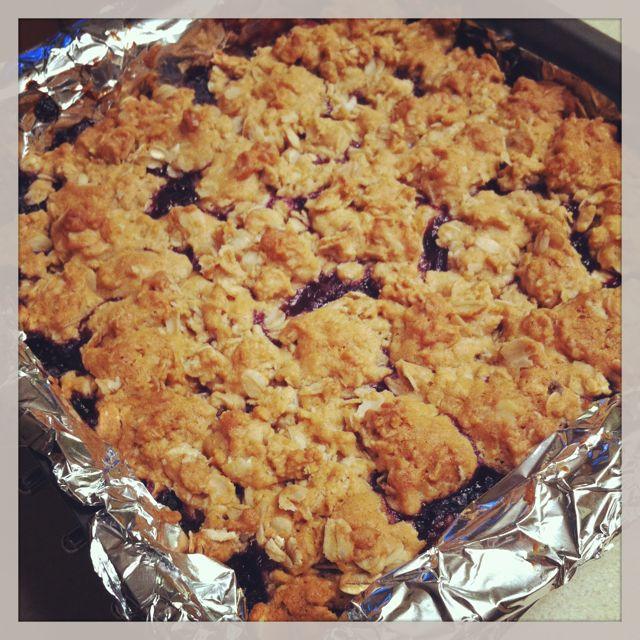 So there you have it! Marcus was angry that he didn't even get one taste!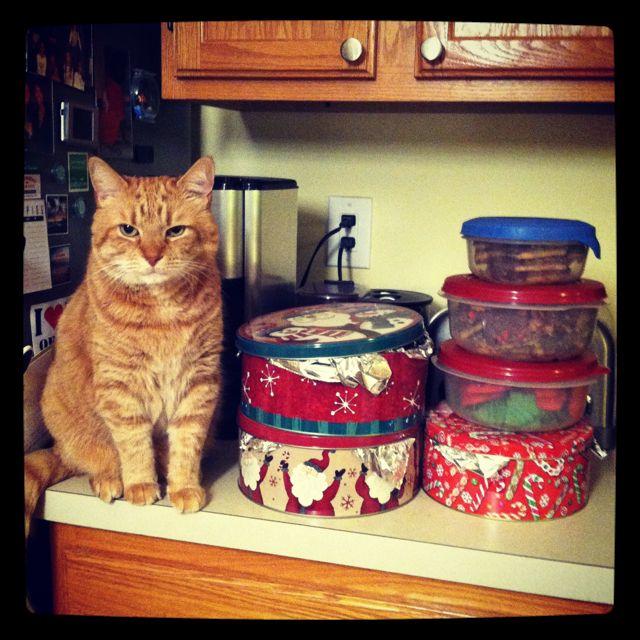 Now, what did I do with all those cookies?!
I make cookie plates for friends and family!
This year I found little kits at Big Lots (3 for $2) and I loved them!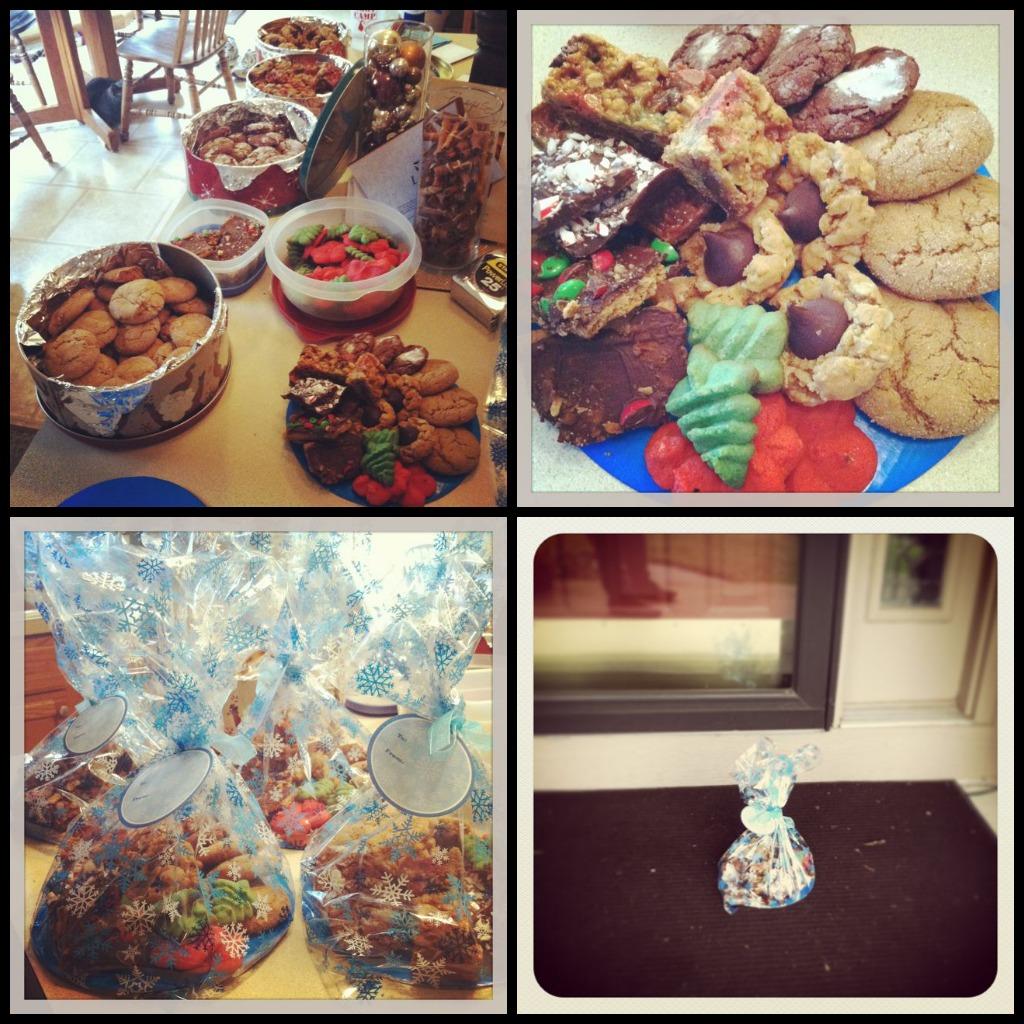 So cute, right?!
What christmas cookie recipes did you make this year??!
Enjoy!
–Lindsay–