Hi Friends!
As promised, we're back today with Bean Bytes. Sorry for the delay. Hopefully it was worth the wait.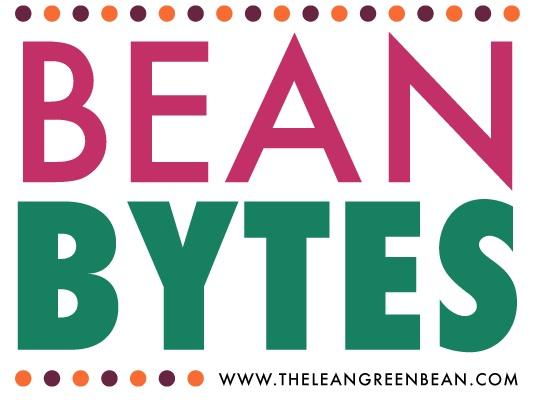 Monday
Everyone could probably use one of these:
Lessons From A Digital Detox via Cotter Crunch
Important-
The Loss Nobody Talks About- Miscarriage via Itz Linz
Adore these:
I Choose Love via Fit Mama Real Food
The Joy of Writing Letters via Love Life Surf
Tips and tricks:
A Guide To Vegetarian Grilling via Oh My Veggies
Are You Really Dressed Business Casual via Hubspot
How To Fly Happily With A Toddler via Our Freaking Budget
How To Use Hootsuite via SITS Girls
20 WordPress Plugins For A More Powerful Blog via Buffer
Top 12 Audio Books For Runners via Run To The Finish
30 Dumbbell Exercises Missing From Your Routine via Greatist
Your thoughts?
It's Not OK To Do Things "Like A Girl" via Lifting Revolution
Why It's Ok To Say No To Your Child About Food via Raising Healthy Eaters
Tuesday
Good read:
Yes You Should Eat 1200 Calories via Peace Love Oats
Tips and Tricks:
How To Make Your How-To Content More Helpful via Hubspot
9 Shopping Sites Worth Visiting via Daily Worth
Tips For Flying With A Baby via Itz Linz
5 Step Sock Bun via Girl Gone Veggie
How To Set Up Gmail Filters via Hubspot
My Best Blogging Tips via A Healthy Slice of Life
18 Must Read Links For Food Writers and Bloggers via Will Write For Food
Ever wondered?
Fitness Routines of Personal Trainers via Fit Knit Chick
Yes:
Take Off The Cape via The Lunchbox Diaries
Wednesday
Tips and Tricks:
Our Keys To Making Married Finances Work via Our Freaking Budget
8 Simple Hacks To Undo Tech Mistakes via Hubspot
Instagram Tips To Make Your Posts Pop via Katrina Elle
Tips for New Moms via Itz Linz –> great advice
Three Ways To Get Kids To Eat Vegetables via Brighton Your Health
Get your workout on:
1000 Rep Workout via Blonde Ponytail
Love these:
3 Yoga Principles For Every Day Life via According to Elle
Stay At Home Mom Survival Guide via Fit Mama Love
Funny:
Weird Al Gives Grammar Offenders A Lesson via HubSpot
Turn Down For What: A Guide via Vox
Great info:
Sourcing Ingredients via Naturally Ella
Thursday
Tips and Tricks:
How To Find And Fix Broken Links via The SITS Girls
Building A Healthy Pantry: All About Vinegar via Healthy Seasonal Recipes
3 Things To Do With A Shower Curtain Ring via House of Earnest
How To Create A Half Marathon Training Plan via It's Progression
Finding And Hosting A Play Group via A Healthy Slice of Life
Friday
Do this:
What's Your Blogging Call To Action via Katy Widrick
Agree?
Why Impatience Is A Virtue via Brazen Careerist
Lots of good info:
Protein Supplements- Do I Need Them? via Food Pleasure Health
Check these out:
5 Zen Apps To Bring You Peace via Zen and Spice
13 Yoga Poses For Runners via Energy We Bring
Homemade All Natural Bug Spray via Back To Her Roots
Kettlebell Style Variations vai Fitfluential
From those who have been there:
30 Tips For Your First Triathalon via Healthier Happier Bear
Haven't mastered this yet:
10 Tips For The Perfect Pour Shot via Pinch of Yum
Love this:
6 Big Weight Loss Mistakes I've Made As A Dietitian via Corinne Dobbas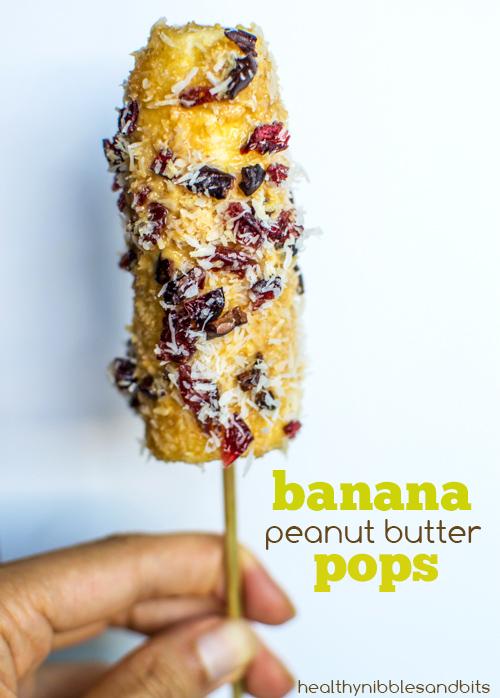 Greek Meatballs
Spicy Bacon Guacamole Dogs
Blueberry Coconut Waffles for Two
Blueberry Lime Protein Muffins
S'mores Rice Krispy Treats
Caprese Salad Focaccia
Spicy Homemade Breakfast Sausage
Honey Pear & Gouda Grilled Cheese
Paleo Double Chocolate Cookie Dough
Caprese Lentil Salad
How To Grill Pizza
Grilled Salmon Ciabatta Sandwiches
Healthy Frozen Yogurt Roundup
Blueberry Mojito Popsicles
Chocolate Coconut Bacon Doughnuts
Spicy Vegetarian Tortilla Soup
Fish Tacos with Pineapple Slaw
Baked Apples on the Grill
Shakshuka
Microwave Cherry Crisp
Fresh Feta Spread
No Bake S'mores Bars
Turkey Sandwich on Sweet Potato Buns
Caprese Pastry
Granola Avocado Fries with Strawberry Yogurt Dip
5 Ingredient Banana Peanut Butter Pops
Shrimp Sandwiches with Jalapeno Peach Salsa
Roasted Peach Cinnamon Swirl Bread
Peach Cobbler Cinnamon Rolls
Cinnamon Bun Breakfast Biscuits
Chocolate Ice Cream Sandwiches
Chocolate Coconut Blended Coffee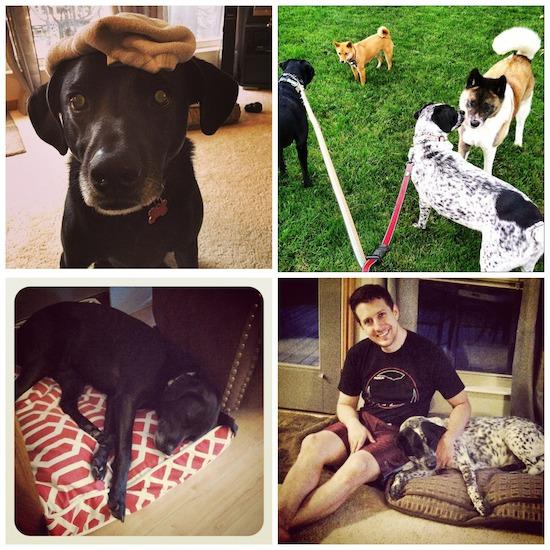 Dogs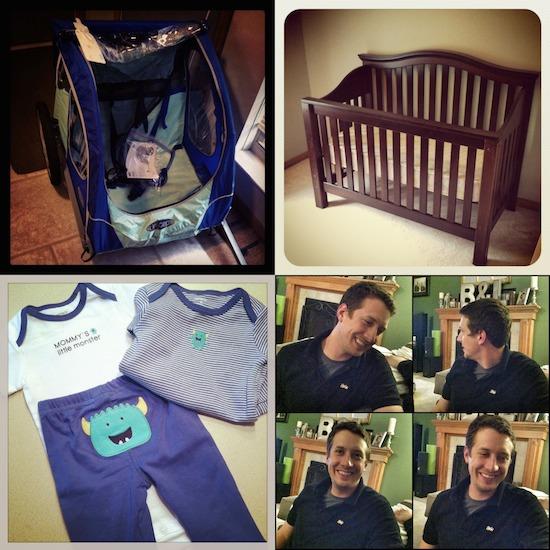 Baby things:
– Our family friends gave us this bike trailer! Can't wait to take baby for rides when he's big enough.
– Our crib came!
– Couldn't resist this outfit when we were at Costco.
– There's nothing better than seeing the excitement on hubby's face when he feels the baby move. He gets SO excited every single time. It never gets old.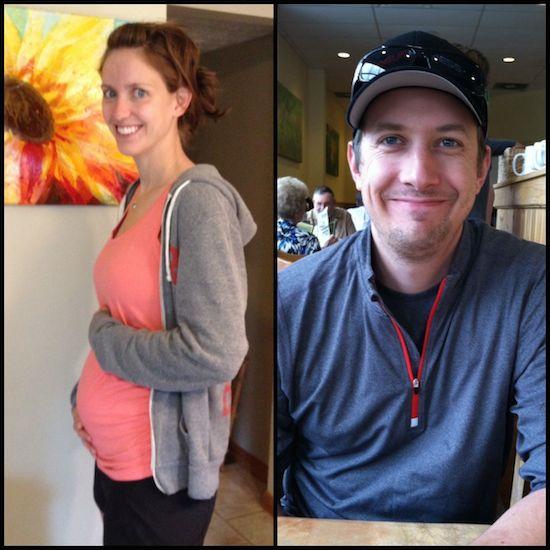 Sunday morning:
27 week bump pic and breakfast with hubby.
One more week until I have my 28 week appointment. We'll get to take a peek at baby again and I also have to do my glucose test! Overall I'm feeling ok. I have a few good days, a few really bad days, and most days I just feel average. I'm still working out 3-4 days a week, walking the dogs daily, etc.

7 Considerations Before Going Vegetarian or Vegan
7 Delicious Things To Do With Non-Dairy Milk
7 Uses for Overripe Bananas
How To Be Better About Feeding Your Food Allergic Child
Are You Making These Google+ Mistakes?
In Defense of the Indispensable Dad
I Want To Compost But
How To Make A Behavior Chart That Actually Works
Consistency in Social Media
Stop Basing Your Self Worth On Your Physique
How To Cut Down On Your Kids' Screen Time
Outcast
6 Reasons Why Clean Eating Isn't Working For You
Protein Bars vs Whole Food Meals
DIY Dry Shampoo
Why Parents Shouldn't Force Their Kids To Go To College Right Away
6 Tips To Improve Your Swimming
6 Surprising Things You Can Recycle
Interview with Kacy Catanzaro
How To Live With Purpose When Balance Is Elusive
That's all for today!
Enjoy!
–Lindsay–