Hi Friends!
Let's dive right in to this week's Bean Bytes, shall we?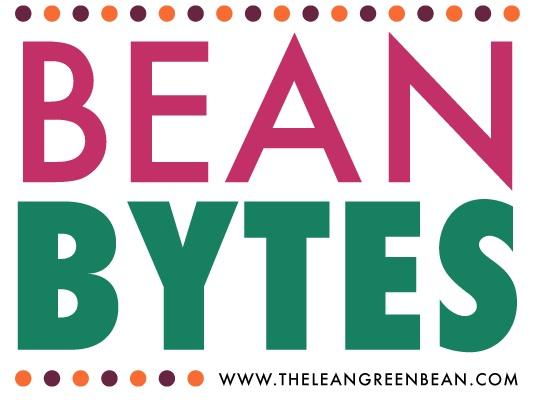 Monday
A good reminder.
You're In Control Of Your Happiness via Jill Conyers
What's your favorite?
The Toughest Stability Move I Do via Miss Zippy
Love these:
This Just In: Husbands Don't See Cellulite via Lifting Revolution
How I'm Learning To Love My Imperfect Body via Raising Healthy Eaters
Work it out:
20 Minute Resistance Band Workout via Mommy Run Faster
4 Advantages and 3 Disadvantages of Dumbbells via Nia Shanks
Cute little craft!
Paint Can Planter via DIY Playbook
Helpful tips:
How To Buy New Running Shoes via Eat Spin Run Repeat
How To Meal Plan Without Losing Your Mind via Gabby's Gluten-Free
Tips For Traveling On A Gluten-Free Diet via The Spicy RD
Good ones:
10 Healthy Food Blogs To Follow via Huff Post
Tuesday
Important:
What I Want You To Know About Having A Miscarriage via Inspired RD
Check out JCPenny!
Dressing Well On A Budget via The Lunchbox Diaries
Get the facts:
6 Ways A Recent Soda Study Duped The Press via Fooducate
Are Artificial Dyes Safe For Kids via Real Mom Nutrition
192 Sugar Sources & Alternate Names via A Gutsy Girl
Work it out:
Exercise Spotlight: Single Leg Squats via Girls Gone Strong
5 Things To Know In Your First 3 Months of Crossfit via Wine to Weightlifting
Interesting:
Typography 101 via Hubspot
7 Sneaky Reasons You're Bloated via Huff Post
Good info:
Food Writing That Pays Well With A Nutrition Degree via Will Write For Food
Love this:
Valedictorian Speech via Fit 2 Flex
Wednesday
Work it out:
8 Tips For Making Time For Fitness via MusselFit
Take It Anywhere Tabata via Treble In The Kitchen
HIIT Smashup via Free To Be Imperfect
Eat right:
7 Ways To Spruce Up Your Diet To Burn More Fat via Babble
Love her story:
Back To Being A Working Stay At Home Mom via Making Good Choices
Great list:
9 Best Photo Editing App via Love Life Surf
Great info on working with brands:
Zooming In on Brands and Industry via Sound Bites
Thought-provoking:
What Being "Pro-Woman" Means To Me via The Wannabe Athlete
Great tips!
9 Ways To Help Your Children Eat Healthier In Restaurants via Washington Post
Thursday
For the pregnant ladies and moms:
5 Things To Help You Navigate Fit Pregnancy via Fit Mom In Training
7 Must-Haves For Mama To Be via Lauren Conrad
Pregnant & Breastfeeding Moms Urged To Eat More Fish
Mom of Two Guilt via A Healthy Slice of Life
Starting Out As A New Mom via Itz Linz
Love this:
4 Ways I Modify Crossfit For Me via Talk Less, Say More
Spread the Veggie Love:
Come Over To The Green Side via Kath Eats Real Food
On ethics:
Wear The White Hat via Katy Widrick
Friday
Read her perspective:
Why I Work For Free via Mommy Runs It
Love this:
There's No Such Thing As Normal via Sellabit Mum
Helpful:
Build Your Blog With Social Media Optimization via Positively Peggy
How Much Do You Know About Gluten via Nutritious Eats
Good reads:
Why 'I Am Beautiful" Is A Problematic Statement For My 3 Year Old via Rebecca Boruki
In Person vs Online Relationships via Housewife Glamour
What The Yellow Polka Dot Bikini & The Middle Finger Have To Do With Each Other via Johanna Voss
Appetite vs Hunger- Know The Difference via Jill Conyers
5 Tips For Reducing Summer Fitness Stress via Fit Knit Chick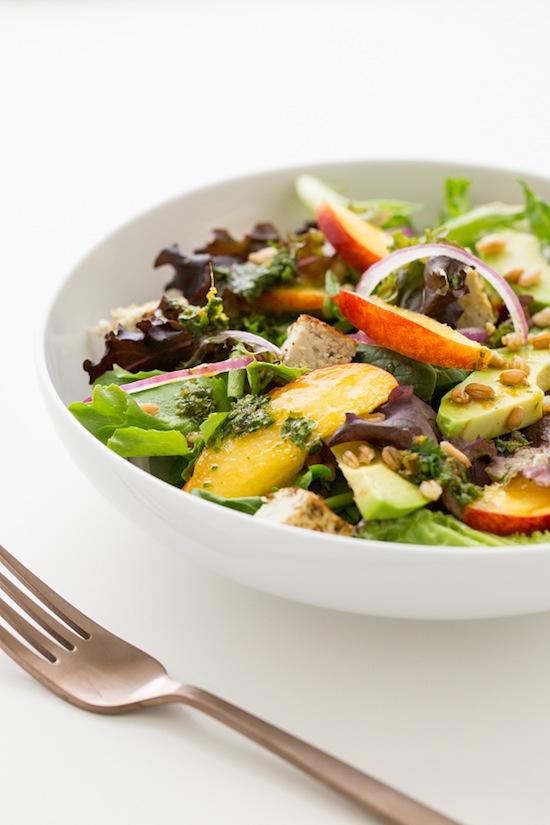 Caramel Pecan Granola Bars
Strawberry Maple Cornbread Cake
Blueberry Breakfast Cobbler
Nectarine Avocado Salad with Ginger Lime Dressing
Goat Cheese Mashed Potatoes
Roasted Poblano Risotto Cakes
12 Berry Recipes
Roasted Peach Crumble Bars
BBQ Shrimp Noodle Bowls
Baked Seafood Dip
Banana Walnut Cookies
20 No-Cook Vegetarian Meals
Rice Krispie Stuffed Dates
Bananas Foster Chia Pudding
Greek Stuffed Chicken
Grilled Peach BBQ Sauce
Carrot Cake Lactation Cookies
Kombucha Lemonade
One Pot Shrimp & Udon Bowls
Mushroom Larb
Thai Turkey Meatballs
Virgin Mary Sorbet
Vodka Gummy Bear Pops –> love
Burrata Pesto Burger
Sweet Potato Black Bean Casserole
Grilled Pineapple Pork Sandwiches
Peach Burrata Bacon Quesadillas
33 Healthier Ways To Satisfy Your Sweet Tooth
Citrus Mint Lemonade
Blueberry Balsamic Salad Dressing
Egg Boats
PB & J Protein Smoothie
Sweet Potato Breakfast Crisp
Watermelon Salad with Lemon Cake Croutons
The Best Gluten-Free, Dairy-Free Bread
S'mores Ice Cream Cake
Slow Cooker Citrus Pork
Summertime Grilled Bread
No-Bake Chocolate Blueberry Bars
Slow Cooker Spiced Cashews
Cookie Dough Recipes
Mashed Potato Omelet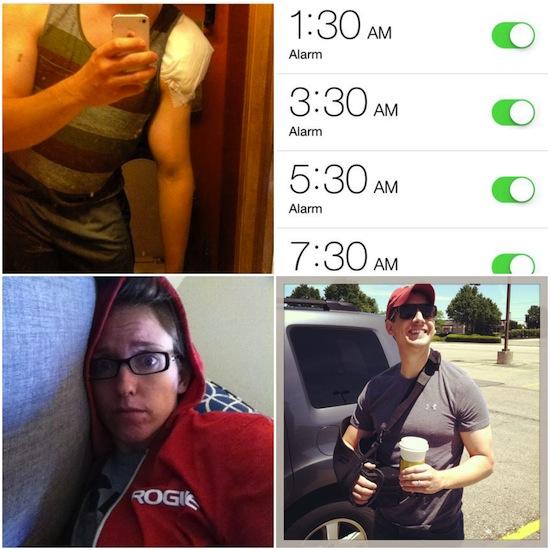 Hubby is on the mend from his surgery. The first few days are always rough. His bicep was super swollen from all the fluid they pumped in during surgery, he needed round the clock meds and I was worn out by the weekend. But hubby actually got real clothes on and we did some errands on Saturday and I got some rest and was feeling much better on Sunday! He heads back to work today.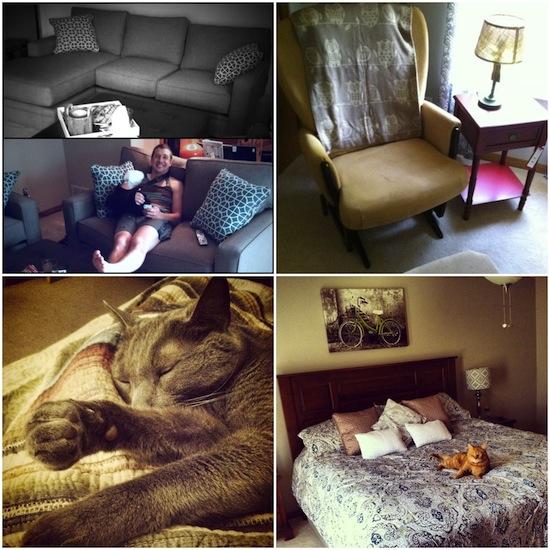 We got our new couches! After a few days of adjusting because they're different than our old ones, we both like them a lot! We also found a little side table to go next to the glider in the nursery. Plus we found some new bedding at TJ Maxx and Marcus approves 🙂 You can see the old one that Poco's sleeping on on the left. So it was a fun upgrade!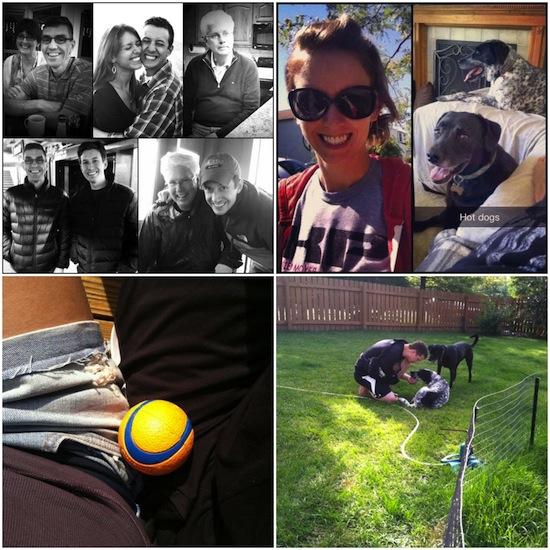 Father's Day wishes.
We had some gorgeous weather so the boys got lots of walks.
The ball is a constant presence when we're outside.
Abner just likes to lay and be loved. Tucker wants his ball. Always.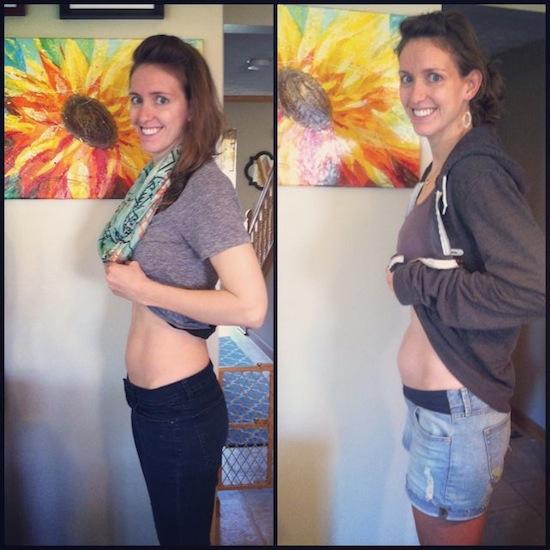 The bump is real, friends! 13 weeks on the left, 22 weeks on the right. It's growing! This week was pretty good. Aside from being tired, I had a few pretty good low- nausea days and a couple tough days at the end of the week. But overall, better than the week before!

Hilarious Pregnancy Superstitions
Fed Up With Fed Up
How To Instantly Love Yourself More
Why Plyometric Workouts Rock
5 Charity Fitness Events That Don't Involve Running
27 Times Starbucks Failed So Hard They Almost Won
Have You Been Called Oversensitive?
Does Body Image Impact Training?
Nutrition Tips For A 5k
6 Ways To Teach Kids To Live Intentionally
6 Simple Blog Security Measures
9 Little Ways To Make Your Workday Healthier
Why Sunscreen Now Says Water Resistant
Food Photography Tips
Sat Fat & Heart Disease Link Unproven
What Causes Weight Gain
28 Things I Want Girls To Know
Do Something You Suck At
3 Vegetables Athletes Should Eat
32 Pics That Will Change The Way You See The World
Do Nutrition Experts Feed Their Kids Hotdogs
Best Lessons I Learned From Seeing A Therapist In My 20's
Career Tips for New RDs
Solutions To Sitting All Day
Fighting Body Shame
That's all for today, friends! Happy Monday!
Enjoy!
–Lindsay–