Hi Friends!
Bean Bytes is back for another round. Ready?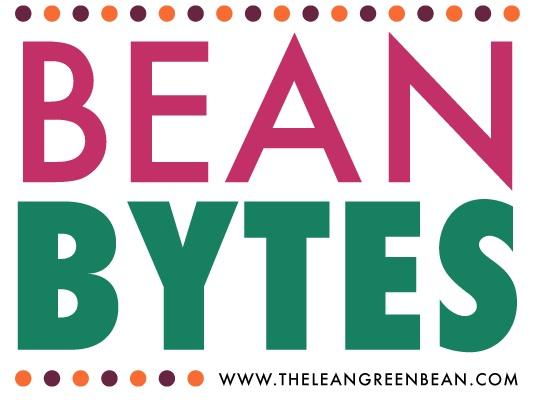 Monday
Read and learn:
What Is A Tempo Run via Run Wiki
How To Balance Blogging & Family Time via The SITS Girls
5 Reasons Runners Should Love Yoga via Energy We Bring
How I Clean Leafy Greens via A Healthy Slice of Life
9 Ways To Manage Race Day Nerves via Run To The Finish
Are you?
Are You Addicted To Adrenaline? via Cotter Crunch
Good tips:
The Art of Getting Back on Track via Delicious Knowledge
Tuesday
Important stuff:
Why I Decide to Drive via Girl Gone Veggie
Do you agree?
Nutrition Tips to Embrace & Ignore via Healthy Helper
Me too:
4 Reasons Nighttime Snacking Works For Me via Carla Birnberg
Clean out time!
5 Steps to a Successful Pantry Raid via Fit Knit Chick
Yes:
Why You Should Throw Away Your Scale via Fannetastic Food
Adaptation Not Exhaustion via Girls Gone Strong
Your Way Isn't The Only Way via Brittany Lesser
Wednesday
Helpful:
Social Media for Newbie Bloggers Part 2 via The Healthy Maven
Agree or disagree?
Why Calories In vs Calories Out is Outdated via Mommy Run Fast
Great info:
The Great Grain Debate via Miss Zippy
Thursday
Helpful:
How To Regram Images via The SITS Girls
What To Buy An Expecting Mom and Baby via Itz Linz
How To Sell Yourself To A Client via Fit Foodie Finds
Interesting:
This Is Why You Find Nutrition Advice Confusing via Foodtrainers
Friday
Good reads:
6 Health Lessons Everyone Can Learn From Introverts via Mind Body Green
Dear New Blogger via Heather's Dish
Dirty Baby, Healthy Baby via NBC News
Check them out:
Watercress Tops List of Vegetable Powerhouses via Washington Post
5 Things To Watch in Your Blog Analytics via Blog Clarity
9 Tips For More Mindful Eating via Huff Post
What Is A Real Woman? via Reach Your Peak
Top 41 Powerhouse Fruits and Vegetables via Fooducate
Working on this:
Worry Less, Live More via Jill Conyers
Love:
12 Life Lessons From A Box Of Crayons via Run To The Finish
The Dirty Little Secret of the Female Athlete: Cellulite via Breaking Muscle
I'm A Mother Crossfitter via Tabata Times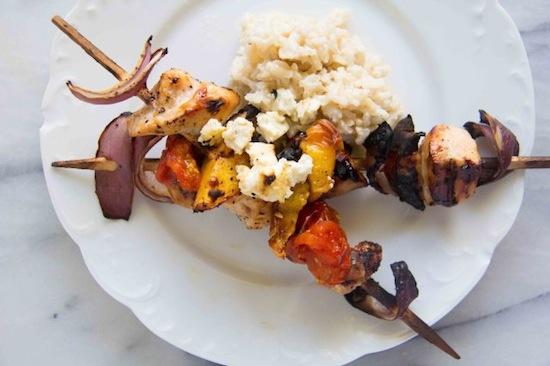 Raspberry Joy Bars
Grilled Peach Chicken Kabobs
Paleo Buckeye Ice Cream
Green Pea Salad with Almonds
Chocolate Peanut Butter Fruit Dip
Curried Tofu Scramble Tacos
Avocado Chicken Salad
Peanut Noodle Veggie Bowls
How To Make Homemade Jerky
Breakfast Polenta & Egg Stack
S'mores Ice Cream Cake
Caramel Turtle Cups
Spicy Fish Tacos with Cabbage Lime Slaw
Lemon Pistachio Date Bites
Loaded Southwest Sweet Potato Fries
Stock The Freezer Before Baby
Cheesy Chicken Bruschetta Bread
Light Strawberry Shortcake Ice Cream Bars
Raw Kale Pesto
MultiGrain No-Knead Bread
Chilled Avocado Sweet Corn Soup
Slow Cooker Sweet & Spicy Pork
Buffalo Bourbon Peanut Butter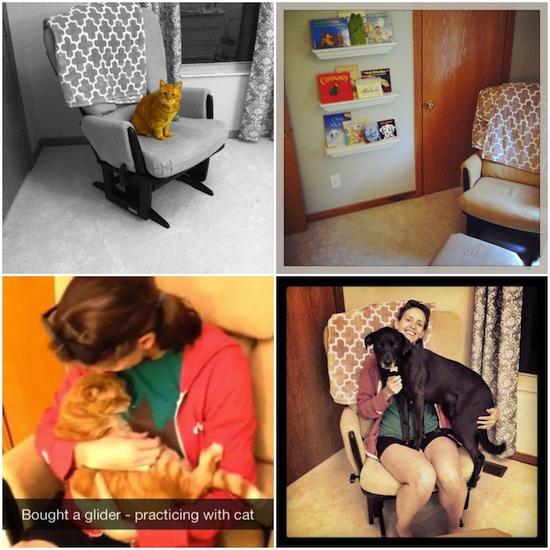 We had a pretty big weekend over here. Like I mentioned on Friday, I found a sweet glider for the nursery on Craigslist. We went to pick it up Friday night and the people were super nice. They gave us lots of helpful baby advice! Once we got it home, of course all the animals had to check it out. Then, on Sunday, hubby put up the shelves we found to make the bookshelf wall I wanted. I love it!!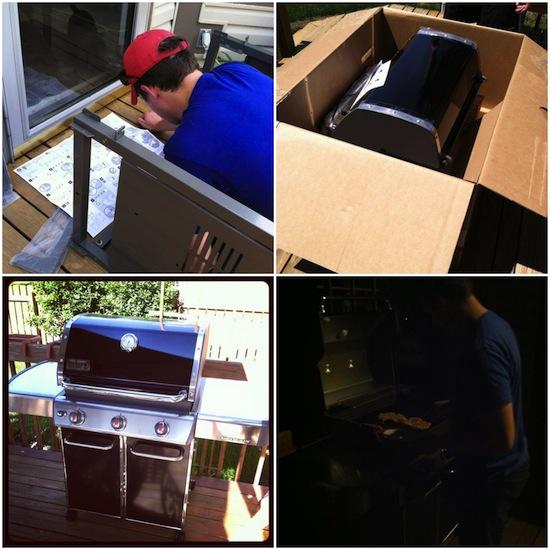 We also finally bought a new grill. We've had a charcoal grill forever, and although I don't think anything rivals the taste, we've been talking about getting a gas one forever. It's just so much easier. So we bit the bullet this weekend, brought it home and even assembled it ourselves! We only had a few minor mishaps including putting the wheels on wrong (so both the ones with locks were on one side) and dropping a few screws under the deck (which meant we had to pry up a deck board to get them). But in the end, success! And it is awesome. By the time we got our act together and went grocery shopping, it was late…but you better believe we were out there grilling our dinner at 10pm 🙂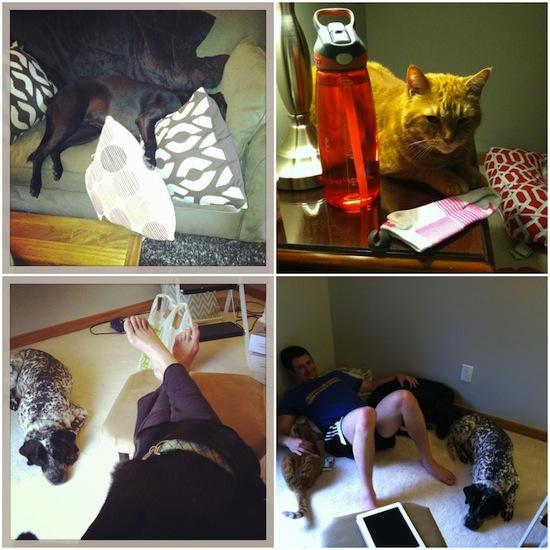 Your weekly dose of animal shenanigans!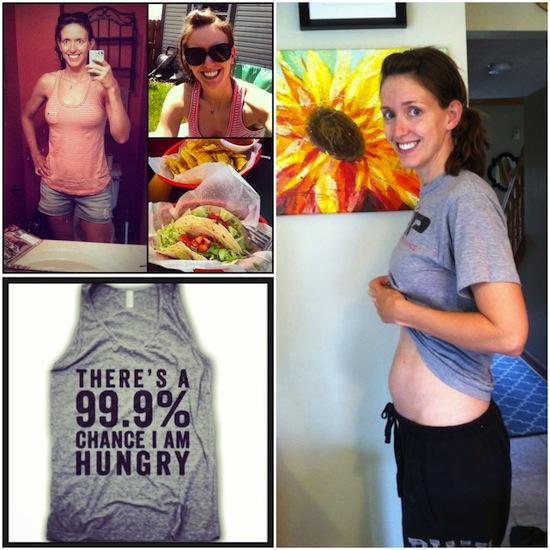 Baby update. We hit 21 weeks this weekend. This past week was a bit rough. I had three days in a row of some of the worst nausea I've had this whole pregnancy. BUT, I did find some cute maternity jean shorts and Gap and I love them! The bump continues to grow. I can definitely tell it's there more and more each day….but it's definitely not to the "she's clearly pregnant" stage yet.
Also…that tank top…although not always true during this pregnancy….pretty much the story of my life pre-pregnancy 🙂
Have you seen this video of the Turn Down For What Cats? Hubby decided to try it with Poco.

Tips For Those Who Set Their Own Salaries
Why Am I Always Tired
5 Reasons This RD Hates Calorie Tracking Apps
A Real Mom's 13 Shortcuts For Feeding Her Family Well
A Pile of Hooey
Blogging Time Management
Panera Bread Cutting Artificial Flavors and Ingredients
7 Body Language Mistakes That Might Cost You That Promotion
You Are Significant With or Without A Significant Other
How Your iPhone Just Got A Whole Lot Better
Microwave Tricks That Make Your Meals Taste Better
Building A Balanced Smoothie
Eat Less Exercise More Is Not The Answer
Secrets To Shopping At Target
The New Food Police Are Out of Touch
12 Claims To Ignore At The Grocery Store
That's all for today!
Enjoy!
–Lindsay–