Hi Friends!
After a little break yesterday, it's time for another edition of Bean Bytes!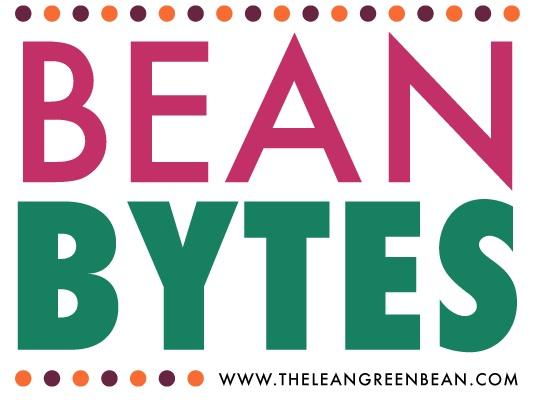 Monday
Work it out:
Tips For A Faster 5K via Mom's Little Running Buddies
5 Rules for Core Workouts via Feminine Muscle
Training For Injury Free Running via Got To Run For Me
Loved the results of this experiment:
My Gluten-Free Journey via Nutritious Eats
Great tips:
Overcoming the Comparison Trap via Healthy Ideas Place
5 Tips For Better Photos via Inspired RD
THIS:
Sorry But There's No Such Thing As Healthy Sugar via Huff Post
Tuesday
From the trainer:
5 Training Elements To Include In Every Workout via Fit Knit Chick
Have you tried it?
High Fat Diet For Endurance Athletes via Run to the Finish
Read and learn:
10 Things You Need To Know About Sugar Alcohols via Fooducate
Design:
Add A Pop Of Color To Drawers via DIY Playbook
Simple Ways To Feng Shui Your Space via Energy We Bring
For the mama's and mama's to be:
Breastfeeding Q&A via Lindsay's List
Epic:
111 Keyboard Shortcuts via Buffer
Wednesday
Blogging tips:
5 Killer SEO Tips for Food Bloggers via Will Write For Food
Social Media For Newbie Bloggers via The Healthy Maven
A guest post I wrote:
10 Tips For A Balanced Life over on Running on Real Food
Friday 
Helpful:
What To Do For A Woman Having A Miscarriage via The Great Fitness Experiment
Beyond Calcium & Vitamin D For Strong Bones via Jill Conyers
This:
So You Need A Rest Day via Lindsay's List
What do you think?
Is Crying A Weakness Or A Strength via Olive to Run
Good ones:
The Kitchen Spring Cleaning Everyone Should Do But Doesn't via Raising Healthy Eaters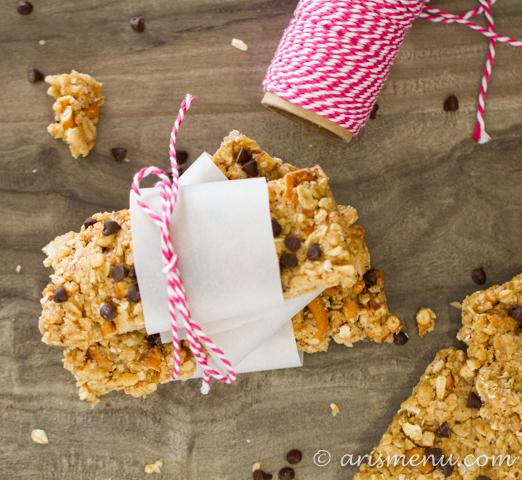 21 Recipes for Healthy Dips
Peanut Butter Pretzel Granola Bars
Paleo Strawberry Ginger Crisp
Tangy Broccoli Slaw
Fruit & Veggie Pops In Baggies
Mini Meatballs
Salted Chocolate Chia Energy Bars
Salty Caramel Pecan Oatmeal Cookies
Strawberry Guacamole
Skillet Baked White Beans
Hummus Chicken Salad
Slow Cooker Blackberry Jam
Easy Spicy Mexican Casserole
Chocolate Chip Protein Muffins
Turkey Burgers With Feta Sauce
Thai Veggie Burgers
Cranberry BBQ Chicken
10 Snacks For Early Morning Workouts
Tropical Chicken Squash Boats
50 Awesome Pre & Post Workout Snacks
Red Cabbage Smoothie
Whole Wheat Peanut Butter Pancakes
Vegan Peanut Butter Pie
Two Cinnamon Rolls
Vegan No Bake Blueberry Custard Pie
Rhubarb Recipes That Aren't Pie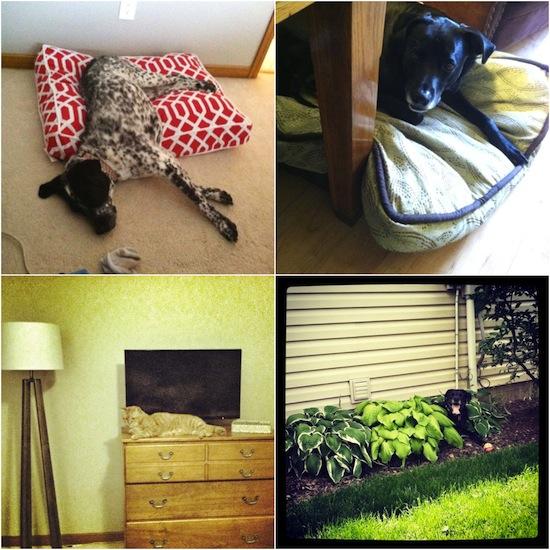 We got a new dog bed for the bedroom…Abner's still getting used to it.
We moved the old bed down to the office. Tucker likes it since the floors are hardwood down there.
We relocated my dresser in the bedroom and got a new TV & lamp. Marcus digs it.
Tucker is king of the plants.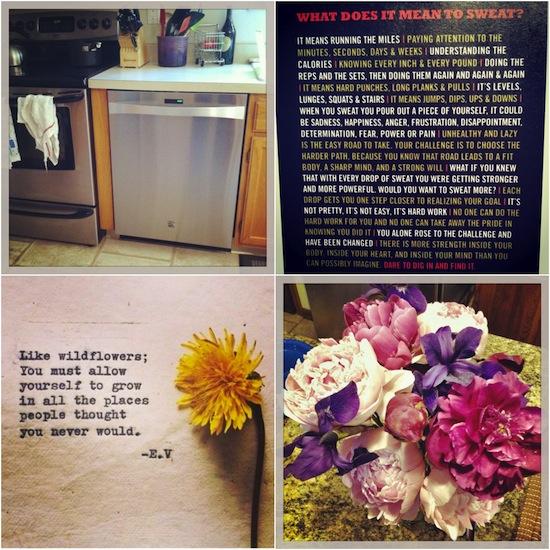 We got our new dishwasher installed. It's so quiet when it runs!
Saw this is in the latest issue of Fit Columbus. Loved it.
Quote love.
Pretty flowers!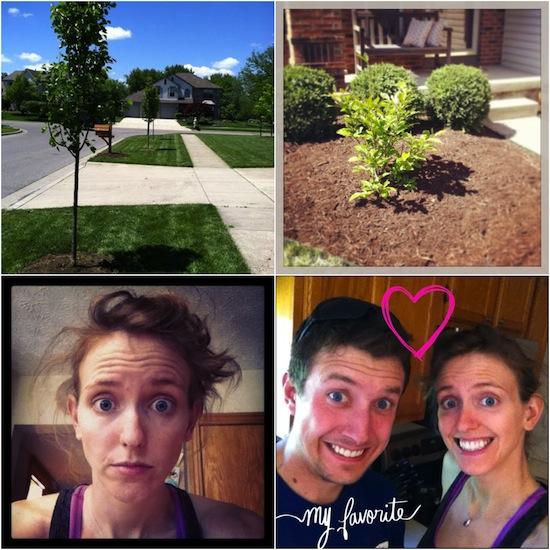 This weekend we logged a lot of hours in the yard! The weather was gorgeous and we had lots to do. We planted 3 new trees, planted a magnolia tree in honor of Baby Bean, trimmed all the bushes, etc.
It was a lot of work…as evidenced by my exhausted face…but we were still all smiles at the end of day 1.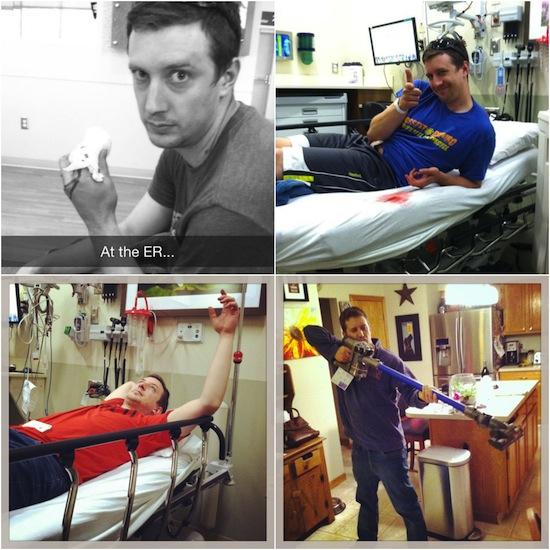 Day 2- Got some more yard work done, but also made a trip to the ER. Hubby got his finger stuck in the electric hedge trimmers. Luckily he didn't cut the tendon or anything…he got 4 stitches and we were on our way. Then 3 hours later we were back again because the nurse made a rookie mistake and put the split directly on his finger without a bandaid and when he took the splint off to take a shower, it pulled one of the stitches out. So, back we went to get it re-stitched.
In more positive news, we got a new Dyson Digital Slim and hubby loves it!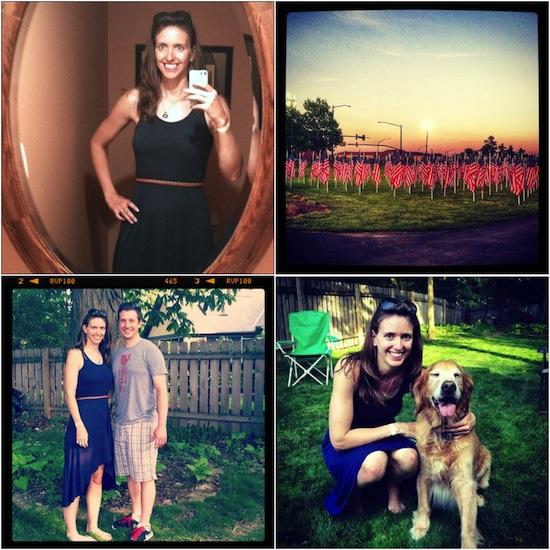 Memorial Day – Field of Heroes and a cookout at my in-laws.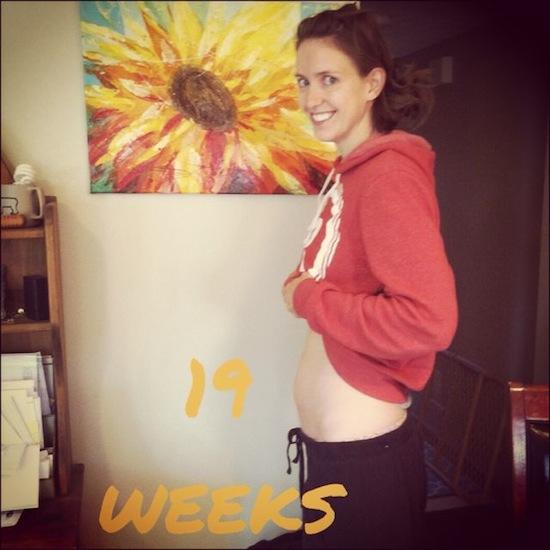 I hit the 19 week mark on Sunday! One more week until we find out the gender! Overall I'm feeling alright. Still nauseous at points during the day but at least it's not constant anymore. I had a few days where mornings were the works, which hasn't been the case in previous weeks. All in all I'm tired, I've been having some heartburn and some nausea…but I've also had some good days and gotten in some good workouts and exercise!

10 Inspirational Quotes from IIN Live
ADIDAS Plans Shoes That Look Like Your Instagram Photos
It's Not OK To Grab Me
Who Gets To Graduate
5 Reasons I'm Not Worrying About Saturated Fat
20 Nutrition Experts' 5 Min Meals
You Will Never Be Beyonce
How To Get Over Your Mistakes
How To Write A Food Blog With A Full-Time Job
Is Febreeze Safe
Do You Have A Choice When Food Shopping
8 Nutrition Trends That Drive This RD Crazy
Fed Up On Sugar Hyperbole
That's all for today!
Enjoy!
–Lindsay–