Hi Friends!
Time for another round of Bean Bytes!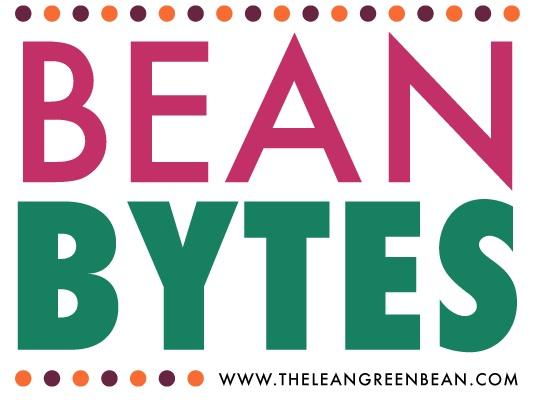 Monday
Love these:
Yes Girls Can via Pavement Runner
On Keeping It Real via Foodasaurus Rex
Must reads:
Body Image During Pregnancy via Itz Linz
Life Lessons: On Counting Ingredients, Not Calories via Hummusapien
Great points:
The Smart Girl's Guide To Money Management via Lauren Conrad
Tuesday
Greatist love:
The Ultimate Staircase Workout
25 Most Inspiring Olympic Moments of All Time
Good thoughts:
Copycat Blogging via The Big Man's World
Everyone's different:
How To Handle People Who Eat Differently Than You via Fitting It All In
You Are Not Diminished By Others' Success via Enjoy Your Healthy Life
Do you agree?
Why Treadmill Runners Are Better Than Me via Matters of Course
Learn to love it:
Simplified Crockpots via Happy Wife, Healthy Life
Good lessons:
Lessons Learned From Quitting My Corporate Job via Caroline Winn
Power of Yoga via Misadventures of a Darwinian Fail
On food allergies:
Let Them Eat Cake, Just Don't Give It To My Kid via Babble
Check them out:
Affordable Organic Beauty Products via Run To The Finish
Helpful!
Vegetarian Food & Wine Pairings via Oh My Veggies
Top 10 Ways To Make Vegan Cooking Your Best via Keepin It Kind
Wednesday
Good ones:
The Rules & Reasons of the Gym via Katrina Runs
Loved these:
Insta-thoughts via Making Good Choices
When Does Healthy Living Become A Diet via The Real Food RD
Cute!
Honeycomb Stamped Cocktail Napkins via House of Earnest
Yes:
Stop Labeling Yourself By Their Standards via Lift Like A Girl
Fueling With More Than Food via Mommy Run Faster
Get your lunge on:
Four Variations of Lunges via Wildly Fit
Thursday
Do it:
Nutrient Dense Eating via Kath Eats Real Food
Good ones:
Ten Tips To Make You LOVE Your Salad via Annica Nicole
Friday
Good points:
FDA Proposes 10 Awesome Nutrition Label Changes but Misses 5 via Fooducate
5 Unintended Consequences of the Proposed New Labels via Fooducate
Great tips:
Top 5 Nutrition Mistakes Made By Runners via Fannetastic Food
Love these:
Free Printable Wellness Calendar for March via Back To Her Roots
Truth:
4 Reasons Your Blog Needs Google Analytics via The SITS Girls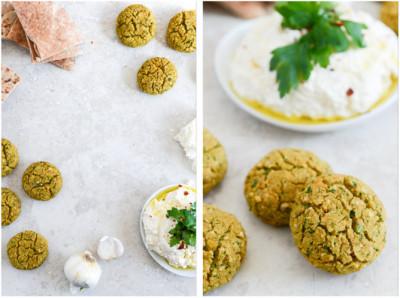 Baked Falafel w/ Spicy Yogurt Feta Dip
Pepperjack Bean Potato Cakes
Greek Yogurt Mac & Cheese w/ Peas and Bacon
Easy Enchilada Sauce
Rice Krispie Sushi Rolls
Healthy Green Goddess Dressing
Blueberry Pumpkin Muffin Breakfast Bars
Single Serve Oatmeal Chocolate Chip Cookie
Shredded Chicken Avocado Boats
Asian Tuna Salad
DIY Frozen Hashbrowns
Tart Cherry Salsa Breakfast Tacos
Buffalo Chicken Quinoa Salad
Cheesy Tuna Casserole
Goat Cheese Avocado Toast
Shrimp Tacos With Spicy Slaw
Oatmeal Breakfast Bars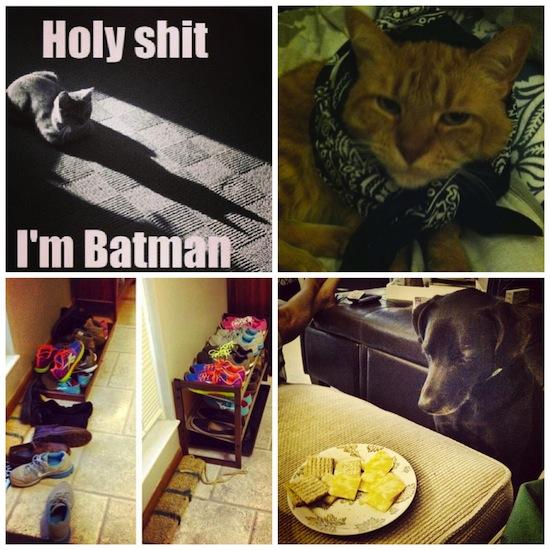 Funnies.
Our sweet Costco shoe rack
Gimme that cheese!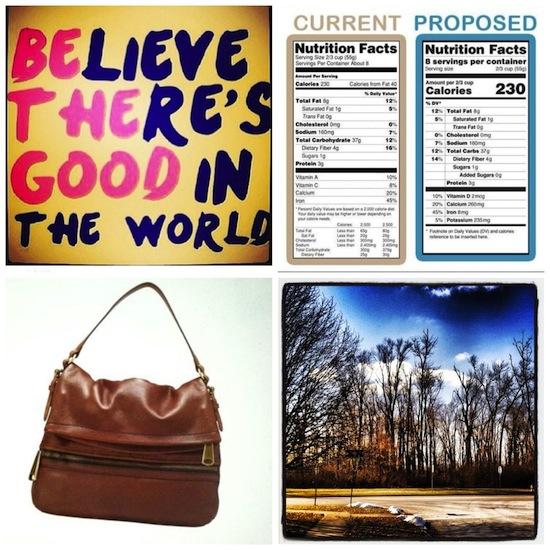 Truth.
Proposed nutrition label changes.
I am OBSESSING over this Fossil purse.
(My bday is in six weeks!)
Sunny skies but it's damn cold here.

10 Must-Haves For Your Editorial Calendar
10 Tips To Make Your Dishwasher Run Faster
How To Make Your Own Sourdough Starter
7 Foods That Are Better With A Fried Egg
8 Ways To Create A Mindful Morning Routine
50 Things Every Parent Should Remember About Raising Kids
Why Beginning Runners Need Crosstraining
7 Things You Must Forgive Yourself For To Feel Good Again
Why I Got Rid Of My Microwave
11 Ways To Declutter Your Day
20 Favorite Items For The First Year
How Hot Sauce Perks Up Your Food & Your Mood
Bloggers Let's Stop Apologizing
Is Your Body Telling You What It Needs And You're Just Not Listening?
Are Legumes "Paleo"?
Tips For The Introvert in an Extrovert World
 Basic Effective Photography Tips
10 Truths That Will Help You Through Any Challenge
What To Cook In Your Pressure Cooker
Does The Public Have The Right To Know How Much Female Tennis Players Weigh?
Is The Weight On The Bar? Or A Number In Your Head?

5 Easy Ways To Eat Less Sugar
Love Your Body Month Teaches Kids To Fuel Their Bodies & Enjoy Treats
Playing Tetris Can Reduce Urges To Eat, Smoke, Drink
Evening Workouts Don't Disturb Sleep
Lessons on Salt for RDs…from a Chip Maker
10 Ways To Prepare For National Nutrition Month
Enjoy!
–Lindsay–