Hi Friends!
Time for more Bean Bytes!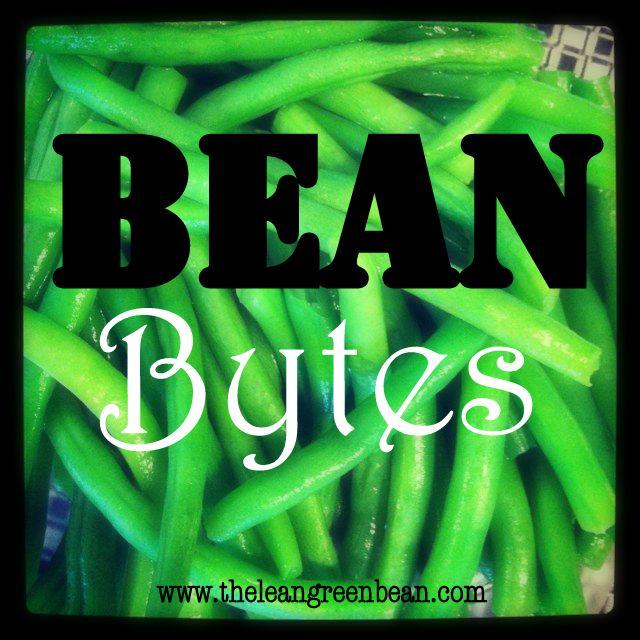 Link Love
————————–
Monday
—————————
This girl runs 8 miles home from work! Impressive, no?
Tips for running home from work via The Sweet Life
Remember that bootcamp I did with Tina? Round 3 registration is now open!
Bootcamp Round 3 via Best Body Fitness
Some great tips if you're thinking about eating more veggie meals!
Dappling with Vegetarianism via The No Sugar Sweet Life
This post raises a great point that we might be focusing too much on girls and neglecting boys
When Your Kid Uses the F Word via Foodtrainers
Love this girl's life outlook
Do what you do via Lindsay's List
How timely for me!
6 reasons to eat figs via Purely Twins
A must read if you're thinking about dietetics/nutrition/grad school etc
FAQs: nutrition, a career change and grad school via Nutritionella
Need help with portion control?
Portion control…the tools for your success via Treats with a Twist
 ————————-
Tuesday
————————-
Cardio or strength first?
Fit Bit: Which should i do first? via Tina Reale
i've been meaning to do one of these forever!
Fit Test via Lindsay's List
Fun little breakfast treat
Broccoli and cheese quinoa quiches via Hummusapien
Hiking tips
How to Hike a 14er via Just a Colorado Gal
Let's talk about calories
Calorie-the new c-word via balance not scale
———————
Wednesday
———————
A great idea for a challenge!
Menu Planning Challenge via Mommy Run Fast
Benefits of Strength Training for Women
Why women should lift weights via Sprint 2 the Table
Why fast food isn't always the cheapest
I have to stop for fast food via Best Body Fitness
Genius for fall
Mini Apple Phyllo Pies via Yes I Want Cake
More benefits of cross-training
Kettlebells for Endurance Athletes via Blonde Ponytail
——————–
Thursday
————————–
Need to make these ASAP
Goat cheese and sweet corn stuffed peppers via Vegetarian Ventures
Because i'm just so darn happy for her!
Where our story continues via Determined. To Be
Just a little reminder
Something to think about: Self Care via The Lunchbox Diaries
Lots of great info about making your legs STRONGER!
Simply Shredded: Day 2 via CHAARG
An important message for the ladies
Things to try Thursday- Do it for the Girls via Chocolate Covered Diamonds
——————-
Fri/Sat/Sun
———————–
Drooling.
Baked pumpkin donut holes via The Comfort of Cooking
That's all. I was out of town and didn't open my google reader
So you tell me? What'd I miss?!
—————————
Scenes From the Week
—————————–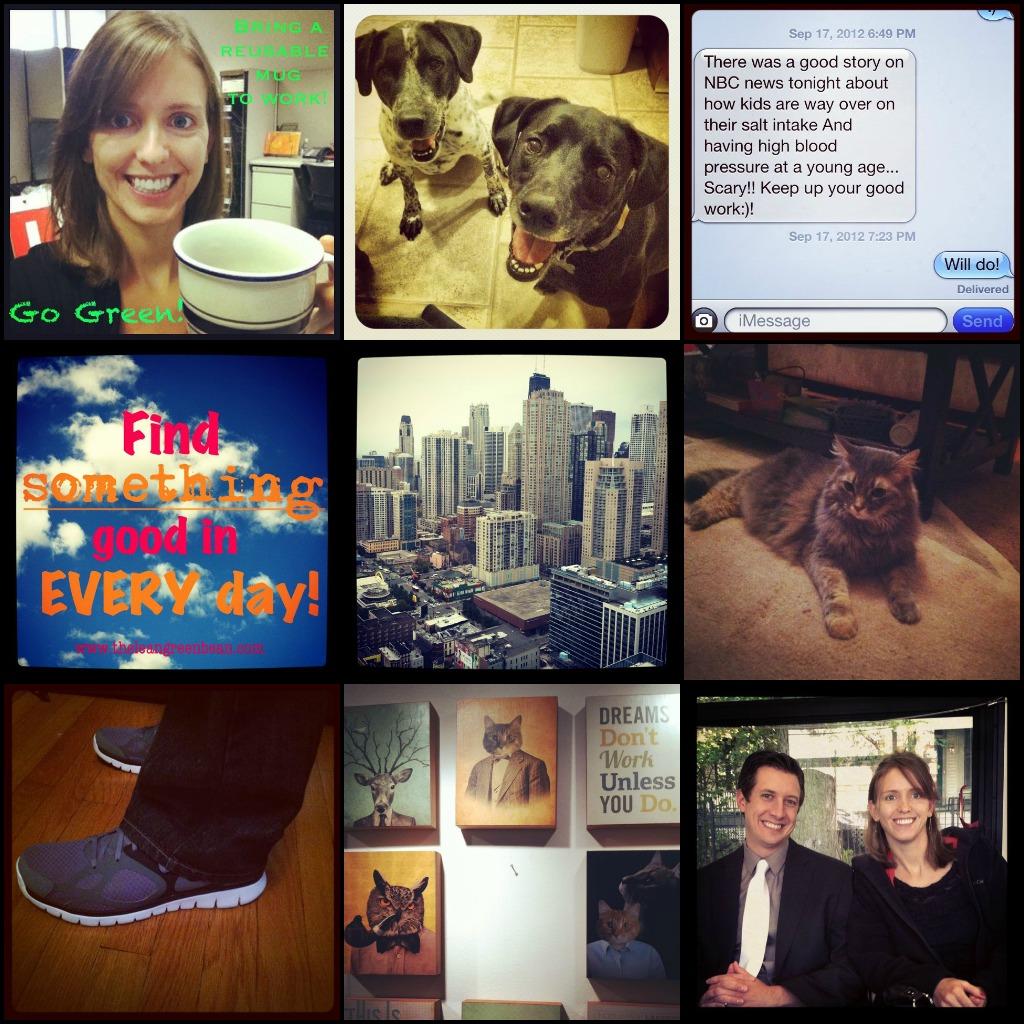 1. Bring a mug to work!
2. the buddies
3. why I do what I do
4. do it
5. the view from my sister's new apt
6. Bella- her cat
7. Hubby got new kicks
8. yes, my husband bought that one in the middle of the top row
9. wedding bound
———————
In the News
———————
SNAP sees at least $2 million spent on sugary drinks
Is coconut water all it's cracked up to be? 
Short burst of exercise make you fitter
Eating well during pregnancy reduces baby's chance of obesity regardless of mom's size
Renaming fruits and vegetables
GOP bill would repeal calorie cap on school lunches
Pros and cons of a vegan diet
Fat and getting fatter– TERRIFYING statistics
DASH diet works but African Americans less likely to comply 
Arsenic in Rice: Consumer groups urge FDA to set standards
FDA: Early data on arsenic in rice inconclusive
Obese children less sensitive to taste
———————-
That's all I've got for you today!
How was your weekend?
Enjoy!
–Lindsay–