Hi Friends!
Time for another edition of Bean Bytes.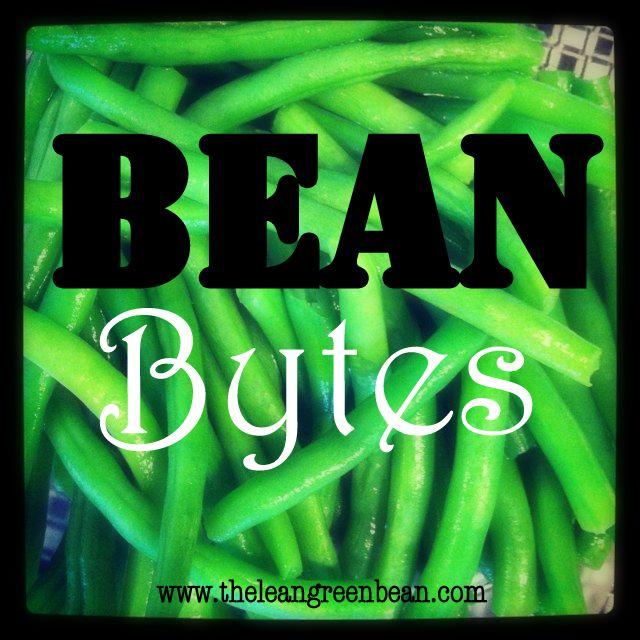 Link Love
———————–
Monday
On mattering.
Mattering via MizFitOnline
A response to the article published recently.
On buying organic and why you still should via Making Good Choices
Yes.Just Yes.
Smoky sweet potato burgers via How Sweet Eats
Focus on Now.
Loving the current version of you via The Wannabe Athlete
Pinterst tip!
How to optimize your photos for pinterest via The Inspired RD
Another use for instagram
Create a visual fitness and food journal via FitKnitChick
——————————
Tuesday
Great blogging info
The business of blogging- self hosted vs hosted via Lindsay's List
Double standards annoy me.
The Double Standard via Happy Fit Mama
This game sounds like so much fun!
Bachelorette Party Question Game via Peanut Butter Fingers
Bike safety. SO IMPORTANT!
Bike safety via Healthy Ashley
How 9/11 changed her life AND a must read article
Remembering via Food Fitness and Family
My Son Reads about 9/11 at school, but he lives 9/11 at home  via the Huffington Post
Right up my alley!
Mexican Spaghetti Squash with Creamy Avocado Spread via Clean Eating Chelsey
——————————
Wednesday

An incredible story about UC.
Invisible Illness Awareness Week via Run Stronger Every Day
Be a good role model
6 Ways to help our kids maintain healthy attitudes about food and fitness via Fit Pregnancy and Parenting
———————–
Thursday
Breakfast anyone?
Pumpkin baked oatmeal via Fit2Flex
Need this.
Cheesy Italian Quickbread via Sweet Tooth, Sweet Life
Love her attitude
Pregnancy, food and body image via Making Good Choices
For all you mom and dad runners
Stroller Running via The Happy Runner
 ———————-
Friday
What's your opinion?
New York City's Ban on Sugary Beverages via Happy Mother Runner
A cool way to build a playlist
How to build the ultimate workout playlist via Your Trainer Paige
More about foam rolling and muscles
They see me rollin' via Run Principessa
Drool-worthy peanut butter recipes
12 pb recipes for national pb day via satisfy my sweet
————————–
Scenes From The Week 
——————————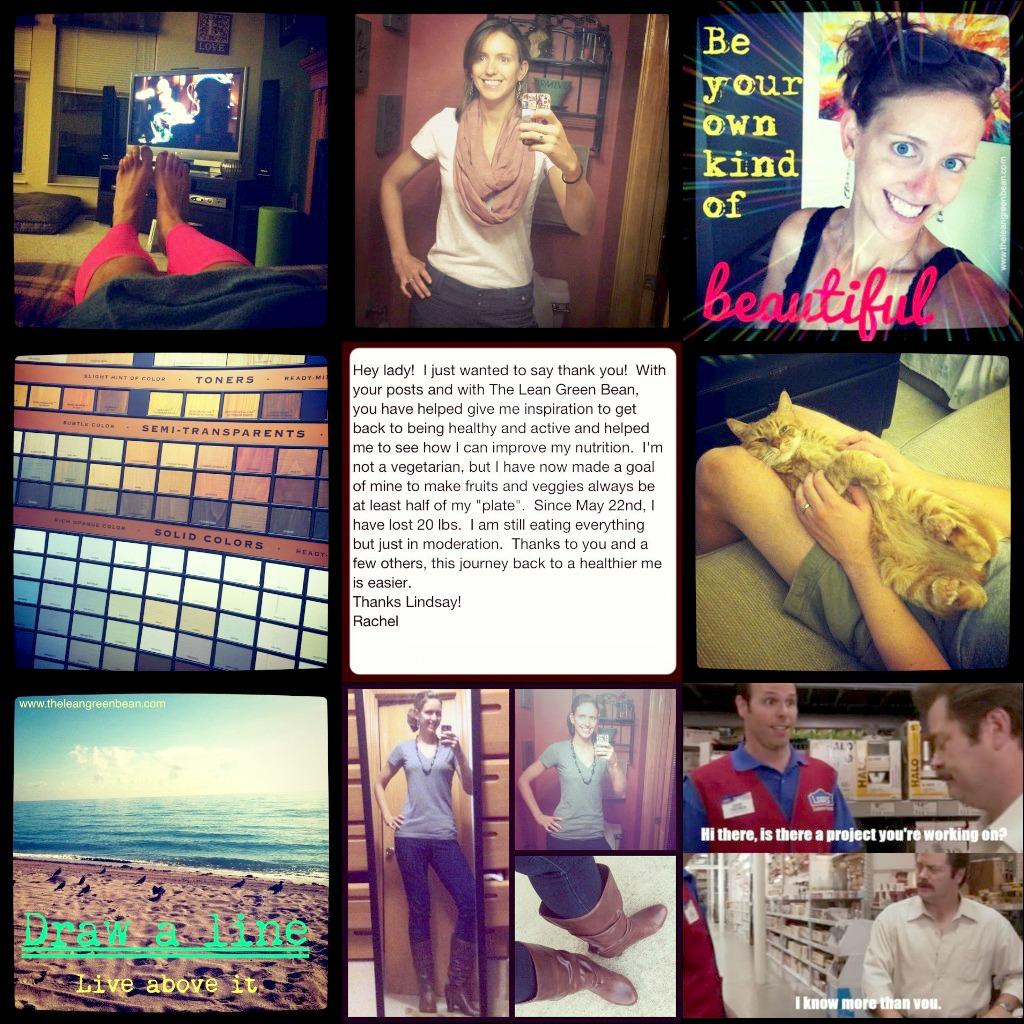 1. More Breaking Bad
2. Fashion!
3. Because you are
4. Picking out stain for our replacement fence
5. SO PROUD of this busy mom of 4
6. Spoiled kitty
7. Be better
8. Jeans day!
9. So totally my husband
—————————–
Scenes from the Weekend
————————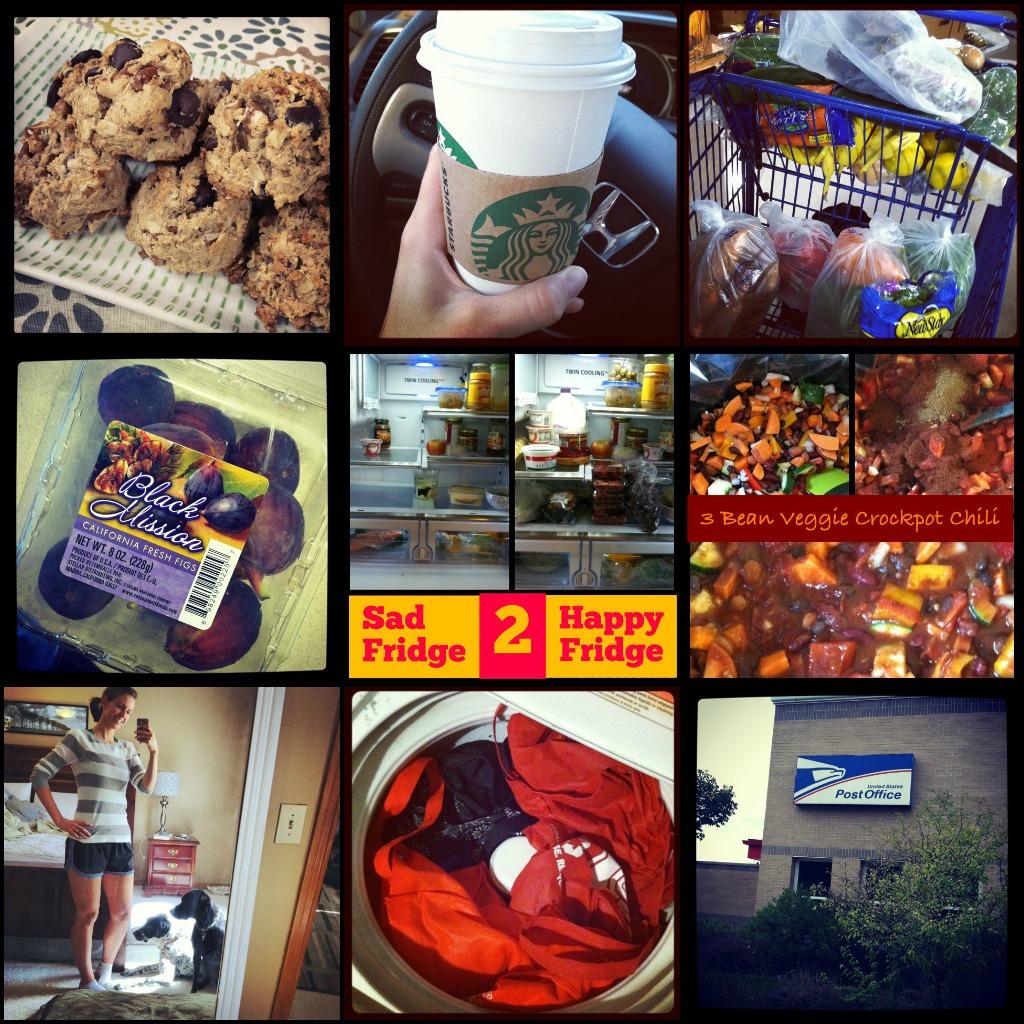 1. I made my first ever batch of vegan cookies! recipe soon!
2. It was a Starbucks kinda Saturday morning
3. Much needed grocery shopping
4. Bought figs for the first time
5. My fridge is restocked and happy 🙂
6. I made a huge batch of chili- recipe here
I added extra beans, veggies & spices to make a bigger batch
7. The boys BEGGED me for a walk
8. A reminder to wash your reuseable bags
9. Mailed my Foodie Penpals package!
Hubby did this all weekend: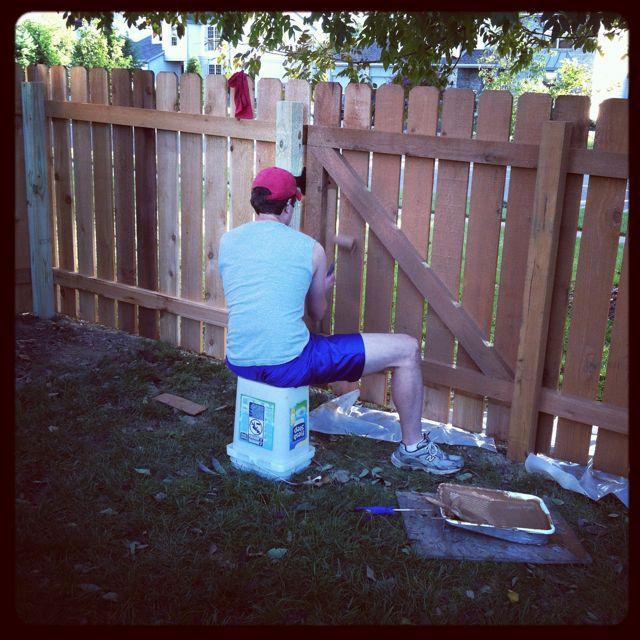 After 4 years, we discovered that the company that built our fence didn't bury the posts anywhere near as deep as they said they would in the contract, so they ended up having to build us a brand new fence. Hubby immediately stained it since we never got around to staining our last one.
I did a lot of this: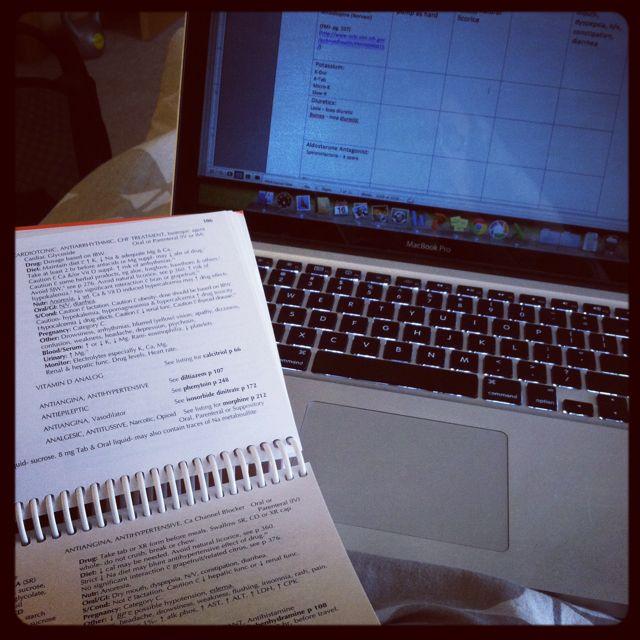 Homework, case studies and modules for my internship just never end…
 —————————
In The News
—————————
Pedometer used in health and wellness programs in schools
Would-be healthy eaters face confusion
Fish Oil no lifesaver
Nutrition's role in sarcopenia
McDonalds to post calorie counts
Some anti-obesity campaigns may backfire
Food insecurity leads to health problems in HIV patients 
NY oks first ban on super-sized sugary drinks
—————————
There you go! Have a great week 🙂
Enjoy!
–Lindsay–