Hi Friends!
Time for another round of Bean Bytes!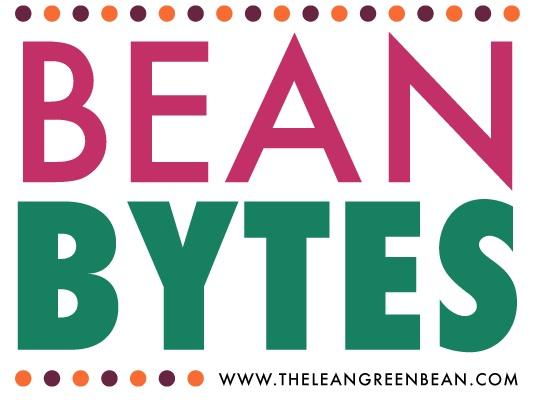 ——–
Link Love
——–
Monday
Great advice!
Learn To Love Yourself in 10 Steps via Electrafi
Life Lessons: On Beer & Kale via Hummusapien
For the runners:
Tapering Tips for 26.2 Success via A Healthier Happier Bear
Q&A
10 Questions People Ask Personal Trainers via Fit Knit Chick
Tuesday
Do it:
Squashing Your ANTs via Strong Inside Out
Important:
GMO Labeling: Why it Matters via Live From La Quinta
Good info:
Things You Only Thought You Knew About Freelance Writing
Take care of yourself:
The Importance of Self Care via It's Progression
Loved this:
Exposed: The After-Baby Edition via Katy Widrick
Wednesday
Truth:
Perspective: You Are Not A Number via Gabby's Gluten-Free
Health & Beauty Tips:
All Natural Eye Makeup Remover via Nutritionella
Natural Homemade Cleaners via Healthfully Ever After
What to Expect:
Physical Therapy for Runners via Eat + Run
On body language:
10 Simple Body Language Tricks That Will Do Wonders For Your Career via Brazen Careerist
On The "Real" Issue via Live Love & Run
Thursday
Interesting:
The Evolution of the Ideal Female Body Image via Lifting Revolution
Helpful:
How to Watermark Photos via SITS Girls
Find what's lost:
4 Tips For Finding Your Resistance Training Motivation via Mizfit Online
Good tips:
4 Tips For Raising A Good Eater: Toddler Edition via A Healthy Slice of Life
Great workout:
Fast & Full Recovery Workout via Matters of Course
Use it:
10 Most Useful Buffer Features via Buffer
Love this:
How To Turn Any Scarf Into An Infinity Scarf via The Pomegranate Bandit
Friday
What do you think?
Why Is It So Hard To Compliment Women? via Cotter Crunch
Yes:
Dear Mom, I'm Sorry For Every Mean Thing I Ever Said…About Myself via Katy Widrick
Cute idea for fall:
Wheelbarrow Planter via DIY Playbook
Brilliant ideas:
Healthy Halloween Goodies for Kids via A Healthy Slice of Life
Love this list:
10 Things I Still Need To Remind Myself At Age 30 via 20-Nothings
This:
Is This Good For Me via Food & Nonsense
——
Yum
——-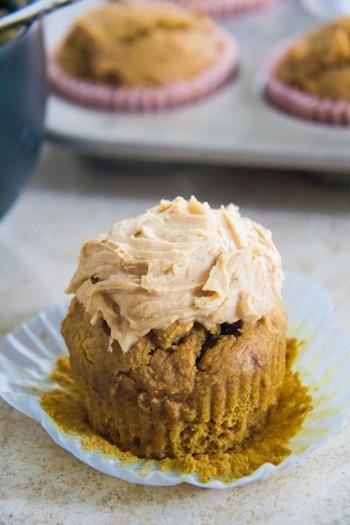 Sweet Potato Muffin w/ PB Cheesecake Frosting
Crockpot Eggplant Bolognese
Blueberry Buckwheat Quinoa Squares
Apple Cider Donuts
Roasted Butternut Squash Pasta w/ Kale & Wheatberries
Italian Wedding Soup
Brussels Sprouts With Apples, Bacon & Dates
4 Ways To Top A Sweet Potato
Pumpkin Cheesecake Bars
Crispy Roasted Denver Breakfast Panzanella
Sweet Potato Gnocchi
Pumpkin Apple Cranberry Baked Oatmeal
Flourless Pumpkin Chia Seed Blondies
Sweet Potato Chutney

——-
Twitter Favs

——–
 Updating the Salt Controversy
Why Genetically Modified Foods Should Be Labeled
5 Things Your Body Is Trying To Tell You
10 Kitchen Hacks
16 Signs You Might Be Hypothyroid
You Will Never Know Me As The Unhealthy Dad
23 Essential Role Models for Women In Their 20's
Someday When I'm Thin
Earn, then Demand, Respect in the Workplace
Crossfit For Pregnant Women
Taming the Snack Monster
Top 5 Foods Unfairly Labeled As Diet Food
10 Ways to Eat More Real Food
50 Killer Questions To Ask At Every Job Interview
4 Steps To Reduce Anxiety When Pooping in Public
27 Easy Everyday Tips To Better Life
Skewed Perceptions
Don't Be Afraid To Write The Hard Stuff
21 Types of Blog Posts That Get People Talking
We Hurt People That Love Us & Love People That Hurt Us
Are You Safe From Digital Hackers
For The Bad Days
4 Lessons We Can Learn From Our Children
Keep Your Comments To Yourself
Progress Is Not In The Pooch
25 Things Every Woman Needs To Know
Is Coconut Oil Healthy
13 Healthy Habits I Just Can't Get Into
Fed Up with Food Fear Mongering
We Are Free To Rest
Why So Many Healthy Women Can't Lose Weight
Raising A Beautiful Daughter
Will Crossfit Help Me Lose Weight
He Thinks/She Thinks- Blogger Responsibility
How Your Casual Shoes Contribute To Your Running Injuries
What's Really Making Us Fat & Stupid
——–
Scenes From The Week
———-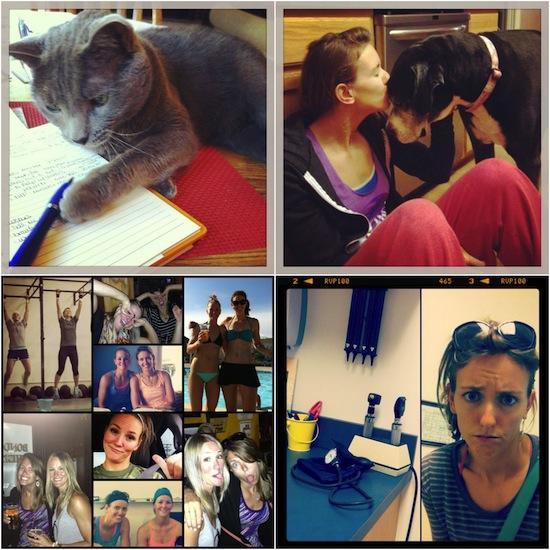 1. No, it's fine, I didn't need that pen
2. Great dane love
3. On of my BFFs turned 30! Love her
4. Suspicions confirmed. Ear infection for sure. Hopefully the meds will take care of it before I have to get on a plane!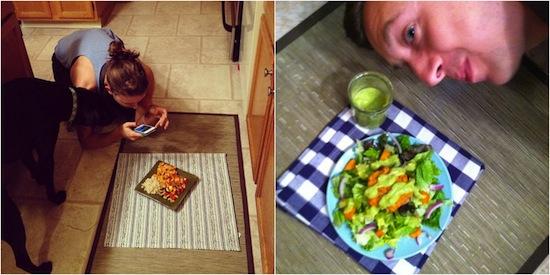 I'm gonna let you guys in on a little secret. This is how I take my "fancy" pictures. On the floor of my kitchen…with my iphone. Most food pics you see are just snapped at the counter before eating. If I'm trying to make something look a bit prettier, I'll bust out a placemat/towel and get down on the floor. Tucker loves to help. Hubby thinks this is hilarious. He also loves to photobomb 🙂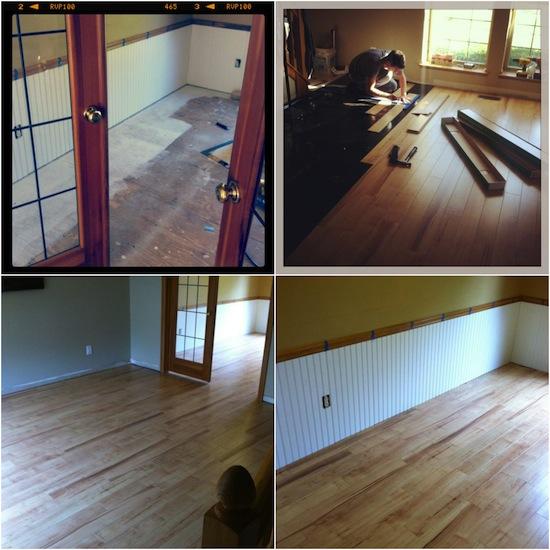 Hubby's weekend project! He installed wainscoting in our dining room and then put new laminate hardwood in our living room and dining room! Next step is new baseboards and then new paint in the dining room. I'm so excited! He did a great job and everything looks great!
He also took plenty of time for dance breaks!
And finally, new Living Proof Gear! I'm SO excited about the 3/4 sleeve lightweight sweatshirts! Follow them on FB and Instagram so you can be sure to snag one once they're available in a few weeks!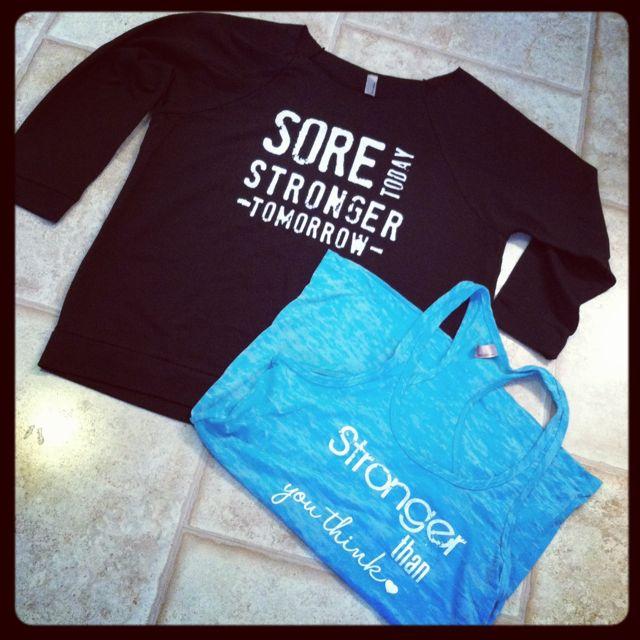 ——
In the News
——-
Parents' Feeding Choices May Raise Risk For Celiac Disease
Morning Rituals Worth Adopting
Star Athletes Often Promote Junk Food
Food Photos on Social Media May Ruin Your Appetite
Unhealthy Habits Should Be Treated As Aggressively As Disease
Snacking Benefits
The Art Of The Perfect Walk
When A Healthy Diet Is Anything But
Popular Diets Have Pros & Cons That Should Be Weighed
Fat & Thin Find Common Ground
Consumer Demand For Veggies is Growing
Gluten-Free Health Trend Misunderstood By Most
That's all for today, friends!
Enjoy!
–Lindsay–