Hi Friends!
Time for another round of Bean Bytes!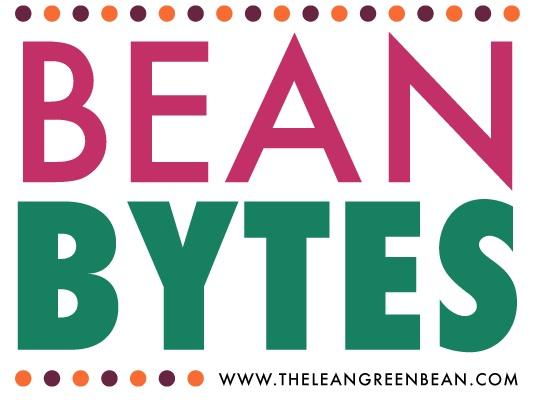 ————
Link Love
———–
Monday
Such respect for this lady:
Own Your Distance via Best Body Fitness
They're watching:
After the storm of Miley has passed, I Have Something To Say via The Shine Project
Great tips:
5 Keys for Sticky Weight Loss via Strong Inside Out
How do you define it?
The Definition of Healthy via I Heart Veggies
Tuesday
Great Lessons:
5 Career Lessons I Learned In My 20's via The Daily Muse
Love these ideas:
Fall in Love With These Ways to Give via Olive To Run
Read and Learn:
How to Season A Cast Iron Pan via Nutritionella
On insecurity:
Comparing My Weaknesses To Your Strengths via The Great Fitness Experiment
Love these:
32 Workout Ideas For Any Fitness Level via Greatist
Wednesday
Genius:
How to Make Homemade Coffee Creamers via A Gutsy Girl
I agree with these:
Unlikely Health Swaps via A Healthy Slice
A must read:
How to Read a Recipe via Joy the Baker
Great ideas:
30 Healthy Habits via A Side of Sneakers
Good tips:
What To Do With A Picky Eater via Food Coach Me
True for a lot of people:
Confessions of a Sugar Addict via The Misadventures of a Darwinian Fail
Thursday
Love this:
5 Steps for Making Your Dreams Come True
On education:
When Making a Difference Changes Focus via Olive To Run
Watch and Learn:
How to Add A Pin It Button To Images via SITS Girls
Important Stuff:
8 Ways to Make a Great First Impression
Interesting:
Why We're More Creative When We're Tired via the Buffer Blog
On fermented food:
Why We Need Fermented Food via The Soulful Spoon
Friday
Great tips:
Fitting In Exercise During Pregnancy via Nutritious Eats
Helpful:
Quick Fixes for a Wardrobe Malfunction At Work via The Daily Muse
10 Office Hacks That Will Change Your Work Life via The Daily Muse
Loved this:
What Not Running Has Taught Me via Itz Linz
Learn to use your camera:
Shooting in Manual via Sweet Caroline
For the runners:
5 Tips for Running At Altitude via Marcia's Healthy Slice of Life
10 Simple Tips For Running Your First Half Marathon via Run Wiki
Love:
Goals, Perception, Pressure & Doing Your Own Damn Thing via Gabby's Gluten-Free
HLB to Me via Snack Therapy
This:
Dear Crossfit: Talayna Deserves Better
—————
Scenes From The Week
—————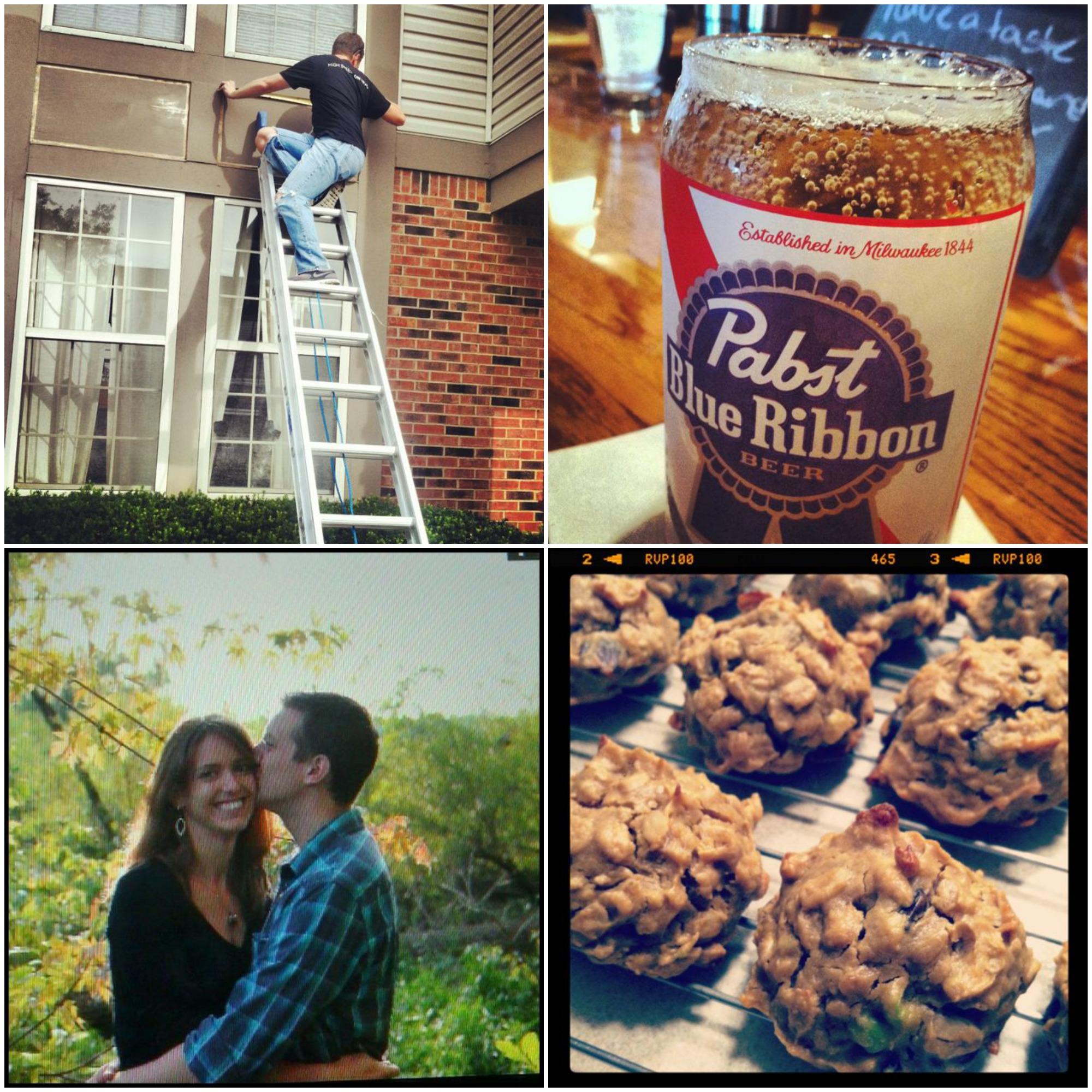 1. Hubby working on house projects! The dogs are watching through the window!
2. Hubby ordered a PBR and it came in this cool glass
3. We had a friend take some pics because our 5 year anniversary is coming up at the end of the month! Can't wait to see how they come out 🙂
4. All this talk of my pb avocado cookies had me craving them! Had to make a batch!
————-
Twitter Favs
————-
Smart Snacking
Why Selfies Matter
Amy Poehler's Best Advice For Teens
Sophia Declares War on Urban Outfitters
Your Kids' Internet Identity
Eating Out? 5 Tips to Avoid GMOs
10 Bra Mistakes You're Probably Making
5 Ways to Avoid GMOs at the Grocery Store
Are You Inadvertently Tweeting Your Location
Mentors Matter
The Importance of Fine Motor Skills In Early Childhood
Synching Your Mind & Body
The Biggest Dieting Mistakes Women Make
I Didn't Eat Anyone That I Know Of
Does Social Media Help or Hurt The Fitness Industry
It's Not The Number of Plugins, It's the Quality
11 Things You Should Know About Your Resume & Headshot
How To Clear Your Inbox When You're Drowning In Email
The Lean Physique and Why It's Dangerous
5 SEO Metrics You Don't Need to Obsess Over
5 Things I Wish I'd Known After My Last Long Term Relationship
Standing Up For Your Food Choices
How Work Can Make Your Life Better
5 Ways To Overcome Morning Crankiness
27 Things I Learned In My 27th Year
What Success Means To Me
We Don't Know How Powerful Our Story Is Until We Share It
Graphic Smoking Ads Help People Quit Smoking
What Are Superfoods?
How To Safely Bake For A Gluten-free Friend
7 Strength Myths Every Woman Should Know
Confidence When Only Physical Appearance Is Considered
50 Post 9/11 Photos
When Will We Stop Counting The 9/11's?
Why New Runners Inspire Me
Yes It Matters What Onion You Use
I'm Eating Real Food & Not Losing Weight
6 Most Shockingly Irresponsible Fitspiration Photos
The Dos and Don't of Blog Comments
5 Cheats For Better Facebook Posts
The Most Valuable Professional Lessons I've Learned
The Multigenerational Appeal of Justin Timberlake
Dear Women's Health Magazine- What's With All The Boobs?
50 One Sentence Tips for Bloggers
 ——-
In The News
——–
Subtle Cues Help Obese Shoppers Skip Unhealthy Choices
Arsenic Levels in Rice Are Not A Cause for Concern
Prebiotics vs Probiotics
Nothing Nutty About Eating Seeds
Soup in K Cups?
Getting Fiber From Whole Grains
Real Answers on Food Expiration Labels 
For More Americans, Work Time is Exercise Time
GMO Labels Won't Affect Supermarket Prices
The Senior's Guide To Eating Healthy
Why How You Feel Is More Important Than What You Make
Chewing More Affects Perceived Fullness
More Open Space Leads to Less Diabetes
Child BP Signals Adult Hypertension
Cutting Board Tips- Keep Your Food Safe
6 Lessons From The Paleo Diet <– I don't love paleo but these are good lessons
That's all, friends!
Enjoy!
–Lindsay–