Hi Friends!
Time for another round of Bean Bytes!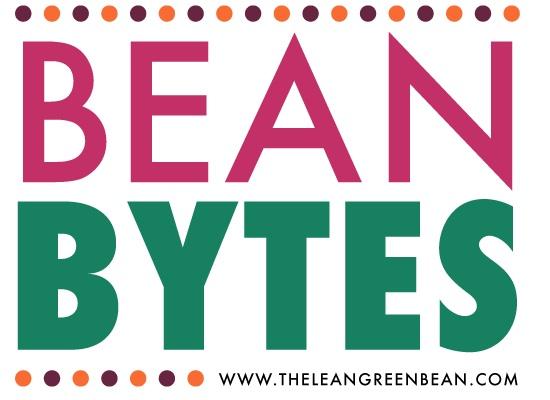 ——–
Link Love
———
Monday
Great tips:
5 Things I've Learned from 15 Years of Racing via Happy Fit Mama & Miss Zippy
This:
I'd rather be a little fluffy via Lindsay's List
So important:
Be Kind via Organically Mo
Good advice:
Why your Linked In profile stinks and how to fix it via Brazen Life
So true:
On not shaming our daughters via Neon Fresh
Absolute must-read for bloggers:
Do I have to disclose if… via Katy Widrick
Tuesday
Wanna run faster?
The secret to running faster via Runladylike and Olive to Run
Great tutorial:
How to: Easy Cold Brewed Coffee via The Fit Cookie
Good reminder:
What the numbers don't tell you via Healthy Helper
Running a relay?
5 tips and tricks for running an overnight relay via The Purple Giraffe
Love:
10 scientifically proven ways to make yourself happier via the Buffer blog
Olivia Wilde's advice for turning 30
Think you're not a runner? Read this:
My weekend with cabot fit team via Bakeaholic Mama
Wednesday
Great tips:
13 unexpected ways to fit in more cardio via Greatist
On reducing waste:
Mindfulness in 4.3 pounds via Matters of Course
Neat concept: Get Going
Need to add calories the healthy way?
5 tips for adding good calories to your day via Gabby's Gluten Free
I love this:
3 reasons to get upset about crossfit via Awkward Athlete
Thursday
Great tips:
Managing Stress with Diet via Guard your heart
Yum:
Broccoli stem veggie burgers via Nutritionella
Must read for companies and bloggers:
Successfully working with bloggers via Heather's Dish
Great roundup:
16 pinners to follow for healthy eating inspiration via Side of Sneakers
Pushups don't have to be boring:
35 pushup variations via Feminine Muscle
Interesting:
Why gaining work experience is more important that your education via Brazen Life
Yes! Companies read this!!!
4 Reasons your company needs a brand ambassador program via The Daily Muse
Friday
Many people struggle with this:
Marathon Training and Weight Gain via Fit2Flex
Want to get into yoga?
5 tips to jump start your yoga practice via Happy Fit Mama & Love Life Surf
Do you multitask?
Why Multitasking may be bad for your brain via Side of Sneakers
Great tip:
Vinegar wash for fruits and vegetables via Food Fitness and Family
Love:
A letter to Kate Middleton on post-partum body via Emily Wierenga
Good read:
An open apology to all of my weight loss clients via Your Fairy Angel
Great post:
Self trust issues via Running with Spoons
A good reminder:
Ebb, flow and FOMO via Relentless Forward Commotion
———
Scenes from the Week
———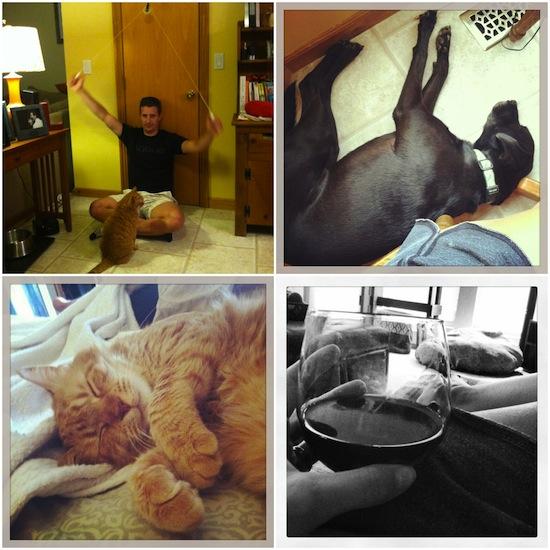 1. Marcus helping daddy with his physical therapy
2. My trusty sidekick
3. Nap time
4. Wine time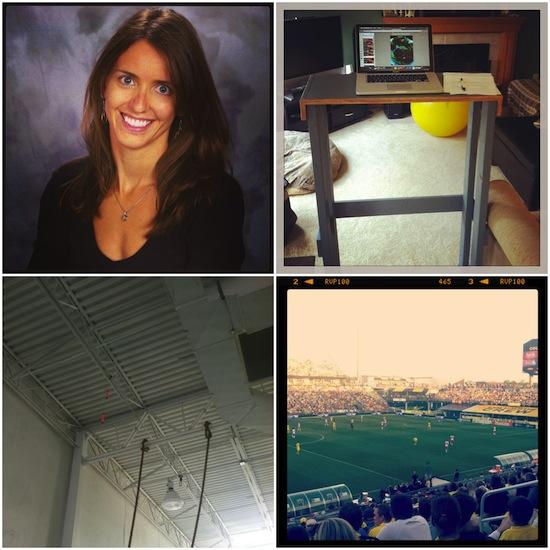 1. I've been putting off getting a professional  headshot taking for over a year. I FINALLY got my act together and got it done. I went to Target and it only took 20 minutes start to finish. Guess I shouldn't have waited so long!
2. Remember when hubby made me this treadmill desk? Well, our treadmill broke a long time ago so the desk has just been sitting in the basement not being used. I finally dragged it upstairs, cut the legs off to make it shorter and now I use it as a regular standup desk!
3. Random jump rope rescue had to happen at the gym this weekend. My friend got frustrated with her double unders and threw it up there…we were quite a sight getting it down…but we were successful!
4. Saturday night soccer game!
————
Twitter Favs
————
85 snack ideas for kids (and adults)
Top 5 mistakes impeding your progress at the gym
6 apps for students on the go
How to make your kids say no to junk food
Why bloggers need google +
44 healthiest companies to work for
3 ways to prevent sauteed greens from clumping in the pan
What 500 calories looks like in different foods
How to love food and still be fit
Falling obesity rates among preschoolers marks healthy trend
A backbend sequence for anyone that sits all day
How getting more sleep changed my life
Thoughts on blogging
10 ways to be healthier in 10 minutes or less
Online Friendships
27 problems only introverts will understand
6 tips to increase social influence
Embracing the muffin top
Saving time and money on food prep
23  life lessons you get from working in the restaurant industry
What is trader joes hiding?
Ultimate guide to targeting twitter users and connecting with influencers
How to have a bikini body in 2 easy steps
Advice in 140 characters or less
Blogging politics: There are levels to this
 ——–
In the News
——–
Making your child clean their plate could give them an eating disorder
Could dietary tweaks help ease type 1 diabetes?
What's really in your bug spray
Exercise reduces risk of gestational diabetes
Bigger meals earlier can help you lose weight
Lab grown meat
Poor children show a decline in obesity rate
Blame poor sleep for unhealthy choices
12 yoga poses to undo the damage of your desk job
Would grocery shopping with a nutritionist help people eat better
4 numbers that could save your life
Enjoy!
–Lindsay–