Hi Friends!
It's Monday again…which means time for more Bean Bytes.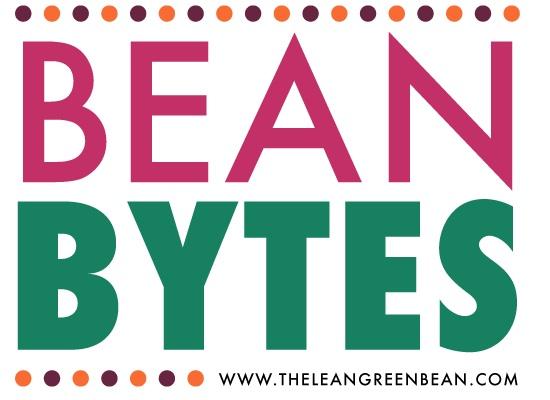 ———-
Link Love
———-
Monday
In LOVE with this post!
I have cellulite and i'm ok with it via Back to Her Roots
Join her:
I will not call myself slow via Family Fitness Food
Great tutorial:
How to Make a Printable in Microsoft Word via The SITS girls
Important notes on guest etiquette:
Guest List via Food Trainers
Worth a read:
Transformation via Fitting it all in
So doing this:
How to make a DIY edible fruit arrangement via Eat Spin Run Repeat
Great list of resources:
Where to find strength workout via Your Trainer Paige
Been there:
Stress sucks via Gabby's Gluten-Free
Good advice:
How to know you're ready for yoga teacher training via Sweet Caroline
Tuesday
Good advice:
Review bloggers take stock via Mommy Snippets
Important:
Stretching before and after a workout via It's Progression
Love:
6 Practical Fitness Tips for Older Adults via Fun and Fit
Yum:
Kale Pesto Meatballs via Food Embrace
Love this girl:
You will be extraordinary via Strong Inside Out
You can't do it all:
Asking for help with a newborn via Blonde Ponytail
Wednesday
Think about it:
What is it you're looking for via Organically Mo
Thought provoking:
Instagram yoga photos via Love Life Surf
Yes:
Happiness is not something readymade via Olive to Run
YUM:
Pesto pizza from scratch with helpful tips via A Healthy Slice of Life
No bake summer berry crisp 3 ways via The Edible Perspective
Popcorn with sea salt, olive oil and dark chocolate via Ezra Poundcake
Helpful:
6 Natural Remedies for Skin Abraisions via Oatmeal in my Bowl
Important Stuff:
3 things you don't want to miss via The Sweet Life
What do you think?
Is a 2 page resume ever ok via The Daily Muse
Thursday
Great tips:
5 Ways to Choose the Best Fitness Platform for You via Itz Linz
YUM:
Hemp Crusted Avocado Chicken via The Candid RD
Honest read of the week:
Why I'm no longer an ambassador via Carly Bananas
Great tips:
I love Pinterest: 5 tips and resources via The Blog Hangout
Love this idea:
Non-traditional Bachelorette party via DIY Playbook
Amen!
Why female athletes should toss the scale and get a new perspective via Breaking Muscle
An article I wrote about Nutritional Yeast:
Get to Know Nutritional Yeast via Stone Soup
Watch and Learn:
Why we love and the health benefits of plantains via Purely Twins
Friday
Check it out!!
Healthy Aperture now has a blog!
Love this:
2 words i'm eliminating from my running vocabulary via Leaps of Faith
A lot of people need this:
5 Ways to kick the sunday blues via The Daily Muse
————
Twitter Favs
————
What interview say about a company culture
How to reuse old content
Parents of picky eaters: Let trust and love be your guide
Cat poop parasites may pose public health hazard
Little things are big things
Dos and don'ts of email subject lines
30 signs you're almost 30
The case for eradicating kid food
Don't let the retouched photographs of the world affect your own self image
A field guide to nutritious food
Why are rest days critical
Running before work
What to pack for a crossfit competition
3 questions to help you find your passion
Identifying yourself with your diet
How to break bread with vegetarians
How to raise a health nut
Shift work linked to infertility
Should airplanes have shoulderbelts?
10 rules for courageous confident women
Dietitians review the China Study
15 TED talks that will change your life
3 ways your phone and computer are sabotaging your day
I am here: dog advocacy campaign video
Since sunbathing causes cancer, why do people still want to be tan?
How to hide instagram videos
Coveting a corner office but not time at home
21 types of fries to make this summer
Is vegetarianism dead?
Should I avoid GMO foods?
5 best places to pet a dog and a few to leave alone
15 social media mistakes to avoid for beginners
10 shortcuts for cooking dinner in record time
 ———-
Scenes from the Week
———–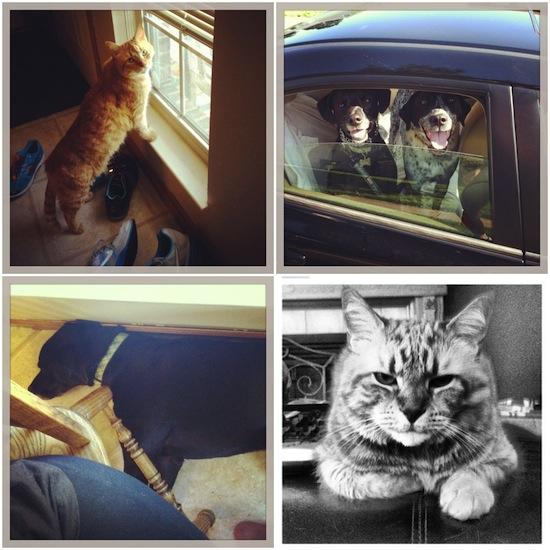 1. Caught doing a little morning window stalking
2. My new fav pics of the buddies
3. Because this looks comfortable
4. So regal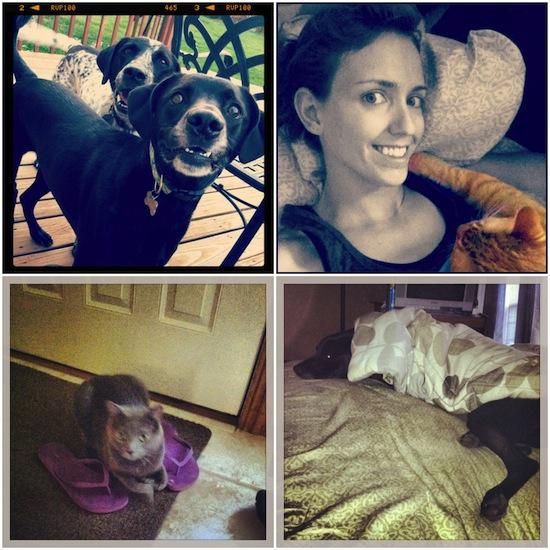 1. Throw the ball!
2. Cat hug
3. Flip flopper
4. Tucky taco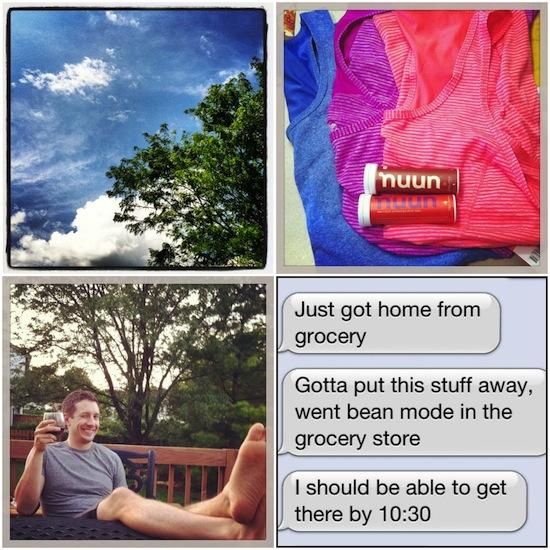 1. FINALLY sunshine here in Ohio!
2. Surprise package from my girl Lisa at Run Wiki. Made my day!
3. Hubby training for the crossfit games 🙂
4. Why I love my friends- They go "bean mode" at the grocery store!
 ———
In the News
———-
8 Health Food Fakeouts
The RD behind the USDA's supertracker
Non Drug treatments for hypertension
Diabetes tied to timing of baby's first solid foods
3 short workouts or 1 long?
Nearly 1 in 6 American receive food stamps
The science of positive thinking
Why do some people love broccoli and some hate it?
How your flip flops are killing your feet
High cell phone usage linked to less physical activity
Exercise up but so is obesity
Fish oil tied to prostate risk but some experts skeptical
Americans living longer but not healthier lives
Crush college debt
That's all friends!
Enjoy!
–Lindsay–