Hi Friends!
We're a day behind over here because of the holiday but have no fear! It's time for Bean Bytes!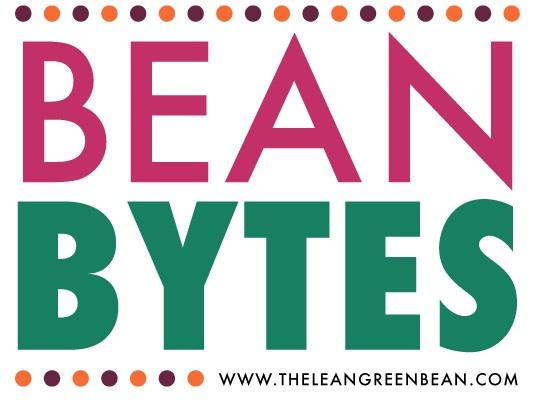 ————
Link Love
————
Monday
For runners that need help with their breathing:
How to breathe while running via Run to the Finish
You guys don't want to miss this. SIGN UP NOW!
Summer Best Body Bootcamp Registration is now open via Best Body Fitness
What do you think?
Are successful bloggers cliquey? via Mizfit Online
So true:
You won't find happiness in a smaller pair of jeans via Running with Spoons
A great blog issuing weekly kindness challenges. Check it out:
Year of kindness challenge: Week 20 via Day by Day Masterpiece
Love this:
Weighty issues via Gabby's Gluten-Free
Tuesday
What do you think?
Is variety really the key to healthy living and weight loss? via The Candid RD
Great resource:
The ultimate guide to landing your first job via The Daily Muse
Great response to Laura's No Shit Diet post from last week:
Intuitive Eating via Life + Running & Sprint 2 The Table
This will help you install all those plugins I recommended!
How to install a wordpress plugin via Blog Genie
A heartbreaking yet beautiful story. I dare you to watch without crying.
You don't have to find out you're dying to start living via Upworthy
So true:
We are all connected via The Shine Project
Some good tips:
How to eat healthy when you just can't find the time via No Meat Athlete
Yes.
All dieting taught me was impatience via Live Love and Run
Which do you choose?
Passion vs. Money via Erica House
For mama's to be and new moms:
Baby Must Haves via The Avid Appetite
Wednesday
Such an inspiring transformation!
Theodora's story: From overweight to marathon via Fannetastic Food
Very interesting. What are your thoughts?
Can you win and still not be enough? via Truth to being fit
A great reminder:
Sometimes it's ok to let life get in the way of fitness via Best Body Fitness
If you love salmon:
13 salmon recipes for summer via Nutritious Eats
If you love salads:
Build the perfect summer salad via Badass Fitness
Great tips:
How to connect with other bloggers via Freeing Imperfections
Thursday
Download a free running playlist!
Girl of Fire 10k Training mix via Katy Widrick
A much needed reminder:
Don't forget to just be via Love Life Surf
Why do bad things happen?
Where the magic happens via Olive To Run
LOVE what this girl is doing
Words into Actions via Run Pretty
A must read:
Fear & Loathing on Facebook via Real Mom Nutrition
LOVE this:
BeYOUtiful via Donloree
Friday
A great message:
Get your hopes up via Strong Inside Out
Some great advice:
How to be a better spouse via Cotter Crunch
Yes!
Six nutrition rules worth breaking via Nutrition Unplugged
On gardening:
How to build raised bed gardens via The Splattered Apron
Mastering Compact Gardening via Wannabe Country Cleaver
Some good tips:
Is stress making you fat via Fun and Fit
 ———–
Scenes from the Week
————-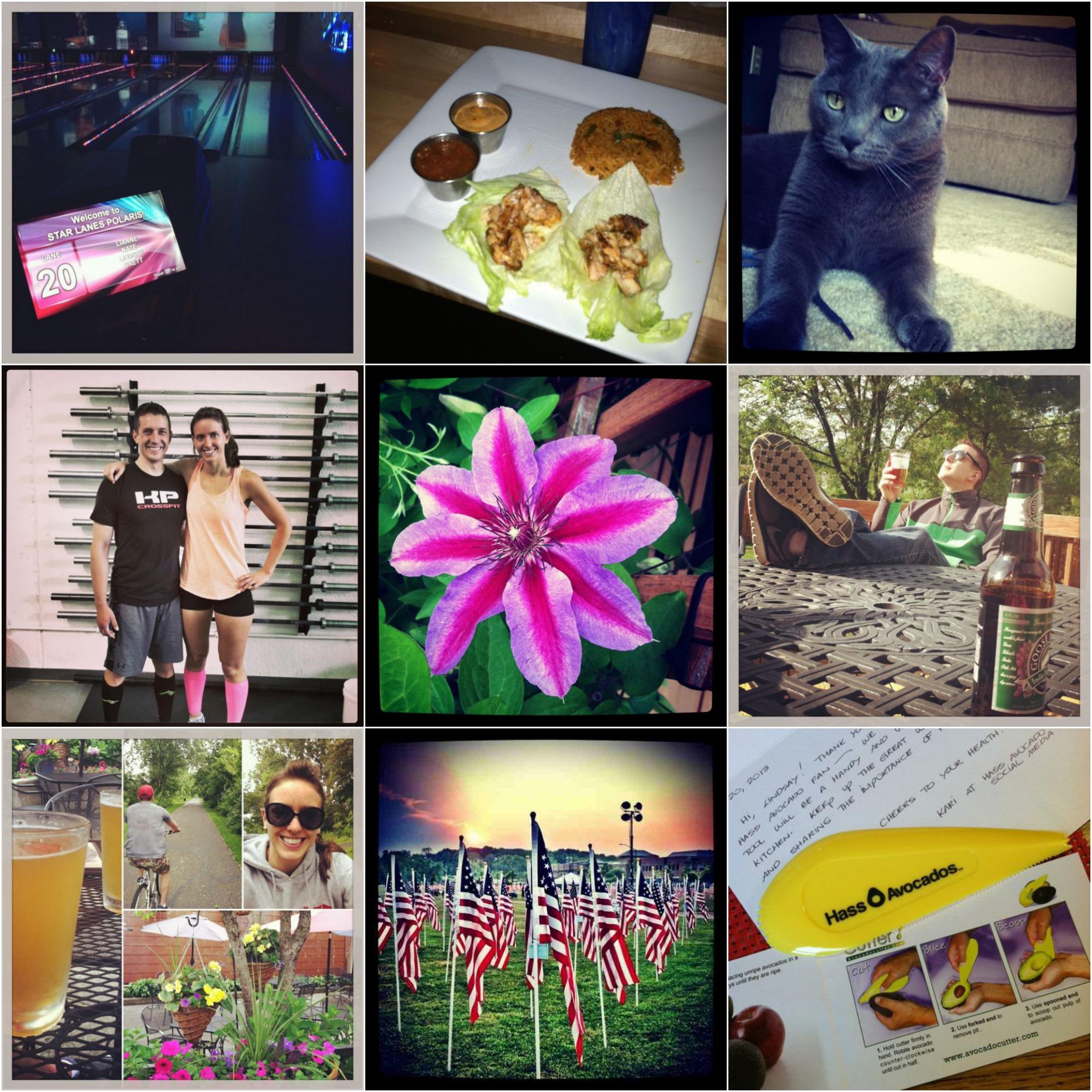 1. We went bowling with friends at the new "upscale" bowling alley that opened by our house.
2. These are the $11 chicken fish tacos they served me. Lame. The food was terrible. The service was terrible…and needless to say, we won't be going back 🙂
3. The little one.
4. Hubby & I after we did "Murph" -the hero WOD we did for Memorial day- 1 mile run, 100 pullups, 200 pushups, 300 squats, 1 mile run.
5. My clematis is so pretty this year.
6. Enjoying a deck beer. It was a little cool this weekend, but sunny most of the time at least.
7. An afternoon bike ride adventure with hubby.
8. Remembering the true meaning of memorial day.
9. Fun avocado tool my friends at Hass Avocados sent me!
—————-
Twitter Favs
—————
Functional at 40: Why crossfit just might save your life
The problem with perfection
5 steps to make people eat exactly what you want
Why the family meal is crucial to civilization
Don't be a running snob
Photoshop Fallacy
It can wait- why I don't text and drive
Thirty Two
Top 10 Financial Lessons from Arrested Development
Be more selfish in your twenties
11 compound word errors that might make you look like a numbskull
Can I accept my body and still want to change it?
Don't let best be the enemy of good
5 things i wish i knew at 22
Funny pinterest fails
Is age appropriate an outdated concept?
How to recognize signs of choking and what to do
To grieve is to human
Is marijuana the next diabetes drug
Truths for our daughters
An open letter to everyone who eats
Mom helps daughter channel icons, not Disney Princesses
————-
In the News
————
What do we eat? New food maps will tell us
ADHD in kids tied to adult obesity
5 biggest mistakes people make with food and exercise
12 inspiring acts of random kindness
Add olive oil or nuts to guard brain
Eating sweets doesn't make you more likely to be fat 
When it's worth it to skip a workout and sleep
People choose larger portions of healthy foods
————-
Coming Soon
————-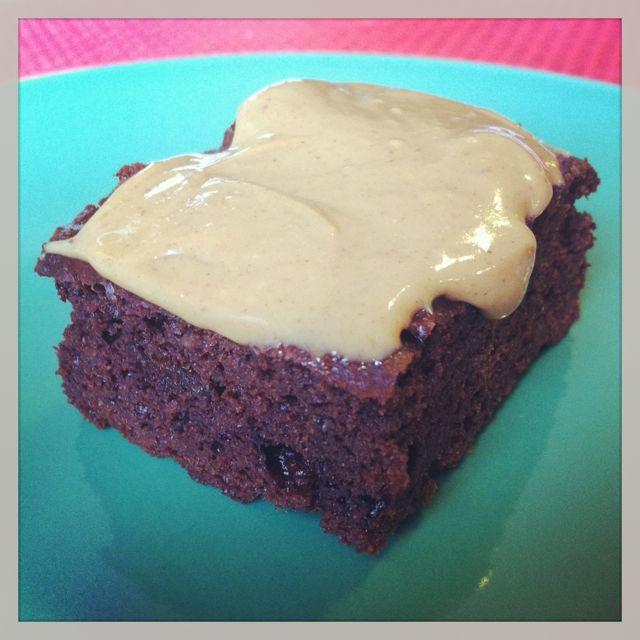 Healthy Brownies
I've already made them twice.
I tested them out on some tough critics.
They passed with flying colors.
Recipe coming tomorrow!
Enjoy!
–Lindsay–