Hi Friends!
It's Monday. Probably the best Monday of the year….because it's my birthday! Birthdays definitely make Mondays a little less painful 🙂 Plus it's time for more bean bytes and that's always a good thing.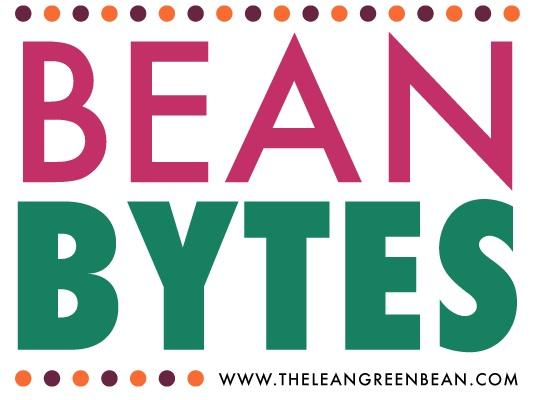 ———–
Link Love
————
Monday
Honest and real. Loved it!
Reclaiming my voice via Frolic Through Life
For you Costco shoppers:
A Clean Eater's Guide to Shopping at Costco via Eat Spin Run Repeat
To help you clean:
30 Minutes to a Clean House via Food Fitness and Family
Pageviews aren't everything- READ THIS:
Organic Blog Growth via A Royal Daughter
Tuesday
Great point!
Getting a personal trainer isn't always about losing weight via Thrive Personal Fitness
Great natural skincare idea:
Grapefruit Brown Sugar Scrub via Lift Love Life
Great tutorial for salad in a jar:
Salad in a Jar 101 via Back to Her Roots
How do YOU find races?
How do you find races via Peanut Butter Fingers
Tips for eating healthy on a budget:
Living on a budget: Eating Healthy via Slim Sanity
A must read:
What I "really" look like via Fit Mama Training
Wednesday
Check it out if you like small, monthly goals and challenges:
We have 9 months via Olive to Run
What do you think?
Does it take a gift to be a runner? via Live Love and Run
So important!
5 tips for self advocacy via Love Life Surf and Run to the Finish
Couldn't love this more if I tried!
Grab laptop. Fire up Printer. Join Me via Mizfit Online
Are you an athlete? Do you get regular sports massages?
Injury Prevention: Sports Massages via Runladylike
Must make this:
Salmon Salad Stuffed Avocado via Nutritious Eats
Have you tried any of these?
Natural remedies for acne via My Mostly Healthy Life
Gosh I love this girl:
Weight loss tip: managing expectations via Kate Moving Forward
Thursday
Um, yes!
Fudgy dark chocolate date frosting via Back to Her Roots
On finding your happy weight:
We broke up…the scale via It's Progression
Find your happy weight via Best Body Fitness
Interesting:
Fat and then carbs: Latest in pre-race nutrition for marathons and ultras via The Fit Fork
Friday
Two yummy recipes in one post:
Sesame Ginger Quinoa Wraps and Panko Crusted Asparagus via I Heart Veggies
Loved this:
Are you motivated or or are you committed via Mizfit Online and Thrive Personal Fitness
Honest and real:
Thoughts on the F-word via Kiss My Broccoli
————
Twitter Favs
————-
21 incredibly important diagrams to help you get through life
In defense of the basement entrepreneur
WordPress plugins- ranked
Four years, five months, ten days
Twitter 101: A tutorial for the timid
What motivates us at work
The problem is you: time to face your weakness
How to optimize your business blog
27 time-saving tools and tricks to be a more productive marketer
Mealsharing– a cool website!
How the IRS hurts mothers
Reasons my son is crying
Iceber.gs – for you visual people
How not to say the wrong thing
38 completely normal thoughts to have as college graduation looms
10 annoying social media habits you need to stop doing
The best skincare item i've ever found
Stop instagramming your perfect life
Every day i'm parentin'
Why I am a dietitian
Stop lying to yourself: how to change the voice in your head
Things I would tell my younger self
————-
Scenes from the Week
————-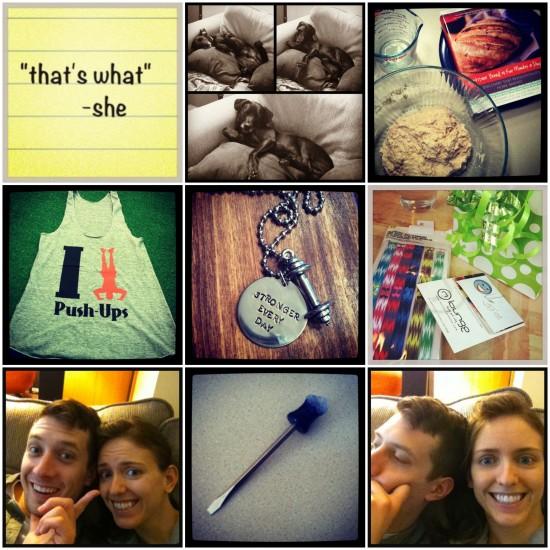 1. Saw this on a bumper sticker- thought it was hilarious
2. Tucker just can't get comfortable
3. Made homemade bread for the first time in months. So good.
4. Birthday present from some crossfit friends! LOVE it. It's from here.
5. Birthday present from hubby. OBSESSED. It's from here.
6. Birthday present from my in-laws. They know I love my pedicures 🙂
7 & 9. Just us.
8. The latest dog destruction.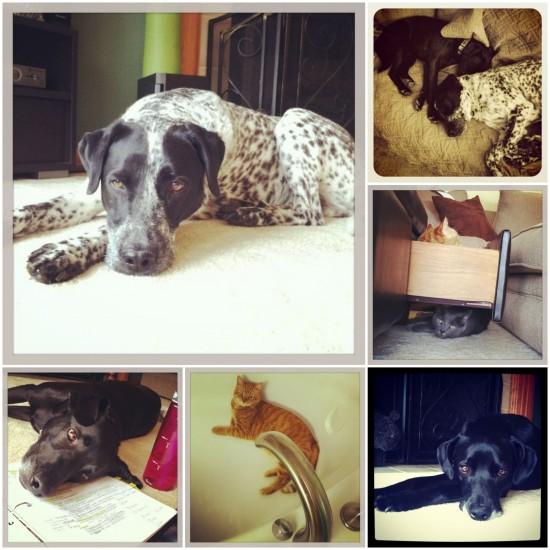 Our fur babies 🙂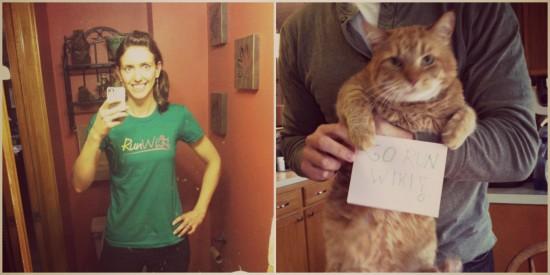 Special shoutout to my girl Lisa who is running THE BOSTON MARATHON today!!!  I'm wearing my shirt for moral support. Plus, she loves my cat almost as much as I do and she fondly calls him #plumporangebean– he wanted to make her a sign to cheer her on since even thinking about running a marathon wears him out.
————
In the News
————-
Carnitine, not fat, may explain risk between red meat and heart disease
So how flexitarian are you?
The new resume: it's 140 characters
Pea protein in the spotlight
Should people with diabetes eat potatoes?
Avoiding gluten? You can still eat whole grains
Low carb diet won't help gestational diabetes
Breakfast key to healthy weight
 That's all friends! Have a great day.
Enjoy!
–Lindsay–