Hi Friends!
Time for more Bean Bytes!
————-
Link Love
————-
Monday
Great post about running:
Running, my life manual via Run Wiki
Absolutely love this:
Leaving margins via MizfitOnline
An amazing project for an amazing girl:
The "we heart you" project via Pavement Runner
Food and guilt:
When it comes to food, does guilt help via Foodtrainers
Tips for group fitness:
5 Things you should know before going into a group fitness class via Sprinkle Massacre
Email organization tips:
Getting organized in the new year: emails via Savvy Eats
Tuesday
A great list of blogs that cater to the 45 years and older crowd!
Age Actively using these resources via Fun and Fit
Good reminders to do what works for you:
Be Your Own Runner via NYC Running Mama
No i'm not running a half marathon via Making Good Choices
Straight from the heart:
How Blogging Aided My Body Image via Wild Things Run Free
Wednesday
Tips for exercise motivation:
The Psychology of Motivation- Exercise Edition via Erica D House
Pros and Cons of the Paleo Diet
The Paleo Diet: Cons & The Paleo Diet: Pros via Side of Sneakers
Why Paleo wasn't for me via Fitting it all in
Thursday
So much respect for her:
Life right now via Tina Reale
So fun!
Broccoli Breadsticks via Purely Twins
on the quinoa debate:
To eat quinoa or not to eat quinoa via Inspired RD
On apple cider vinegar
Apple cider vinegar: what you should know via A Healthy Slice of Life
On The Biggest Loser:
Weight loss reality shows: good bad or ugly via Nutrition Unplugged
Friday
Great post:
It's not just about food via Chivon John
On switching to full-fat foods
Making the switch to full-fat via A better Life with Burgers
Great reminder for all you mama's to be:
20 things not to stress about when you're pregnant via Sweet Tooth, Sweet Life
 —————-
Twitter Favorites
—————–
The Now of Crossfit – love this!
Dear content writer, why i won't accept your guest post
Tips for waking up early
Stop using these 16 terms to describe yourself
8 things your grandparents did that could save your life
Screw the skinny jeans, you're a goddess god damn it
10 secrets of professional writers every blogger should know
5 healthy ways to calm yourself when you're about to lose it
How to raise grateful children
20 variations of the pushup
7 things that are considered an accomplishment for 20 somethings
SEO Guidelines- headlines vs page titles
 ————————
Scenes from the Week
————————-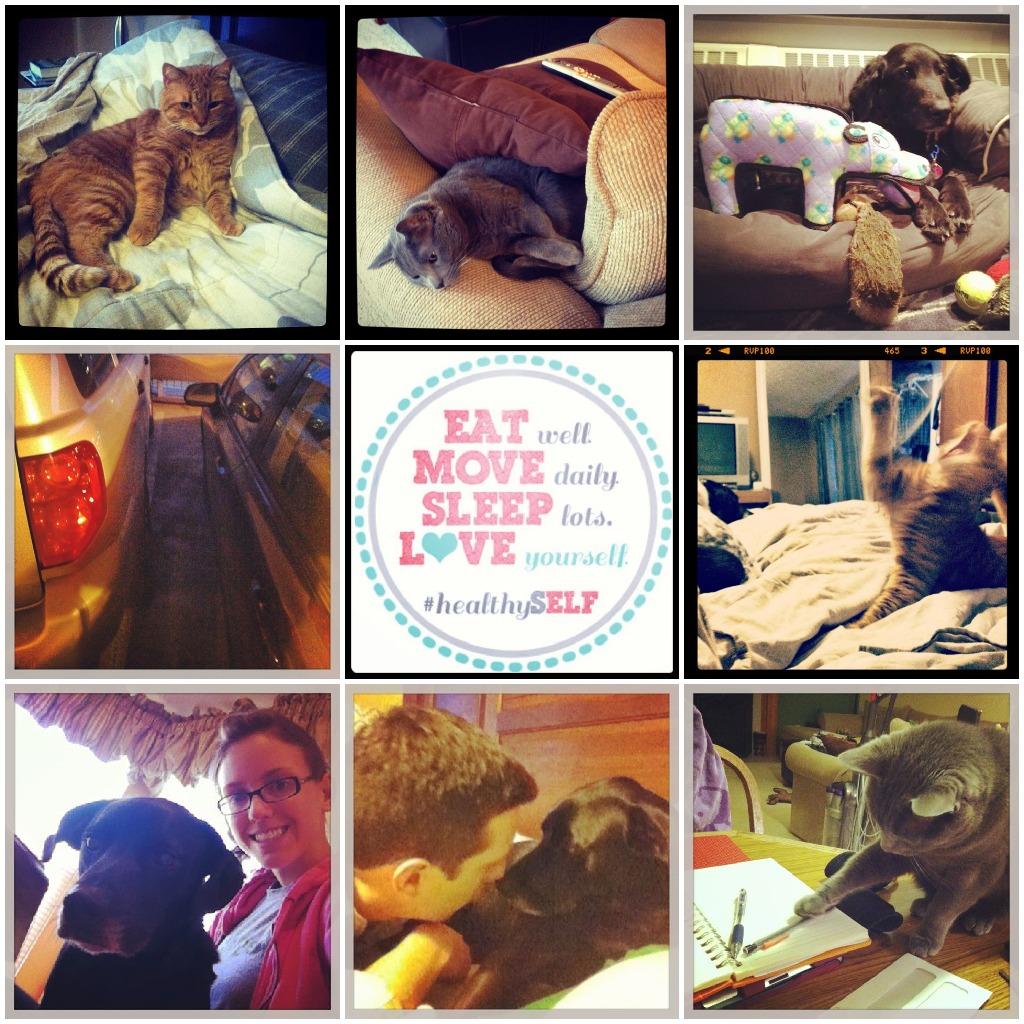 1. Marcus is appalled that I asked to share this nap spot
2. Because this is a totally normal spot for a cat to lay…weirdo
3. My mom's dog Jake is not thrilled with his new toy
4. How annoying is it when someone parks so close to you that you can only get your door open like 4 inches?! Hate that.
5. The Healthy Self challenge kicks off today!
Sign up here if you haven't already.
6. Action shot of Marcus chasing his string
7. Tucker being super clingy. He's convinced he's a 50 pound lap dog.
8. Dad and dog sharing secrets
9. Thief!
————-
In the News
————
High fruit and veg intake helps keep the blues at bay
Healthy brands taste better in consumer's mind
Healthy eating: Small changes lead to big results
Should schools serve lunch AFTER recess? –> My opinion is yes!
Supplements for kids- are they necessary?
Are eggs healthy
On the wheat belly diet
Greek yogurt may be coming to a school near you
WHO issues first sodium guidelines for children
Smaller snack portions just as satisfying –> yes!
That's all, friends!
Happy Monday.
–Lindsay–