Hi Friends!
Time for another round of Bean Bytes. We took a few weeks off. Here's what you missed: A lot of people did 2012 wrap-up posts one week, then a lot of people did 2013 Goals posts the next week. And new we're back in business!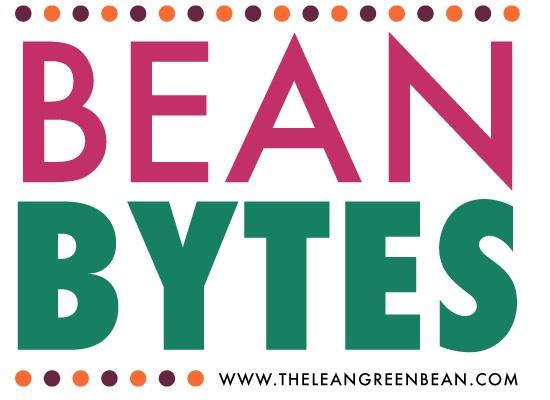 ————–
Link Love
————–
Amidst all those wrap-up and goal posts, there were a few that stood out:
Strive for balance:
5 tips for keeping your life balanced via Run Wiki
Loved this reflective post!
What 2012 taught me via Chivon John
Info on using weight loss apps:
Accounting for Exercise when using weight loss apps via The Candid RD
A very well-written post about a heart-breaking subject.
My battle with infertility via Say what you need to say
Great tips for bloggers:
How to get a professional looking blog via Shareaholic
Love.her.
I'm not my leanest via Tina Reale
A fun fitness challenge by 4 great girls!
Go the Distance 2013 via Life After Bagels
On prioritizing.
Sometimes you prioritize via Determined To Be
———————
Then we moved on to last week:
An awesome kickstarter project for portion control
Simple Portion Bowls via No Sugar Sweet Life
Goes right along with my follow your dreams post!
Are you afraid of making your dreams a reality via Strong Inside Out
A must read for bloggers:
The Ultimate Blog Post Editing Checklist via Shareaholic
Love these.
On my blog voice and Diets, Resolutions and Body Image via Live Love and Run
So. true. Love this girl.
It's not supposed to be easy via It's Progression
Great workout advice!
Scaling Like a Boss via Savvy Sassy Me
On changing your mindset:
Change your expectations via Fiterature
What are your thoughts on this?
Israel's Model Law via Greatist
Another discussion-provoking post.
Diet Programs Target Anorexic Teens via Fitting It All In
A virtual race for a great cause:
Kyle's Krusade Virtual 5K, 10K and half marathon via Run Wiki
 ————-
Twitter Favorites
————–
Guide to visiting a new baby 
Top 10 reasons why first time entrepreneurs fail
Blogging Advice
10 reasons why you matter
Be with me. Just for today. – heartbreaking.
Whole Food Dairy Free Cheese Substitutes
Social Media ettiquette your mom taught you
No one has it all together
Food Blogger Trends that Need to Go
Homemade Gift Ideas for Boys
Using Microsoft One Note to increase blogging productivity
163.8 pounds later
Lots of posts on how to improve your blog
26 acts of kindness you can do right now
10 things every 10 year old should know
——————-
Scenes from the Week(s)
——————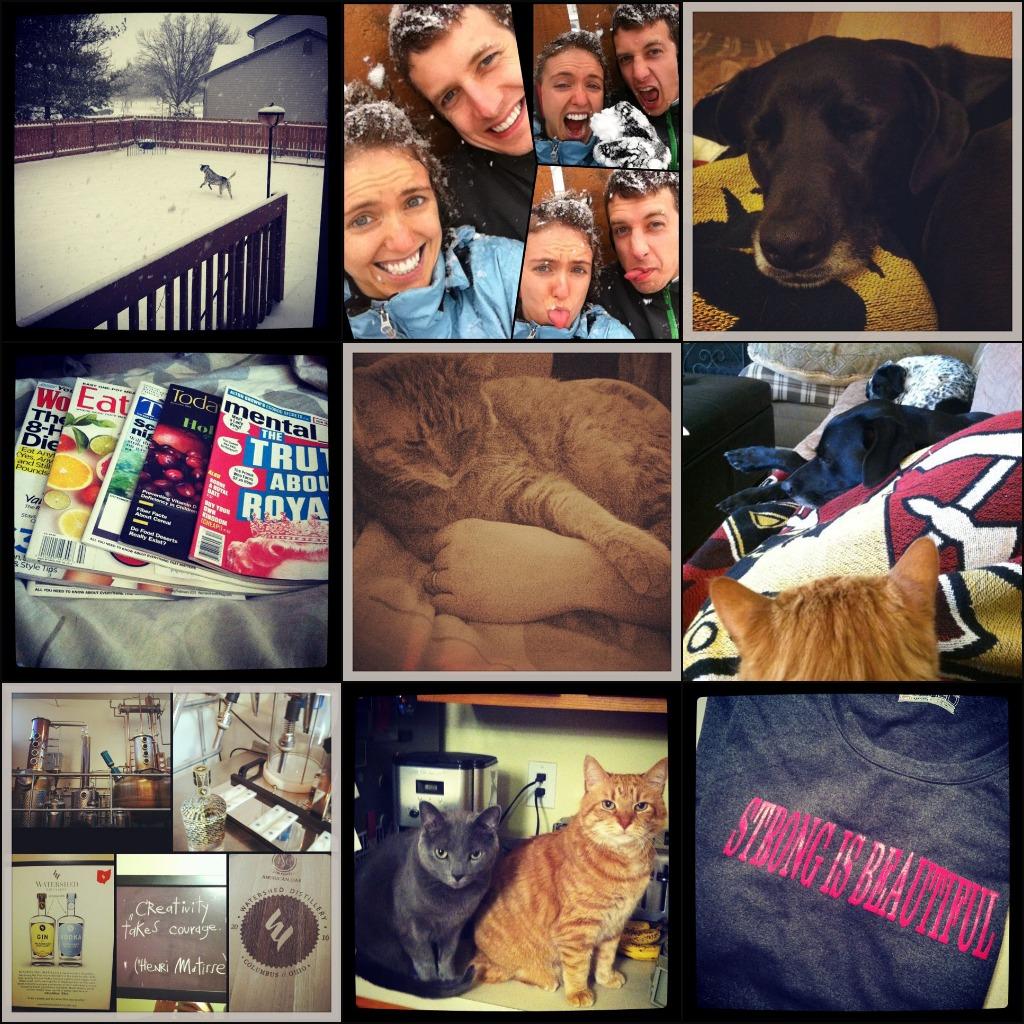 A quick recap of my winter break:
1 & 2. Fun in the snow!
3. Lots of lounging
4. Catching up on magazines
5. Marcus loves his daddy
6. See #3
7. A tour of Watershed Distillery
8. Cats
9. Ordered a Strong is Beautiful shirt from my girl
Katie @ She Rocks Fitness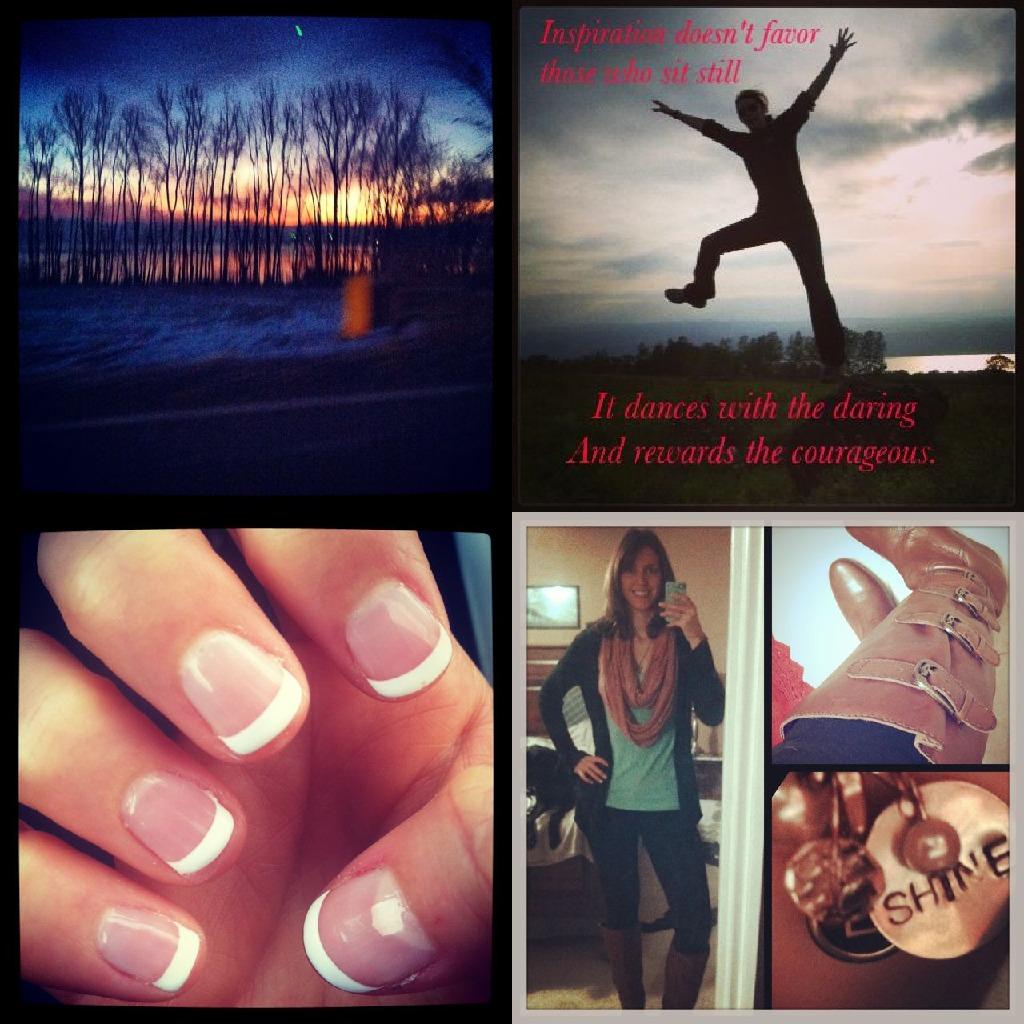 First week back at my internship.
It involves a 45 minute commute each way, every day.
My facebook status pretty much sums it up:


Bright sides:
I see a lot sunrises.
There's no traffic when you have to leave your house at 6am.
Most days I still get home in time to go to crossfit.
I treated myself to a manicure, haircut & eyebrow wax on Friday.
I still had enough energy to go out with friends on Saturday!
————
In the News
———–
Dash Diet and Weight Watchers top list of best diets
Diet Drinks Tied to Depression
—————-
That's all, friends! Happy Monday!
–Lindsay–