Hi Friends!
Time for Bean Bytes!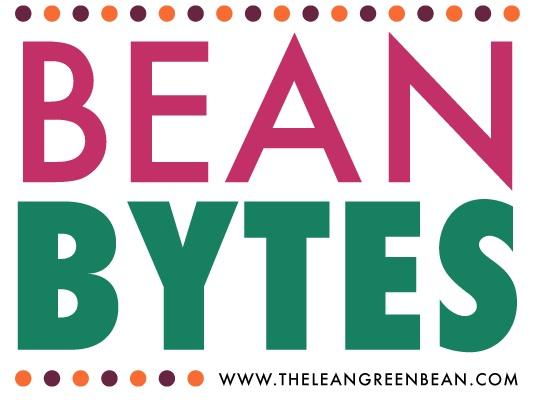 Self-Love:
5 Reasons Why You Should Love Your Body via Be Truly Nourished
Keeping It Real:
The Naked Truth: The Obsessive Fear Of Weight Gain During Injury via Lifting Revolution
3 Healthy Eating Mistakes You're Making via Bex Life
Can I Do That? via Eat, Lift, and Be Happy
You Can't Have It All via Creating Better
Food For Thought:
Pushing your PARTNER to be their BEST via Katrina Elle
What's Wrong With Average? via Carla Birnberg
The Danger of Weight Based Self-Identity via Avocado a Day
Are You Lucky? via Carla Birnberg
Influence. You Already Have It. via Becoming Minimalist
Enough With the "Real Women" Nonsense  via Lift Like a Girl
Work It Out:
Hill Workouts for Strength and Speed via Fitaspire
The 'Sit Your Booty Down' Seated Kettlebell Workout via The Lifting Revolution
8 Minute Jump Rope Workout via Veva
Core and Glutes Workout via Blonde Ponytail
Fast and Furious Total Body Functional Workout via Coach Debbie Runs
The 7-Minute Routine for Back Pain Relief via Greatist
Babies & Kids:
15 Fun and Food-Free Ideas for Classroom Rewards via Real Mom Nutrition
Teaching Kids About Money, Naturally via An Everyday Story
7 Steps to Taming the Tantrum via A Healthy Slice of Life
It's Not You. It's Them. via Momastery
What To Expect When Your Son Starts Puberty via Monica Swanson
Of Toddlers and Truth via Design for Mankind
Want to Raise a Good Eater? Let Your Child Make These 3 Mistakes via Raise Healthy Eaters
Tips & Tricks:
How to Improve Your Kitchen Knowledge via Delish Knowledge
How to Freeze Corn via Back to Her Roots
How to Maintain, Harvest, and Enjoy a Vegetable Container Garden via Foodess
10 Awesome Fitness Apps for Beginners via Maybe I Will
Healthy Kitchen Hacks #22 – Back to School Lunch Edition via Teaspoon of Spice
11 Slow Cooker Secrets and Recipes via Love & Zest
Gym Hairstyles Beyond the Messy Bun via Fitfluential
7 Daily Habits for a Clutter-Free Home via Becoming Minimalist
3 Ways to Overcome Discouragement via Cotter Crunch
Blogging Info:
How to Create Brand Identity via Simply Nicole
Great Bloggers to Follow to Improve Your Own Blog via The Runner Beans
#Hashtags for Food Bloggers via The Simple Sweet Life
How to Take Razor Sharp Photos (Without Pro Gear) via Food Blogger Central
Nutrition Info:
Fiber and Gut: How Much Do You Really Need? via Chocolate Slopes
Why I Don't Purposely Buy Organic via Mom to Mom Nutrition
6 Things You Don't Know About Registered Dietitians via Nutritional Natalie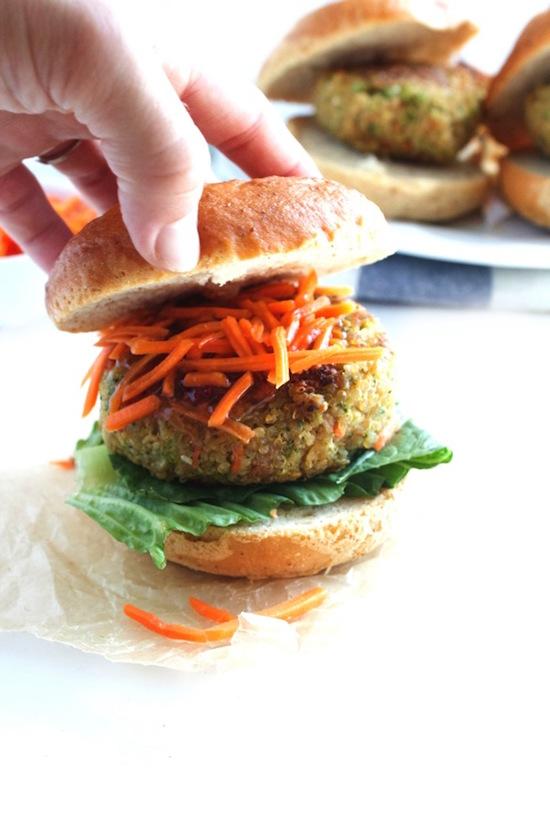 Meatless:
Roasted Hatch Chile Avocado Mac n' Cheese
Vegan Cauliflower Shells and Cheese
Asian Quinoa Burgers
Ratatouille Pappardelle
Comforting No-Meat Balls
Sesame Ginger Tofu Spring Rolls With Spicy Peanut Sauce
Breakfast:
Pumpkin Spice Baked Oatmeal Cups
Triple Ginger Apple Streusel Coffee Cake
Paleo Zucchini Bread
26 Easy Recipes for Breakfast On-the-Go
Cornbread Waffle Breakfast Sandwich
Lemon Almond Breakfast Bites
Overnight Banana Bread Oatmeal
Lunch:
25 Gluten-Free Dairy-Free Lunch Recipes
Avocado Toast Salad
Farmer's Market Ramen
Hummus Wrap
Grain-Free Sandwich Bread
Dinner:
Grilled Garlic Lime Flank Steak for Tacos and Fajitas
Ginger and Soy Shrimp With Bean Sprouts and Snow Peas
Healthy Chicken Broccoli Fettuccine Alfredo
Lemon Garlic Chicken Kabobs
26 Healthy School Night Dinner Ideas
Balsamic Steak and Peach Salad
Grilled Rosemary Chicken Skewers
5 Ingredient Fish
Sides:
Summer Farro Salad
Fresh Cantaloupe Salsa
Baked Shoestring Fries with Garlic and Thyme
Tangy Vegetable Salad with Feta
Snacks:
5 Healthy Snacks For the Kids
Peanut Butter, Banana, and Chocolate Chip Granola
50 Healthy Gluten-Free Snacks for Back-to-School
Sunflower Whole Wheat Bread
Easy Homemade Flatbread Crackers
Paleo Chocolate Coconut Pistachio Bites
35 In Between Meal Snacks
Easy Ginger Spiced Granola with Ancient Grains
Healthy After-School Snack Recipes
Soft Pretzels
Apple Nachos
50 Healthy Game Day Recipes
Overnight Oatmeal Raisin Bars
30 Uber Gooey Cheese Dips
Drinks:
Oatmeal Cookie Dough Smoothie
Watermelon Spritzer
Apple Gingersnap Sangria
Dessert:
Gluten-Free Applesauce Bundt Cake
Blueberry Nectarine Ginger Jam
Gluten-Free Pluot Torte
Double Chocolate Fudge Cookies
Brownie Berry Parfait
The Easiest Most Delicious Protein Mug Cake Recipe Ever
Healthy Peanut Butter Cookies
Quick and Easy Chocolate Peanut Butter Fudge
Healthy Chocolate Banana Fudge
Whole Grain Caramelized Banana Bread
Oatmeal Lunchbox Cookies
Almond Butter Cacao Nib Paletas
Bourbon Butterscotch Pudding
Brownie Pie
Other:
27 Insanely Good Zucchini Recipes You Need In Your Life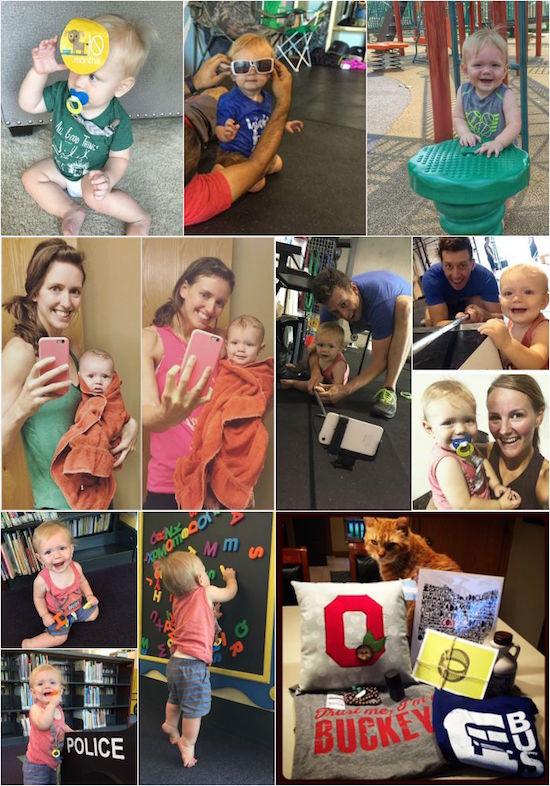 In case you missed it – 10 month update
Can you believe how much he's grown in the bath pictures?!
Squish learned how to use a selfie stick.
We had a great time at the library- he loved the magnets.
Simply Vague sent me a great box of local goodies.
Check them out if you're in Columbus.

I Spent A Month Responding To All PR Emails with "I Love You" <– hilarious
No You Don't Have To Drink 8 Glasses of Water A Day
13 Great Things To Say To Sleep-Deprived New Parents
How The US Is Neglecting Its Smartest Kids
Here's What Bothers Me About National Breastfeeding Month
Non-Dairy Milk – Which Is Healthiest
Why It's Time To Rethink The Concept of Cleansing
11 Food Safety Mistakes You Don't Know You're Making
5 Reasons You Should Be Cooking With Kids
5 Key Takeaways For Evaluating Nutrition News in the Media
Companion App Lets Friends Virtually Walk Friends Home
5 Parenting Apps To Get Over – Like Now
16 Kitchen Skills Every Home Cook Needs
Back To School Lunches Printable Cheat Sheet