Hi Friends!
Hope you all had a wonderful holiday weekend! Time to catch up on what you might have missed last week!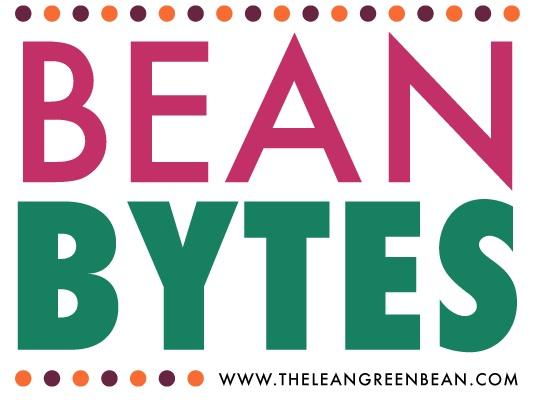 Self-Love:
Top 5 Favorite Body Positive Podcasts You Need to be Listening To via Bagels to Broccoli
Intermission via Carla Birnberg
Keeping It Real:
Girls Wearing Bikinis via Carla Birnberg
Balancing Blogging + a Baby via The Lunchbox Diaries
The 7 Rules of Compliment Club via Joy the Baker
Work It Out:
Why Try Kettlebells? via Blonde Ponytail
What Every Runner Should Know About Running Hills: How, Why and When to Do Them via Run to the Finish
Awesome and Easy Beach Workouts via Katy Widrick
19 Track Workouts via Fitfluential
Comprehensive Physical Fitness via Jill Conyers
15 Minute Kellebell Workout via Blonde Ponytail
A Squat-a-liscious Tabata Workout, Brick Betty, and the Lucky Streak via Coach Debbie Runs
Food For Thought:
Is Exercise Causing You to Gain Weight?  via The Lifting Revolution
How Mindful Eating Can Make You Fall in Love With Food via Kara Lydon
Slowing Down: How Being Mindful Can Help Your Business via Danielle Zeigler
7 Reasons Why You Should NOT do a Sugar Detox via Lift Like a Girl
Babies & Kids:
11 Dairy-Free Desserts Kids Will Love via Care.com
An Unconventional Way to Educate Kids About Nutrition (and Why it Works) via Raise Healthy Eaters
Tips & Tricks:
7 Day Digital Detox for Real People via Greatist
Clean and Cheap Shopping at Trader Joe's via Marissa Moore Nutrition
5 Social Ways to Stay Fit This Summer via Diary of an Ex Sloth
How to Make Amazing Vegan Cheese via Lifting Revolution
16 Ways to be Successful via Hello Neverland
Fueling Tips for Summer Training via Real Food for Fuel
Tips for De-Cluttering Your Home via Through Heather's Looking Glass
Blogging Info:
10 Things Readers Find Annoying About Your Blog via Food Bloggers Central
How to Create an Autoresponder for Your Mailing List via Elle & Co
6 Tips for Managing Your Social Media When You Have No Time via Coach Debbie Runs
Nutrition Info:
Plant Based Probiotics for Vegans (or Yogurt Haters) via Oh My Veggies
3 Ways to Eat More Turmericc (And Why You Should)via Imma Eat That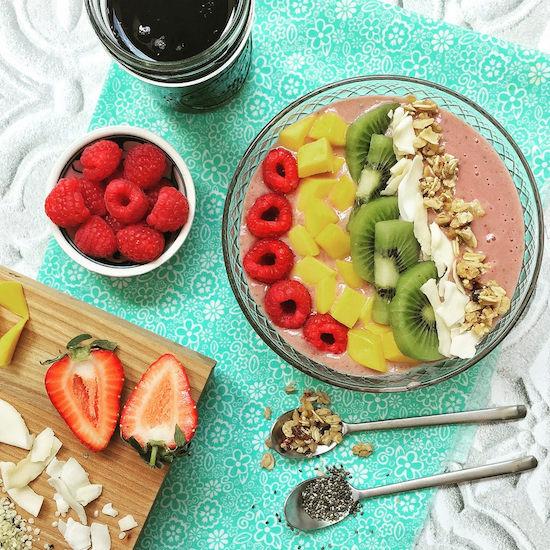 Meatless:
Spicy Brazilian Burrito Bowls
Grilled Fiesta Veggie Burger
7 Vegetables to Spiralize Beyond Zucchini
Spicy Plantain Black Bean Tacos
Black Bean Carrot Veggie Burgers
Rainbow Soba Noodles with Peanut Sauce 
Breakfast:
Cherry Apricot Coconut Oil Muffins
Baked Raspberry Filled Caramel Donut Holes
Chicken Fajita Breakfast Bake
Buttermilk Apple Pancakes
Purple Power Smoothie Bowl
Blueberry Coconut Muesli Bars
Blueberry Yogurt Muffins
Fruity Flourless Breakfast Pizza 
Lunch:
16 No Beef Burger Recipes
Slow Cooker BBQ Chicken Tostadas
Baked Falafel Salad Bowl
Avocado Egg Salad Toasts
Pizza Pasta Salad
Cashew Crusted Chicken Fingers
Cherry Almond Chicken Salad Sliders
Tuna Spring Rolls
Cranberry Honey Mustard Meatloaf Sandwiches
Grilled Italian Sandwich 
Dinner:
Grilled Chicken with Sriracha Almond Sauce
5 Healthy Dinner Salads for Summer
Baked Caprese Tuna Meatballs
Mango Chipotle Shrimp
Grilled Red Curry Shrimp Bowls with Squash and Basil Yogurt Sauce
Spicy Thai Tuna Chili Meatballs
Dietitian Approved Zucchini Noodle Recipes
Coconut Pineapple Fried Rice with Shrimp
Spicy Shrimp and Sausage Skewers
Pork Bacon Bread Kabobs 
Sides:
20 Healthy Avocado Recipes
Sweet and Spicy Summertime Guacamole
Whipped Lemon Burrata Crostini with Grilled Shrimp and Peaches
Creamy Blueberry Broccoli Slaw Salad with Kefir Yogurt
Sweet Potato and Cauliflower Tabbouleh
Spinach Artichoke Mac 'n' Cheese
Spicy Pico De Gallo
Grilled Zucchini and Corn Summer Salad
Three Steps to Perfectly Cooked Sweet Corn 
Snacks:
Strawberry Avocado Polenta Bites
Paleo Sriracha Almond Crackers
Savory Vegan Zucchini Muffins
Strawberry Shortcake Energy Balls
Baked Carrot Fries
Tropical Quinoa Protein Bars with White Chocolate and Chickpeas
The Ultimate Healthy No-Bake Snacks
Cocoa Cashew Pretzel Bites 
Desserts:
Raspberry Limeade Ice Cream Sandwiches
Mocha Freeze Dessert Smoothie
Peanut Butter Chocolate Chip Skillet Blondie
Blueberry Lemon Yogurt Cake
Blueberry, Peach, and Basil Cream Pops
Whipped Banana Cream Cheesecake Shake
Amazing Ice Cream Round-Up
Gluten-Free Vanilla Plum Crumble Bites
Almond Chickpea Blondie
Chocolate Pudding Pie
No Bake Mini Wild Blueberry Cream Pies
Mixed Berry S'Mores
Chunky Elvis Ice Cream
Healthy Alternatives for Apple Pie Treats 
Drinks:
30 Healthy Smoothie Recipes
Blueberry Prosecco
Tart Cherry Sports Drink
Cherry Watermelon Limeade 
Peach Raspberry Sangria
Mixed Berry Rum Slushies 
Other:
Three Ingredient Pork Rub Marinade
Broccoli Round-Up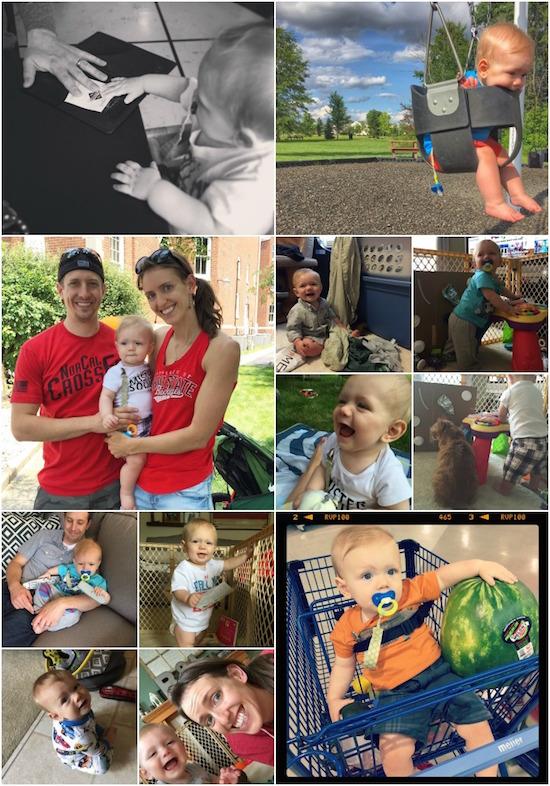 We had a lovely 4th of July weekend. It was so nice having daddy home for an extra day!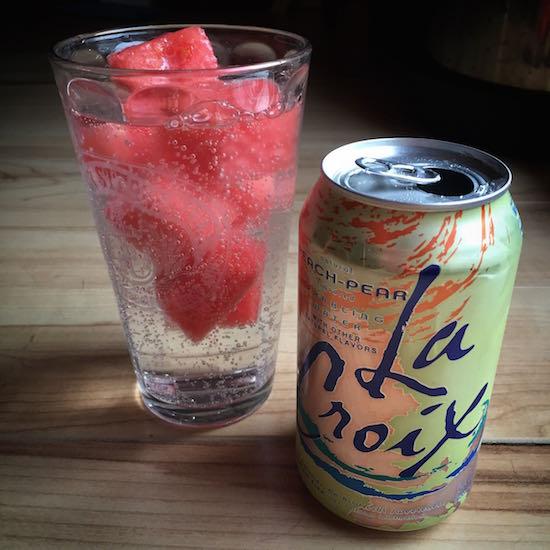 Side note- frozen watermelon cubes are better than ice cubes. Hubby gets credit for this idea. He says to try it with Lime La Croix but I prefer it with Peach Pear!
Enjoy!
–Lindsay–