Hi friends!
Time for another round of Bean Bytes!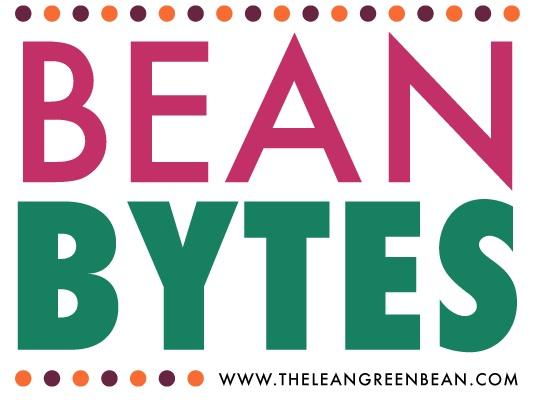 Self-love:
Low Body Confidence is Contagious via Avocado a Day Nutrition
Why I Am Postponing My Bikini Competition via Fitaspire
The Value of Pain via Carla Birnberg
Keeping it real:
Is Fitspiration Doing More Harm Than Good? via Lifting Revolution
Enjoy More via Enjoy Every Bite
Lean Into Fear via Love Life Surf
Selfies, Budgets & The Reality Distortion Field via Our Freaking Budget
Let's Get Horizontal via Carla Birnberg
What the "Dad Bod" Really Tells Us About How We Label Men vs. Women via Greatist
6 Productive Things to Do When You Have Nothing to Do via The Wonder Forest
Are You Eating to Please? via Moms Kitchen Handbook
Work it Out:
Finding My Run: Running After Injury via Love Life Surf
20 Resources for Legit Workout Programs That You Can Actually Afford via Greatist
17 Desk Stretches That Will (Almost) Replace Going to the Gym via The Muse
Benefits of Strength Training  via Jill Conyers
Food for Thought:
Why I'm Still Not Lovin' McDonald's via Real Mom Nutrition
Blogging is Dead. Long Live the Blog! via Carla Birnberg
Is Decision Fatigue Limiting Your Results via Run to the Finish
Babies & Kids:
Helping Your Child With Extreme Picky Eating: Author Q & A via Raise Healthy Eaters
How a "Snack Platter" Can Transform Snack Time for Kids via Real Mom Nutrition
Baby Led Weaning Breakfast Ideas via Back to Her Roots
What My Toddler Actually Eats via Enjoy Every Bite
Blogging Info
50 Tools Pro Bloggers Can't Afford to Ignore via Successful Blogging
A Bloggers' Guide to Building Your Instagram: Part 1 via In It 4 The Long Run
Ultimate SEO Guide for Bloggers via Hello Neverland
Tips For Better Blog Photos via DIY Playbook
How Bloggers Can Start Working With Brands via Tales of a Ranting Ginger
The WordPress Tool That Makes You an SEO Expert via Katy Widrick
14 Tips to Stay Sane, Organized, & Inspired As a Blogger via Danielle Zeigler
Working With Brands – What They Want via Rachel Cooks
60+ Super Helpful Resources for Bloggers via 365 Days of Crockpot
Tips & Tricks:
19 Morning Hacks for Nightowls Who Would Rather Still Be Sleeping via The Muse
How Spring Cleaning Your Kitchen Can Make Healthy Eating a Snap via Be Truly Nourished
DIY Gold Painted Herb Pots via A Couple Cooks
Healthy Kitchen Hacks via Teaspoon of Spice
How to Set Your White Balance via The Sits Girls
How to Plant A Container Salsa Garden via Back to Her Roots
A Guide to Knives and Cutting via Oh My Veggies
The 5 Rules of Personal Finance That Everyone Should Memorize via The Muse
How to Shop at ALDI via Jenna Braddock
How to Make Overnight Oats + Flavor Combinations via
ALDI 101 – 10 Ways ALDI Saves You Money via A Mind Full Mom
12 Tips For Instantly Improving Your Writing via The Muse
The One Thing More Important Than Budgeting via Our Freaking Budget
Nutrition info:
Listeria: WTF Is It and Should I Be Worried About All These Food Recalls? via Greatist
Hazelnuts: Nutrition Benefits and Recipes via Nutritious Eats
7 Red Flags of Misleading Nutrition Advice via Raise Healthy Eaters
Do You Eat Right For Your Sight? via Food Confidence
Is Plum Organics Misleading Consumers? via Fooducate
How to Eat 7 Servings of Fruits and Vegetables in One Day via Imma Eat That
Jamie Oliver and Ed Sheeran Rap About Nutrition via Greatist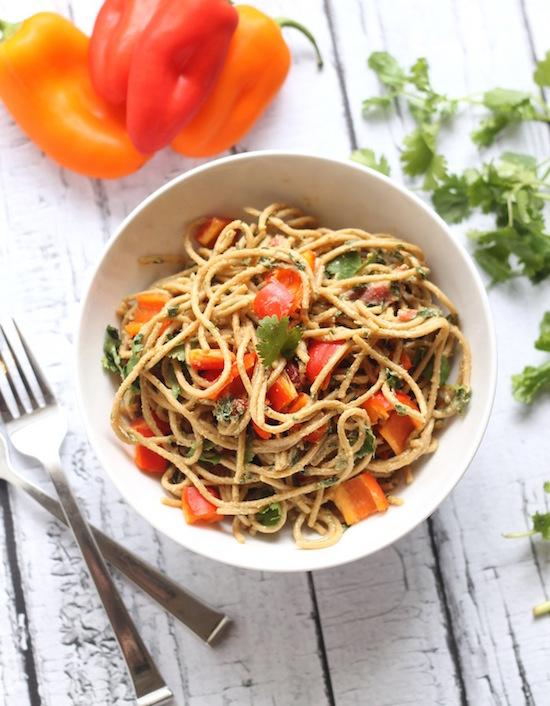 Meatless:
14 Vegan Recipes to Impress a Carnivore
35 Vegetarian Cookout Recipes
Zucchini and Sweet Potato Noodles with Thai Almond Sauce
Asian Peanut Noodles
Buffalo Chickpea Quinoa Burgers with Blue Cheese Dressing 
Breakfast:
Sweet Potato, Ginger and Almond Muffins
Baked French Toast Sticks
Frozen Mexican Breakfast Burritos
Pancake Mix Cinnamon Rolls
Bacon Avocado Tomato Breakfast Cakes
Whole Grain Peanut Butter and Jelly Muffins
Blueberry Breakfast Cookies
Chocolate Oatmeal Smoothie
Chocolate Raspberry Overnight Oats Parfait
Double Chocolate Almond Granola
French Toast Cups With Your Favorite Toppings
Lunch:
Clean Eating Taco Turkey Salad
Walnut Pesto Chicken Salad
Strawberry Salad Wrap
Gluten Free Crab Cakes
Spiced Tilapia Taco Salad 
Sloppy Joe Nachos 
Dinner:
Homemade Dry Rub and Grilled Chicken Legs
20 Minute Healthy Chicken Parmesan
Coffee Crusted Grilled Ribeye
Apricot and Bacon Glazed Shrimp with Quinoa
Slow Cook Chianti Pork Tenderloin
Baked Coconut Shrimp
Goat Cheese Stuffed Chicken Breasts with Blueberry Balsamic Salsa
Sides:
Roasted Poblano, Sweet Corn, and Potato Soup
Springtime Cheesy Garlic Bread
Spring Pea Pesto Pasta Salad
Roasted Sweet Potato Salad
Healthy Asian Snap Pea Salad
Pineapple Coleslaw + BBQ Sides
Easy Homemade Ketchup
Sourdough Demi Baguettes
Healthy French Onion Dip
Grilled Watermelon Kebabs
Pesto Bacon Potato Salad
Snacks:
No-Bake Double Chocolate Peanut Butter Bars
Crackers and Hummus
Frozen Grapes
Paleo Brownie Bites
Trail Mix Whole Wheat Banana Bread
Food Bloggers Favorite Snacks
15 Ways to Snack With Almonds 
Desserts:
Chocolate Beet Muffins
Double Chocolate Almond Muffins
Raspberry Espresso Chocolate Chip Muffins
Double Chocolate Almond Cookies with Coconut
Gluten Free Brownies with Coffee Frosting
Funfetti Baked Oatmeal Cupcakes
Molten Vegan Strawberry Black Bean Brownies
Thin Mint Ice Cream
Crispy Peanut Butter Cups
Gluten-Free Vegan Double Chocolate Chip Cookies
Mini Almond Oat Bran Cookie Sandwiches
Nutella Banana Cream Pie
Lemon Berry Sorbet
Vegan Chocolate Chip Cookies
Healthy Strawberry Rhubarb Bread
Maple Almond Butter Macadamia Nut Cookies 
Drinks:
Mixed Berry Yogurt Smoothie
Peach Pie Smoothie
Mexican Chocolate Banana Almond Breakfast Shake
Vodka Infused Melon Balls
Honey Mint Mojitos
Strawberry Mint Agua Fresca
About Time Tropical Protein Slushie
28 Summer Drink Recipes
Other:
Ranch Dressing Recipe Roundup
36 Gluten Free Picnic Foods
6 Gluten-Free and Dairy-Free Bread Recipes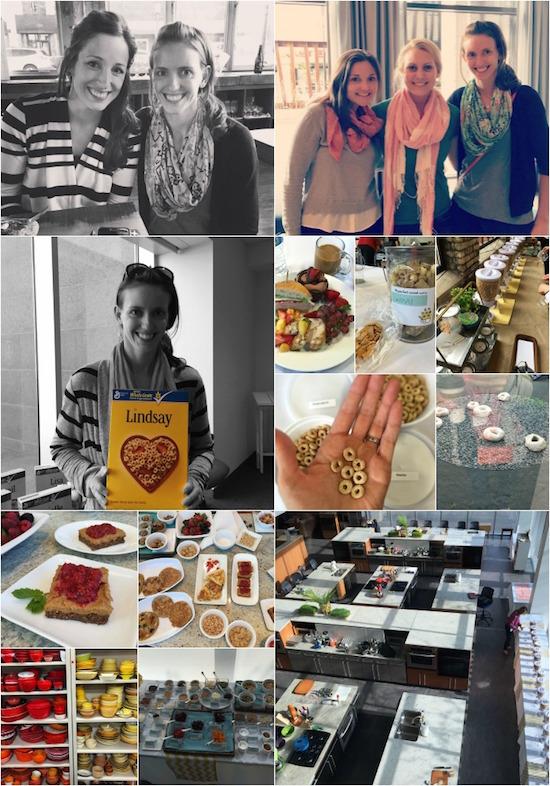 I went on a little sponsored trip with General Mills. On day 2 we got a tour of their headquarters (AMAZING), got to create a recipe of our own in their test kitchen (so much fun!!), took a tour of their photography studios and got some tips from the pros, and had a great conversation with the head of their cereal division where we were able to give honest feedback, ask questions etc.
Overall it was a great experience and so grateful for the opportunity!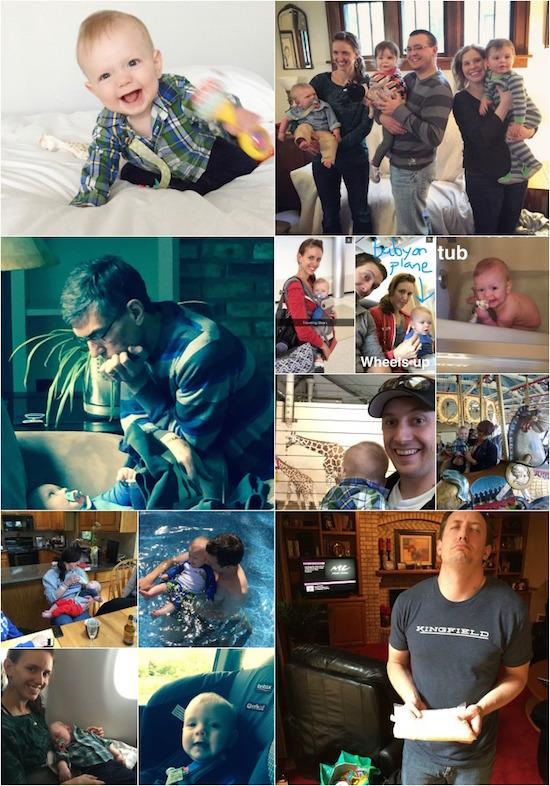 Since I was born in Minnesota and still have a lot of family and friends there, I actually brought hubby and Squish along! My parents drove to MN as well and they hung with hubby and baby for the first couple days and did fun things like go to the zoo! It was Squish's first flight and he did great!
After the General Mills event was over, I met up with the fam and we all hung out for a few days! We had a family dinner with my dad's side of the family and Squish got to meet his second cousins and hubby took Squish swimming in a friend's pool. He also accidentally took his phone swimming since it was in his pocket…so that was a bummer!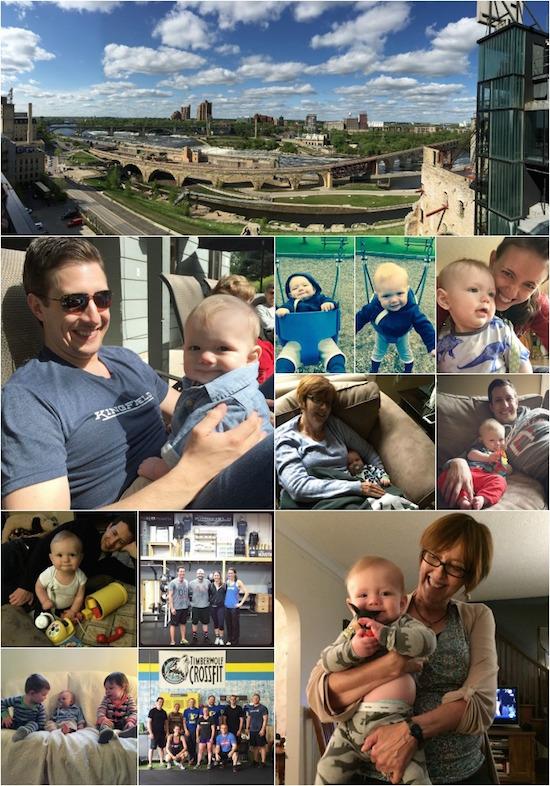 We had a great time hanging out and hubby and I were even able to squeeze in crossfit workouts at two different boxes! One was with a friend from college and one was at a box whose team got 4th place at the Crossfit Games last year!
We came back Saturday afternoon and baby did great on the flight home as well!

Why It Sucks To Be A Working Mother In America
10 Ways To Enjoy Your Child Right Now
5 Words You Should Stop Using When You Talk About Food <– YES
10 Foods You're Probably Eating Wrong
How To Raise A Son To Be A Great Man
Are All Processed Foods Bad For You
Debunking The Myth of Food Combining
6 Great Things About Introverts
The Ultimate Guide To Breastfeeding
23 Brilliant Life Lessons from Anthony Bourdain
Enjoy!
–Lindsay–