Hi Friends!
Time for another round of Bean Bytes! Here's what you may have missed last week.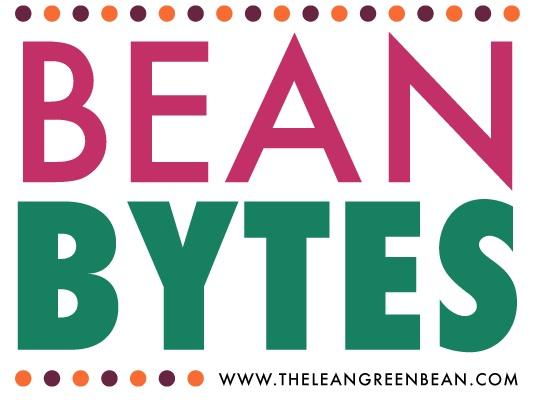 Monday
Tips & Tricks
5 Tips for Spring Cleaning Your Inbox via The SITS Girls
Heck Yes Amazon Prime Is Worth It via Our Freaking Budget
Align Your Actions With Your Priorities via Jill Conyers
16 Little Known Google Calendar Tips via Hubspot
9 Brilliant Ways To Boost Your Confidence On The Spot via The Muse
How To Be A Better Baker via Joy The Baker
Reading With Babies & Toddlers via The Wise Baby
5 Tips To Boost Your Energy Levels via Be Truly Nourished
Good reads
How Much Do I Charge via Carla Birnberg
Stop Labeling Fats As Good Or Bad via Adventures of MJ & Hungryman
The 3 Letter Word I'm Saying To My Son More via Side of Sneakers
Get moving:
10 Variations of Kettlebell Squats via Feminine Muscle
Fun
Rainbow Smoothie Tasting Activity via Happy Healthy Mama
Tuesday
Tips & Tricks
5 Ways To Train Smarter Before Training Harder via Your Trainer Paige
10 Ways To Make Your Blog Content Stronger via Elle & Co
10 More Kitchen Tips & Tricks via Real Mom Nutrition
Love these
When All You've Got Is This Season via Lindsay's List
6 Cool Facts About Our Sense of Smell via Brighton Your Health
Read and Learn:
Avocado Oil Nutrition via Make Healthy Easy
Settling The Great Grain Debate via Precision Nutrition
Great resource:
The Ultimate Guide to Dark Leafy Greens via The Grateful Grazer
Wednesday
Have you tried it:
Swimming- The Best Workout For Everyone via Love Life Surf
Tips & Tricks:
What Is A Meta Description & How To Write One via Danielle Zeigler
The Anatomy of An Awesome WordPress Support Ticket via WP SiteCare
How To Cook Dried Beans In The Crockpot via New Leaf Wellness
How To Create A Social Media Report via Buffer
What To Avoid With A Soy Allergy via Strength & Sunshine
How To Handle The Negative Voice via Mommy Run Fast
Good reads
In Defense of 75,000 Dietitians via Rebecca Scritchfield
On Changes via Heather's Dish
I Pay For My Parenting Mistakes in Kisses & Cuddles via Side of Sneakers
Ethical Blogging 101 via The Fit Cookie
Why Young Athletes Shouldn't Guzzle Sports Drinks via The Pedi RD
All We Have Is Time via Sarah Kay Hoffman
Thursday
Resources
A Plant-Based Nutrition Q&A via Hummusapien
How To Calm The Mind with Nutrition & Yoga via The Foodie Dietitian
13 Free Blog Planners via The Work At Home Wife
DIY
Motivational Gold & Lucite Tray via Earnest Home Co
Good reads
Why Don't People Talk About Miscarriage via Scary Mommy
5 Lessons I Vow To Teach My Kids About Weight & Body Shape via Raising Healthy Eaters
Friday
DIY
Spring Fingerprint Critters via The Wise Baby
Tips & Tricks
5 Ways To Spring Clean Your Diet via She's Wicked Healthy
Put Your Finances On Your Calendar via Our Freaking Budget
5 Ways To Get More Email Subscribers via J9 Designs
Cut Packing In Half When Traveling With Baby via MBA SAHM
How To Get Stickers Off Glass via DIY Playbook
Alcoholic Beverages and Nutrition Labels via Fooducate
How To Make Almost Any Meal Meatless via Oh My Veggies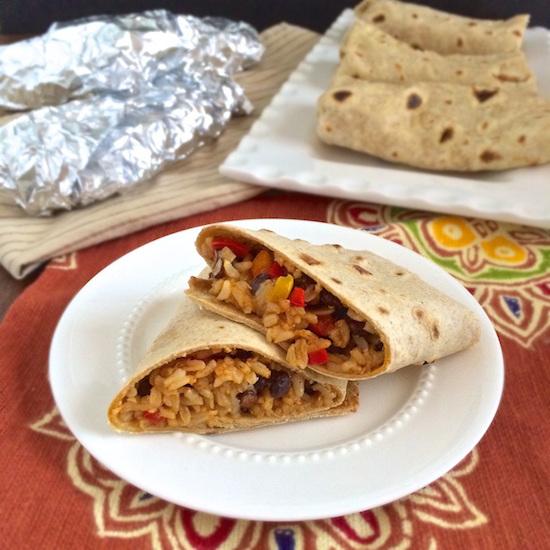 Monday
Grain Free Tofu Sushi
5 Ingredient Olive Oil Bread
Upside Down Caramel Banana Cake
Banana Cake with Dark Chocolate Frosting
Homemade Frozen Burritos
3 Protein Packed Travel Breakfasts
Banana Nut Munchkins
Vegan Grapefruit Smoothie with Berries & Mint
Jambalaya
Fried Avocado Tacos with Jalapeno Sauce
Kale & Broccoli Salmon Burgers
Chocolate Chip Chia Seed Granola Bars
Raw Vegan Chocolate Mousse
Homemade Ghee
Black Bean & Beet Burgers
Reese's Buckeye Whoopie Pies
Banana Choc Chip Oatmeal Flax Almond Muffins
Tuesday
Slow Cooker Quinoa Energy Bar
BBQ Jackfruit Sandwiches
Blueberry Gummies
Coconut Granola with Blueberries & Hazelnuts
Breakfast Stuffed Sweet Potatoes
30 Minute Chicken Chow Mein
Thin Crust Mediterranean Pizza
Cinnamon & Sugar Bagel Chips with Yogurt Dip
Wednesday
9 Protein Pancake Recipes
Healthy Brown Rice Pizza Muffins
Mason Jar Lid Pies
Panko Oven Fried Chicken
No Bake Chocolate Protein Bars
Beet & Black Rice Seafood Salad
Shrimp In Garlic Sauce
Vegan Korean Nourish Bowl
36 Feel Good Sexy Salads
Cheesy Chicken Asparagus Casserole
Honey Glazed Almonds with Sea Salt & Sesame
Thai Coconut Shrimp Curry
Thursday
Creamy Chicken & Kamut Casserole
Bacon & Pea Stuffed Shells
One Pot Vegetable Mac & Cheese
Green Curry Sauce
The Ultimate Fermented Roundup
Challah with Cinnamon & Brown Sugar
Friday
Paleo Crepes
Italian Style Turkey Burgers
Meatball Casserole
Gluten Free High Fiber Banana Muffins
Mashed Sweet Potatoes
13 Freezer Make-Ahead Meals
Pulled Pork Soft Tacos
Dark Chocolate Banana Pops
Chicken Chiliquiles
Green Monster Sandwich
Pulled Tandoori Chicken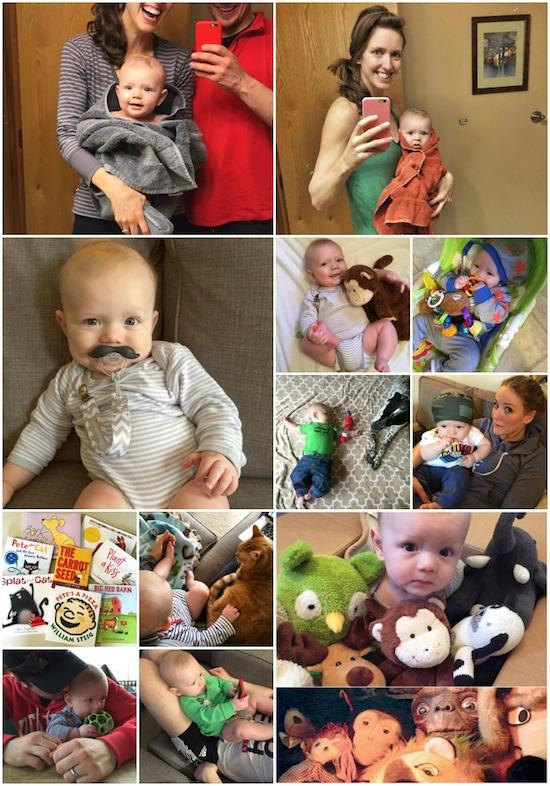 Post-bath smiles
My sister got him the moustache binky and it's amazing.
My friend Kate at Framed Cooks hooked Squish up with some AMAZING books!
Sitting with his cat.
He's been very busy trying to text his girlfriends all week.
ET phone home anyone?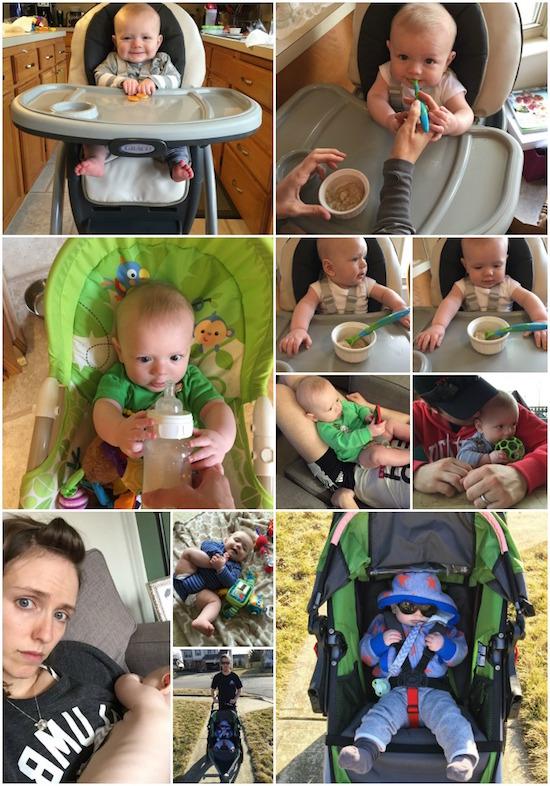 Squish tried oatmeal for the first time. He liked it!
We took our first stroller walk of the year- he's big enough to sit forward facing now!
We had some long nights this week. Squish figured out how to roll back to front…and he won't stop doing it. But he hates being on his stomach and even though he can roll over front to back, he chooses to just scream instead. SO, he does this about 900 times per night which meant we didn't get much sleep. That face in the bottom left is how I felt by the end of the week.
We also had to take him to the doctor because I noticed a weird ridge on the back of his head. They sent us to get xrays because they were worried the bones were fusing early, but after a stressful morning, they said everything looks fine and it's probably just the plates shifting around in his head as he grows.
We had a relaxing weekend and even slightly improved in the sleep department on Saturday night so that was good!
And in case you need a few laughs:
He liked his first taste of oatmeal.

Daddy always makes him laugh!

 7 Gorgeous Spring Bouquets You Can Arrange Yourself
Does Listen To Your Body Even Mean Anything Anymore
The Power of 'Good Enough'
Ethical Guidelines For Blogging
Tiny Beans 10 With The Lean Green Bean <– that's me!
19 Easy Slow Cooker Freezer Meals
20 Things I Will Not Regret Doing With My Kids
10 Emotional Challenges All Mothers Know
5 Things I Learned When I Said Yes For 24 Hours
Cheap Wines Containing Arsenic
Can We Bring The Holidays Down A Notch
10 Things You Should Never Say To Your Child About Food
How To Use Protein Powder So It Actually Works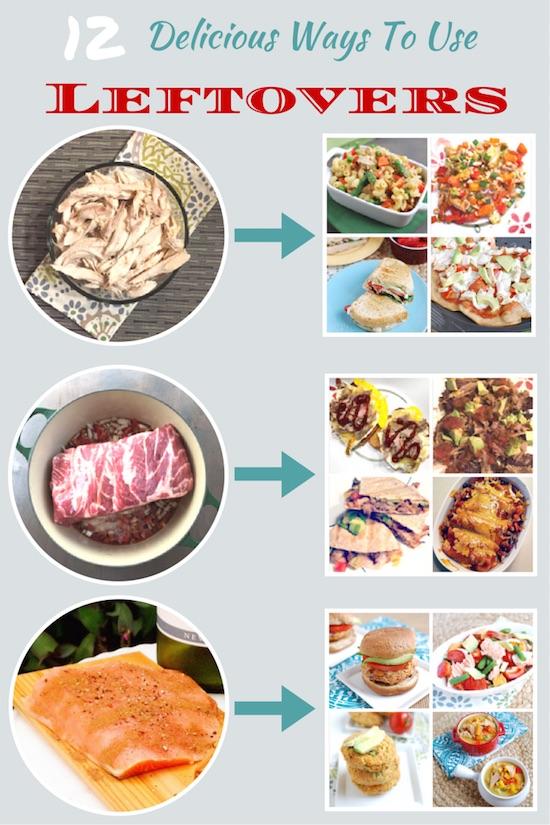 In case you missed it over the weekend, I wrote a post sharing 12 Ways To Eat Leftovers! Be sure to check it out if you get bored eating the same thing all week.
Enjoy!
–Lindsay–