Hi Friends!
Time for another round of Bean Bytes!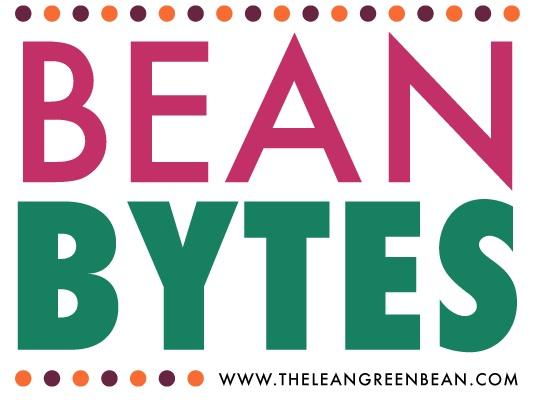 Monday
Think about it:
Do You Have The Discipline For Rest and Recovery? via Love Life Surf
Why Bad Workouts Aren't So Bad via Lifting Revolution
Try these:
21 Best Bodyweight Exercises For A Strong Core via Greatist
How To Freeze Spinach Cubes for Smoothies via Happy Healthy Mama
5 Tips To Improve Food Photography With Artificial Lighting via Pinch of Yum
Good reads:
The Guilt of Taking Too Long To Have A Second Baby via Side of Sneakers
The Business of Blogging and Branding via Cotter Crunch
Tuesday
Tips and Tricks:
How To Make Green Juice in a Blender via The Healthy Maven
Yoga for Hip Flexors via Running with the Sunrise
Yoga Poses For Upper Back Pain via Fitting It All In
How To Remove Stains From Enameled Cookware via Wanna Be A Country Cleaver
Truth:
The Psychology of Eating: Small Changes Add Up To Big Results via Fit Knit Chick
Wednesday
Good reads:
Don't Be Proud of Being A Workaholic via Freelance Writing Journal
Let's Hear It For Dad via A Healthy Slice of Life
I Am Not A Bad Mom via Side of Sneakers
5 Conversations To Have Before You Get Married via The Lunchbox Diaries
The Power of Self-Compassion via An Avocado A Day
5 Lifestyle Changes That Go Beyond January via Healthier Happier Bear
Tips and Tricks:
Healthy Kitchen Hacks via Teaspoon of Spice
3 Ways To Do Lat Pulldowns via She Rocks Fitness
How To Display Popular Posts Without A Plugin via Working On Working Mom
4 Quick Meal Ideas + Kid Meals To Go With Them via Eating Made Easy
Kinda awesome:
6 Awesome Clothing Items You Didn't Know You Could Buy via Sweet Tooth, Sweet Life
Thursday
Good reads:
Be Here Now via Katy Widrick
6 Money Moves That Will Up Your Net Worth In Your 20's via The Muse
2015: Be The Exception via Social Triggers
Gluten? Get Over It! via Inspired RD
Having A Bad Sleeper Doesn't Mean You're Doing Parenting Wrong via Side of Sneakers
5 Popular Pieces of Nutrition Advice That Fall Short via Raising Healthy Eaters
Try it:
50 Things You Can Do In 10 Minutes or Less via Happy Healthy Mama
5 Ways To Carve Out Time For Your Health via Lauren Fowler
Our 2015 Garden Plan via Back To Her Roots
How To Squat Deeper via Reach Your Peak
Friday
Genius:
1 Healthy Cookie Dough + 24 Ways To Use It – An Ebook via Imma Eat That
Good reads:
On Maintaining Weight Loss via Ari's Menu
An Open Letter To My Pregnant Body via Freeing Imperfections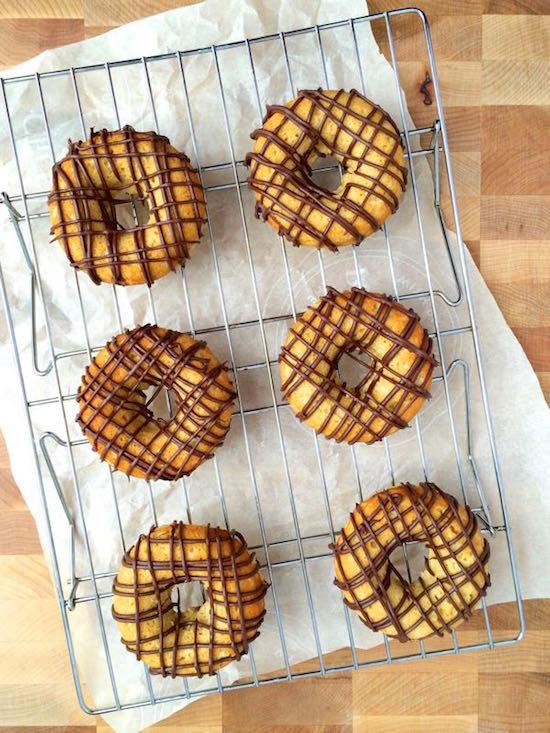 Monday
Meyer Lemon Poppyseed Pull Apart Muffins
Kale Guacamole
Spinach and Cheddar Soft Pretzels
Molten Chocolate Cakes
Lemon Yogurt Baked Donuts
Almond Peach Kefir Smoothie
Spinach Artichoke Dip Muffins
Chocolate Cashew Coconut Butter
Coffee Lover's Protein Shake
Smashed Sweet Potato Guacamole Bites
Crispy Baked Sweet Potato Chips
Cajun Chickpea Sweet Potato Burgers
Tuesday
Sweet & Spicy Baked Chicken Bites
Tandoori Chicken Meatballs
3 Ingredient Chicken Wings with Herbs and Honey
Spicy Sweet Potato & Pumpkin Dip
Sweet Potato Black Bean Burgers
Superfood Protein Bites
31 Creative Ways To Cook With Bananas
Thai Curry Chicken Salad
Italian Beef & Marinara Stuffed Portobellos
Buffalo Chicken Bread
Sweet Potato Coins with Chipotle Crema
Healthy Breakfast Sweet Potatoes
Buffalo Chicken Egg Muffins
Peach Butter Pecan Grilled Cheese
Wednesday
One Dish Fish and Veggie Bake
Superfood Chimichurri
Healthy Snacks for PreSchoolers
Bacon Green Beans
Easy Vegan Queso
Trailmix Granola Squares
Thursday
Loaded Potato Skins with Southwest Chipotle Guac
Sweet Potato Gnocchi with Jalapeno Cheddar Beer Dip
Cheesy Cheddar Stuffed Meatballs
Simple Grain Free Granola
Homemade Frozen Waffles
Gluten Free & Vegan Pizookie
Apple Cider Vinegar Dressing
Mastering The Perfect Poached Egg
Friday
Parmesan Pesto Skillet Rolls
Whole Wheat Oatmeal Honey Bread
Gluten-Free Honey Basil Buttermilk Squares
Healthy Cornbread Protein Bars
Prosciutto Wrapped Cheesy Brussels Sprouts
Meatloaf Poppers with Cheesy Potato Topping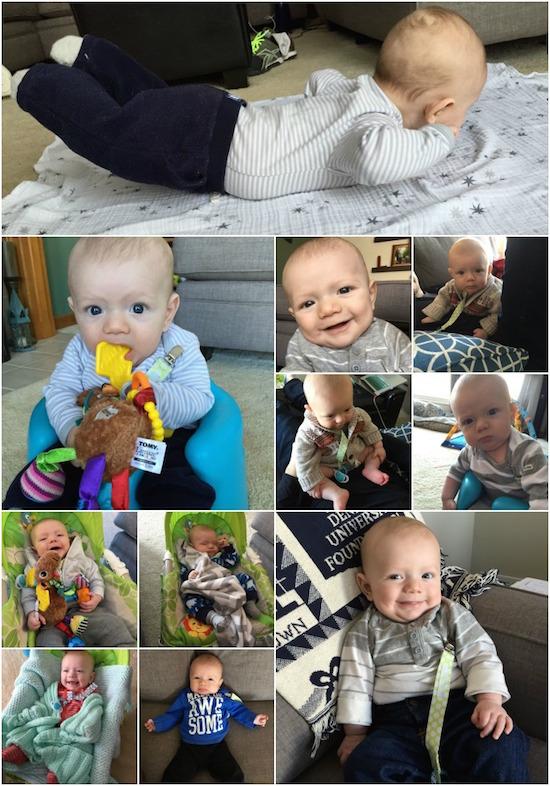 Adorable as always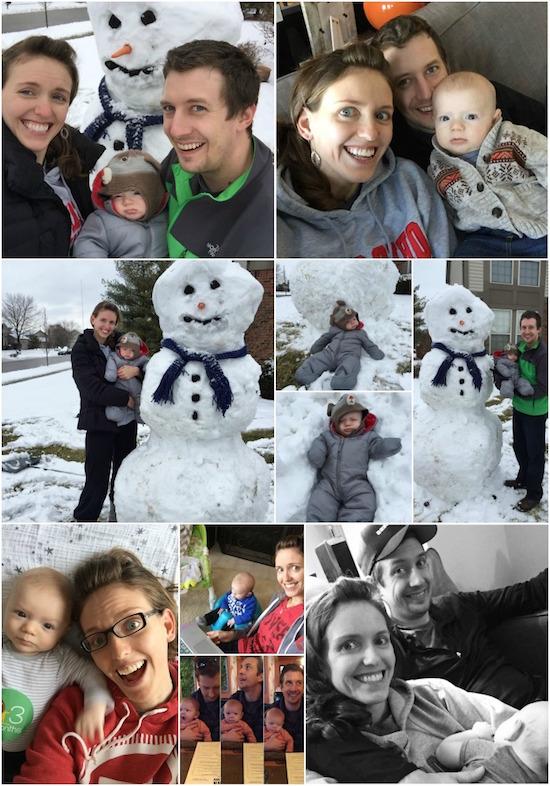 We had a great weekend. Lots of time enjoying our little family of 3. On Sunday we built Squish his first snowman. It was gigantic and awesome, until the head fell off an hour later because it got too warm!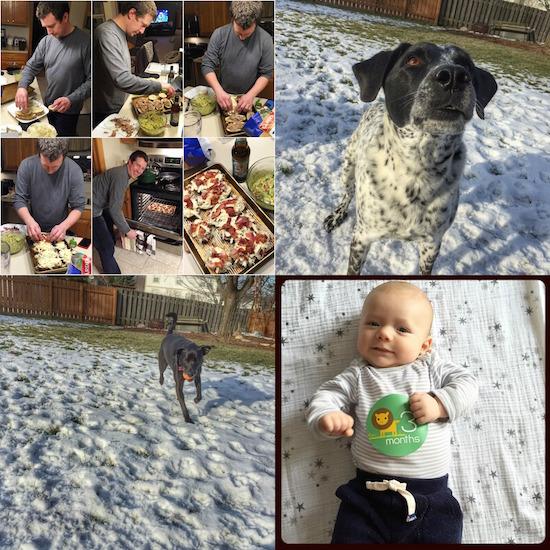 I had the idea to make pulled pork potato skins for the Superbowl. Hubby made them while I made guac. Both were awesome.
The dogs and I spent some time outside.
Little man turned 3 months old. Read more about that here.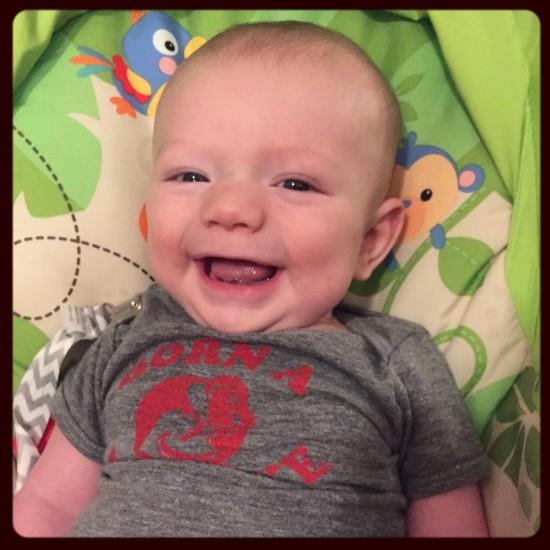 Probably my new fav pic!

 Starting Solids The Mixed Approach
3 Ways To Build Up Other Women
Why Your Brewed Coffee Tastes Bitter
A Simple Shift In Perspective That Can Change Your Relationships
Slow Down! Enjoy Life TED Talks
50 Stages of Sleep Deprivation
10 Ways To Schedule Your Down Time
5 Ways For New Moms To Have Manners In A World Of Technology
Enjoy!
–Lindsay–