Hi Friends!
Time for another round of Bean Bytes!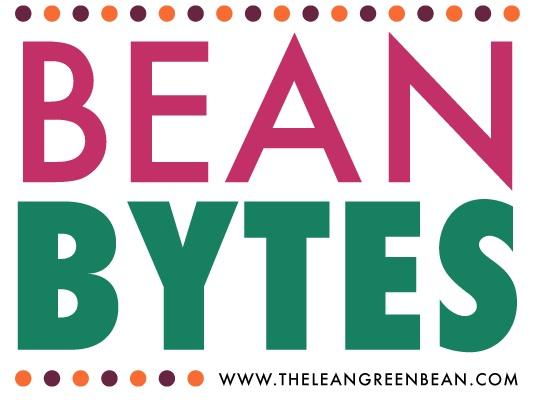 Monday
Work it out:
Tips For Starting An At Home Yoga Practice via Love Life Surf
5 Dynamic Stretches For Runners via Mommy Run Faster
4 Bodyweight Moves For A High Intensity Core Workout via Greatist
Good reads:
The Self-Fulfilling Prophecy via Carla Birnberg
My #1 Trick For Eating Healthy via Real Mom Nutrition
If Only via My Fit Family
Great resources:
How To Stop Every Type Of Headache via Greatist
23 Tools & Resources To Create Images For Social Media via Buffer
31 Tips For Getting Engagement On Facebook via Kamila Gornia
Changes I've Made To Tame Belly Bloat Part 2 via Eat Spin Run Repeat
Tuesday
Good reads:
Subconscious Snacker: A Link Between Weight Gain & Food Habits via Brighton Your Health
I Prefer Non-Photoshopped Camile via I Failed Fran
Make A Shift Towards Better Health via Fun & Fit
Great info:
How To Interpret Blood Test Results via Fannetastic Food
The Benefits of Speed Training via ACE Fit
Wednesday
Tips and tricks:
Avoiding Common Budgeting Pitfalls via Our Freaking Budget
How To Stop At Just One Cookie via Greatist
12 Ways To Instantly Boost Your Creativity via The Muse
Why We Quit via Katrina Elle
6 Reasons You're Not Seeing Results via Your Trainer Paige
Menopause & Weight Gain- How Europeans Stay Leaner via Brighton Your Health
3 Powerful Mindset Shifts for Enviable Physique via Workout Nirvana
Workout stuff:
How Beginners Can Find Joy In Running via Run Wiki
Pregnancy Yoga Poses + a 15 Min Video via Tina Reale Yoga
12 Running Myths  You May Still Believe via Live From La Quinta
32 Lunge Variations To Keep Things Interesting via Greatist
Thursday
Good reads:
Recipe Authenticity via The Big Man's World
Finding My Yes via Making Mine
Friday
Work it out:
20 Minute Power Yoga For Legs Video via Tina Reale Yoga
16 Halloween Race Costume Ideas via Run to the Finish
Good reads:
This is What Brave Means via Momastery
Counting Calories is Crazy Making
For bloggers:
Writers Block For Frustrated Bloggers via Diary of an Ex-Sloth
How To Survive Your First Year As A Blogger via The Yogi Movement
Helpful:
5 Ways To Motivate Yourself To Do Anything via The Daily Muse
44 Apps You Need To Be More Productive via The Daily Muse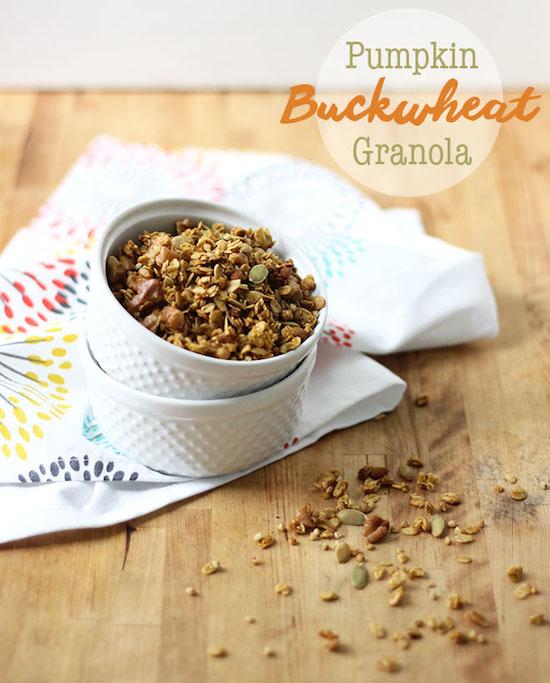 Chocolate Pumpkin Protein Pancakes
Carrot Cake Muffins for runners
Thai Butternut Squash Soup
Slow Cooker Lentil Quinoa Chili
Vanilla Bean Cinnamon Lattes
Pasta Salad Nicoise
Maple Roasted Squash & Freekeh Salad
Whole Wheat Lasagna Bowls with Mozz Greek Yogurt Sauce
Pumpkin Buckwheat Granola
Vanilla Bourbon Plantain Bread
Pear Cranberry Caramel Crisp
Pumpkin Cheesecake Protein Balls
Pumpkin Kale Pasta Bake
Chewy Almond Meal Cookies
Healthy Carrot Cake
Honey Walnut Shrimp
Roasted Pumpkin Seeds – a step by step guide
Baked Raspberry Oatmeal with Brown Butter Drizzle
Whipped Honey Goat Cheese Crostinis with Strawberry Drizzle
Garlic Herb Breadsticks
Sweet Potato & Kale Mac & Cheese
Raw Apple Pie Filling
50 Ways To Cook Spaghetti Squash
Easy Lentil Tacos
Black Bean Eggplant Rollups
Whiskey Chocolate Chip Sweet Potato Scones
Mini Turkey Apple Meatballs
Paleo Pumpkin Pancakes with Maple Cashew Creme
Crockpot Spiced Pear Butter
Soft Whole Wheat Bread
Lemony Chicken & Orzo Soup |
Pumpkin Oatmeal Breakfast Cookies
50 Healthy Quinoa Recipes
Almond Crusted Fish Tacos
Hemp Crusted Salmon
Chocolate Chip Cookie Dough Cake Batter Sauce
Chia Seed Meatballs
Bourbon Chocolate Chip Banana Bread
Leftover Pumpkin Puree Recipes
Waffled Banana Bread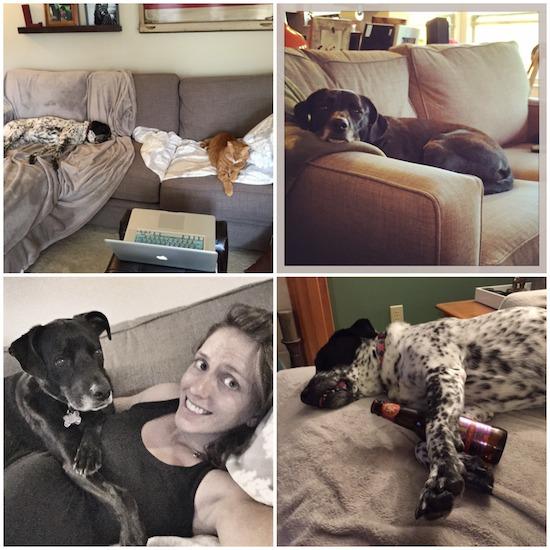 Lazy officemates
Watching mama work
Love him
Abner parties too hard sometimes.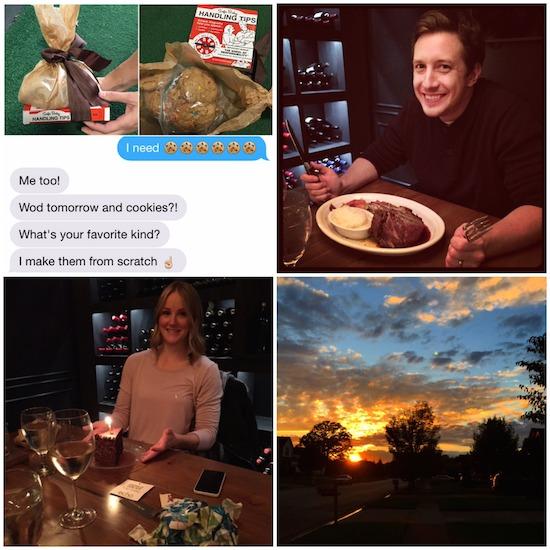 Why I love my BFF Jackie. I text her that I need cookies and the next day she shows up with delicious homemade cookies and a funny baby book! It also happened to be her birthday on Friday so we went out to dinner to celebrate. Hubby got world's biggest porkchop. She got free chocolate cake!
It rained a lot last week, but I was grateful for the short breaks in the rain so I was able to get out and walk the dogs.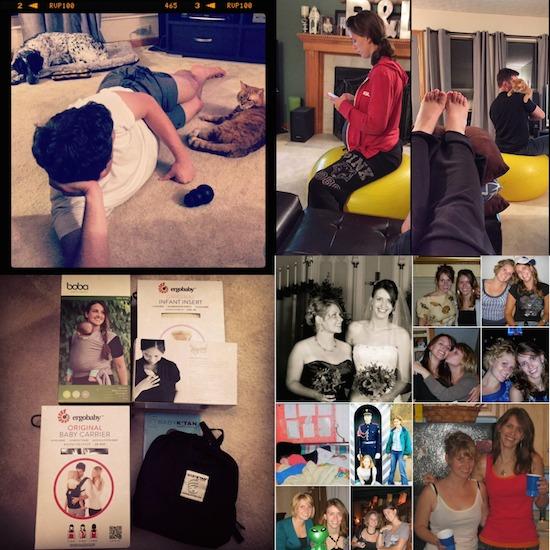 1. Just lounging around.
2. Trying to bounce the baby out. When I put my feet up, hubby takes over on the ball.
3. You could says that I'm a *little* excited about babywearing. I already have 4 carriers to try out- A boba, a Ergo, a k'tan and a Happy wrap. Can't wait for him to get here and try them all out!
4. One of my best friends got married this weekend.  I was super bummed we couldn't make it to the wedding because it was in Chicago…but my parents went and sent me some pictures. So happy for her!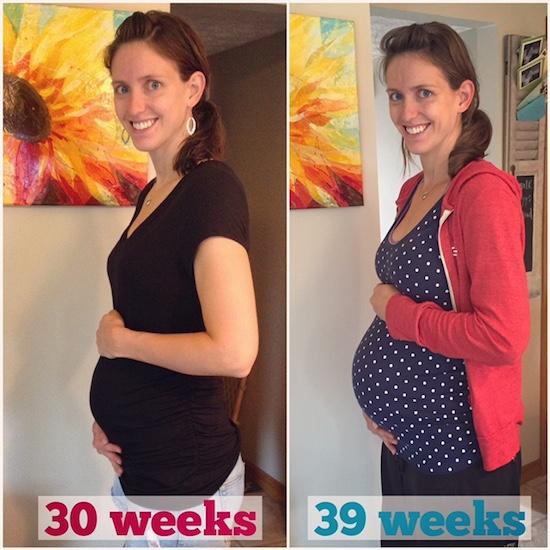 Here we are- 39 weeks! Baby bean can come any time now. We're ready for him 🙂 Although he doesn't seem to be in much of a hurry. We have our 39 week appt Tuesday morning so we'll see if things have progressed at all since my last appointment!

Kids Cooking Skills By Age
25 Injury Insights Every Crossfit Enthusiast Needs To Know About
5 Non-Monetary Chore Rewards
Family Dinners Don't Have To Be Perfect
Checklist For Packing A Diaper Bag
Mugshots of Food- Why These Foods Aren't Guilty
Thoughts on Baby Names
55 Surprising Ways To Use Leftover Apples
15 Slow Cooker Dessert Recipes
My Blog, My Rules
Today Is Important
10 Tricks For Shopping At Amazon
5 Tips For Eating Mindfully
What You Should Know After Delivering A Baby
If I Could Do Autism All Over Again
Getting Your Kids To Eat or At Least Try Everything
What Jennifer Garner's Forever Baby Bump Means For Women
The Paleo Proposal
On Stopping Temper Tantrums
Better Ways To Learn
10 Things To Do Differently Before You Lose Your Temper
Enjoy!
–Lindsay–