Hi Friends!
Time for another round of Bean Bytes. I hope many of you are enjoying the long holiday weekend and have lots of time to catch up on fun stuff like blog reading!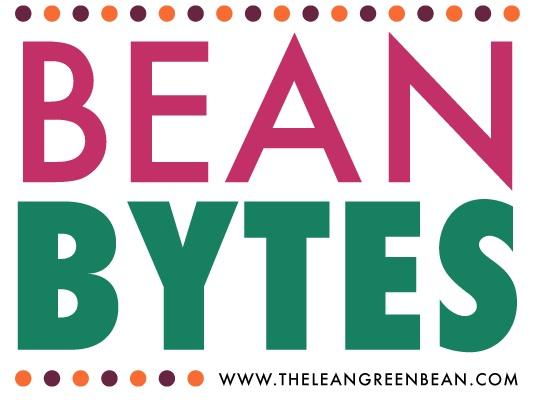 Monday
Helpful!
How To Wash & Store Kale via Organically Mo
11 Little Ways To Get Through Monday via Joy the Baker
This is amazing:
A Row For The Community via Back To Her Roots
Want to get faster?
8 Tips To Implement Speed Workouts via Run To The Finish
Truth:
Balance Is A Sparkly Unicorn via Food Fitness and Family
Things to consider:
Do You Really Need To Cut Out Certain Foods via Brittany Lesser
5 Reasons You're Not Losing Weight via The Real Life RD
3 Tricks For Getting Dinner Ready Fast via Eating Made Easy
Why Starbucks Pay It Forward Chain Matters via The Sweet Life
Tuesday
To think about:
Use Your Gifts via Carla Birnberg
What I Wish I'd Known About Money In College via Our Freaking Budget
Would Your Great Grandma Recognize Your Food via The Good Life
Inconvenient Blessings via Delights & Delectables
For the runners:
Finding Balance Between Speed & Distance via Pavement Runner
Try them:
5 Back To School Routines To Make Life Easier via Raising Healthy Eaters
Build Your Own Workout Finisher via Your Trainer Paige
Tips For Eating Gluten Free On The Road via Gabby's Gluten-Free
Love this:
Learn the 10 Principles of Design From These Posters via Hubspot
Wednesday
Helpful:
The Anatomy of an Optimized Blog Post via Hubspot
Lessons Learned From Injury via Love Life Surf
3 Biggest Health Pitfalls of a Busy Lifestyle via The Valentine RD
10 Things You Should Know About Sending Your Child To Daycare via The Avid Appetite
Hiking Tips For Beginners via Dar You To Blog
Tips For Back To College Budgeting via Live Travel Eat Run
For the pups:
Homemade Dog Treats for Fresher Breath via A Healthy Slice of Life
Love:
How To Foster Conversations With Kids via Live Do Grow
Minimalist Gift Giving via Run to the Finish
Thursday
Good reads:
Why Your Crunches Aren't Working via Well of Health
Dropping the "Just" via A Healthy Slice of Life
Pregnancy Weight: The Great Debate via Balancing B
5 Hacks To Promote Body Confidence via An Avocado A Day
On working out:
How To Not Skip Your Afternoon Workout via Hungry Hobby
5 Reasons To Workout In The Morning via Musselfit
Good tips:
10 Tips For A Healthy Tailgate via Love and Zest
Friday
For the runners:
Top 10 Running Drills for Speed & Efficiency via Matters of Course
9 Comical Running Mistakes & How To Avoid Them via Run to the Finish
Good reads:
7 Ways To Be A Healthy, Happy, Mindful Mama via Mind Body Green
Why I Love My Mom Body via Char Eats Greens
Your Child's Lunch Makes Me Feel Inferior via Real Mom Nutrition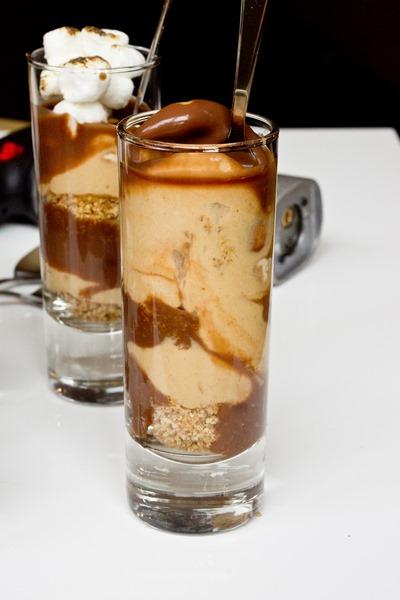 Peanut Butter S'mores Parfaits
Peanut Butter Greek Yogurt Pancakes
Hidden Veggies 2 Bite Brownies
Peachy Pineapple Kale Smoothie
Small Batch Chocolate Chip Cookies
Farro with Carrot Top Pesto
Southwest Farro Salad
Black Quinoa Lemon Poppyseed Muffins
100 Easy Chicken Recipes
Kombucha Sangria Smoothie
Curry Vegetable Burgers
Grain Free Nuttzo Waffles
Double Apple Bran Muffins
Veggie Burger Stuffed Sweet Potatoes
Peach Green Tea Spritzer
Coconut Oil, Honey & Sea Salt Popcorn
Thai Green Curry Turkey Burgers
Healthy Carrot Cake Cookies
Southwestern Corn & Sweet Potato Bowls
Peach Slump With Maple Caramel Sauce
Wild Blueberry Caramel Galettes
Cucumber Chicken Salad Bites
Strawberry Quinoa Oatmeal Bars
Hatch Chili Chicken Lasagna
PB Banana Bacon Muffins
Pumpkin Cornbread Muffins
Single Serve Gluten Free Breakfast Cookies
Homemade Sprinkles
Waffle Fry Slider Burgers
Vegan Chocolate Chip Zucchini Snack Cake
Sweet Chipotle Grilled Salmon
Glazed Lemon Zucchini Bread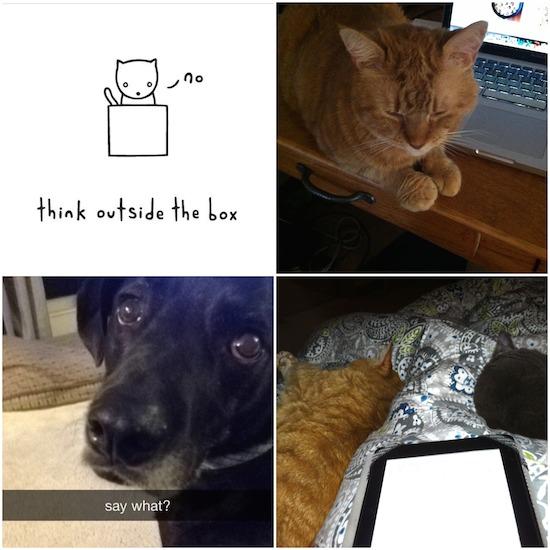 That cartoon IS Marcus.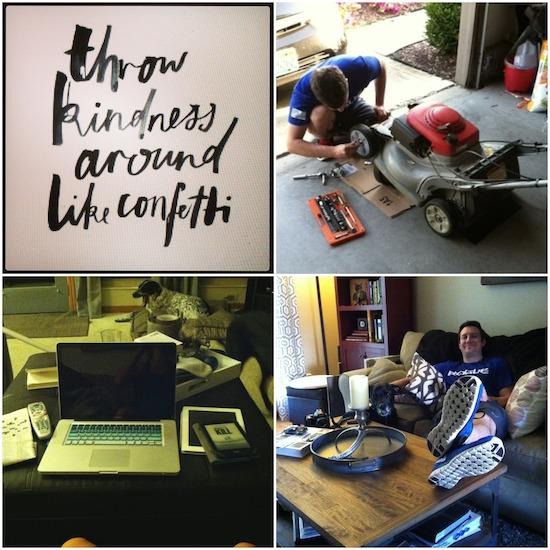 Do it.
New mower wheels!
All the electronics.
My office mates on Friday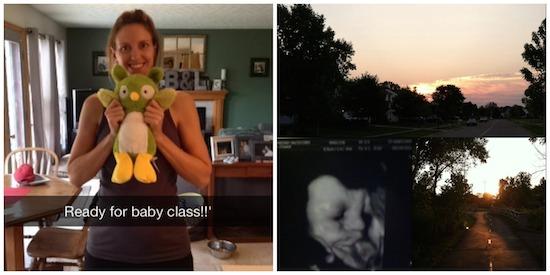 We had a busy baby week last week. On Tuesday night we went to a breastfeeding class. We were supposed to bring a baby to practice various positions. I brought a stuffed owl – it was cheaper. The class was pretty informative and covered a lot of the basics and questions I had. I'm sure I'll have more once I actually start doing it myself, but it was a good foundation class. On Friday we had another ultrasound at the specialist to recheck the fluid in his kidneys. It's still there, but doesn't seem to have gotten much worse…..so we'll go back in a month so they can monitor it one more time. Everything else looked good. He weighs 4 pounds 9 ounces. On Saturday we spent all day at a Labor and Delivery class. It was a LONG day. I got up early to walk the dogs before we headed out and then we were in class from 9-4:30…but I'm so glad we went. The teacher did a great job explaining a lot about the labor and delivery process, what labor signs to watch for, when to come to the hospital, etc. We got a tour of the maternity floor of the hospital, practiced labor comfort techniques and learned about the risks and benefits of various interventions, medications, etc. It answered a lot of our questions and also helped up prepare a list of questions to talk to our OB about at our next appointment. We both left feeling a bit more comfortable with the whole process, which is a good thing!

How and Why To Do A Life Audit
10 Easy Recipes Kids Can Help Make
Do The Crazy
Does The 80/20 Rule Work For Everyone?
Repurposing & Resharing Older Content
Postpartum Fitness- How I Overcame Being Discouraged
DIY Compost Bin
35 Things You Never Knew About Your Brain
Food Storage Infographic
10 Things To Never Say To Your Kids
An Open Letter To My Post Partum Body
How To Get Conversations With Your Kids Going
Why Blogging About My Marriage Made It Stronger
How To Approach Brands As A Blogger
Orthorexia – An Interview With The Balanced Blonde
Stop Watching The Years Go By
The Advice I Refuse To Give My Children
How To Cue In Group Fitness Classes
Enjoy!
–Lindsay–